DAVID EDGAR, who these days hosts the Sevco Rangers Podcast, posted a ten minute video yesterday evening an hour and a half after 5/1 Motherwell defeated the odds on favourites 2-0 at Hampden yesterday.
Edgar's hurt is a joy to listen to, so grab a cup of tea, sit down and enjoy.
Edgar reckons it is curtains for Pedro, who after 7 months still can't win 3 matches in a row, and he loses ALL the big games.
"He's lost every single big match that he's had. This is the second semi-final under Pedro, you'd expect to see an improvement,there is no improvement. If anything we are worse."
Playing Pena and Windass is like having 9 men on the pitch.
Pena does nothing for 89 minutes then does something brilliant apparently. But often the brilliant bit is missing. Windass is just not very good at football, according to Edgar.
A Walter side would have been different apparently. That was a different era and a different club, David.
If you have someone who continually fails tests why would you think that will change, Edgar concludes that there is no evidence that Pedro will make things better. There's no 'progres' on the field, apparently.
They'll get hammered at Murrayfield, they have Aberdeen coming up twice, states the Sevco blogger. You can taste the fear at this point.
It takes ten minutes to play this. Laughs guaranteed throughout. He hopes Motherwell will win the cup, but doubts it, oh the hurt…
LISTEN to Celtic historian and author talk and sing about Celtic and the Invincible season in the CQN Podcast – A Celtic State of Mind – the link is below.
ORDER Charlie Gallagher? What a Player! and we'll send you a copy of The Winds of Change for FREE only at www.cqnbookstore.com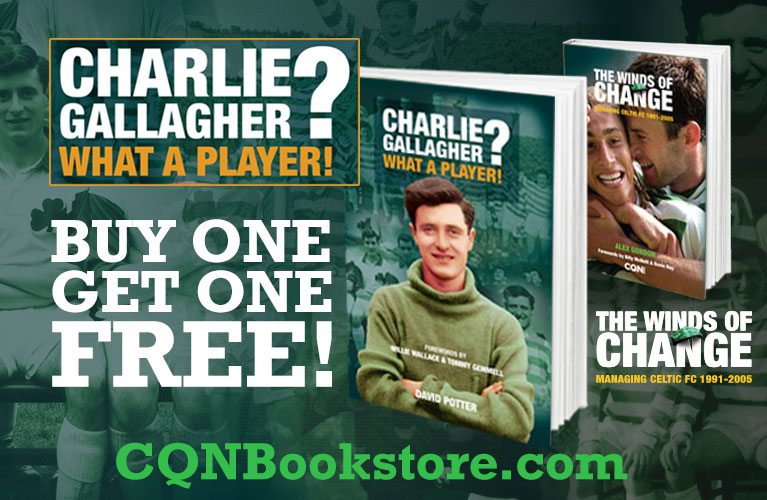 Click Here for Comments >