UNLUCKY CELTIC defender Efe Ambrose will join his ex-Hoops boss Neil Lennon on an emergency loan after his January move to Blackburn Rovers collapsed.
The Nigerian international initially agreed to join the struggling Championship side on a temporary deal until the end of the season.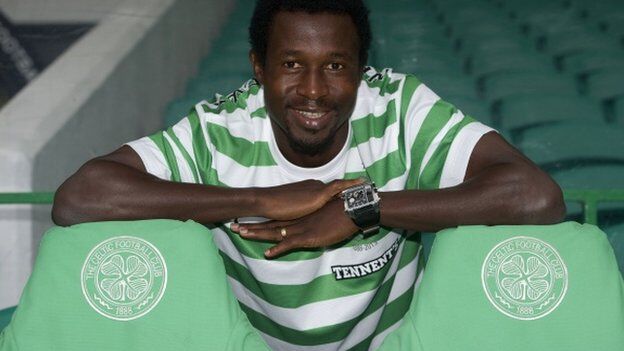 However, the move was scuppered when he was refused a work permit and subsequent appeals also failed.
The 28-year-old has been left in limbo, but has been given permission to join the Easter Road side until the end of the campaign when his current deal at Parkhead also runs out.
Poor Efe seems to have been dogged by bad luck in the latter part of his time at Celtic. He always, however did his very best for the team and never hid even when things didn't go his way. He deserves to leave Parkhead with our warm wishes and with his head held high.
It would seem that Brendan Rodgers agrees. Yesterday the Hoops gaffer said: "Efe was always going to stay in Britain for the duration of his contract. He'll be looking for somewhere where he can go and play games.
"He's an absolute gentleman. There aren't too many men who come into your office regularly and talk about how they appreciate the training and thank them for learning and the work he's been given.
"He's a boy who, in his time here, has never missed a training session. Never through illness, never through anything. If you were going to war, you'd take Efe with you, that's for sure.
"It's probably born and gifted genetically. He's an absolute machine physically. He's a really good guy. Everyone here loves him, loves having him about the place.
"But, of course, he understands and respects the game-time is limited here. A wonderful man. He's a good guy and, hopefully, he can get sorted out in the end."
Rodgers added: "The work permit issue shouldn't arise again in the summer. I think he'll have his citizenship then. He'll have been here for five years.
"Five years will allow him to maybe go abroad, but he can then come back and work again. For his kids and his family, you have to respect that."
Rovers' ex-Celtic chief Tony Mowbray commented: "I think the football club have worked really hard behind the scenes, but it is not going to be happening.
"I spoke to the boy and enjoyed his company as he is a football guy, but he understood the situation."
Efe wants to stay in the UK but it looks like England, given the Blackburn situation regarding work permits, isn't going to be an option. A longer term move to Hibs would be suit all parties and Neil Lennon certainly was the manager who got Efe playing his best football, as our pics show.
A longer term deal may suit all parties and we could watch Efe playing for Hibs at Paradise next season. I for one would like that to happen.
Click Here for Comments >