CQN continues it's dramatic and EXCLUSIVE extracts from Alex Gordon's book, 'That Season In Paradise', which takes you through the months that were the most momentous in Celtic's proud history.
Today, we look at the kick-off to an unprecedented and glorious campaign.
UNEDENIABLY, the most significant season in the monumental history of Celtic Football Club kicked off in earnest in the nation's capital city when Jock Stein's men were required to initiate the defence of their League Cup trophy against Hearts at Tynecastle on Saturday August 13 1966.
The previous week, the newly-crowned Scottish champions had annihilated Manchester United 4-1 in an extremely competitive challenge game which was played throughout in welcoming sunshine, possibly not enjoyed as much by the exposed participants on the field of play as the short-sleeved audience on the terracings. A week later, demonstrating the need for adaptability in their chosen sport, the players of Celtic and Hearts were asked to perform on a surface which was swiftly transformed into a something resembling a swamp as heavy rain, driven by a near-gale force wind, incessantly lashed down from the slate-grey skies over Edinburgh.
Interestingly, Hearts decided to field a player at centre-forward who had resolutely refused to sign a new deal. His name? Willie Wallace. The stocky and versatile frontman had turned down several attempts to persuade him to agree terms to extend his contract at the club. Despite the dispute, the Edinburgh outfit retained his registration and, back in the days before anyone had heard of a Belgian footballer by the name of Jean-Marc Bosman, there was little the player could do about it. He was Hearts' property. Wallace took his place in attack, but it was his opposing number, Joe McBride, who commandeered the headlines.
Diligently throughout the summer months, McBride had worked on his fitness following the frustration of the previous campaign when he had been forced to miss the last three games in the run-in to the club's first title success in twelve years. Jock Stein's initial buy for the club completed the campaign with the impressive total of forty-three goals, but he admitted he was disappointed he didn't get the opportunity to reach the half-century.
Bertie Auld recalled, 'Most strikers would be happy with the return of twenty goals in a season, but Joe was a different breed. When he realised fifty goals was within range, he made up his mind to go for it. Seven goals in our remaining three games against Morton, Dunfermline and Motherwell wouldn't have been outwith the bounds of possibility for Joe. Sadly, he never got that opportunity, but I also realised he was determined to hit the ground running in the new term. Every day in training, he told me he was feeling good and he was ready to go. He came out the blocks at full pelt.'
McBride's first competitive goal of the season arrived in the eighteenth minute via the penalty spot after Bobby Lennox had hared onto a long ball from Billy McNeill and was in the act of shooting when he was crudely dumped to the sodden turf following a rash challenge from Hearts skipper Alan Anderson. McBride placed the ball on the spot, took a couple of paces back, measured his stride running forward and blitzed a ferocious drive into the net with keeper Jim Cruickshank left without an earthly.
After the long-awaited change of rules, each team were now allowed a substitute in season 1966/67 and Charlie Gallagher was the first to be bestowed the 'honour' at Celtic. The clever midfielder didn't get off the bench, although Jimmy Johnstone took a knock in the first minute following a robust tackle from left-back Davie Holt. Jock Stein stuck with his original formation and was rewarded when the outside-right set up the second goal in the eighty-eighth minute with a low cross that was tucked away without ceremony by McBride.
Four days later, McBride smashed in a hat-trick, including a spot-kick, as Clyde were taken apart 6-0 in the east end of Glasgow. Bobby Lennox, with two, and Stevie Chalmers completed the rout against a Shawfield side that had appointed Davie White as their manager in March that year when John Prentice left to take over the Scotland international team. At thirty-three years of age, he was the youngest team boss in the UK and earned deserved plaudits when he guided the club to third spot in the league by the end of that campaign. Later in his career, he would come face to face with Jock Stein in the heat of Old Firm battles.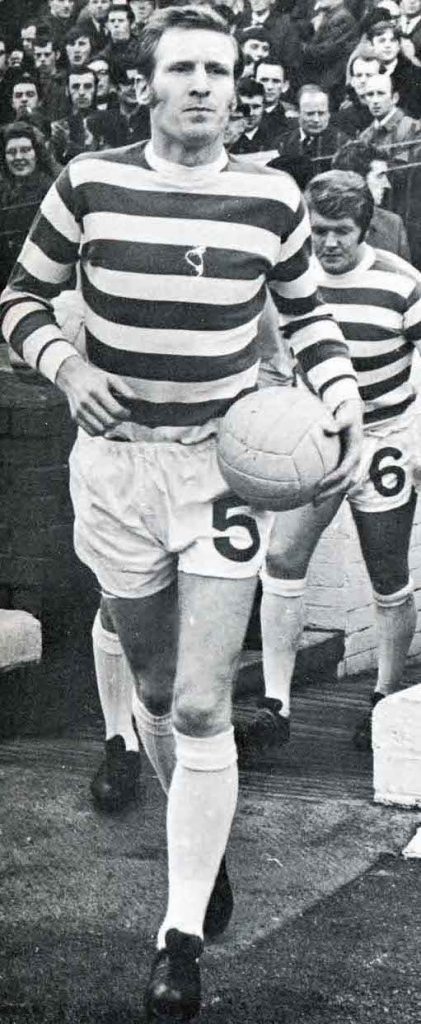 SKIPPER SUPREME…Billy McNeill leads the team into action.
McBride's goalscoring run continued unabated in the next League Cup outing when he thrashed four beyond St Mirren keeper Jim Thorburn as Celtic romped their way to an enthralling 8-2 win. Bobby Lennox added two more and there were singles from Bertie Auld and Stevie Chalmers as the Parkhead men continued to coast through their section towards the knock-out stages of the tournament. Billy McNeill recalled that game for one very good reason. 'Big Jock was raging when we got back to the dressing room,' he said. 'We had just scored eight goals and had been applauded off the pitch by a crowd of over 30,000, but our manager was upset that we had conceded two late goals. He made the point our concentration had dipped a little during the second-half. To be fair, we were seven goals ahead at the time!
'There were only twelve minutes left to play when one of their players, a young forward by the name of Frank Treacy, scored. He plonked another behind Faither, Ronnie Simpson, about four minutes later. I looked over at the dug-out and, sure enough, there was Big Jock waving his arms about, clearly not happy with his defence. Stevie got our eighth in the closing moments, but it wasn't enough to deflect the ire of our manager. Once again, he made it abundantly clear that we were there to do a job for every minute of the ninety. Fair enough. However, I can't think of too many teams who would score eight goals and still get a rollicking off their boss!'
The next game was due on Wednesday August 23 – the little matter of a Glasgow Cup-tie against Rangers at Ibrox. The pedigree of the competition meant little; this was a showdown between the two juggernauts of the Scottish game and presented Jock Stein with an early opportunity for reprisal following the Scottish Cup Final disappointment in late April. It was not a chance he was ever remotely likely to overlook. The Ibrox side may have won the silverware, but no-one among the club's hierarchy was being fooled; it was very much a case of Celtic losing the Scottish Cup rather than Rangers winning it. The superiority of their Glasgow neighbours had been obvious in the league and their manager, Scot Symon, had been given a blank chequebook during the summer.
He spent £100,000 – a serious amount of money in the sixties – on two players he believed would strengthen his team. He paid £50,000 to Aberdeen for Davie Smith, an elegant ball-playing left-half. This transfer might have surprised Jock Stein. Around this period, he had made tentative enquires about one of the Pittodrie side's emerging youngsters, a skilful inside-right by the name of Jimmy Smith, a Glaswegian with a known affection for a team which performed in the east end of the city. The Celtic manager was assured by his opposite number at Aberdeen, Eddie Turnbull, the Dons would not sell any of their first team squad to either member of the Old Firm. A month or so later, Davie Smith pitched up in Govan. Symon also liked the look of yet another Smith – none of them related – Alex, of Dunfermline. He was a clever, old-fashioned inside-forward who was known to nick a goal or two. He also cost £50,000. So, the Rangers team which faced Celtic in the Glasgow Cup-tie in August at Ibrox had been enhanced from the one that had beaten them in April at Hampden.
Jock Stein plotted the downfall with as much care to meticulous detail as he would a European tie. Bertie Auld recalled, 'Big Jock was only too aware of the fuss that had been made of Kai Johansen after his Cup Final goal against us. The gaffer believed the Rangers right-back would be enticed to play further forward up the pitch in the hope of getting another goal and the adulation that would go with it. Remember, Johansen had been slaughtered by Big Yogi in the January game when we won 5-1 at Parkhead. He had been heavily criticised for not being able to cope with our outside-left when Yogi ran amok in the second-half. But he was given all the credit for his Scottish Cup winner and it was easy to see he might just fancy some more of that.  Big Jock laid his plans accordingly.'
Tommy Gemmell also remembered the instructions from the Celtic boss prior to kick-off. 'I thought I was hearing things. Big Jock was actually telling wee Bobby Lennox to stay up the pitch. Normally, he would tell every player to be mindful of their defensive duties. Even Wee Jinky was told to get back and cover. Bertie still tells people he could have played at least another five years at Celtic if he hadn't had to spend so much time running around and covering behind me! No truth in that, of course. But Big Jock was quite clear before this match. Bobby Lennox was given a free reign and was practically ordered not to come into our half. Naturally, Wee Bobby was more than delighted to do as the Boss ordered.'
Celtic cantered to a landslide 4-0 triumph at the home of their bitterest rivals and Bobby Lennox helped himself to an exceptional hat-trick while Billy McNeill played the captain's part and got the opening goal with a shot beyond goalkeeper Billy Ritchie. McNeill's effort had historians researching furiously to discover when he had last scored a goal for the club with any part of his anatomy other than his head.
The legendary captain recalled, 'Aye, it was a bit of rarity. In actual fact, I was running up the field to take my usual position in readiness for a header after we had been awarded a free-kick about thirty yards out. However, Wee Bertie decided to take a quick one and slipped the ball short to Charlie Gallagher. Charlie skipped past a challenge, saw me on the left out of the corner of his eye and slid a pass in front of me. It was perfect for my left peg and I first-timed it towards goal. Ronnie McKinnon, the Rangers centre-half, raced out to block the shot, but I followed up with the rebound and just hammered an angled drive towards goal. Their keeper was at his near post and looked bemused as the ball zipped through his legs into the net. Maybe not one of my best, but I was still happy to claim it. It came inside ten minutes and set us up nicely for the rest of the evening.'
Auld added, 'I had kept it in mind what Big Jock had said and, as soon as we were awarded the free-kick, I glanced to see if Johansen was in his right-back berth. He had been lured infield leaving a lot of space on their left wing. I quickly passed it to Charlie and he was clever enough to skip away from Greig and, suddenly, everything opened up for Caesar. With Johansen out of position, McKinnon had to race out of central defence and, although he did well to get a foot to the initial shot, our skipper kept going and got his reward. It was a well-executed goal, but it was all down to the forward thinking of our manager. He had read the situation perfectly. Neither Rangers nor Johansen twigged all night as we picked them off down the left.'
The first of Bobby Lennox's goals was intoxicating, a spectacular finish that would have graced a World Cup Final. Many years later, I asked Bobby to name some of his favourite goals. Considering he netted 273 in 571 games, I reckoned he might be spoiled for choice. But, sure enough, that effort at Ibrox was high up in his ratings. He saw it this way, 'One that means something to me came against Rangers in a Glasgow Cup-tie in 1966. The tournament might not have been the most prestigious, but that didn't matter and we were all aching to get at our old rivals to make up for our Scottish Cup defeat against them.
'I was fortunate enough to score three in an emphatic, one-sided triumph. The one I can recall vividly was our second goal – my first ever against the Ibrox side. That would have been memorable enough, but I am glad to say it was a real belter. I got the ball about thirty-five yards out on the old inside-right position. I just took off, got away from John Greig and hit a left-foot effort from the edge of the box. Billy Ritchie had the good grace not to bother even going for the ball as it rattled high into the roof of the net. That was a sweet goal.'
ACTION MAN…Bobby Lennox challenges Hearts keeper Jim Cruickshank for a loose ball.
And the man known as 'Buzz Bomb', the original fox in the box, claimed two more in the second-half. As Jock Stein had prophesied, Johansen was elsewhere, distracted, no doubt, by the possibility of bright lights and large headlines. Charlie Gallagher set up Celtic's third with a piercing long pass which created a problem for Greig. He lost the flight of the ball and, with no defensive cover from either Johansen or McKinnon, Lennox swooped to take control and, with the utmost impudence, calmly flicked the ball away from Ritchie with the outside of his boot. His trio was completed when he came in from the left, unhindered by the Danish right-back who had been drawn once again to the ball elsewhere. Auld, with that cunning, quick brain, slid a delightful pass wide to Lennox, who took a touch, picked up momentum, cut inside and smashed a drive low past the keeper at his right-hand post. A crowd of 76,456 was in place to watch the destruction of the Scottish Cup winners by the Scottish League champions. Twenty-four days later at Parkhead, Rangers would have that old familiar sinking feeling in the first league meeting of the rivals of the season.
Before that, though, it was back to League Cup business for Celtic when, only four days after the Govan sojourn, Hearts arrived in Glasgow. Joe McBride, once again, was immense and his deadly finishing was the difference between two teams willing to slug it out in a tense encounter. It was scoreless at the interval before McBride moved up a gear, scored two, set up another and Celtic completed the tie as reasonably comfortable 3-0 winners. Bobby Lennox, after his laudable exertions at Ibrox, was given a rest by Jock Stein who brought in John Hughes for his first competitive outing of the campaign.
Yogi had fallen foul of his manager by delaying signing a new contract with the club during the summer. 'Of course, it was all about money,' admitted the seventh-highest goalscorer in the club's history.  'It was ALWAYS all about money. I wanted to stay at Celtic and Big Jock and everyone else knew it. I was a Celtic player and, at the same time, a Celtic fan. I think the club played on that loyalty and passion sometimes. I reckon they believed a player would sign any contract that was offered to them. That summer, though, I held out for what I thought I was worth. A compromise was reached, thank goodness, but I actually didn't sign on the dotted line until a couple of hours before our friendly against Manchester United. I wanted to play in that one, but Big Jock had other ideas and I got a seat in the stand.'
ME AND MY SHADOW…John 'Yogi' Hughes is carefully watched by Rangers defender Ronnie McKinnon.
And Hughes remained persona no grata with the Celtic boss for the opening three League Cup-ties and the Glasgow Cup set-to with Rangers. 'It was a relief to get the nod to play against Hearts,' recalled Hughes. 'It can be more than just a little frustrating when you train all week and you get yourself into peak condition and then be told you won't be required. So, when I realised I was playing in that one I was ready to go.'
Hughes was equally adept while leading the line or playing wide on the left and he was given the touchline role against the Edinburgh team. The first-half came and went with little to note apart from a dreadful miss by a Hearts forward. Willie Wallace would do a lot better when he performed on the same pitch later in the year. Nine minutes into the second-half, Hughes, not known for his tackling prowess, took the ball off Roy Barry, an uncompromising defender, and shifted at commendable pace down the wing. He sent an inviting low pass into the tracks of McBride who shot strongly past Jim Cruickshank. With the barrier broken, the Hearts resistance disintegrated to rubble and Stevie Chalmers flashed in the second after a good strong surge on the right flank by McBride. It was all over with seventeen minutes still to go when the flustered Barry handled in the box and McBride gleefully battered the penalty-kick award past Cruickshank.
Stein shuffled the pack again for the midweek visit to Shawfield for the game against Clyde and Lennox returned in place of Hughes. Yogi recalled, 'Back then, when Big Jock said he was about to freshen up the team, it normally meant he was about to change the attack. He rarely touched the defence, that was almost sacrosanct. I suppose, being a centre-half during his playing days, he understood the merits of a solid and reliable back-line where everyone knew each other's styles, strengths and even weaknesses. Faither always made the point he enjoyed playing behind Caesar because he knew exactly how our skipper would deal with high balls into the box. It was rare for our keeper to venture too far from his line such was the commanding aerial ability of our centre-half. It was different up front, though. Jock liked to move his forwards around to keep the opposition guessing and I even found myself playing at outside-right every now and again.'
Joe McBride went into the tie with Clyde with eleven goals from four League Cup outings and it didn't take him too long in hoisting that remarkable total to thirteen before half-time. The scourge of Scottish custodians got the opener in typical opportunistic fashion in the sixteenth minute. However, with a crowd of 18,000 watching from the ramshackle 'stadium', Joe Gilroy, a slick-moving striker, momentarily halted the singing from the visiting fans with an equaliser fashioned out of thin air. McBride replied within two minutes with another ferocious spot-kick and Tommy Gemmell made certain the points were heading out of Rutherglen and across to the east end of Glasgow with a powerful long-range drive that zipped beyond veteran keeper Tommy McCulloch.
The flamboyant left-back recalled, 'Joe McBride was unstoppable at that point. People were saying he was boosting his tally with penalty-kicks and the award against Clyde was his fifth in as many League Cup-ties. Just in case anyone is wondering, Celtic did not have a lot of followers among the refereeing community back then. Far from it. But the reason we received so many spot-kicks was quite simple; we were practically playing all our football in the opposition's half. Big Jock demanded we were on the front foot all the time. I can look at today's defenders and see them pass the ball square inside or even backwards. Our manager would have gone crazy if I had done that. He hammered it home that my first touch was to go forward. If you watch old footage on videos or DVDs, you'll see this to be the case. Same with whoever was playing at right-back, Ian Young or Jim Craig. We were urged to always be on the offensive.
'The manager didn't complicate the game. He would say, "Look, if you pass it inside, you're giving them time to filter back and get into position. You give the ball to Big Billy or John Clark and you're passing the buck. Take responsibility at all times. The ball's at your feet, so do something positive with it. Get down that line, play it foward and inside to Bertie and then go and look for the return. Keep their players turning, make sure they are always running back towards their goal and not going forward towards ours. If you can see the numbers on the backs of their jerseys, then you're doing your job. That's the way to win games. And that's why you're at Celtic; to win games, score goals and entertain the man on the terracing. Football without fans is nothing." It was a phrase he often used.'
History was made in the final League Cup group match when Willie O'Neill became the first substitute to make an appearance for Celtic when he came on in the sixty-fifth minute for Jimmy Johnstone against St Mirren at Love Street. Gemmell laughed, 'Wee Jinky had a clash of heads with a Paisley defender, but, after a spot of treatment, remained on the pitch. I was upfield for a corner-kick when the Wee Man said to me, "Tam, I'm feeling a bit groggy. Maybe I've got one of those concussion things." I felt like asking him, "How would you know, Jinky?", but I refrained. In truth, though, Jinky was brave beyond belief and it would take a lot for him to admit defeat. Eventually, he had to be helped to the touchline and on came Willie O'Neill for his landmark appearance.
'Willie was an out-and-out left-footed defender and rarely ventured into the other team's territory. When Jinky went off, I wondered where Big Jock would place him in the team. Willie trotted over to me and said, "I'm playing left-back, Tam." What he said next surprised me somewhat. "The Big Man wants you to play outside-right!" I knew he wasn't joking. Willie had a dry sense of humour, but I realised he was deadly serious. Not a lot of people will know this, but I actually started my career as a right-winger with my Junior club Coltness United. So, it wasn't exactly new to me, but, obviously, I had never played in that position in senior football.
'There were still twenty-five minutes to go and we were winning only 1-0 with a Bobby Murdoch goal about ten minutes after the interval. So, there was still much work to be done. It ended 1-0 and Jim Thorburn became the first keeper to shut out Joe McBride in the League Cup. Not bad when you consider he had conceded eight – and four to Joe – only a fortnight earlier.
TOMORROW: SEPTEMBER – THE FIRST STEP TO LISBON
Click Here for Comments >