CQN continues its enthralling and EXCLUSIVE extracts from Alex Gordon's book, 'That Season In Paradise', which highlight the months that were the most momentous in Celtic's proud history.
Today, the author looks at the evening Jimmy Johnstone, at his mesmeric best, illuminated Real Madrid's Bernabeu stadium and stole the spotlight from the legendary Alfredo di Stefano.
JOHN CUSHLEY was the player with the most unenviable task at Celtic; trying to dislodge Billy McNeill from the centre-half berth. The no-frills defender was on his last trip with the team before his £25,000 transfer to West Ham United a couple of weeks later.
He made only forty-one first-team appearances in seven years at Parkhead, but, as Bertie Auld was quick to point out, 'John never complained because he accepted Billy McNeill was one of the best centre-halves in the world.' Cushley was educated at Glasgow University and Celtic put his linguistic skills – he earned a MA in modern languages – to good use on the club's behalf on, at least, two occasions.
McNeill's understudy actually travelled with manager Jimmy McGrory to Spain in 1964 in an effort to persuade Alfredo di Stefano to join Celtic. It was a sensational move for a player, who, at thirty-seven years old, was, admittedly, past his best. Cushley, with McGrory's prompting, did his best to convince one of the world's greatest emblematic footballers that he would get a new lease of life in front of the massive Celtic support. Unfortunately, Espanyol also came on the scene and the Buenos Aires-born entertainer agreed a two-year deal to bring down the curtain on his extraordinary career with the Barcelona-based club.
Three years later, Cushley was translating what the Real Madrid players were saying in the newspapers before the confrontation with Celtic. He informed Jock Stein and his team-mates it was more than obvious Real Madrid still saw themselves as the European champions. They had won it the previous year when they had beaten Partizan Belgrade 2-1 in Brussels. In fact, it was the sixth time they had lifted the trophy in eleven years and, according to what the players were saying in the newspapers, they believed they were still masters of all they surveyed. It was fairly evident they also thought Celtic were Scottish upstarts who had taken everyone by surprise because of their unknown values and alien qualities.
Possibly, the players had conveniently forgotten that the same Inter Milan team that had been taken apart by Celtic were the same set of players who had managed to beat Real Madrid home and away for a 3-0 aggregate triumph in the quarter-finals of the tournament that season.
Billy McNeill commented, 'So, every player wearing green and white hoops who stepped onto the Bernabeu pitch that evening knew what to expect. Celtic had to prove to everyone that we were worthy champions of Europe. It wouldn't have looked too clever if we had been turned over 3-0, 4-0 or even worse. But, with Big Cush having told us what was in the newspapers, it was clear that was the aim of the Real Madrid team that evening.
'Of course, they wanted it to be a memorable farewell to one of the most magnificent players in the club's history, but they wanted to turn us over – and score a few goals, too. However, they reckoned without Jinky. With the Wee Man in that sort of form, Celtic were unbeatable.'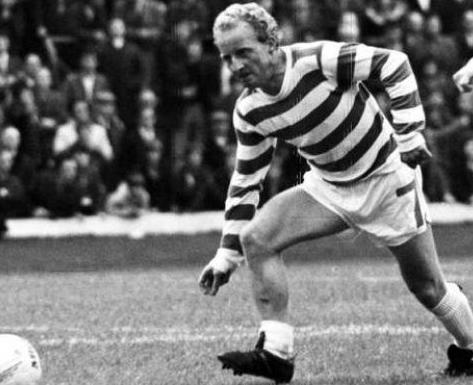 LORD OF THE WING…Jimmy Johnstone goes through his repertoire.
Jock Stein made changes to the line-up that had conquered Europe in the Portuguese capital. He was determined no team would ever beat the formation of eleven Scottish born-and-bred professionals now known worldwide as the Lisbon Lions. John Fallon came into goal for Ronnie Simpson and Willie O'Neill appeared in the old left-half position with John Clark moving to Bobby Murdoch's right-sided slot. Murdoch was pushed slightly forward into the No.8 position and Stevie Chalmers, the matchwinner in Lisbon, made way.
Murdoch also thrived on the incredible atmosphere and, years later, recalled, 'It was amazing. Jinky was unbelievable that night. The supporters were applauding him every time he was on the ball. Remember, those fans were brought up watching teams packed with entertainers, so they knew their stuff and they recognised a showman when they saw one. I'm sure the President of Real Madrid spoke to Big Jock after the game and asked to buy our wee No.7. There would have been something wrong if he hadn't.'
As ever, Bertie Auld, Murdoch's co-conspirator in the cockpit of invention in the heart of the team, has an interesting recollection on the Bernabeu occasion. He recalled, 'Big Jock took me aside and told me, "Real Madrid are desperate to do us. We've just won the European Cup, but they still think they are the best team in Europe. Amancio is their best player – do your best to keep him quiet. Keep an eye on him. I want to win this one."
'It was only thirteen days after our victory over Inter Milan and we had been invited to play for the legendary Alfredo di Stefano in his Testimonial Game at the Bernabeu Stadium. Real Madrid had won the European Cup the previous year and some of their players were making noises that we had merely borrowed the European Cup from Real for a year. Oh, yeah? When we turned up at that magnificent stadium that evening we knew we were not going to be involved in a friendly.
EXPERT GAZE…manager Jock Stein keeps an eye on Jimmy Johnstone in a training routine.
'The great Alfredo, at the age of forty, kicked off and then we got down to the nitty gritty of seeing who was the best team in Europe. Wee Jinky was immense. Di Stefano, along with Stanley Matthews, had been the Wee Man's hero. He decided to put on a show for the Real legend – and what a show it was. The Real players did their best to get the ball off Jinky, but it was one of those nights when it was super-glued to his boot. He would show them the ball, they would lunge in and Jinky would do one of his little serpentine-weaving manoeuvres and they would be left tackling fresh air while he took off on his merry way.
'Even I felt like applauding every now and again as he displayed his awesome talent. Meanwhile, Amancio and I were getting acquainted in the middle of the park. He didn't like the attention I was paying him and we had a couple of kicks when no-one was looking. Nothing too serious, I hasten to add, but enough for him to realise I was there to do a job for Celtic that night. It may have been billed as a friendly, but, please believe me, this was no game where there was anyone on either side pulling out of tackles. They were absolutely determined to hammer us and, equally, we were just as committed to the cause to show we were the best team in Europe.
'Jinky tore them apart in one of the most spellbinding individual shows I have ever had the privilege of witnessing. He actually started to take the mickey at one point which was simply amazing. This wee guy from Uddingston playing in the most fabulous stadium on earth and giving their players a lesson in how to play football? It could only have been Jinky. Meanwhile, Amancio and I were still having an interesting evening. I don't know if I was marking him or he was marking me, but we weren't far from each other's side for most of the night.
SPANISH SIGHS…Bertie Auld is red-carded along with Real Madrid's Amancio after a bust-up.
'Then things got a bit heated. There was a fifty/fifty ball and we both went for it. Crunch! There was a bit of a fracas. He threw a punch at me and I returned the compliment. The referee was far from amused. He didn't hesitate as he pointed to the tunnel for both of us. To be honest, it was a fair decision. As I walked past Big Jock in the dug-out I looked over and said, "Problem solved, Boss." He had the good grace to laugh.
'But it was Jinky's night. It may have been Alfredo di Stefano's final farewell in one of football's theatre of dreams, but I'm sure the name on everyone's lips that evening was Jimmy Johnstone. Jinky, on that form, was irresistible. We played really well that night, despite my absence – possibly because of my absence! Real Madrid knew who were the true masters of European football. To be fair to their support, they started to applaud Celtic and, especially, Jinky. He would sweep past a defender and the fans would shout, 'Ole!' It was a night for our wee magician to show everyone his tricks and flicks. I will never forget that performance. The Wee Man was unstoppable.
'Jinky was going on holiday the following day with his wife Agnes. They left our hotel and the Wee Man jumped into a taxi and said, "Take me to Benidorm, driver." The cab driver asked, "You want to go to the airport, senor?" Jinky replied, "No, I want to go to Benidorm!" Geography might not have been Jinky's best subject at school because Benidorm is about three hundred miles from Madrid as the crow flies. "Are you sure, senor?" asked the driver who must have thought he had won the pools. "Aye," said Jinky and the driver pointed the taxi in the general direction of the holiday resort. Wee Jinky was a one-off, sure enough.'
That evening at the Bernabeu, Johnstone, all 5ft 4in of him, was a mercurial mix of magic and mischief as he dismantled Real Madrid. The only goal arrived in the sixty-ninth minute and there are no prizes for guessing who set it up with utmost perfection for Bobby Lennox to flash a low drive into the far corner of the net. Jinky weaved and waltzed his way forward from the left as he effortlessly skipped past three tackles en route to the danger zone. With devastating timing, he parted with the ball, a threaded pass between two defenders into the path of his best pal. Lennox devoured service like that and he didn't pause as he sent his effort zipping unerringly towards its intended target.
Lennox recalled, 'There were hardly any Celtic fans at that game because the timing didn't give too many the opportunity to make travel arrangements or even attempt to buy a ticket. They had all been snapped up by Real Madrid fans months beforehand, anyhow, as soon as the club announced they were having a testimonial match for the great Di Stefano. When my shot hit the net there was a sudden silence around the great bowl of a stadium. And, then, there was this solitary Scottish voice. "Goal!" There was a Celtic fan in there somewhere in the midst of thousands of Spanish supporters.'
With supreme timing, the shrill sound signalling the completion of the entertainment from the whistle of referee Daniel Zariquliegui saw the ball, fittingly, at the right foot of Johnstone. He lifted the matchball and held it triumphantly above his head like a well-earned trophy. He was afforded a standing ovation while doing so. No wonder Alfredo Di Stefano later described his Testimonial Match as 'The Jimmy Johnstone Show'.
Stevie Chalmers admitted he was desperate to play in the showgame, but acknowledged, 'Big Jock was adamant that the Lisbon Lions would never be beaten; that those eleven players would never taste defeat. So, he rested myself and Ronnie Simpson and brought in Willie O'Neill and John Fallon, our reserve goalkeeper. Actually, he could have rested everyone bar Wee Jinky because he was just out of this world that night in the Spanish capital. I've never witnessed a better individual performance.'
The last word, naturally, has to go to the irresistible Jinky. Despite his many precious gifts, the wee chap from the working-class housing estate in South Lanarkshire could never be labelled a braggart or a big head.
On this occasion, though, he uttered the memorable words, 'They were frightened to come near me in the last fifteen minutes.'
TOMORROW:  Farewell, old friend.
Click Here for Comments >