CQN continues its enthralling and EXCLUSIVE extracts from Alex Gordon's book, 'That Season In Paradise', which highlight the months that were the most momentous in Celtic's proud history.
Today, evergreen keeper Ronnie Simpson, at the age of thirty-six, reveals how he prepared for the game of a lifetime, the unforgettable European Cup Final on May 25 1967 in Lisbon.
VETERAN goalkeeper Ronnie Simpson recalled the countdown to the historic game.
'After lunch at 1pm, we were packed off to bed for two hours. I was sharing a room with John Fallon, who slept soundly. My normal practice is to doze off and read in between times and for some time I have got into the habit of reading a golf magazine. It gets my mind completely away from football as I am very interested in the sport, being a 4-handicap player at Dalmahoy. Neilly Mochan, our trainer, got us up around 3pm when we had a wash and a shave and then reported for our spot of loosening-up work.
'The hotel guests watched us jog around and exercise and most of them took photographs. We then had steaks, which we had taken with us from Glasgow, and then boarded the bus. The six-mile journey shouldn't have taken us any more than twenty minutes, but before very long we were trapped in the middle of the heavy traffic heading for the game.
'We had no sooner taken our seats in the bus than the songs began – Bertie Auld, John Clark, Jimmy Johnstone and Tommy Gemmell are the boys who usually get us going. They were all in fine voice. We got the full repertoire about four times before we finally sighted the stadium. We were late.
'Surprisingly, we got no police escort or outrider to take our bus to the stadium. Our bus driver had to fight his way through the traffic. When he realised he was making little headway and that the minutes were ticking by, he pulled the bus off the main drag and tried to get to the stadium by another route. He was promptly told he couldn't go that way and the bus had to reverse back into the main stream of traffic.
GLORY BHOYS…Billy McNeill, Ronnie Simpson and Tommy Gemmell are ready for the biggest game of their careers.
'We were all getting a bit keyed up now and our manager was trying to impress on the chap who had been attached to us an interpreter the importance of being at the ground well before the 5.30pm kick-off. Someone even shouted at a policeman on a motor cycle asking for assistance to get through the traffic. But the policeman remained where he was.
'At last we got to the stadium, through the sole efforts of the bus driver, just before 5pm. As it turned out, it was probably a good thing, as it gave us less time to think about the game in the dressing room. Players, like any other group of people, are not robots. They all have their idiosyncrasies and their own thoughts on how best to prepare themselves mentally for a game.
'Some of our boys like to walk over the ground before a game. Some, like myself, don't like to see the ground until we run out for the game itself. And before every game, I have a cold shower, whether the weather is cold or hot.
SAFE HANDS…Ronnie Simpson comes to clutch a high ball as Billy McNeill looks on.
'It is a habit I developed during my years with Newcastle United where some of the players there told me it was the best thing to tone you up for a game. It's a tip I accepted and found does me a lot of good. On occasion, Billy McNeill also takes a cold shower prior to a game.
'The dressing room accommodation was unusual. It was like two small rooms joined by a passageway in which there were showers and baths. It meant that the team had to be split, so the manager decided that the defenders – goalkeeper to left-half – should dress in one section with the forwards and reserve keeper John Fallon in the other. The doors of each room were firmly closed and no-one was allowed in. Our manager saw to that.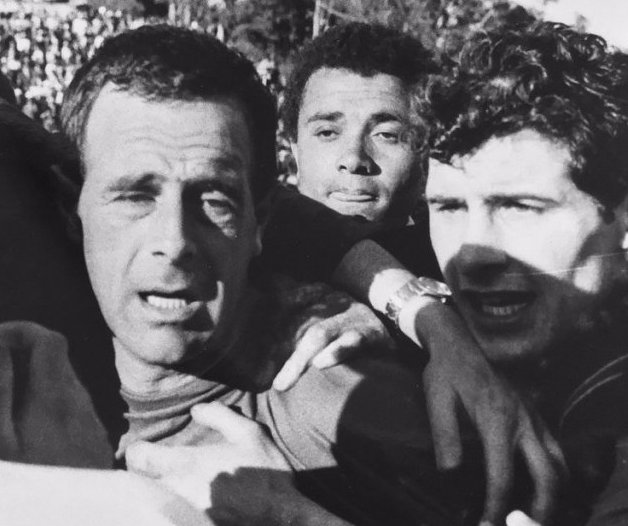 CHEERS AND TEARS…an emotional Ronnie Simpson at the end of the memorable triumph.
'Inter Milan? I didn't see them when I arrived at the stadium and I just couldn't have cared less about them. The atmosphere was really building up now as we got ourselves stripped for action.
'I can honestly say that the players weren't in the least bit worried about Inter Milan. We all seemed to sense that we were going to do something in this game. We got the impression that we were going to be allowed one chance and that was it. The boys were eager to get started. They were ready.
'The last words of Jock Stein were, "This is your one chance. Let's try and take it." I've never seen Billy McNeill or John Clark so excited.
'We wanted to make sure of victory for Celtic and Scotland – that was what we were playing for. Not the bonus. We didn't even know what the bonus was and at that stage none of us cared. We would have played for nothing. This is one occasion no player in his right mind would want to miss.
'We, at Celtic Park, are never told what our bonus will be before any game. All I can say is that the bonuses are very generous and that our bonus for winning the European Cup was bigger than expected. I think this was because of the manner with which we won. Had we lost, we would still have been paid a huge bonus.
'My first Cup-winning bonus with Newcastle United was twenty-five pounds. The European Cup bonus was a few quid more than this! It was paid exactly one week later.'
TOMORROW: Jim Craig recalls the controversial incident that handed Inter Milan the lead in Lisbon.
Click Here for Comments >