CQN continues its enthralling and EXCLUSIVE extracts from Alex Gordon's book, 'That Season In Paradise', which highlight the months that were the most momentous in Celtic's proud history.
Today, cavalier full-back Tommy Gemmell takes centre stage as he talks us through his pulverising equalising goal against Inter Milan that put Jock Stein's men on their way to triumph in the unforgettable European Cup Final on May 25 1967 in Lisbon.
TOMMY GEMMELL invited me to his comfortable abode in Dunblane while I was putting this book together. Quite by chance, one of the Sky sports channels was showing a thirty-minute feature of great European teams and the focus in this programme was on the Lisbon Lions.
My notepad was instantly discarded and, thanks to the generous hospitality of my host, replaced by an accommodating large glass of cold white wine. I knew from the offset this would be a tough book to write!
The legendary Celt and I settled down in front of his TV set to wonder at some of the magic for the umpteenth time over the past forty-nine years.
I sneaked a look at my big friend as his sixty-third minute shot flew high into the net for the equaliser. Gemmell smiled and said, 'Aye, it wasn't a bad wee goal, was it?'
'I'm sure I detected a small tear in his eye as he added, 'You know, I still get a tingle every time I see that goal. I'll never tire of watching that moment.'
THE EQUALISER…Tommy Gemmell wallops a mighty right-foot drive past defender Armando Picchi on its way into the top corner of the Inter Milan net.
This is an extract of a chapter devoted to the player which appeared in the 'Lisbon Lions: 40th Anniversary Celebration' book. It was 2007 and he travelled back in time to recollect, 'As we prepared for Lisbon, Big Jock took me aside and told me, "You'll get the freedom of the left wing. That Italian Domenghini won't chase back – he doesn't know how to tackle. I know what his game is all about. He'll want to do his tricks and flicks at the other end of the pitch. The hard work will be left to the guys behind him. You're going to enjoy this game."
'Sure enough, Big Jock, as usual, was absolutely spot on. Domenghini was a seasoned and gifted Italian international and, yes, he was exceptionally dangerous going forward, but he didn't want to know about defending. When I received the ball I never had to look over my shoulder. I knew he would simply be standing there, hands on hips, waiting for one of his colleagues to get the ball off me and feed it forward to him.
'He was a bit precious, as they say in football. Porcelain, even. Around my part of the world we would have labelled him a lazy beggar! He may have possessed bundles of skill, but he would never have been in any Celtic team managed by Jock Stein, that's for sure.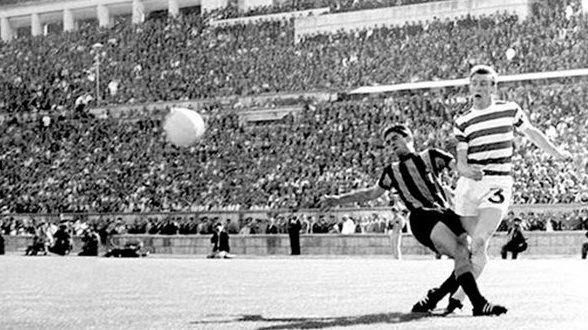 BY THE LEFT…Tommy Gemmell whips over an inviting cross from the wing.
FOILED…Bobby Murdoch sees Inter Milan keeper Giuliano Sarti pull off a brilliant save from his close-range header.
'So, certain in the knowledge that I would be unhindered throughout the ninety minutes, I launched into as many assaults on the Inter Milan defence as was possible before complete and utter exhaustion would have set in.
'In domestic games, it had become a bit of a habit for rival teams to mark me. I suppose I should take it as the extreme compliment, but it was a pain in the backside. It was difficult enough being a defender, so when you got the opportunity to get forward you wanted some freedom.
'Once I got a bit of a reputation, though, I suddenly found these sorties being blocked. Wingers were being asked to defend first and attack only if they got the opportunity. That's why I thoroughly enjoyed Lisbon. I could join the attack safe in the knowledge that Domenghini would not be tracking me and, basically, making a nuisance of himself.
'If you watch that goal again, keep your eye on the Inter Milan No.6, Armando Picchi, who charges out from defence as Jim Craig passes the ball inside for me. Picchi, who was the Inter captain, comes at me at pace, but, for whatever reason, he hesitates and turns his back just as I am about to pull the trigger. I have to admit that if he had kept his momentum going then there would have been every chance he might have blocked my effort.
'If he had come out with his foot up or to the side he might have made contact with my shot. Maybe he was thinking of his manhood, marriage prospects or whatever, but, thankfully, he had a swift change of mind and got out of the way.
'As I recall, I was screaming at Cairney to put the ball in front of me. I was timing my run and I didn't care one whit if Domenghini was with me or not. Nobody or nothing was going to get in my way. At last, Cairney put the pass in – perfectly weighted, may I say – and, well, the rest is history. Wonderful, wonderful history.
'Just before I pulled the trigger, I noticed that Picchi was in their keeper's line of vision and Sarti would not have got a great view of the shot until it was too late.
'He still made a spectacular effort to keep it out, though. I'll give him that. Actually, I thought then – and I still do now – that my shot was a goal all the way. It was destined to hit the net.
'You instinctively know these things. I belted it right on the money. It was a sweet strike alright and, of course, I had been fortunate enough over the years to knock in a few from distance. Most of the times you know there is nothing the goalkeeper is going to do to keep it out.
GRIN AND BEAR IT….goal heroes Stevie Chalmers and Tommy Gemmell celebrate with a new friend.
'I have to say, though, that Giuliano Sarti had looked unbeatable that day. He was immense throughout and sometimes you start to believe it is just not going to be your day. We hit him with everything, but he thwarted us time and time again. He patrolled his area with so much confidence and composure. He looked pompous and even a wee bit arrogant.
'It took us until the sixty-third minute to get that goal and, yes, as legend has it, I did swear at the gaffer shortly afterwards. He was yelling from the touchline, "Keep it tight – we'll get them in extra-time."
'I looked over and shouted back, "Fuck off, Boss, it's 85 degrees out here and we're going to finish it here and now."
'Thankfully, that's what happened and Big Jock never once mentioned our little bout of touchline verbal's afterwards! I said I thought Sarti was arrogant, but I had to take that back when I met him at a Lisbon Lions function in the Eighties.
'He was flown over as a special guest for the evening and he turned out to be a charming individual and he had the good grace to concede that we deserved to win.
'He told me, "Your victory was a triumph for sport." It takes a big man to make such an admission and we all greatly appreciated it.
'But, by God, did he make us work hard to achieve it.'
TOMORROW: The build-up to marvellous history.
Click Here for Comments >