CQN continues it's exciting and EXCLUSIVE extracts from Alex Gordon's book, 'That Season In Paradise', which takes you through the months that were the most momentous in Celtic's proud history.
Today, we look at another groundbreaking chapter in a breathtaking campaign that will live forever in the folklore of the club.
ENTERTAINMENT was the watchword of Jock Stein; a mantra played out, relentlessly, forcefully and without fail, in the Celtic dressing room before every game.
'Remember,' he would tell the players, 'these people have worked all week to get money to come here and see you play. Get out there and show them what you can do. Give them something to shout about, go and put smiles on their faces.'
Bertie Auld recalled, 'Aye, Big Jock would hammer into us the need to win, but also to put on a show for the fans. He didn't have to go through that routine every week, of course. We all knew our responsibilities to the man on the terracing because we were fans, as well. For goodness sake, my dad Joe used to stand at the same spot in the Jungle at every game with his pals. I offered him complimentary tickets for the stand, but he always knocked me back. He preferred to be in that famous old, rickety pavilion with "real" fans, as he called them.'
The Celtic midfielder could afford a laugh as he looked back. 'Mind you, my dad took me aside one day and told me, "Listen, Bert, if you guys keep playing the way you are, my mates and I are going to have to leave the pub a lot earlier to make sure we can get in." Was that a complaint or a back-handed compliment? I'm fairly sure it was the latter. My dad would watch every home game from that same vantage point and I can also tell you he was fairly frank in his observations. He didn't hold back if he thought his son hadn't performed as expected. I didn't need Big Jock to keep me on my toes!'
Auld added, 'We all knew the Boss was the absolute master at the wind-up. Every time we played Rangers or any big game, he would make a point of standing with the players at the dressing room door before we went down the tunnel. He would wait for our opponents to line up alongside us and then he would say in a staged whisper, "You know you've got this game sorted, it's as good as in the bag, so all you need to do now is give our supporters something extra to cheer, put on a wee show for them. And you know you are good enough or else you wouldn't be here in the first place." I would sneak a glance at the face of an opponent and I knew we were a goal ahead without a ball being kicked.
'I would get involved myself, of course. I would go over to John Greig, the Rangers skipper, and say, "Hey, Greigy, what sort of bonus are you on today?" He would say, "Twenty quid for a win, Bertie. What about you?" I would answer, "Ten quid, Greigy." And before he could utter another word, I would chip in, "Mind you, I'm guaranteed to get mine!" And with that we would trot down the tunnel and onto the pitch to do battle in front of 60,000 or so fans who were, as usual, giving it pelters.'
One game that emphasised the drive in the Celtic camp to constantly charm and beguile the onlooker was a league meeting with Stirling Albion on a dreich, dank Wednesday evening on November 2, only four days after the 1-0 League Cup Final triumph over Rangers. Despite the unpleasant weather conditions, there was a carnival atmosphere at Celtic Park as a couple of ball boys paraded the newly-won silverware. As was the custom back then, the Cup was held aloft by the two fortunate youngsters selected for the duty, gifted their fifteen minutes of fame. They would walk slowly around the trackside, pause every now and again and milk the moment. The procession of the glittering prize would be guaranteed to get the supporters charged up for the spectacle that most assuredly lay ahead. This night in the east end of Glasgow wouldn't prove to be the exception.
In stunning, whirlwind fashion, Celtic rattled in six goals in thirty-seven first-half minutes in a bedazzling display. Poor Stirling Albion, a team in the wrong place at the wrong time without a hope of sanctuary. Jimmy Johnstone got the ball rolling with the opener in the sixth minute and the fans had to wait a mere four minutes before Joe McBride got on the scoresheet. Stevie Chalmers popped one in shortly afterwards and Bertie Auld joined the party in the twenty-fifth minute. Devastated Stirling defenders were hit by a two-goals-in-a-minute burst just before the interval with McBride and Chalmers again on target. No-one seemed to notice that the bedraggled visitors actually managed to get the ball behind Ronnie Simpson practically on the half-time whistle. The typhoon became a mere gust after the interval as McBride completed his hat-trick and the scoring for the champions in the forty-eighth minute. Two late goals from the Annfield outfit completed the 7-3 scoreline and the Celtic defenders, after a couple of momentary lapses, were aware they were about to be on the receiving end of a well-rehearsed sermon from their manager.
MAN FOR ALL REASONS…the versatile Tommy Gemmell.
Charlie Gallagher limped out of the romp early on after picking up a sore one in a challenge from an over-zealous Stirling defender and Jim Craig came on as substitute. He went straight into Tommy Gemmell's right-back role and the attacking defender was moved forward into midfield with Bobby Murdoch taking up his former position higher up the field at inside-right. Gemmell joked, 'You could say I was "The Man for all Reasons". I was fairly versatile and Big Jock knew that. I also trained for half-an-hour at Barrowfield just about every day as a goalkeeper because I was stand-by if Ronnie Simpson picked up an injury. Remember, we only had a substitute shotstopper for European ties back then and John Fallon got that role.
'So, by the time we were only a week into November, I had played at both right and left-back, outside-right and in midfield. And with Caesar missing with his bout of flu, the manager turned to me and told me I was playing centre-half against St Mirren on the Saturday following our seven-goal show against Stirling Albion.
'That was fair enough, I never quibbled about where I played, just so long as I was in the first team. Someone once asked me if I fancied playing outside-left. I smiled and replied, "Have you not been watching me all season? I have been playing at outside-left!" Well, it just felt like that because I appeared to spend more time in the opposition's half than I did in my own. I suppose I was a handy man to have around, even if I do say so myself!'
The effervescent Gemmell also liked to remind everyone he was a rarity as far as Celtic goalkeepers go. 'How many can say they played more than one game for the team and never conceded a goal? I can lay claim to that one. I moved into goal when Faither, Ronnie Simpson, was injured in a Scottish Cup-tie against Clyde at Shawfield on a February afternoon in 1969. It was a perishingly-cold Wednesday, as I recall, with a 4.30pm kick-off because there were problems with the home side's floodlights. Faither dislocated a shoulder going down with typical bravery at the feet of a Clyde forward. If I remember correctly, the opposing player was Jimmy Quinn, who was actually on loan from Celtic!
'Our keeper departed the scene very early, after only fifteen minutes or so. We didn't have a substitute goalie, so Bertie Auld came on and I went between the sticks. My colleagues did their best to keep the ball away from me for the remainder of the game, but I recall making a decent save from Harry Hood, who, of course, would become a team-mate shortly afterwards. That game ended goalless and we won 3-0 in the replay. It was a vital match because we went all the way to win the Scottish Cup that season, giving Rangers a 4-0 hiding in the Final.
'And I stepped in after Faither had taken a knock on the same shoulder when we were playing Ayr United in a League Cup semi-final replay at Hampden in October 1969. It was 2-1 with only about twelve minutes to play when I took over the goalie's jersey and the score remained that way. Surprisingly, we had drawn the first game 3-3 when John Fallon had been in goal. But Ronnie came back for the league game against Airdrie at Broomfield on October 11 which just happened to be his thirty-ninth birthday. Big Jock made him captain for the day and we won 2-0.
'Unfortunately, it wasn't such a happy tale two nights later when we faced Ayr United again for the right to see who would play St Johnstone in the League Cup Final. Faither dived to push away a low shot at his post and he was in obvious distress when he landed on the hard surface. His shoulder had gone again and I realised in an instant that my game as an outfield player was over and I would be handed the No.1 jersey. Faither was helped off and that was the last we ever saw of him playing for Celtic. It was the end of an extraordinary career for one of the most remarkable characters I ever had the good fortune to meet, on or off a football pitch.'
Unexpectedly, Celtic stalled at the twenty-third examination of their skills and St.Mirren, after conceding eight goals during their last visit to Parkhead in the League Cup in August, stubbornly held on for a 1-1 draw. It was November 5, but, on this occasion, the fireworks were sparce from Jock Stein's side. It was an afternoon to forget for the champions when very little went according to plan. There were a few factors to be considered; two 'goals' chalked off in the first-half, a couple of goal-line clearances, a heroic display from the opposing goalkeeper and the fact Celtic were forced to complete the game with ten men following the mysterious dismissal of Bobby Murdoch. You get days like that and, being positive, it had been a long time coming. And Celtic still remained undefeated.
Billy McNeill missed his one and only game of the campaign after being stricken by a flu bug and Tommy Gemmell did, indeed, play in the pivotal role in defence alongside John Clark. 'As I said, I was always happy to fit in where Big Jock thought best,' admitted Gemmell. 'I had played at centre-half in bounce games and enjoyed the role to a certain extent. It helped that I was two-footed, which I would say is essential for a player in that position. The one restriction, of course, was that I couldn't be quite as adventurous so far as charging into attack was concerned. Wee Luggy, John Clark, was used to the way Caesar played and he rarely abandoned his beat in the middle of the rearguard. Our skipper would join in the attack for set-pieces, of course, but rarely came forward in open play. For all his attacking ideals, even Big Jock wouldn't have condoned the anchorman in his defence gallivanting deep into the other team's half and leaving huge gaps behind him. So, I had to keep that in mind that day.'
St Mirren goalkeeper Denis Connaghan, who would be signed by Stein in the immediate aftermath of the humiliating 4-1 League Cup Final from Partick Thistle in 1971, had actually been at Parkhead as a provisional signing, but, due to some confusion over paperwork, he hadn't been offered a contract. The way Connaghan recalled it, he had informed a club official he was going to America for a month to attend his sister's wedding. There were mixed signals and it was erroneously believed the nineteen-year-old prospect was emigrating to the States. The club, therefore, released him from his contract. Undeterred, the beanpole custodian joined Renfrew Juniors, excelled at that level and was swiftly snapped up by St Mirren. As luck would have it, he made his debut for the Paisley outfit that afternoon in the east end of Glasgow.
Connaghan admitted, 'Although I was let go, I was still a Celtic fan. I don't think that ever leaves you. Obviously, I was busy on Saturday afternoons, either with Renfrew or St Mirren, and couldn't get to the games. But I went along for some midweek fixtures when I was free and I was at Parkhead for the European Cup-ties against Vojvodina and Dukla Prague later that season. Ironically, I was playing for the Saints against Dunfermline on the day of Celtic's League Cup Final defeat against Partick Thistle. There were murmurs coming from the fans on the terracings behind my goal throughout the first-half. They were listening to the Hampden game on their transistor radios. I could pick up that Celtic were losing 1-0. And then it was 2-0. Then 3-0. Amazingly, it was 4-0 at the interval. Little did I know at that point, I would receive a phone call the following day to let me know Jock Stein wanted to sign me. It was all done and dusted by Monday afternoon.'
The young Connaghan, though, did not set out to do his boyhood favourites any favours on his senior baptism. He reflected, 'We were expected to get hammered. The previous week we had been thumped 6-1 by Rangers and that opened the way for me to play my first game in the top side. I was actually told by one of the club's management that I would lose goals and not to worry about it. He told me to go out, do my best and just enjoy the occasion. So, I did!'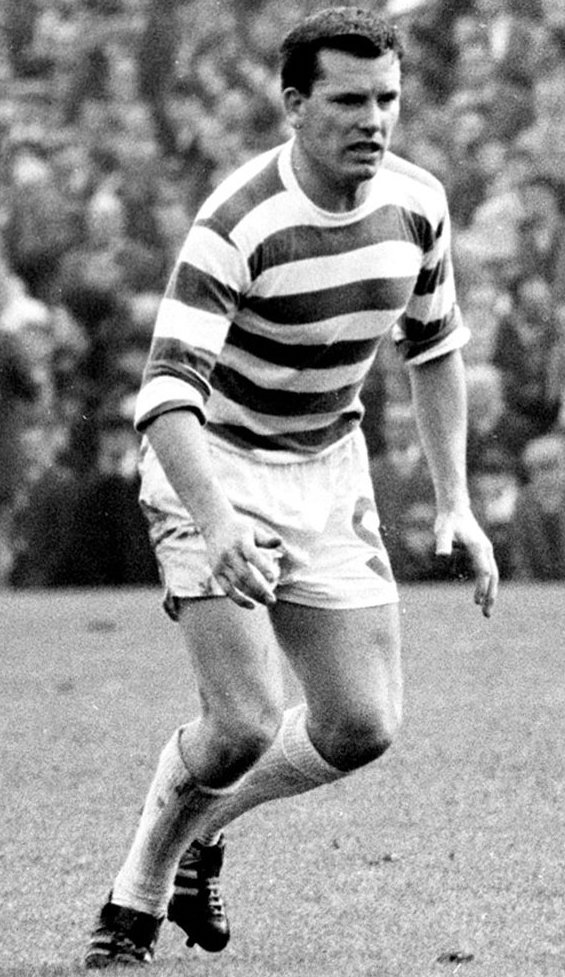 UNSTOPPABLE…Joe McBride terrorised rival defences.
Joe McBride bulged the net behind the debutant custodian after Bertie Auld had set up the opportunity, but the referee ruled it out, indicating offside against the striker. No-one in the 24,000 crowd was unduly concerned at that stage. Shortly afterwards, Jimmy Johnstone was next to beat Connaghan and, once again, the celebrations were cut short when the match official awarded a free-kick to the visitors. Then Bobby Lennox, with his customary burst of exhilarating pace, got through to drive a shot at goal. The ball clipped the keeper's outstretched leg, spun lazily in the air on its way towards the net before its seemingly-inevitable progress was halted by desperate defender Cameron Murray who headed clear from under the crossbar. Connaghan also contrived to deny McBride, Lennox and Stevie Chalmers on three separate occasions and it was one of football's great puzzles the scoreline remained blank at half-time.
Two minutes after the turnaround, Tommy Gemmell took the opportunity to venture forth and he was right in line, thirty yards out, when a wayward cross broke to him. He strode forward and caught the ball perfectly with his fearsome right foot and there was little Connaghan could do on this occasion as the effort raged past him. The keeper was still in mid-air when the ball crashed behind him into the net. Gemmell said, 'I took a chance going up, but, to be honest, Faither was so inactive he could have taken out a book and a deckchair that day and caught up with some of his reading. St Mirren weren't exactly putting my old mate and me under too much pressure. So, I thought I would go up and see what was happening at the other end of the pitch. Fortunately, the ball fell nicely for me and I just gave it a smack and hoped for the best. Connaghan had been playing exceptionally well and I would get to know later as his team-mate that he was capable of such outstanding performances. I thought that goal would open the floodgates for us that day. Didn't work out that way.'
Unbelievably, the Paisley side equalised only eight minutes after Gemmell's blaster. Frank Treacy, who had scored his side's goals in their 8-2 thrashing in the League Cup, chased a long ball, punted by a defender from deep inside his own half, brought it under control and the pacy forward, basically left unattended, drew Simpson and flicked the ball past the veteran. The sound of silence greeted the goal; the Celtic Park attendees couldn't believe what they had just witnessed. The Saints had been pounded and pulverised for the best part of an hour and now their players were prancing around with undiluted joy.
If the Parkhead patrons found that difficult to fathom, it was nothing to their emotions when the referee saw fit to order off Bobby Murdoch. The midfielder raced over to retrieve the ball as it went out of play. Puzzlingly, the linesman signalled a throw-in to St Mirren when it seemed clear to all in the proximity the award should have gone the way of Celtic. Someone said something untoward and that was enough to see the official frantically wave his flag to attract the attention of the referee. After a quick confab, the whistler summoned Murdoch to come over and then dramatically pointed to the dressing room. I was a friend of Murdoch for many years and, although I accept I may be a shade biased, I never found him to be in the least bit malicious or offensive. I doubted if he would have brought the linesman's parentage into question, but whatever had happened had seen the playmaker immediately banished from taking further part in the proceedings. Celtic were fated not to win their twenty-third successive encounter that day.
During research for this book, the mystery of the Murdoch sending-off was solved – after half-a-century! Tucked away in his 1970 autobiography, 'All The Way With Celtic', was the answer. He revealed, 'The first time I was ever ordered off in my life was in a league match against St Mirren at Celtic Park in November 1966. I was so innocent that it hurt! Things were not going well for Celtic or me on this particular occasion. With the score at 1-1, we were pushing hard for the winner late in the game. The ball went out of play for a throw-in at the Jungle side of the ground and I immediately claimed it was ours. The linesman, however, flagged the other way. I looked at him, shook my head and ran away to take up a defensive position.
'Claims were made by either side as the ball was retrieved. When it was picked up by a St Mirren player, the linesman was seen to have his flag raised. Over went the referee for a chat and his next move was to call me over and ask for my name. I couldn't believe it. I said, "Why are you booking me, ref? I haven't done anything." The referee, Ronnie Henderson, of Dundee, said that I had been accused of swearing at the linesman. He said, "I can only act on what the linesman told me. The game is over as far as you are concerned. You can have an early bath."
'I was off and I hadn't opened my mouth! My heart filled with the injustice of the situation. St Mirren inside-forward Archie Gemmill came over and said to the referee, "You have the wrong man, ref. It wasn't him." But the referee wouldn't change his decision. So, seven minutes from the end, I was off – and I was Celtic's captain for the day, too. Oh, did I feel rough!
'I told our manager that I had not committed any offence whatsoever and that I should never have been booked never mind sent off. He accepted my explanation – particularly when our centre-forward, Joe McBride, owned up, "Bobby's right, boss. It was me who shouted at the lineman."
'Archie Gemmill, the Paisley forward who had been marking me during the match, very sportingly said after it was all over that he was prepared to be my witness when I appeared before the SFA Referee Committee and state that it was a clear case of mistaken identity. After seeing a copy of the referee's report, I sent a letter to the SFA giving my side of the incident and stating that I wanted Gemmill to appear as my witness. But the SFA wouldn't have this at all. I was not allowed any witnesses. I think this is very wrong. When someone is prepared to come forward from an opposition side and say something on your behalf, shouldn't he surely be allowed to do so?
'Anyhow, I appeared before the SFA Referee Committee, which had Morton director Peter Scott in the chair. He asked me for my side of the story and I told him in complete detail. I went outside while they discussed my case and when I was recalled I was told I had been fined thirty pounds and severely censured. It was very obvious they were not too sure of what had gone on and it seemed to me that the compromise was a fine. An innocent man fined. It would break your heart. But this kind of thing is all part and parcel of the game of football.
'I had no hard feelings about Joe McBride. After all, why should he volunteer to be ordered off when the chance was that my case would be dismissed because a genuine and honest mistake had been made? I was quite relieved that I was not suspended. Mind you, maybe I should have had a word with McBride about that thirty quid I had to fork up!'
PLAYMAKER…Bobby Murdoch called the shots in midfield.
After the stalemate, Jock Stein was in no mood for hard luck stories. The Celtic manager was raging at the self-centred displays of some of his players who had strayed from his instructions. As he spoke to the Press, Stein made no attempt to disguise his frustration. He said, 'I don't think there is any doubt that some of our forwards' play against St Mirren was plain stupid. Some of them have been warned in the past of the trouble that awaits them if they do not do as they are told in pre-match practice. Yet they persist in going their own way.'
While the Celtic boss actively encouraged improvisation and spontaneity among his players, he didn't subscribe to an individual spending the entire ninety minutes basking in impromptu, unscheduled  acts of what he termed unacceptable selfishness. No names were mentioned, no show ponies were revealed, but a fully-fit Jimmy Johnstone, known for his extravagant over-indulgences on the football park, didn't even get near the solitary substitute's spot for the forthcoming games against Partick Thistle and Falkirk. With the wee winger nowhere to be seen, Jim Brogan occupied the No.12 berth against the Maryhill side and Ian Young was called up from the reserves for the trip to Brockville.
Celtic were only ninety minutes away from the second of the quintuplet of trophies that made season 1966/67 the most memorable of all time when Partick Thistle travelled across Glasgow to contest the Glasgow Cup Final. The Parkhead side finished as they had started the tournament – with a 4-0 triumph while Bobby Lennox claimed a hat-trick, as he had done against Rangers in August. Barring Celtic's way to another piece of silverware was goalkeeper George Niven, who had conceded seven goals in one of the Parkhead side's most historic triumphs, the 7-1 League Cup Final win over the Ibrox side in 1957. He must have wondered what lay in store as Stein's team netted four in just over thirty first-half minutes. Stevie Chalmers got the first in twelve minutes and Lennox raced to bang in three in nineteen painful minutes for Niven, who was thirty-seven years of age at the time and in the twilight of his career.
That, thankfully for the veteran custodian, was the end of the scoring. Thistle manager Willie Thornton, a former Rangers player, was wholesome in his praise of his overpowering opponents. He said, 'I have to admit I was most impressed by Celtic's play. I watched them beat Stirling Albion 7-3 last week and they did a first-class job as executioners in that game. They did the same to us.'
It was Joe McBride's turn to take the goalscoring spotlight when Celtic faced Falkirk at the dreaded Brockville on Saturday November 12. Like Airdrie's Broomfield, no-one actually looked forward to attempting to perform on that ground. Bobby Murdoch had the ability to keep a helium-filled beach ball under control during a storm while performing on quicksand, but even the cultured midfielder groaned at the thought of being asked to play at Falkirk. He said, 'If there are two grounds I just hate playing on they are Broomfield and Brockville. I'm never happy on either of these grounds because I invariably develop a bad case of claustrophobia.
'I feel the terracings, stands and crowd are so much on top of me, and so near to the play, that I don't seem to have room to move in, let alone breathe. And as a link player between defence and attack you have got to have land, lots of land, to work in. The funny thing about Brockville is that, while it looks a small, trim, narrow ground, it is actually wider than Hampden Park and most of the other grounds in Scotland. The pitch is actually seventy-seven yards wide. That's two yards wider than Hampden and Celtic Park and five yards wider than Ibrox. I know this will surprise a lot of people, including players.
'Like Broomfield, the terracing walls are right up against you and you get the feeling the fans could reach over and touch you. I should point out right here, I think the majority of the fans at these games are Celtic supporters. Like Rangers, we are never outnumbered by the home support, unless the match is at Aberdeen in midweek, which is just a little too far for the majority of our fans to travel.
'A huge travelling support is always a distinct advantage and those who say the vocal backing Celtic and Rangers get each week is worth a goal of a start may not be all that far wrong. Even so, I never did get rid of the feeling of being hemmed in at Brockville and Broomfield. Though there is a fair bit of space across the field at Brockville, the red shale track really forms the border of the playing surface and one tends to be short with passes to the wing because the track looks so close. If there were another ten yards of turf on either side of the touchline it would make a great psychological difference to midfield players such as myself and give you more confidence in striking the ball firmly in distribution.
'Unfortunately, the proximity of the track, and the terracing, is all against any feeling of extra space on the wings at Brockville. Celtic have come a few croppers on this ground over the years. I recall being in a Celtic team beaten 6-2 there in April 1965. I think the result was more of a surprise to Falkirk than it was to us! I'm glad to say we've come a long way since that Brockville blockbuster.'
Misgivings or not, Murdoch produced another flawless presentation as Jock Stein's men made no mistake in an effortless 3-0 win on the derisible, detested playing surface of their hosts. Joe McBride got a perfect day in motion when he tapped in from close range after the Falkirk keeper fumbled a cross from Bertie Auld in the proximity of his right foot. Just before the interval, the powerful frontman whacked in a second via the penalty spot after a handball had been detected by the referee. It was all over by the sixty-second minute when Bobby Lennox had a shot cleared off the line, it broke to McBride who instinctively forsook personal glory to set up Auld to nail the third.
The victorious team came off the pitch to be informed by a beaming Jock Stein that Rangers had been held to an unexpected 1-1 draw by St Johnstone in Perth. The champions were now three points ahead as they drove relentlessly forward in the defence of their title. There was no midweek rest for six Celtic players who would represent Scotland against Northern Ireland in the Home International Championship at Hampden. Tommy Gemmell, John Clark, Bobby Murdoch, Joe McBride, Stevie Chalmers and Bobby Lennox were in action as the Scots won 2-1 with first-half goals from Murdoch and Lennox. Curiously, Billy Bremner, the Celtic-supporting captain of Leeds United, was the only Anglo-Scot in the line-up that evening with Kilmarnock's Bobby Ferguson in goal and Rangers trio John Greig, Ronnie McKinnon and Willie Henderson also on duty.
Fortunately, all six Celts came through unscathed for the trip to East End Park for the league encounter against Dunfermline three days later. Jimmy Johnstone, after being snubbed by Jock Stein for two games as punishment for his exaggerated excesses in the stalemate against St Mirren, was back on the right wing. The rumbustious meeting against the Fifers emerged as a contender for Game of the Season, a real see-sawing, rattling humdinger that saw Celtic twice behind by two goals and still come back to pick up the points in an implausible 5-4 triumph, with the winning goal being claimed by Joe McBride with a blistering last-minute penalty-kick.
After just over an hour played in the Fife mud, it looked as though Celtic's unbeaten record was about to be dynamited. A determined set of Dunfermline players were winning 4-2 and the visitors were hanging on grimly. Somehow, from somewhere, Stein's men drew courage and unconquerable qualities as they lifted themselves from a veritable swamp and totally transformed the outcome.
Two goals in three minutes saw Willie Cunningham's team, still smarting at their 9-4 aggregate dismissal from the League Cup, put down their marker. Hugh Robertson blasted in the opener in the thirty-first minute and, only moments later, Pat Delaney rifled in a second. Celtic were reeling, two goals adrift for the first time in the campaign.
Bobby Murdoch responded almost immediately after Delaney's effort as he diverted in a cross, but Bert Paton restored his side's two-goal advantage in the thirty-eighth minute. The champions rallied and back-in-favour Jimmy Johnstone nipped in to cut the deficit after keeper Eric Martin had blocked a drive from Bobby Lennox. The 22,000 audience was relieved to hear referee Tiny Wharton's half-time whistle, the shrill giving them the much-needed opportunity to get their breath back. But there was more to come during a tumultuous second-half.
Three minutes into the period, Alex Ferguson banged his team's fourth goal behind Ronnie Simpson and the scoreline remained that way until the sixty-second minute. Bertie Auld, defying the elements and skimming across the skiddy surface, slammed one in via the upright and that goal signalled an almighty effort from Celtic to level matters as they lay siege to Martin's goal. Seven minutes after Auld's effort, McBride ploughed his way through the middle, every sinew straining and his legs pumping as he pulled away from a pack of pursuing defenders, and he finished with a vicious, thumping shot beyond the keeper.
Match official Wharton was already looking at his watch, whistle poised between his lips, when Dunfermline centre-half Roy Barry conceded a blatant penalty-kick. A last-ditch crossball was thrown into the congested area in front of Martin and Barry, for reasons known only to himself, took off in Superman fashion to punch the ball away from the head of the inrushing McBride. The referee had an unobstructed view of the incident and had no hesitation in pointing to the spot. Up to that stage, the teams had shared eight goals in an enthralling spectacle and now, with only a matter of seconds remaining of actual play, Celtic were one kick away from emerging triumphant.
IN THE THICK ON THINGS…Bertie Auld was always involved.
The awesome pressure could have got to McBride as he placed the ball twelve yards from goal. Was there another twist in this remarkable occasion? The striker stepped back, Martin, arms flapping, made himself look as big as possible as he stood on his line, and then McBride came thundering forward. Bang! The ball flew straight and true high into the net and the travelling fans went wild with unrestrained happiness. The Fife players collapsed as one onto the morass of the East End Park pitch. And who could blame them? They had scored eight goals against Celtic in three games and lost them all. Mind you, their opponents didn't help the Fifers' cause by stuffing fourteen goals into their net in rampant reply.
Bertie Auld recollected, 'What a game that was, a real old-fashioned, in-your-face confrontation. You better believe Dunfermline were a right good team back then. I suppose a lot of sides might have folded when they were losing 4-2 after an hour or so. Not this Celtic team; absolutely no chance. Even when we got it back to 4-4 we were looking for the winner. Aye, I suppose a lot of other sides would have seen that as an achievement to get a point in such circumstances, but we never thought along the lines of other players or other teams. We wanted to win. That was our thinking at the kick-off and we had no reason to change our mindset as the clocked ticked down.
'Critics made quite an issue of the late goals we scored that season. I'll let you into a secret; Big Jock trained us for EVERY game going into extra-time. Of course, there would be no added-on half-an-hour in a league game, but we would have been ready for it if that had been the case. In some Cup-ties, you could see opponents just about out of it, on their knees and obviously not relishing the thought of extra-time. It didn't bother us because we had worked all week for two hours of action. That was Big Jock's way of thinking. He didn't see much point in simply preparing his players when there was a Cup-tie coming up and there was the possibility of extra-time. That made no sense to him and, of course, he was quite right. So, we had stamina in reserve when we were playing any game and it was going into the last fifteen or so minutes. We were a strong, extremely fit team. Did anyone ever witness any of our players suffering from cramp back then? I don't remember that ever happening.'
Jock Stein had an interesting take on the breathtaking confrontation. He said, 'In the League Cup Final, our forwards played very badly. It was the defence that saved us and took us to victory on that occasion. So, surely the attack is expected to do a special job in games such as this one? Did you see a single one of our forwards bickering with the defence when the goals were being lost? Did you see any of them losing heart? We're all in this together. We are a team and we won this one as a team.'
A week later, it wasn't quite so frenzied or nerve-shredding against Hearts in the constant drizzle from the heavens at Parkhead. The unfortunate George Miller directed a shot from Bobby Lennox past his own keeper Jim Cruickshank in the twelfth minute, but it wasn't until Joe McBride cannoned a second into the net in the eighty-second minute that Celtic could afford to accept two points were a certainty. McBride zoomed in a penalty-kick in the fading moments to cement a 3-0 victory. Willie Wallace played that afternoon in the maroon of the Edinburgh side, but the next time he performed on the same pitch thirty days later he was wearing the green and white hoops of Celtic. And about to embark upon a truly astounding voyage in the next step of his football career.
Celtic's final game of an eventful November came in the European Cup Second Round first leg against Nantes, the excellent French club renowned for their flamboyant, attacking style. Once again, Jock Stein's outfit had been drawn against a team who had provided several players for their nation's squad for the World Cup Finals in England, most notably Robert Budzynski, a tough, solid and dependable centre-half with the ability to pass the ball out of defence.
There was little doubt, though, of the Celtic player who had caught the imagination of the home support – Joe McBride, the thirty-three goal hitman who had been immediately christened 'Marlon Brando' by the French Press. It was a nickname that baffled even the stocky Celt. Ronnie Simpson recalled, 'The Malakoff Stadium proved to be a smallish ground and the game did not attract a great deal of people with the attendance given as 15,464. In sixteen minutes, we were a goal down. Their full-back, Gabriel De Michele, had attacked down the left wing and pushed through a great ball to Francis Magny. We were caught open and he beat me with his shot, which was low and hard.
'But "Marlon Brando" had us all-square in twenty-four minutes and, in the second-half, Bobby Lennox and Stevie Chalmers also got on the scoring charts. We deservedly won 3-1. The Man of the Match was undoubtedly Jimmy Johnstone. The French fans rose to him and applauded his trickery. The French newspapers called him "La Puce Volante" – "The Flying Flea" – and that's what he must have seemed to the Nantes defenders as he jinked through their ranks with calculated danger.
'The boss told Jimmy before the game to keep taking the ball up to the full-back and to carry it past him and not to be disheartened if he failed. He was to keep trying to beat him. De Michele did stop him in the earlier parts of the game, but eventually Wee Jimmy had him so bamboozled that everyone was applauding him. Including me! The French team manager, Jose Arribas, did not really give much hope of saving the game at Celtic Park. When you lose a home tie 3-1, you're in dead trouble.'
'Marlon Brando' and 'La Puce Volante' celebrated St Andrew's Day alongside the rest of the Celtic contingent on the banks of the River Loire that evening and prepared for the rigours of a demanding December.
TOMORROW: DECEMBER –HOGMANAY HORROR ON TAYSIDE
Click Here for Comments >