CELTIC hammered Comedy Club Sevco Rangers in September on their first ever visit to Celtic Park. The club have even released a DVD of that match which is titled Demolition Derby. That name got us thinking back to the original Demoltion Derby match at the end of August 2000, when another Irishman was a new arrival at Celtic Park as manager.
Martin O'Neill, like Brendan Rodgers won by four clear goals, O'Neill though was facing the old Rangers which was riddled with EBT tax dodgers. A club living way beyond it's means. That game set them spiraling towards their death.
Here's how Alex Gordon describes the famous 6-2 game in his excellent CQN book, The Winds of Change…
DEMOLITION DERBY
'Maybe the result highlighted Rangers aren't quite as good as they think they are. There are still only two teams who can win the league and it is far too early yet to say which of us it will be. But just so long as Celtic don't get carried away by this one result and continue going about things the way we have been so far, I think you could see me celebrating come the end of the season.'
Celtic Park was still rocking and heaving as Martin O'Neill reflected on the remarkable, rampaging 6-2 mauling of Rangers on August 27, 2000, a classic confrontation that would be welcomed to history with the title 'Demolition Derby'. The six-goal haul was as many as the club had bludgeoned into the net of their Ibrox rivals since the equally astonishing 7-1 League Cup Final victory on October 19, 1957. Suddenly, there was belief – genuine, tangible belief – that Celtic had the right man in charge; a grounded individual whose masterful motivational and man-management skills were becoming more obvious with every passing match.
Rangers had been contemptuously knocked aside, wrecked by a green-and-white tornado that left their manager Dick Advocaat ashen-faced while sportingly accepting his team had been beaten by superior opponents. There were no excuses from the Dutch hard-liner who had ruled the roost so comfortably the previous season over John Barnes and Kenny Dalglish and had, in fact, won three of the four Old Firm encounters, the last being the horribly one-sided 4-0 hammering at Ibrox only five months beforehand. That was then and this was now; Barnes and Dalglish were history and O'Neill's strong hands were on the tiller.
There is little doubt the confidence gleaned from this fascinating face-to-face between the Glasgow giants went a long way to breaking Rangers' psychological stranglehold on their opponents that had stretched over a decade of misery, interspersed with a spasmodic moment of joy which passed far too swiftly. The Ibrox men held such a dominion over the team from the east end of Glasgow it was beginning to look as though Celtic were existing to merely make up the numbers. That changed on a gloriously sunny day when such thoughts of inferiority were reversed. In an hour-and-a-half of riveting football, the oppressed had assumed the mantle of oppressors as the landscape transformed so dramatically. Celtic scored six; it could have been eight if they had upped their level of mercilessness.
Billy Dodds, one of the Rangers players engulfed in the storm, was honest enough to admit frankly, 'It was scary. I had been in Old Firm games before, but this was unbelievable. The noise coming out of Parkhead! Bang! Bang! Bang! It got louder and louder and you're thinking, "F****n' hell, this is a whirlwind." The stadium was rocking. Oh, my God, they took the roof off. You're thinking, "This could be a double-figures job if we don't get to grips with it."'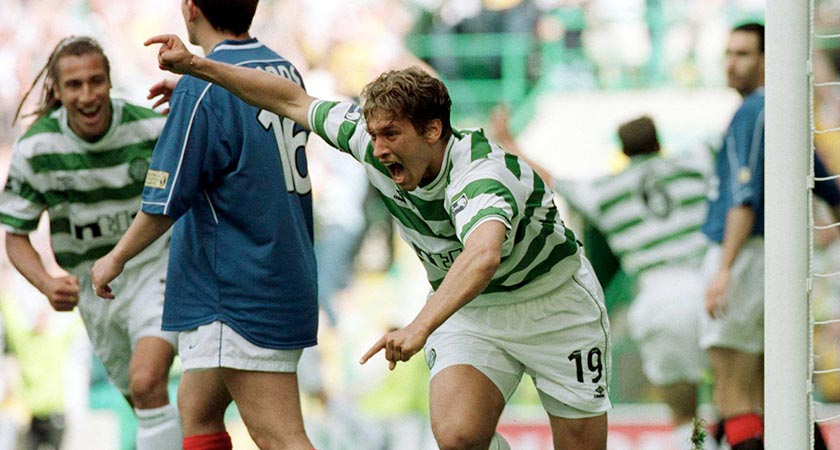 Chris Sutton, bought, by his own admission, 'to put Rangers in their place', terrorised Amoruso and Konterman at the heart of the Ibrox defence. With the Italian given no opportunity to stroll around and adopt the role of a poseur and the disorientated Dutchman clearly in a state of shock, there was the obvious potential for destruction. Sutton, clearly, was up for the job. By the eleventh minute, with Celtic a mesmerising three goals ahead, goalkeeper Stefan Klos must have wondered about the wisdom of getting out of bed that morning. Bobby Petta, rejuvenated in the rebirth of the team, was magisterially strutting around on the left wing, bringing mayhem with his every touch. It would have been an unimaginable scenario only a few months beforehand. Another Advocaat recruit at £4million from AZ Alkmaar, right-back Fernando Ricksen, eyes staring wildly at his very public humiliation, was spared by his thoughtful fellow-Dutchman when he withdrew him in the twenty-first minute to put on another midfielder in the shape of the Turk, Kerimoglu Tugay. The defender, seemingly hypnotised by fear, offered no protest at his early removal.
Henrik Larsson had, of course, missed all four Glasgow derbies the previous season and, immediately from the offset, illuminated the impression he would once again enjoy and thrive in these unique spectacles, none more so in the fiftieth minute, with the score at 3-1, he scored such a beautiful goal of gleeful impertinence that it will be forever seared into the memory banks of anyone who witnessed it. His masterly moment of impudence underlined he was by far the best player in the country by some distance. A panicking Advocaat would shell out a ludicrous £12million for Chelsea's Tore Andre Flo in November, but it would soon become obvious the Norwegian striker possessed only a fraction of the Swede's accomplished skills. With Larsson on the field and O'Neill in the dug-out, Celtic supporters had every reason to believe. The supporting cast wasn't too bad, either.
This most impassioned of Old Firm collisions had an extraordinary start as Sutton scored inside a minute with 59,476 fans looking on in a mixture of bewilderment and delirium. Lubomir Moravcik arced in a treacherous left-wing corner-kick with Sutton challenging Amoruso at the near post. The ball spun clear towards Larsson, who, off balance, didn't connect properly and his mishit effort looked to be going wide until Sutton, lurking with intent, turned sharply to whip a right-foot shot wide of the challenging Amoruso with Klos scrambling across his line. On my watch, it was exactly fifty-three seconds from Sutton kicking off to the Englishman smashing the ball into the rigging.  Amoruso appealed for offside, but clearly wasn't aware team-mate Dodds was on the goal-line and also played Sutton on. Referee Stuart Dougal waved away the plea.
And Dodds got a good view of Celtic's second goal in the eighth minute as he stood rooted to the line as Moravcik curled in another devastating right-footed left-wing corner-kick. The Rangers defenders were concentrating on Larsson, Sutton, Alan Stubbs and Joos Valgaeren and, in total disarray, failed to pick up Stilian Petrov. The Bulgarian, with inch-perfect timing, shook off the half-hearted attentions of the hapless Ricksen and, with Klos again caught out, took to the air to send a thumping close-range header into the net. Celtic Park erupted once again as O'Neill did an impromptu jig of delight on the touchline.
Rangers, who arrived for the game in imperious mood after winning the Premier League title by a phenomenal twenty-one points the previous season, were in tatters, their so-called superior attitude obliterated by the eleventh minute when Celtic claimed a third goal. Petta and Moravcik combined on the left and Lubo, with his outstanding ability to think clearly and react quickly in the most frantic of circumstances, saw Paul Lambert racing clear just outside the box. With impeccable timing, Moravcik rolled the ball into the midfielder's stride and he didn't hesitate as he first-timed a vicious drive from sixteen yards wide of Klos, the ball crashing into the net as the goalkeeper valiantly and unsuccessfully threw himself to the left. Euphoria swept down from the stands as the players celebrated in the certain knowledge that, even before the fifteen-minute mark, the game was over. Rangers were rocking; Celtic had no intention of following the script.
O'Neill had to readjust his game plan when Lambert had to go off with an injury in the thirty-sixth minute following a fierce challenge from Neil McCann, who had already been booked early in the game for a reckless tackle on Jackie McNamara on the touchline. The industrious and clever midfield man tried to carry on, but the damage was so severe he collapsed and had to be replaced with Johan Mjallby. While Celtic were getting to grips with the reorganisation, Rangers scored five minutes later when Claudio Reyna got on the end of a left-wing cross from Rod Wallace. He directed his header down towards Jonathan Gould's left-hand post and the keeper did well to get across his line to smother the attempt. However, match official Dougal deemed the ball had crept over the line and awarded a goal, despite no conclusive proof of this being the case. That decision was perhaps balanced, though, when Wallace sent an angled drive wide of Gould, but was flagged offside just before the interval. It was dangerously close.
Any threats of an unexpected comeback from the Ibrox side were dynamited when cool customer Larsson scored with a wonderfully crafted lob five minutes after the turnaround. A clearance from Gould was directed into the Swede's path by the chest of the quick-thinking Sutton. There was still a lot of work to be done with Tugay racing in to challenge and Konterman barring his way to the penalty box. Almost disdainfully, Larsson eliminated the Turk with a burst of pace, the nervous-looking defender was treated with the utmost contempt as the ball was knocked between his legs before the solo move was delightfully completed with a nonchalant flick over the head of the transfixed Klos from eighteen yards. It was simply breathtaking in its artistry and execution.
Rangers were awarded a penalty-kick five minutes later when Wallace went down under a challenge from Stephane Mahe and Dodds rapped it wide of Gould. However, the day belonged to Celtic and, just after the hour mark, Petta floated over a right-wing free-kick, Larsson could barely believe the nearest opponent to him was Barry Ferguson, who was three yards away. The attacker rose, snapped his neck muscles upon impact and his deft flick soared past the motionless Klos. The raucous atmosphere obviously got to Ferguson, yellow-carded earlier for a foul on Petrov, who deliberately handled the ball and was excused duties for the last nine minutes of the game.
In the last minute, Sutton, just about out on his feet after heaping misery on Amoruso and Konterman, summoned one last surge of power as Petta set Mahe clear on the left. The Frenchman's speedy delivery along the ground was met by the striker's lunge at the back post and the sixth goal was tucked into the Rangers net. Sutton had finished what he had started. The startled Rangers players positively raced towards the sanctuary of the tunnel as Dougal blew for full-time, none of them wishing to hang around as the party got into full swing.
O'Neill, once he had recovered his composure, exclaimed, 'We got off to a great start, but there were plenty of uncomfortable moments. It could have been 3-2 after the first seventeen or eighteen minutes of the match, but you can't take anything away from the effort of the players. They were absolutely fantastic. Even at 4-1, I was thinking there is a long, long way to go. They got back to 4-2, and I think the only time I ever really felt comfortable was when Sutton put the sixth one in. But, at the end of it all – and I am not being patronising – Rangers are still the benchmark and are a top-class side.
'We couldn't have dreamed for a better start. We could play for another one hundred years and not get a start like that again. I'm delighted and I thought the players were brilliant. The performance was really, really immense. I would have settled for scoring in the last minute and winning the game 1-0 – but there won't be many 1-0 games here. The players are all delighted, but there is no feeling of euphoria because a few of them have been here a couple of years and they know not to get too carried away with anything. I'll be happy tonight and maybe tomorrow morning, but after that I and the players will concentrate on the next game. Dick Advocaat has said that he has seen Celtic make great starts before and we know that the players have often been in the shadow of Rangers, so I don't think anyone is getting too excited. Most of the players are going away on international duty and I just hope they come back unscathed.'
Opposite number Advocaat, still looking shaken and more than a little aghast, reflected, 'We lost in the first twenty minutes, especially with the goals we gave away. Quite simply, we have to give all the credit to Celtic. The scoreline doesn't lie and they deserved to win. If you give goals like that away at this level, you will get punished, but, at least, we know what we have to change. It seemed like every attack they made was a goal. They had periods when they really had us under the cosh. We have four internationalists at the back – and I don't want to point the finger at certain individuals – but we were very poor today.'
There was little in the way of sympathy from Henrik Larsson. He said, 'We always try to play as a team, but, as individuals, we were really on fire. You could see everyone really wanted to win, as you always do, of course. We went for it and things went our way.'
Paul Lambert gave the credit to O'Neill. 'The manager has installed an unbelievable air of confidence in the players. He has made us play better and made us want to win even more. We now possess a great will to win every game.'
Years later, Tommy Boyd, who replaced Moravcik in the second-half, said, 'There was a sea change that season and there was a wave of optimism because of Martin's appointment. He had rightly said Rangers were the benchmark of Scottish football, but we reached that and matched it. That result was a huge step.'
Chris Sutton, as sharp as ever, said, 'It was a great win. I may be new here, but I am aware of the feeling that exists between these teams. The derby games are vitally important and this is a good start. The main thing for everyone at this club is to win the SPL championship. That is our priority. If we keep winning, they'll have to play catch-up and we'll see how that suits them.'
*From The Winds of Change available from www.cqnbookstore.com for the reduced price of £13.99 plus p&p.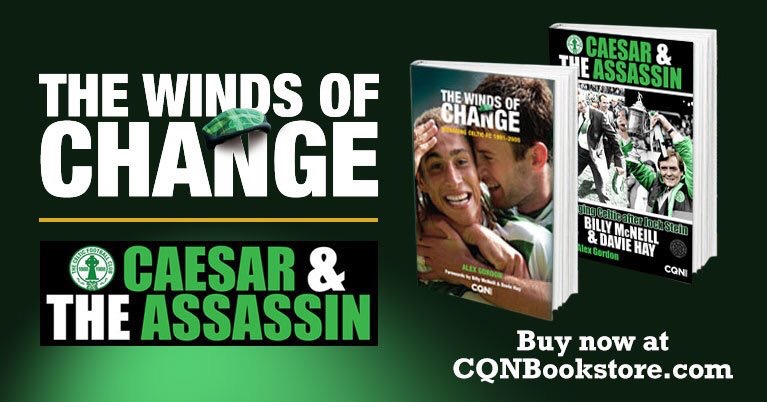 Click Here for Comments >