LISBON LION Bertie Auld was a veteran of Glasgow derby battles when they were legitimately tagged Old Firm.
The midfield mastermind, a pacy left-winger at the time, made his debut in the uncompromising duels at the tender age of 17 and featured in these unique occasions for more than a decade until the final farewell in a goalless draw at Parkhead on January 3 1970.
The thoughts of the irrepressible Bertie, who sadly passed away in November 2021 at the age of 83, are revealed by his long-time friend, author Alex Gordon, who co-wrote the Hoops legend's best-selling autobiography, 'A Bhoy Called Bertie'.
In another CQN EXCLUSIVE, we are publishing a series of edited extracts from the Hoops icon's life story as he discusses the world famous Glasgow encounter.
Please enjoy.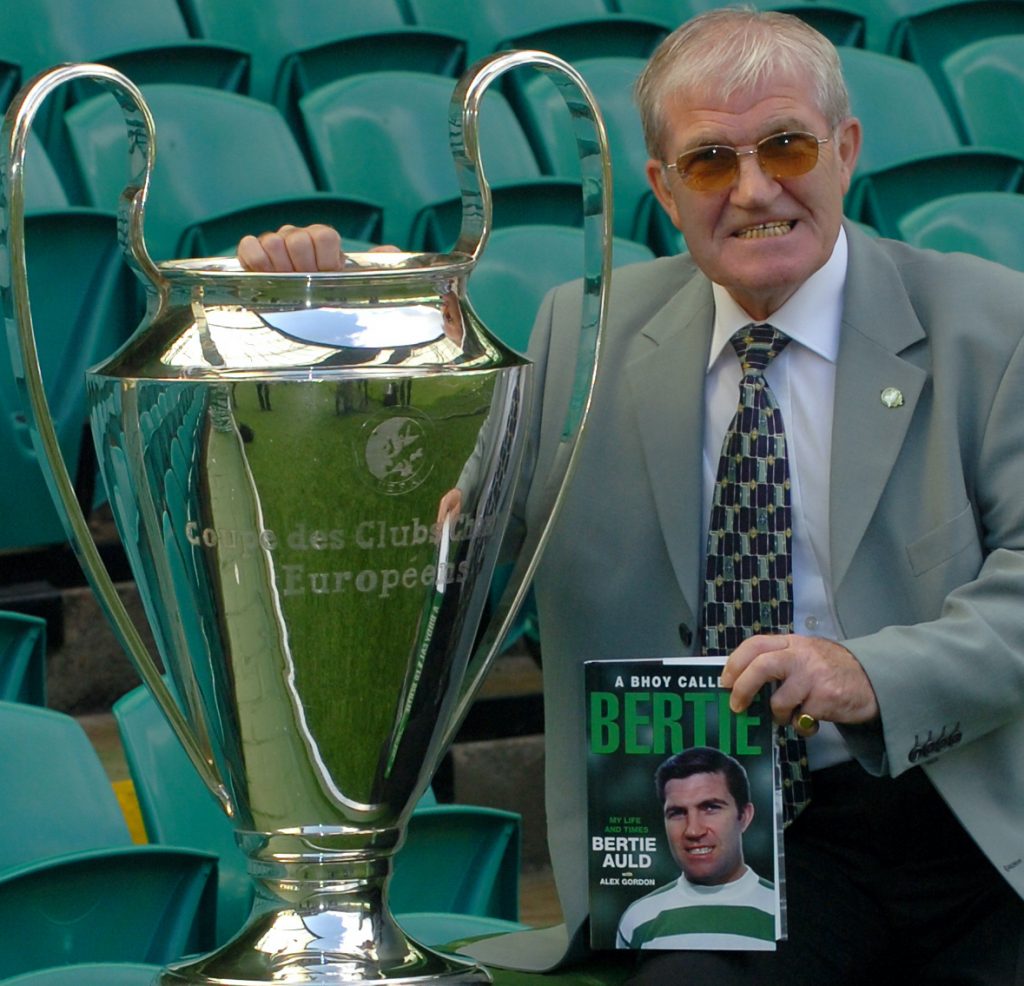 READ ALL ABOUT IT…Bertie Auld with his autobiography and the European Cup at his book launch at Parkhead in 2008.
NITRO often merged with glycerine when Celtic met Rangers. Old Firm games were never always classical, but I believe you could say without fear of contradiction that they were most certainly always confrontational.
They could be enjoyable; they could be exasperating. And, yes, they could be explosive.
I never needed any extra motivation to go out and give my very best when I was playing against anyone. Just pulling that green-and-white hooped shirt over my head was enough to get me fired up and raring to go. I always remember signing for the club first time around and Jimmy McGrory insisting, 'You must be able to fill that jersey, Bertie.'
Even as a 17-year-old I knew exactly what he meant. However, there was always something extremely energising when a match against Rangers was coming up.
I have heard all about the other derby occasions such as the Merseyside, Manchester, Milan and Madrid encounters. Of course, I've also been involved in the Midlands version. There are games throughout the world that people insist is THE derby. With the greatest of respect, forget those observations.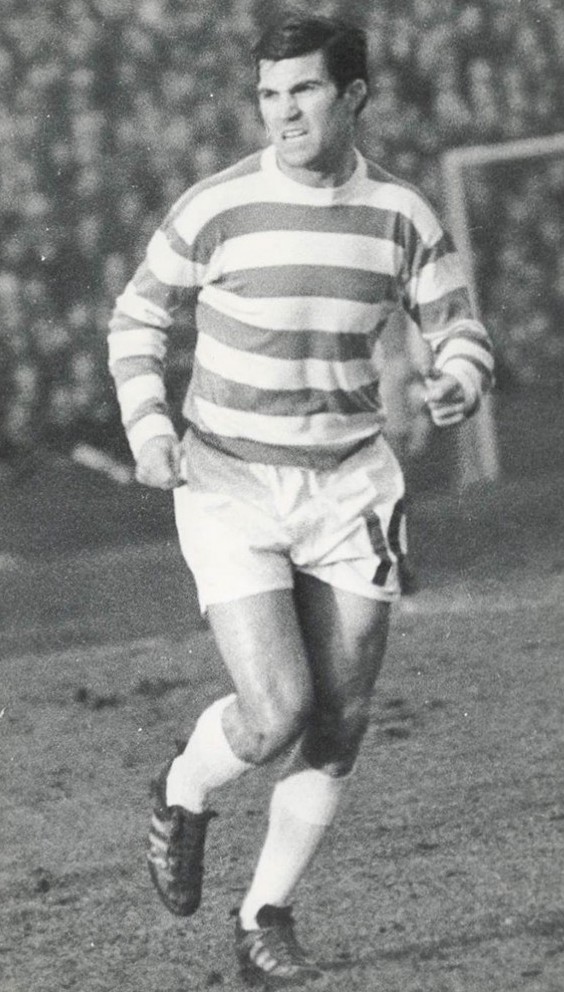 ON PATROL…Bertie Auld on his usual midfield beat.
I don't think for one fleeting second any other match on this planet could hold a candle to the Old Firm games. You've got to be involved in them to appreciate what these contests are all about. Passions from the fans would rocket through the stratosphere and some of these tussles should have carried a Government Health Warning such was the ferocity at which they were played.
Celtic supporters would be coming up to you days before the game and imploring, 'Beat them for us, Bertie.' Or 'Don't let us down, please.' And so it went on. No pressure there, then.
I loved that rivalry. I thrived on these head-on collisions where no quarter was asked or given and the fans on both sides conjured up their own special – if that's the right word – atmosphere. Bonhomie deserted Glasgow when these games took place. Instead, it was replaced by bedlam.
If you were not prepared mentally or physically for these 90 minutes of combat they would overwhelm you. Both sets of supporters gave it pelters and you could hear the racket that was being generated down in the dressing rooms as you prepared for these games.
ON THE BALL…Bertie Auld displays the art of making space in which to weave some magic.
You came out the tunnel and it never ceased to astonish me what I was about to encounter. In those days the games were played with the Celtic supporters in one half of the ground and their Rangers counterparts in the other half. It was a 50/50 split.
You knew you were going to get stick when you played in these confrontations. There seemed to be an ignorance among a fair percentage of the Rangers support who didn't seem to realise my parents, Peggy and Joe, had actually been married a few years before Robert Auld Esq debuted on this planet. And I've got the birth certificate to prove it.
Did I find it offensive? If they were screaming abuse at me at least they were leaving some other player alone.
Embarrassed? I'm a Glaswegian – you couldn't give me a red face with a blowtorch!
You got the distinct impression that Old Firm fans just lived for these games. To some, it didn't matter that their club didn't win any silverware – just so long as they beat their illustrious rivals when we locked horns. The vitriol bounced around the ground and created a din from start to finish.
I'm fairly sure that a huge percentage of those fans parked their brains outside the ground before the game and picked them up afterwards. But forget all the bigotry and the like that is associated with these clashes. Believe me, both sets of players, ourselves as well as the Rangers lads, didn't get involved in any of that.
We both wanted to win. It was as simple as that. If you were an over-sensitive wee soul then Glasgow on derby day was not the place for you.
The faint of heart were advised they would be far better off staying indoors when these games loomed on the horizon.
* TOMORROW: Don't miss Wee Bertie's continued tales of his unforgettable experiences in the Glasgow derby.
Click Here for Comments >