BERTIE AULD thrived on games against Rangers as he teamed up with his midfield partner Bobby Murdoch to dominate a massive percentage of these encounters.
The left-sided playmaker skipped through these confrontations with a smile on his face as the Ibrox defenders practically cowered in his presence as he sliced open their back lot with laserbeam passes to the likes of Jimmy Johnstone, Bobby Lennox and Big John Hughes.
Auld will be watching at home when John Kennedy takes his team across Glasgow for the fifth derby of a disappointing season.
Top sportswriter Hugh MacDonald sets the scene for tomorrow's with a superb feature on the Celtic legend in today's Daily Mail.
Here it is in full. Please enjoy.
SO where to start with Bertie Auld, erstwhile midfield maestro and constant purveyor of mischief, even at 83 years old?
What about an Old Firm story on a derby weekend? Auld famously once talked bonuses with John Greig, greatest-ever Ranger, in the tunnel before a match. Asked what he was on for winning. Auld said: "A fiver.'' Greig replied he was on £10. "Aye but ours is guaranteed," said Auld.
"Actually, that is a true story," says the Lisbon Lion who was speaking to publicise 'Celtic: 50 Flags Plus One', author Alex Gordon's chronicle of championship wins, but whose discourse ranged widely and as sharply as his passes in his heyday.
PERFECT PARTNERSHIP…Bertie Auld and his midfield mate Bobby Murdoch.
"There was always a bit of banter between both sets of players before, during and after those games. Of course, we met each other at so many social gatherings. If someone wanted a bit of PR work done, they knew they would have to invite players from both teams.
"There was a pub in Hope Street called Reid's Bar, owned by the former Partick Thistle chairman Tom Reid, and a few of the players would meet upstairs in that establishment after Old Firm matches. We could be firing into each other for 90 frantic minutes with thousands giving it pelters and then we could wind down with a couple of beers in Reid's.
"Tommy Gemmell, Davie Hay, Big John Hughes and a few others would mingle with Willie Henderson, Ronnie McKinnon and Davie Provan afterwards."
Auld contributed to six title wins and he remembers the first with ease, sealed with a 1-0 victory over Motherwell on May 7,1966. "Only a landslide would have prevented us winning the title that afternoon.  We would have had to lose by something crazy like 7-0 for the championship to go across Glasgow on goal average, as it was then.
READ ALL ABOUT IT…Alex Gordon's latest Celtic book, '50 Flags Plus One'.
"Big Jock would not tolerate anyone talking about winning the flag until it was an absolute certainty. I think it underlines our commitment that day that Bobby Lennox scored the only goal in the last minute after a punishing sprint down the right by Jim Craig. We were determined to win to make sure.
"Let's face it, it had been quite awhile since Celtic had been the champions. Big Jock was actually playing the last time they lifted the title in 1954."
Auld, of course, became a Celtic legend, winning four Scottish Cups, five League Cups and that one in Lisbon in addition to those titles. He has a surprising answer to his best moment at the club.
"Signing first time round at 16," he says. "My dad Joe and I were driven to Celtic Park in a neighbour's car on a Sunday. Public transport on the Sabbath was almost non-existent. I had never been to Parkhead before in my life. The great Jimmy McGrory was there to greet us.
"He led my dad and I towards the Celtic boardroom and I had never seen such grandeur. He told us to pull up chairs at an enormous antique table in the middle of the room. He then asked me if I fancied a wee whisky. My dad almost went ballistic. He said: 'He's too young to drink, Mr McGrory.' Then he added: 'I'll have one, though'."
HAPPY DAYS…Jock Stein and Bertie Auld celebrate the draw with Dukla Prague as Celtic reach the European Cup Final in 1967.
Bertie could have played, too, in another great Celtic moment, the 7-1 demolition of Rangers in the 1957 League Cup Final.
"I had played in four of the games, scoring two goals, in the lead-up to the Final," he says. "I really hoped I had done enough to persuade the manager to play me at Hampden. I think it was a straight choice between me and Neilly Mochan and the manager went for experience.
"The reserves were playing a game that Saturday afternoon and I was packed off to Palmerston for a match against Queen of the South. We were all anxious to find out what had happened in the big game. To get information, I think the best we could hope for was pigeon post.
"Eventually, we got Glasgow to find we had won 7-1. I was delighted and disappointed at the same time. However, I couldn't argue with the manager's choice, Neilly score two that day. I really liked Smiler and I could not begrudge him his success."
Auld, of course, left the club to join Birmingham City, but was re-signed shortly before Stein arrived at Parkhead. They shared glorious triumph. They shared the odd rammy.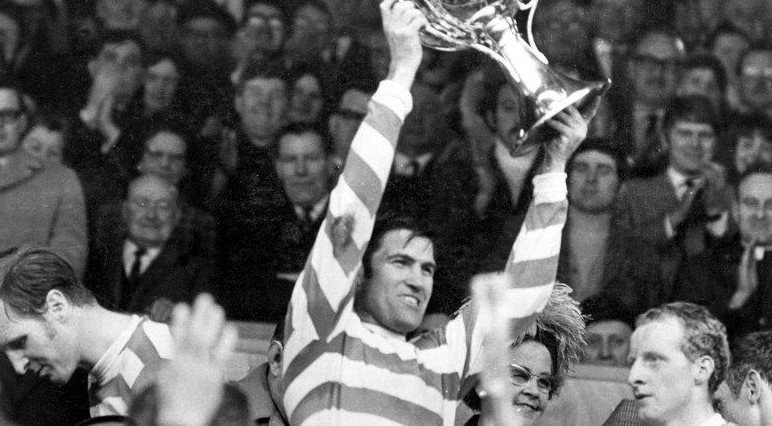 SILVERWARE SUCCESS…Bertie Auld holds aloft the League Cup in 1969 when he scored the winner against St Johnstone. Fellow-legends Billy McNeill and Jimmy Johnstone join in the celebrations.
"Big Jock and I had a bit of a love/hate relationship," he says. "I remember storming out of Celtic Park one night when he told me I had been dropped for a Scottish Cup replay against Partick Thistle. The first game on Saturday had ended 3-3 at Firhill and I was our substitute.
"For the second game, the manager kept the same starting line-up and put Stevie Chalmers on the bench. I had been given the heave without kicking a ball. I wasn't best pleased and told Big Jock before leaving the ground in a wee bit of a huff. I suppose Big Jock had the last laugh – Celtic won 8-1.
"There was another occasion when I was convinced he was going to put my head through a wall in the dressing room after a game against Clyde at Shawfield. We were 3-0 up and the home side just refused to make a game of it. They didn't want to know about coming into our half they were so scared of being on the receiving end of a hammering.
"I thought of a way of enticing them across the halfway line. I took a throw-out from Ronnie Simpson and sat on the ball. I hoped my antics might just fire up a couple of Clyde players. Nothing doing. I passed it back to Ronnie and he knocked it straight back to me. I sat on the ball again. This happened three times, but nothing stirred from the other half of the field.
"Big Jock was fuming at time-up. He grabbed me with one of his large mitts and practically lifted me off my feet and pinned me against the wall. The other massive paw wasn't that far from my snoot. 'Don't you dare ever do that again,' he bellowed. 'Don't you ever treat a fellow-professional in that manner'. Lesson learned."
Auld also learned quickly about the importance of winning the Old Firm games in terms of winning championships.
"Call it psychological boosts, mind games, whatever you wish to term it, but we had to put one over Rangers," he says. "After we had lifted the flag following such a long time in 1966, it was imperative we put down a marker the following campaign to emphasise it was not going to be a one-off.
GRIN AND TONIC…Bertie Auld salutes the Celtic support.
"So the first match against Rangers (September 17) in that campaign was vital. I scored inside a minute and Bobby Murdoch added a second two minutes later. That's what you call putting down a marker. We settled for a 2-0 win that sunny afternoon at Parkhead.
"People often remember the games at the sharp end of the season as being important, but you still got two points for a win in September as you did in May."
Auld has remained a constant presence at Celtic Park long beyond his playing days. He seems available every match day for selfies, handshakes and quips. This season has been a trial as an attempt on 10-in-a-row faltered early.
"Celtic takes over your life," says the character who first signed for the  club in 1955. "Everywhere you go on this planet, you will bump into Celtic supporters. I was surprised Neil Armstrong didn't find one when he landed on the moon.
"I was on the receiving end of a surprise fiftieth wedding anniversary party a few years ago. My wife, Liz, and the rest of the family had planned it meticulously. The place was packed. I was asked to make a speech. I had nothing prepared, but I prattled on for about half-an-hour.
"It was only after I sat down that someone whispered in my ear: 'You might have mentioned Liz'.
"Automatically, I had stood up and began telling tales about how marvellous our fans are. Liz forgave me. About three months later."
C'MON THE BHOYS…Bertie Auld cheers on his beloved Celtic.
How hard, then, was this season to watch?
"The most difficult thing to endure was not being there to support the team. I am totally convinced the players missed those fans. Clearly it was a hard task for the players to raise their game to expected levels. Playing football in silence at Celtic Park is just a bizarre experience," he says.
"I would say the two best sets of fans in British football are the Celtic and Liverpool supporters. And look at what has happened to both of those teams this strange season. The side I watched on TV this season was a watered down version of what we have become accustomed to witnessing."
But in true, irrepressible Auld fashion, he remains hopeful. Can Celtic add to the 51 soon?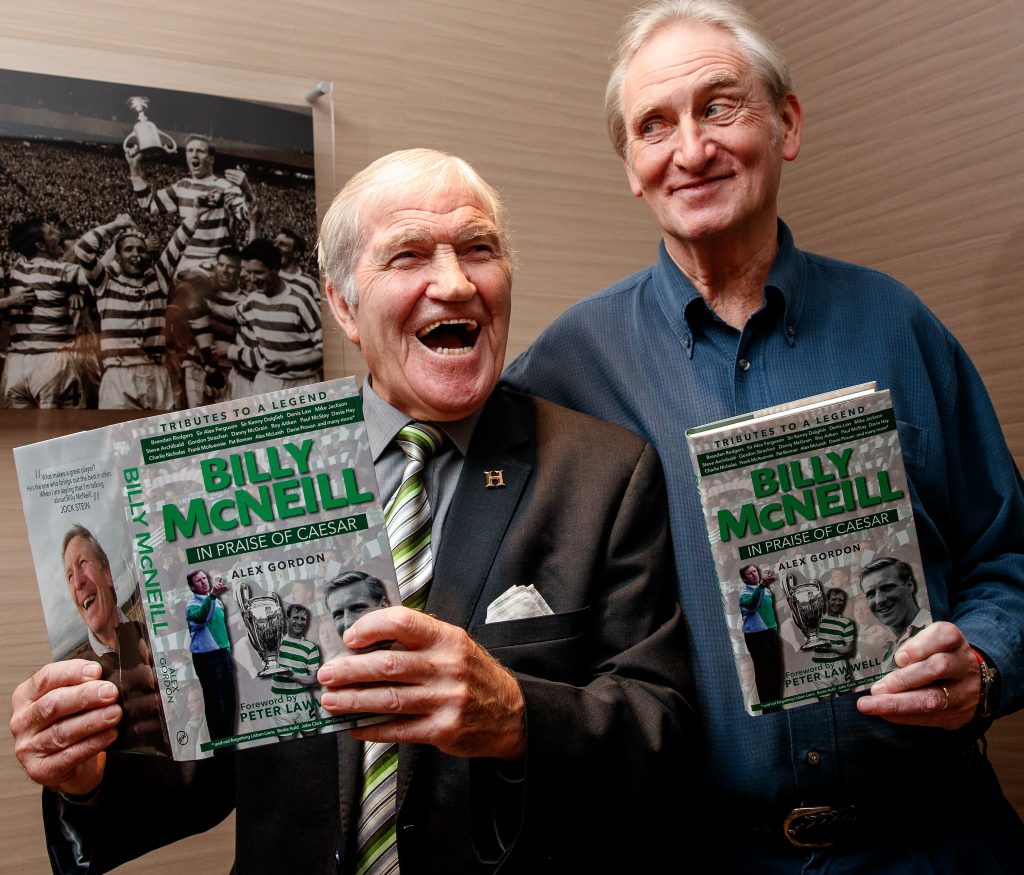 BOOKED…Bertie Auld and author Alex Gordon share a joke at the launch of the Billy McNeill tribute book, 'In Praise of Caesar',  in August 2018.
"Why not? If the right people are in place, the recruitment is correct and we can get a set of players who are 100 per cent concentrated on Celtic, then, of course, they can come straight back. Players will come and go, but they must hit the ground running.
"There are no three-year plans at Celtic. I recall Tony Mowbray saying something along those lines when he took over from Gordon Strachan. Celtic is not a project. The here and now is what matters at this club."
He knows he has a place in the club's history but plays down its size.
"I have said often enough that Celtic is not just about the chairman, directors, managers, backroom staff or players. It's about everyone. I would like to believe I have played a role, however small, in being part of that. I can honestly say it has been an honour."
Click Here for Comments >