BRENDAN RODGERS praised Celtic fan Kieran Tierney and insisted he was "developing into a wonderful player".
The Scotland international left-back struck a thunderous goal to begin the humbling of Aberdeen in the 3-0 rout at Pittodrie last night.
Tierney, 20, also set up the second for Moussa Dembele before the interval and put in an all-round excellent performance as the champions opened up a three-point gap on their nearest challengers.
Rodgers said Tierney was driven by his passion for the club that he supports.
— paul the tim (@paulthetim) October 25, 2017
The Hoops boss admitted: "He is one of them and I always say you get that extra one per cent from a supporter if he's on the field.
"You get more than that from Kieran. He absolutely loves it and he can't wait to score a goal, so he can go share it with probably half his mates in the stand.
"He played a slightly different position for the first 65 minutes, scores a goal, wonderful finish on the stretch and then makes a great cross and run for the second goal.
"The beauty with Kieran is that he's very focused. He's very determined and never gets carried away and that's why he can play numerous games and play really well."
Tierney added: "In that position, a bit higher up, your job is to get in the box, something I'm not doing too often and would like to add to my game a bit more.
"It was a great a ball in from Moussa and luckily I finished it.
"We've got a lot of games, which is hard, but the boys showed that we're relentless, we want to be 100 per cent in every game from the first minute to the last.
"The clean sheet was also very important for us."
There's some chat on social media that Spurs are about to make a – wait for it – £1.8m bid for KT. Celtic should politely decline and offer a straight swap deal involving Harry Kane and Nadir Cifti. Seems fair.
Meanwhile in Govania…
— Li'l Ze (@LilZe8) October 25, 2017
ORDER Charlie Gallagher? What a Player! and we'll send you a copy of The Winds of Change for FREE only at www.cqnbookstore.com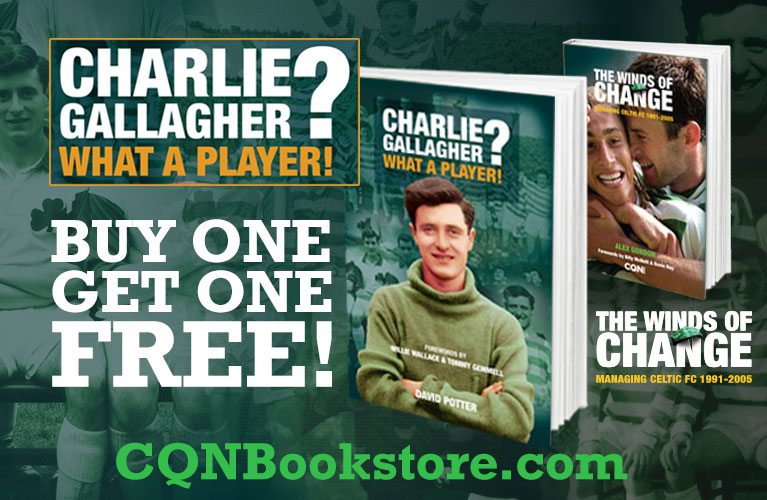 Click Here for Comments >