CQN continues its EXCLUSIVE series to salute Celtic's Greatest-Ever skipper Billy McNeill.
Author Alex Gordon, who has had fifteen Celtic books published, including 'Caesar and The Assassin' and 'Lisbon Lions: The 40th Anniversary Celebration', interviewed many of the club legend's team-mates and opponents for his tribute tome, 'In Praise of Caesar', which was published in 2018.
Over the next fortnight, CQN will publish an edited selection of the memories. Today Danny McGrain has his say.
Please enjoy.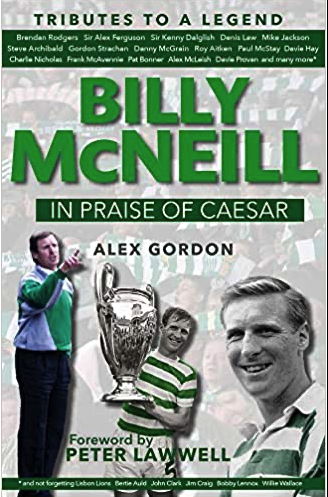 I TOOK Billy McNeill for granted when I first came into the Celtic first team. I hasten to add I mean that as a compliment.
Automatically, you knew you could rely on him. For instance, if anyone outjumped him it was a double-take because that didn't happen too often. As anyone who saw Billy in action will tell you, he was virtually unbeatable in the air.
His timing was incredible. I swear he could jump so high that he had snow on his hair when he came back to the ground. So, with a guy like that around to protect your goal, it allowed others to take care of their own job.
Billy had enjoyed several years with John Clark as his central defensive partner and their understanding was bordering on telepathic. However, John moved to Morton in 1971 and Jock Stein was changing things in his line-up with Jim Brogan often brought in. Billy just kept on playing and his consistency was awesome as he led by example.
You don't get to play around 800 games for Celtic without being something special. So, was it really any wonder I took the skipper for granted?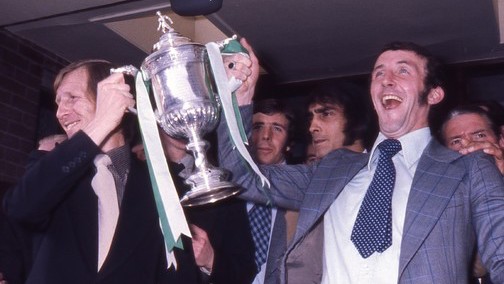 THE CUP THAT CHEERS…Billy McNeill and Danny McGrain celebrate Celtic's 3-1 Scottish Cup Final victory over Airdrie in 1975 – the Hoops' legend's last match as a player.
During training sessions and I often wondered if he had been a frustrated outside-left. He played his entire career in defence. The record books show he also had a few early appearances in my position at right-back before he settled into his centre-half role.
But, during our work-outs, Billy McNeill would wander over to the left wing to ping in crosses with his left foot. I thought he was too tall to be a winger! How would he have fared as an outside-left? Let's just say that as an attacking wide player he was a good central defender. We'll leave it there.
It didn't take long for Billy McNeill to bring success to Celtic as a manager when he returned to the club in May 1978. The league championship was the big one and that was our priority. Rangers had won the domestic treble the previous season, but they, too, had a change of manager when John Greig took over from Leicester City-bound Jock Wallace.
Greig moved straight from being a player at Ibrox to becoming their manager. At least Billy McNeill had three years away from Parkhead. So, back then, the Old Firm had two of their most famous and influential captains in the respective dug-outs. It really was a time of change for football's ancient rivals.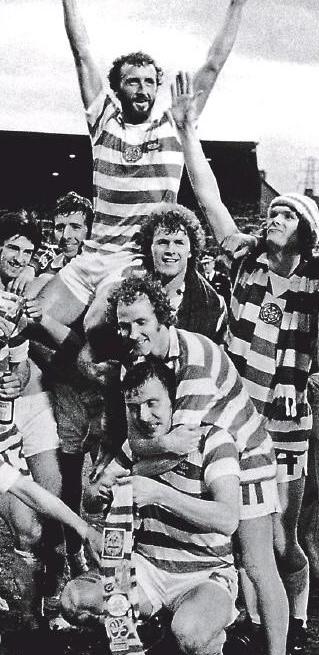 OH, DANNY JOY…Celtic skipper Danny McGrain is hoisted high by his ecstatic Celtic team-mates after the title-winning 4-2 victory over Rangers in May 1979.
The first Glasgow derby was going to be a massive affair for two club legends and Celtic Park was a sell-out on September 9 1978 when Greig took his side across Glasgow. I was still coming back to fitness after an ankle injury and I was with the reserves at Ibrox.
However, our main thoughts were in the east end of Glasgow and I'm delighted to say Billy drew first blood in a 3–1 success with two early goals from Tom McAdam and George McCluskey. Derek Parlane pulled one back shortly after the interval, but McAdam scored a third for us about fifteen minutes from time. Peter Latchford also saved an Alex Miller penalty-kick.
Little did I realise how the next visit of Rangers on the Monday evening of May 21 1979 would be such a memorable one for yours truly. It was an absolute belter as we claimed the title with our last game of the season.
A goal down at half-time, Johnny Doyle was sent off shortly into the second period, goals from Roy Aitken and George McCluskey turned it around and then they equalised. It was a game we had to win, a draw was no use to us.
Then Colin Jackson deflected the ball into his own net with the clock ticking down before Murdo MacLeod netted the fourth with virtually the last kick of the ball. People who know me will tell you I am not a dreamer, but that really was a special night.
It was what Billy McNeill had wanted on the first day he walked back through those doors at Celtic Park.
Everyone was delighted for The Boss.
* DON'T miss our EXCLUSIVE CAESAR CHRONICLES as Billy McNeill's team-mates and rivals pay homage to a Celtic legend – only in your champion CQN.
Click Here for Comments >