CQN continues its EXCLUSIVE series to salute Celtic's Greatest-Ever skipper Billy McNeill.
Author Alex Gordon, who has had fifteen Celtic books published, including 'Caesar and The Assassin' and 'Lisbon Lions: The 40th Anniversary Celebration', interviewed many of the club legend's team-mates and opponents for his tribute tome, 'In Praise of Caesar', which was published in 2018.
CQN are publishing a selection of edited memories. Today Davie Provan has his say.
Please enjoy.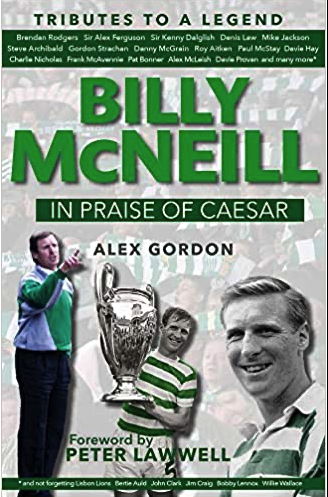 PLAYING for Celtic and Billy McNeill was an experience, honour and privilege.
Look at how Billy carried himself, that poise, straight back and the chest thrust forward. It was never more puffed up than when we were playing Rangers at Ibrox. He led by example and that composure and reassurance got through to the players.
We would get off the coach at the front door of our greatest rivals and we all felt ten feet tall. That was all Billy's doing. There was never the merest hint of nerves on these days. That sort of confidence, self-assurance, belief, assertiveness, call it what you will, does rub off on players.
And Billy McNeill was well aware of that, you better believe it.
It wasn't sweetness and light between me and the manager. There were a few occasions when I was on the sharp end of his tongue. Aye, we had our moments, Billy and me. But there was never a massive fall-out. If he had something to say, he delivered it how he saw fit and that was the end of it.
HAIR WE GO…Davie Provan in action for Celtic shortly after his £125,000 arrival from Kilmarnock in 1978.
I recall I was struggling with a knee injury, but Billy was not convinced.
'It's all in your head,' he would say. 'Just you get on that pitch.'
I wish! The only way to convince the manager was to get booked in for an operation and then something would show that it was not 'in my head'.
The surgeon opened the knee that was giving me persistent problems. Sure enough, something had become detached. It had been floating around in there, creating all sorts of misery. I asked the surgeon to place the offending piece of tissue in a jar. He must have wondered why I would want such a keepsake.
The following day, I hobbled into Celtic Park on crutches. I went to the manager's office, knocked on the door and was told to come in. I placed the jar on Billy's desk.
'There's the injury that was stuck in my head,' I said.
* DON'T miss our EXCLUSIVE CAESAR CHRONICLES as Billy McNeill's team-mates and rivals pay homage to a Celtic legend – only in your champion CQN.
Click Here for Comments >