CQN today concludes its EXCLUSIVE series to salute Celtic's Greatest-Ever skipper Billy McNeill.
Author Alex Gordon, who has had fifteen Celtic books published, including 'Caesar and The Assassin' and 'Lisbon Lions: The 40th Anniversary Celebration', interviewed many of the club legend's team-mates and opponents for his tribute tome, 'In Praise of Caesar', which was published in 2018.
In the final instalment of CQN's long-running feature, former Leeds United and Scotland winger Eddie Gray has his say.
Please enjoy.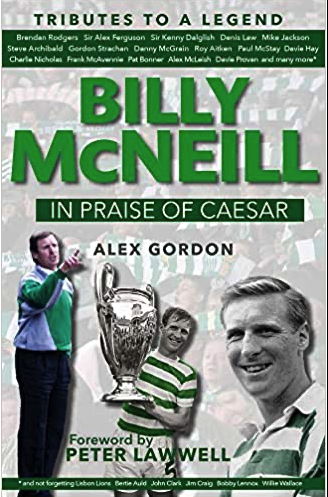 BILLY McNEILL was a tremendous leader of a fabulous Celtic team. I grew up in Glasgow watching the club and have never hidden my admiration of Celtic.
If Don Revie hadn't persuaded me to join Leeds United in 1965, then who knows if I might have gone to my boyhood favourites? Fate decreed otherwise.
I played against Billy several times in the late sixties and early seventies. I recall a challenge game being moved from Celtic Park to Hampden to accommodate the crowd. The official attendance was given as 75,110 for the pre-season match that was played on a sunny Saturday afternoon in August 1968. What an amazing turn-out for a friendly with nothing but pride at stake.
Tommy Gemmell gave Celtic the half-time lead with a blaster of a penalty-kick past our keeper, Gary Sprake. However, we turned it around in the second period and won with goals from Johnny Giles and Peter Lorimer. The game was played in a proper manner between two teams who had obvious respect for each other.
The managers, too, Big Jock Stein and Don Revie, were friendly rivals. Both demanded victories on all occasions and you could see they had a lot of time for each other.
I was at Hampden a year later when Celtic played Rangers in the Scottish Cup Final on April 26. Leeds United had already won the old English First Division and we had a blank Saturday before we were due to play Liverpool at Anfield the following Monday. So, I headed home to take my place alongside over 132,000 spectators at Scotland's national stadium.
HIGH AND MIGHTY…Billy McNeill leaps with joy after his early header gives Celtic the lead over Rangers on their way to a 4-0 win in the Scottish Cup Final in 1969. Bertie Auld is about to join in, but Orjan Persson looks stunned.
I will never forget Billy McNeill giving Celtic the lead in about two minutes with one of his trademark headers. Bobby Lennox flighted over a left-wing corner-kick and the captain's timing was absolute perfection, as usual. He rose above everyone to make contact with his head and the ball soared beyond Rangers keeper Norrie Martin who didn't stand a chance.
That goal from Billy has always stuck in my memory bank. It was a good day to be a Celtic fan. Goals from Wee Lennox and George Connelly had Big Jock's team 3–0 ahead at the interval and Stevie Chalmers completed the scoring with a fourth.
I had a slightly more active role when I returned to Hampden just under a year later. This time it was the second leg of our two epic European Cup semi-finals against Celtic. My goodness, what a night that was! The stadium was rocking, the atmosphere was absolutely electric.
I had never heard anything like it. The official crowd was given as 136,505, which is still a record for a European game. Years later, I was talking to Billy about that incredible evening and he told me he was convinced the attendance was closer to 170,000. It was an all-ticket affair, but there was obviously no stopping some determined supporters from getting into the ground.
I think a few stadium walls were scaled that night.
Once again, the tie was played in the correct spirit of football, two teams who acknowledged each other's many qualities. It was a real battle, no quarter asked or given by two sets of players who were used to winning. Defeat for either of us was not an option.
Our skipper Billy Bremner was, like me, a Celtic fan, but there was no sign of favouritism during that confrontation. Wee Billy was really friendly with another little red head, Jinky Johnstone. They got on well during their days with the Scotland international squads and it must be said both were fiery characters.
GET READY FOR ACTION…Billy McNeill and Billy Bremner lead out their teams for the epic uropean Cup semi-final second leg at Hampden in 1970.
As you would expect, there was no old pal's act that night. Wee Billy clattered into Jinky early in proceedings, but there were no hard feelings. Jinky was like Billy; a tough and resolute wee individual who could take the punishment.
We went into that game after losing the first leg 1–0 at Elland Road. George Connelly scored in the second minute and we just couldn't get back into the match. Big Billy played really well. He was up against our Mick Jones, a big and strong centre-forward who would challenge for everything in the air and on the deck.
There was no way through for us, but our manager told us afterwards he still believed we would win the tie. All we had to do was beat Celtic in Glasgow in front of over 120,000 of their own fans!
I took notice of a quote from Jock Stein in a Glasgow evening paper where he mentioned me. He said, 'Remember last time I said one flash of brilliance would win the game in Leeds? Well, who's going to do it this time? Eddie Gray for them? Or Jimmy Johnstone or John Hughes for us?'
Wee Billy Bremner must have sent shock waves through the supporters when he fired in a right-foot shot from about thirty yards and it soared into Evan Williams' top right-hand corner of the net. It was only the fourteenth minute and, suddenly, it was 1–1 on aggregate and we had a chance.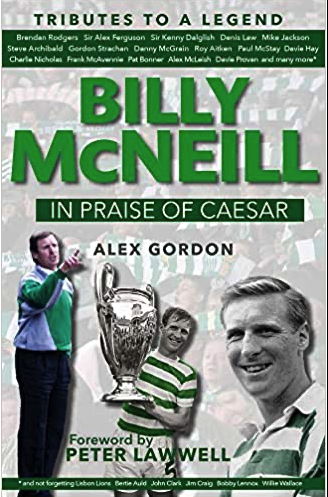 It was still 1–0 at the break, but Celtic equalised within two minutes of the restart with a header from John Hughes and there was no stopping them after that. Gary Sprake had to be helped off after an accidental clash with Hughes and then another of my Scottish international teammates, Bobby Murdoch, blasted in a second beyond substitute keeper David Harvey.
All that was left following a pulsating, never-to-be-forgotten encounter was for us to congratulate Billy McNeill and his players and wish them all the best in the European Cup Final.
Disappointingly, Celtic did not conquer Europe for a second time as they had done against Inter Milan in Lisbon on May 25 1967. Another of my cherished memories is of Billy holding aloft that massive, gleaming trophy with the sun shining down on him. It's such a marvellous image of a player who epitomised Celtic Football Club.
Billy McNeill has been such a legendary figure in the club's history, a wonderful ambassador and it has been an absolute privilege to know the man.
* DON'T miss the big-name EXCLUSIVES – only in your champion CQN.
Click Here for Comments >