CQN continues its EXCLUSIVE series to salute Celtic's Greatest-Ever skipper Billy McNeill.
Author Alex Gordon, who has had fifteen Celtic books published, including 'Caesar and The Assassin' and 'Lisbon Lions: The 40th Anniversary Celebration', interviewed many of the club legend's team-mates and opponents for his tribute tome, 'In Praise of Caesar', which was published in 2018.
CQN are publishing a selection of edited memories. Today the spotlight falls on the most famous game in Celtic history.
Please enjoy.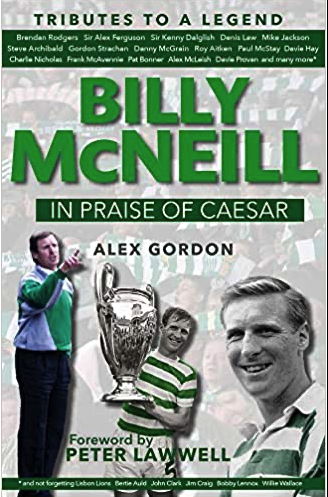 ON May 25 1967, in the Portuguese capital of Lisbon, the angels smiled down from the heavens on the day Celtic conquered Europe.
A noble Billy McNeill, the inspirational captain, with the sun dazzling on his blond hair, emphasising his physique, with his pristine green-and-white hooped shirt positively shimmering in the glow, held aloft the European Cup as he commanded the rostrum of the Estadio Nacional looking for all the world like Apollo ascending Mount Olympus.
Inter Milan, who had led through an early Sandro Mazzola penalty-kick, had been thrown to the Lions. Their defensive tradition dismantled, their suffocating tactics blown away, their masterly reputation devastated. Celtic, refreshingly entertaining, had put sparkle and gaiety back into the beautiful game.
A mighty first-time piledriver from Tommy Gemmell after the hour mark nullified the Italians' advantage and Stevie Chalmers diverted in the winner five minutes from the end.
HAIL CAESAR…majestic captain Billy McNeill holds aloft the European Cup in Lisbon in one of the most iconic Celtic images of all time.
Years later, Billy McNeill, reflected: "To my mind, the greatest thing about our European Cup victory is that we did it in the Celtic manner. We always wanted to play with flair, adventure and style. We were determined for people to remember us for our attacking philosophy.
"I would like to think we managed that in Lisbon. It was a breakthrough for British football. It was marvellous for Scottish football. However, the main thing for everyone connected with the club, the manager, his assistants, the players and tea ladies, it was truly wonderful for Celtic Football Club."
McNeill expanded on his memories. "I've never had a tougher job than accepting the European Cup. It was the most stirring and exciting moment of my life. But I had to steel myself for it. I had just crossed the safety line into our dressing room at Lisbon after being swamped by the congratulations of our fans.
"My back ached with all the slapping. My jersey had been torn off as a souvenir. Now I had to go out and face them all again to collect the trophy.
"I put on a fresh jersey and, with assistant manager Sean Fallon and Ronnie Simpson giving me moral and physical support, I set off. The trophy was to be presented at the far side of the ground. It seemed there was just one way to get there – through the throng and right across the pitch.
"By the time we had made ten yards, Ronnie had got lost. Sean was on my left and around me was a posse of police. But the back-slapping, handshaking and general chaos never let up.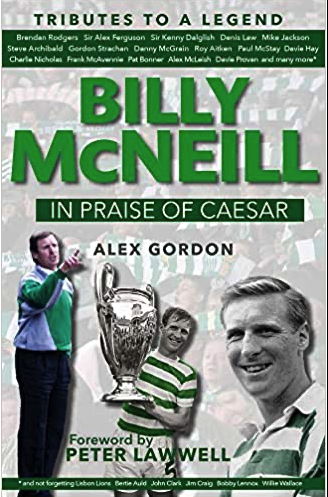 "We came to an obstacle – the six-foot-wide moat around the pitch. It was supposed to keep the fans on the terracing. Or, put another way, off the pitch. Some hope! Somehow, I made it to the other side. From there it was up the steps to the rostrum.
"The presentation was made by the President of Portugal, Americo Tomaz. And it was only when I felt the magnificent three-foot-high trophy in my hands that the full impact of the moment came home to me – Celtic were European champions!
"I have to admit in the emotion of it all everything is a bit blurred. Also, I still had to get back to the dressing room. It was a bit easier than the first journey. This time we were led outside the stadium, hustled into a police car and whipped, siren wailing, through the crowds to the dressing room entrance.
"We had a bit of a job getting away from the policeman. It appeared he was determined to have his photograph taken with us and the trophy. But Sean and I eventually disentangled ourselves, dived for the dressing room and got through the scrum unscathed – except for the fact I had lost my jersey again!
"It was only then that I got the chance to sit down and soak up the satisfaction of being captain of the Celtic team which had just won the European Cup.
"It may seem a strange observation to make, but Inter Milan scoring so early with Sandro Mazzola's penalty-kick was one of the best things that could have happened to us. It was their natural style to try to hold onto anything they had. They had a goal to protect and they seemed quite content to filter into their own half and do their best to keep us out.
"Although I was a central defender, it was not the way I was brought up to play football. It certainly wasn't the Celtic way. Our supporters wouldn't have tolerated that and, in any case, we all knew the fans deserved better. Those guys on the terraces were absolutely brilliant; they were our twelfth man. We never, ever took them for granted.
TWO FOR THE ROAD…Billy McNeill and Stevie Chalmers are good to go.
"I recall it was actually quite calm in our dressing room at half-time. There were no histrionics. Big Jock simply insisted: 'Keep doing what you're doing and we'll be okay.'
"He did make one telling observation, though, when he asked our wide men to think about pulling the ball back closer to the edge of the penalty box because Inter were crowding into the six-yard area as they tried to protect their goalkeeper. When you look again at our first goal, you'll see how good that advice was.
"Cairney was calmness personified when he came racing into the box onto Bobby Murdoch's pass. His cutback for Tommy Gemmell was just right and Tommy simply belted one of his specials high into the net.
"Sarti had no chance. Stevie Chalmers duly knocked in the winner with about five minutes to go and Inter Milan were out of it.
"They were a beaten team. If, by some chance, they had equalised, then the game would have gone into extra-time.
"Believe me, those guys didn't want to endure another half-hour of what they had already been through."
* DON'T miss our EXCLUSIVE CAESAR CHRONICLES as Billy McNeill's team-mates and rivals pay homage to a Celtic legend – only in your champion CQN.
Click Here for Comments >