CQN continues its EXCLUSIVE series to salute Celtic's Greatest-Ever skipper Billy McNeill.
Author Alex Gordon, who has had fifteen Celtic books published, including 'Caesar and The Assassin' and 'Lisbon Lions: The 40th Anniversary Celebration', interviewed many of the club legend's team-mates and opponents for his tribute tome, 'In Praise of Caesar', which was published in 2018.
Over the next week or so, CQN will publish a selection of edited memories. Today Pat Bonner has his say.
Please enjoy.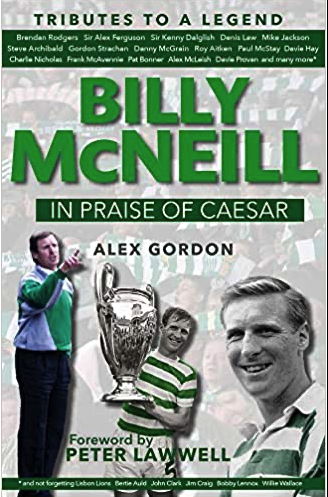 BILLY McNEILL and I had a sort of love/hate relationship, but I hasten to point out we never once fell out. Some things may have been said in the heat of the moment and you had to accept that was part and parcel of the game.
I never disliked Billy, no matter what had been uttered in an unguarded moment. There may have been things that had been said between us, but they ended there. There were no grudges.
In any case, as far as I am concerned, it is impossible not to have affection for someone for whom you have complete and utter respect. I really can't stress that enough. Billy McNeill may have been my manager, but he was also a person I admired as a human being.
I can reflect on our time together at Celtic and can see how much I owe him. He must have had confidence in my ability to give me my chance so early. It was a big thing for him to hand me my debut against Motherwell on March 17 1979 – St Patrick's Day! What a date for an Irishman to make his first Celtic appearance.
I was not a sentimental choice from the manager. Aberdeen had knocked us out of the Scottish Cup in a replay by winning 2–1 at Parkhead in the previous midweek. Unfortunately, Peter Latchford shouldered most of the blame for two early Dons goals – one in the first minute – and Billy decided to bring me in.
HAMPDEN HOORAYS…Pat Bonner celebrates Celtic's 1-0 Scottish Cup Final triumph over Airdrie in 1995.
Football can be a harsh game and you had to grasp your opportunity when it came along. While I prepared to take my bow in front of those wonderful fans at Parkhead, Peter was with the reserves at Fir Park.
It would have been a perfect day for me if I had managed to keep a clean sheet, but, alas, it was not to be. I would just have to settle for a 2–1 victory, but I was happy to accept that. The newspapers were quite kind to me the following day and one made the point that Bobby Lennox, who scored both our goals that afternoon, was thirty-five years of age – almost double that of the eighteen-year-old debutant.
Bobby, still lightning fast at even that advanced stage of his career, had us two goals ahead five minutes after the interval. My aim after that was to keep out our opponents, but a bloke by the name of John Donnelly pulled one back and we were walking on eggshells for the remainder of the confrontation.
Billy, of course, left for Manchester City in the summer of 1983 and had a stint at Aston Villa before returning to the club in our centenary year. It was unfortunate Davie Hay had to make way as manager, but Billy came in and created his own environment.
We had no silverware to show for our efforts the previous season and it is to Billy's credit he managed to re-energise the club. He brought a positivity with him, he had returned to do a job and, as ever, he would be leading from the front.
Billy bought wisely, too, bringing in Andy Walker, a lively striker from Motherwell, Chris Morris, an attack-minded right-back from Sheffield Wednesday and Republic of Ireland colleague, and Billy Stark, an experienced midfielder from Aberdeen.
Over the next few months he brought in Frank McAvennie, from West Ham, and Joe Miller, another rapier-swift raider, from the Dons. Frank and Joe had never hidden their affection for Celtic and Billy also saw that as important.
It's in the history books now what the team so memorably and so wonderfully achieved as they celebrated 100 years of existence. The League Championship trophy and the Scottish Cup, both bedecked in green and white ribbons, returned to the Celtic trophy room in majestic triumph.
It was no less than Billy McNeill deserved.
Click Here for Comments >