CQN continues its EXCLUSIVE series to salute Celtic's Greatest-Ever skipper Billy McNeill.

Author Alex Gordon, who has had fifteen Celtic books published, including 'Caesar and The Assassin' and 'Lisbon Lions: The 40th Anniversary Celebration', interviewed many of the club legend's team-mates and opponents for his tribute tome, 'In Praise of Caesar', which was published in 2018.
CQN continues its publication of edited memories. Today Sir Alex Ferguson has his say.
Please enjoy.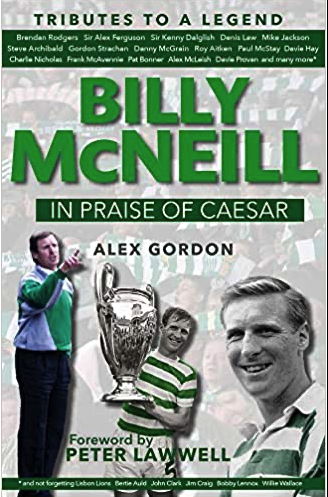 BILLY McNEILL hated playing against me. He could never cope with skilful centre-forwards.
I faced the Celtic skipper with five different teams during my playing career: St Johnstone, Dunfermline, Rangers, Falkirk and Ayr United.
Billy is on record as saying I "made use of my flailing elbows to great effect". You could say I played to my strengths!
I loved playing against Billy McNeill. We had a few good ding-dongs over the years, but let me say here and now Big Billy was scrupulously clean. In my playing days, there were at least half-a-dozen brutal defenders who wanted to boot you off the park.
They wouldn't have lost a wink of sleep if they had put you in hospital with a broken leg. Billy, on the other hand, was the fairest of them all. Don't get me wrong, he could be a fierce competitor, but everything was done within the laws of the game. So, when we were in direct competition, we could roll up our sleeves and get at it.
BEST OF ENEMIES…Billy McNeill and Alex Ferguson in the heat of battle during an Old Firm confrontation.
It was a man's game, after all. But I could go into challenges with Billy safe in the knowledge I wouldn't be visiting the A&E department at some hospital later that day.
Sometimes you wonder how futures would have progressed if you received a different bounce of the ball. Billy McNeill was the man who started Celtic on their silverware trail under the great Jock Stein when he headed in the winner against Dunfermline in the Scottish Cup Final at Hampden in 1965.
I was the Fife club's top goalscorer that season and I would have been Billy's direct opponent if I had been playing. Manager Willie Cunningham dropped me for that game and I was far from happy with his decision. That's putting it mildly.
I had missed a late chance against St Johnstone in the previous game that might have won the league championship for the East End Park outfit. Clearly, Cunningham thought I should have scored and I'm convinced that can be the only reason I sat in the Hampden stand that day.
HEADMASTER…Billy McNeill rises Bobby Lennox to fire in the 1965 Scottish Cup winner against Dunfermline. 
It was 2–2 with the clock ticking down when Charlie Gallagher flighted over the left-wing corner-kick and Billy simply rose to thump in a header and Celtic had won their first trophy in eight years.
Don't get the notion I am saying I could have done something to stop Billy getting in that header. The Celtic man was the finest header of a ball I have ever seen, second to none. He was a big fella, of course, but his timing was close to immaculate. It was rare for anyone to get the better of him in an aerial duel.
Maybe our keeper, Jim Herriot, could have come for the cross on that occasion, but if anyone deserved to score a Cup winner for Celtic back then it was Billy McNeill.
* DON'T miss our EXCLUSIVE CAESAR CHRONICLES as Billy McNeill's team-mates and rivals pay homage to a Celtic legend – only in your champion CQN.
Click Here for Comments >