CELTIC'S Class of 2016-17's Half Term Report is out and we've been reviewing this today. Part 4 below but if you want to start at the beginning here are the links to the 3 earlier installments.
PART 1 is HERE
Part 2 is HERE and
PART 3 is HERE.
Now that you've all caught up, and after the frustrations on the CQN last night re the server overloading, here goes with Part 4….
CELTIC became Silverware Centurians on the Sunday afternoon of November 27 when Brendan Rodgers led the Hoops to their milestone 100th trophy success in the 3-0 victory over Aberdeen.
The Hoops were rampant as they made history at Hampden with a spectacular attacking display that swept aside the Dons.
Tom Rogic lived up to his Wizard of Oz title when he curled in a magnificent breakthrough goal in the 16th minute.
The Aussie international, another player responding to the promptings of his manager, cut in from the right and left keeper Joe Lewis helpless with an effort that found the bottom right-hand corner of the net.
In the 37th minute, James Forrest doubled the advantage when he finished off a mesmerising solo run with a belter of a shot and once again the Dons No.1 was left helpless.
It was all over in the 64th minute after Anthony O'Connor hauled down Forrest and Celtic were awarded a stonewall penalty-kick.
Moussa Dembele was the picture of composure as he rolled the ball into the net.
An elated Rodgers said: "My players have been really impressive.
"They must now build on this success. It's a winning club, that's what the history of this club has been based on.
"It marks a milestone, the century of trophies, and now we must start off the next century of trophies.
"That will be important for us and the club.
"It's a great night for Celtic supporters to celebrate and we will push for the next one.
"It's six months and a week since I came in and we talked about what we wanted to achieve and how we wanted to do it.
"We are well on our way to that.
"We are trying to improve standards on and off the field. We are shaping up the team to play in a certain style and that is going very well.
"There are things we will analyze, what can we do better, how can we improve, but, ultimately, the goal was to win the Cup and, thankfully, we've won it."
The month of November started with another excellent performance in the 1-1 draw with Borussia Monchengladbach in Germany.
Dembele collected another spot-kick goal, but the Hoops blew the chance of a crucial away victory when Callum McGregor slid one past the post in the fading moments when he only had the keeper to beat.
The following Saturday, Caley Thistle were dismissed 3-0 in Glasgow before a wonderful effort from Stuart Armstrong gave the Hoops a 1-0 win over Kilmarnock in difficult conditions at Rugby Park the following Friday night.
The Champions League adventure ended in Glasgow on Wednesday, November 23, when Lionel Messi netted two goals – one a penalty-kick – as Barcelona triumphed 2-0.
But the Celtic fans were celebrating a few days later with their 100th trophy success over Aberdeen.
Brendan Rodgers was already in the club's history books. Now the aim was for the domestic treble and the challenge of nine games in December.
TO BE CONTINUED ON CQN – PART 5 WILL BE PUBLISHED LATER TODAY
*This week we have been running a very popular offer on CQN Bookstore – when you buy THAT SEASON IN PARADISE – TEN MONTHS OF CELTIC HEAVEN, not only is your copy personally signed by Lisbon Lion BERTIE AULD but you also receive a FREE copy of The Winds of Change – signed by ex-Celtic manager DAVIE HAY and a great Celtic DVD from 2012-13 season.
We only have ONE left though and this offer  can't be repeated so hurry! You get all of the above for just £15.99 plus p&p so it's an outstanding deal.
All orders this week have been posted except those from last night which will be going this morning.
If you want one of the last 1 available order
HERE
or click on the ad below. Hurry!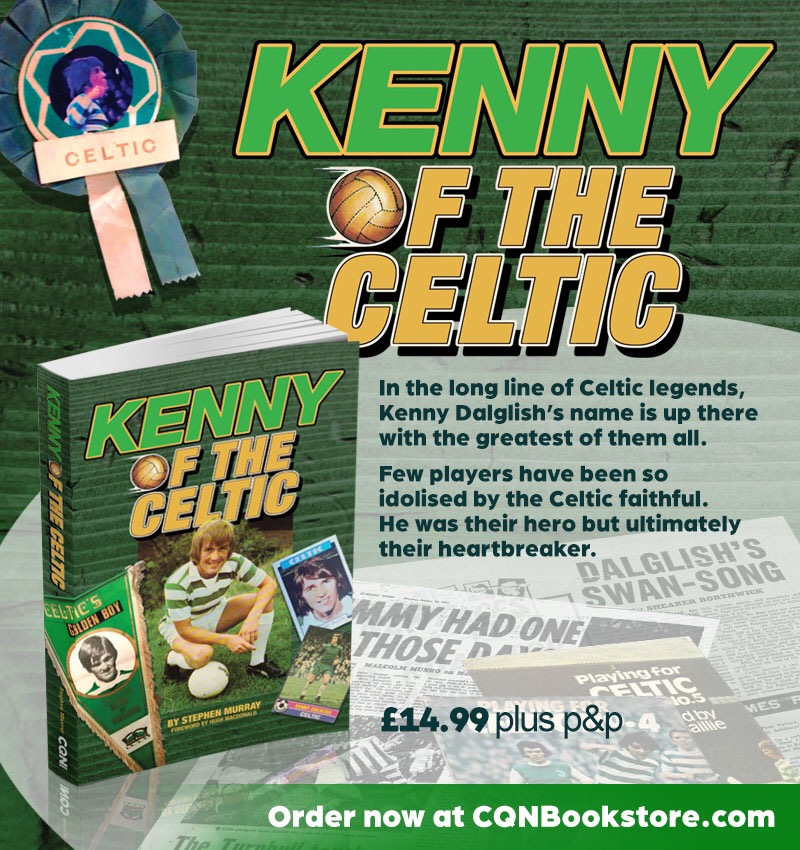 Click Here for Comments >