So in the words of Mick Jones and Joe Strummer – should I stay or should I go to our home game on 10th September? This has caused a wee bit of disagreement and consternation amongst Celtic fans over the last few weeks. I'll put my cards on the table: I will be going, without hesitation. I'm not here to tell people that they should go or not go; I'm not making a judgement about people who don't want to go as it's an individual choice, but I'd just like to air a few thoughts on why I have made my choice.
First off, I will completely disregard the ticket pricing debate. That is a pricing structure that has been agreed by both clubs and is a simple economic supply and demand argument. Just a nicker shy of a bullseye for non-season ticket holders and upgrades – it is what it is in the modern "ruled by money" game. That won't change. That's another issue that will run and run I reckon.
The real question is around the FACT that we are playing The Rangers in the league at home for the first time in their 4 year existence; and whether or not the issues around them coming calling can be tolerated:
The cheating over a number of years and the tainted titles
The continuity myth
The "Old Firm" tag
Let's have a look at them individually and then I will explain how I came to my decision.
Cheating and Tainted Titles
The original Rangers FC (1872 to 2012) lied and cheated their way to various successes with the help of the footballing and cultural establishment of Scotland for over a hundred years. This culminated in a scandalous and ignominious collapse and liquidation of the club owing probably over £100M of debt that will never be paid.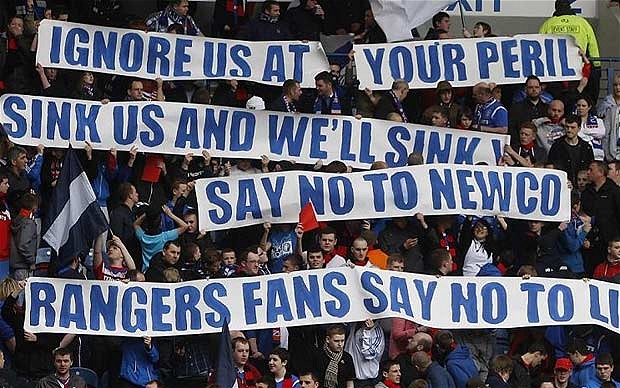 Their eventual downfall was symptomatic of their "We Are The People" mentality that existed throughout their first history. The refusal to sign Roman Catholics to play for them was permitted and allowed to go unfettered for over a century. Their bigotry and hatred was upheld by the establishment because, for all intents and purposed, in football terms they WERE the establishment
Their administration and liquidation was over 100 years in the making and the final acts played out in public was a culmination of the attitude that they were untouchable. Karma if you believe in that kinda thing.
As a fan-base, we continued to support our club throughout this entire period and made everyone aware we knew what was going on. We did this despite their cheating, hatred and bigotry.
The Continuity Myth
We know they are a new club.  UEFA have confirmed they are a new club. The SMSM all published the fact that they are a new club in 2012. The rest of Scottish football know they are a new club. Guess what, the majority of Rangers fans know they are a new club. The thing is, they just won't admit it in public. The Resolution 12 guys are doing a sterling job and their drive to uncover the corruption in Scottish football has produced the lovely by-product of confirming absolutely they are a new club. As long as Res 12 remains on the agenda that fact will eat away at them and SMSM and it will eventually be completely undeniable: especially when the liquidation is finalised.
As far as the tainted titles go, they can keep them. Despite the cheating and lying in the background, they were won on the park and we cannot change that. For them I think it is a pyrrhic victory. The re-writing and air-brushing of history is for them, not us.  It's the face-painters and florists who are the real victims here. The rest of the lies I can live with. If people tell me something and I know it to be a lie, but they refuse to recognise the truth it's sad: but says more about them than it does about me. However I trust in the fact that history will reflect the real truth and their shame will be writ large for all to see.
I wonder how our matchday programme will reflect this, however.
The Old Firm
This is a tag which sells papers, gets more fans watching and keeps social media ticking over. Financially it benefits both clubs and while we like to admit it or not, there is a relationship between both clubs (Celtic and The Rangers 2012) that will use the tag as a marketing ploy. Not overtly, but implicitly, and it will continue. It is irksome and I would rather that Celtic as a club distance themselves from it but I don't see that happening. We don't need it; but they do and (again) in the modern "ruled by money" game it is economically attractive. This is a fight with we need to take to Celtic if we want it to change. We need to demand that they publicly remove themselves from the partnership and clearly state that we want no part of it. That's another debate entirely!
So why am I going?
First and foremost, I am a Celtic fan and I will go to as many games as I can to get behind the team. I have been going for over 50 years mhan and bhoy and I will continue to go as long as I am physically able. I've been there through the good times (9 in a row, dominance in Europe, the big cup) and the bad (9 in a row, the club almost going to the wall, Lou Macari, Wayne Biggins, John Barnes). Why do I put myself through it? Because I love my club!  I was taught to love my club by my dad, God rest him.  (Incidentally, it would be his birthday on September 10th).  The driving force for me going to a game always has and always will to get behind the 11 players wearing the shirt that "won't shrink to fit inferior players".
The cheating has always been there for me; the corruption and the mibbery; the injustice suffered by the club and the fans.  The only difference, in my opinion, is that it is out in the open in a way that it has never been before. The whole world knows it, including The Rangers. So their historical corruption and their tainted titles won't stop me from going to support my team. It will only serve to make my support more vociferous!
The continuity myth is precisely that; a myth, nothing more. If I look in the mirror each morning and tell myself I look like Johnny Depp it doesn't make it so; everyone else who looks at me doesn't think I look like Johnny Depp (though Mrs VFR thinks I'm far more attractive). It's the same with them; they can tell themselves whatever they like; it's just a ridiculous lie that doesn't impact on me or my team. It won't stop me from going to support my team. It will only serve to make my support more vociferous!
The Old Firm tag is meaningless to me. It's meaningless to the majority of Celtic fans.  It's another lie they tell themselves to shore up their continuity myth. The SMSM do so as well for the exact same reasons. This is possibly a campaign we should undertake against our own club until they remove themselves from the "partnership". In the meantime I still want to see my team play and beat every team we can. So the Old Firm tag won't stop me from going to support my team. It will only serve to make my support more vociferous!
In my opinion (and it's only an opinion) not going along to support the team doesn't harm The Rangers; the SFA; the SMSM; the Celtic PLC board; or anyone else APART from the 11 players on the park; the management team; and everyone else involved in preparing the squad to play another SPFL Premier League fixture. That's what it is; another 3 points to be won.
In my view, rows of empty seats will look like just that – empty seats. I am pretty sure that people seeing the empty seats won't view them as a protest against cheating and corruption; they will see it as fans not going to support the team. If we extrapolate the individual protests and end up with a tiny home support and 7,000 of them, that will only harm the team. It will benefit The Rangers and give them hope.
So analysing it, it was a pretty clear decision for me. Why would I be going to any game at Celtic Park? To support the famous Glasgow Celtic. It will be the same on Saturday 10th September 2016. We will be clear at the top of the table come 2 o'clock on Saturday.  They could be sitting 5th or 6th depending on how many we put past them.  On current form, that looks likely to me!
I also thought about what my dad would say if I could ask him: I'm pretty sure he would say something along the lines of "son, go and support the bhoys; if I was able to go there with you I would!"  He wouldn't have mentioned them because at the end of the day, they are an irrelevance.
KTF
Written by VFR800 for CQN. Please note that the views expressed in this feature are entirely those of the author and not all are shared by CQN.
Click Here for Comments >