Callum McGregor would have started the scoring on 65 seconds if he got his shot away a fraction earlier, but it was the intelligence of Patrick Roberts after 5 minutes that started the party. He laid the bait in front of Newco's Beerman, showed him enough of the ball to convince the left back to attempt an interception.
At that moment, Patrick conjured up his version of the Missing Lady. Before Beerman could make contact, the ball was gone, replaced by Robert's limbs. Referee John Beaton took his time before awarding the kick. Conditioned by an earlier refusal to give a stonewall penalty to Celtic, we thought the worst, but the award was made and Scott Sinclair rolled the ball into the corner of the net.
Leigh Griffiths unleashed a lethal shot for the second. Stuart Armstrong won possession off Hyndman, when he really shouldn't have. Goalkeeper, Fotheringham, got a hand to the shot, but, in a moment symptomatic of Newco's entire play, he didn't have the steel to divert the shot from goal.
Scott Sinclair will be exhilarated today, but on the odd occasion he'll ponder why he didn't help himself to a hat-trick yesterday. He squandered two great chances, one after a Griffiths shot from 18 yards rebounded off the crossbar.
Measuring a manager is difficult as there are so many other variables go into a club's season, but if you want to judge Brendan Rodgers, take a look at Callum McGregor. He opened Celtic's account in the second half, six days after scoring the first against Newco at Hampden. This season, Callum has emerged as a tidy and skilful central midfielder. So much of our play is dependent on the speed of thought and movement he brings to the game.
Dedryck Boyata scored the fourth, a header from a whipped Griffiths free-kick. This act was superfluous to the big man's imperious performance. He simply won everything that came within his considerable reach. More evidence of his manager's ability to improve players, teams, leagues and the mood of a nation.
I doubt Dedryck's partner, Jozo Simunovic, required a shower after the game. He strolled through the occasion. Really good defenders are not called to defend too often. They simply know where to go to inhibit or intercept. This was Jozo's game, apart from a simply stunning tackle on Kenny Miller. He swooped like an eagle picking up a field mouse, making a surgical contact with the ball and clearing the danger.
This brought a period of utter nonsense on the Sky Sports commentary, where we were told Jozo's "speed" should have been penalised with a foul. I can only assume parallel universes exist, in another, fast players are not allowed. We were also told that Jozo went in "with two feet". He didn't, one knee was bent, foot under his gluteus maximus.
We are at a stage where television is asking for fouls when Celtic bring genuine world-class football to Scotland. Make no mistake, this tackle was of Beckenbauer standard. Mr Walker, take a look at yourself.
We lost our shape around five minutes before Newco's late consolation. The players are not robots, fatigue may well have crept in, and the occasion was getting to all of us, but fortunately Mikael Lustig had a plan.
You remember that moment in Escape to Victory, when Bobby Moore is talking tactics, and Pele picks up the chalk and says, "Give me the ball and I'll go here, here, here and here, the score", while meandering across the blackboard. Mikael must have watched that movie as a child, and some long dormant neurons, which were protecting the memory, sprung into life.
That's pretty much what Mikael did.
They were absolutely brilliant, every single one of them. But let me assure you, this really is just the beginning. 12 of the 13 Celtic players who touched the ball yesterday were at the club last season. Wait until you see what Brendan does when he makes the squad his own.
Newco surrendered. They looked like they didn't want to be there. By the end, not many of their fans were.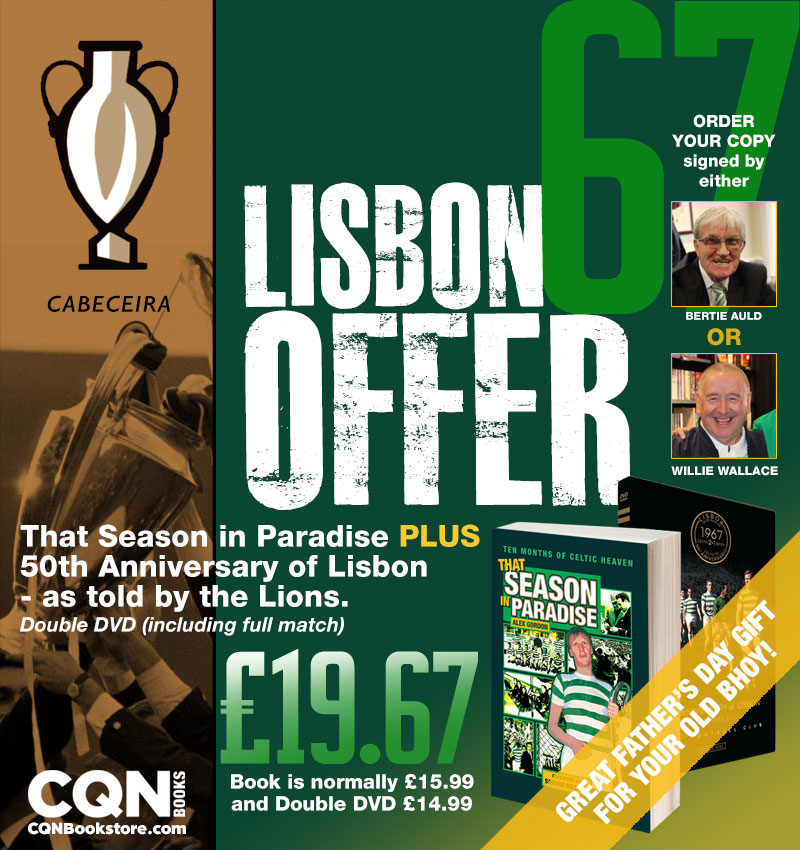 Click Here for Comments >