JOHN 'YOGI' HUGHES was deeply saddened by the news of the death of his former Celtic team-mate Bertie Auld at the age of 83 yesterday.
The seventh-highest goalscorer in the club's history with 189 strikes recalled the day Wee Bertie tried to sign him for Partick Thistle.
The one-time juggernaut forward, now 78, reveals the anecdote in his autobiography, 'Yogi Bare: The Life and Times of a Celtic Legend,' which was published in 2014 and was co-authored by his long-time friend Alex Gordon.
Here is the story when two Hoops greats almost had a reunion in Maryhill.
In another CQN EXCLUSIVE, Hughes tells it like this:
I WAS just three months short of my thirtieth birthday when I signed for Sunderland in January 1973. I was looking forward with eager anticipation to another chapter in my career. I knew all about the Wearside club, of course, because of inside info provided by my brother Billy, five years my junior, who had been at Roker Park since 1966.
He was a bit of a hero with the support and we both enthused over the prospect of teaming up at long last. The last time we would have been in the same side would have been in a wee kickabout on a park in Coatbridge.
In fact, Billy and I could have been colleagues at Celtic in the sixties. Jock Stein wanted him, but Billy was aware that comparisons would inevitably be made with me. He was a strong-willed kid and, despite our parents also wanting him to go to Parkhead, he dug in his heels and opted for Sunderland. In fact, he made his debut at the age of eighteen in a 2-2 draw with Liverpool on February 4 1967, the same day I was playing in Celtic's 3-0 win over Airdrie at Broomfield. Almost six years later we would line up in the same Sunderland team.
ON THE BALL…John Hughes on the rampage.
I was well aware the North East was a strong and passionate football area and, naturally, I had been used to that fervor and intensity during my eleven years with Celtic. Crystal Palace had been something else altogether, a bit of an eye-opener with different levels of expectation, but I enjoyed the experience. Now, though, it was time to get my career back on track and I had been offered the perfect opportunity by manager Bob Stokoe.
He thought enough of me to sign a cheque for £44,000 to Palace and that represented a good bit of business by the London outfit. They had paid £55,000 for me and Willie Wallace back in October 1971, so they recouped a fair amount of their initial outlay on me alone. Everyone was happy. For the time being.
So, on the Saturday afternoon of January 27, a cold, biting winter's day on Tyne and Wear, I prepared to make my debut for my new club in a league encounter against Millwall. You only get one chance to make a first impression and I was committed to getting off to a flier. I had passed a rigorous medical and any thoughts that I might be carrying an injury from my Palace days were dispelled.
THE OLD FIRM…John Hughes puts the pressure on Rangers centre-half Ronnie McKinnon.
I was at outside-left and Billy was playing through the middle. 'Good luck,' he shouted over to me seconds after the kick-off. Fate wasn't listening.
Only a handful of minutes into the game, a Millwall defender came steaming into the tackle and completely mistimed his challenge. Bang! He got more of me than he did the ball. He hit me smack on the knee that had given me such trouble after my collision with Sheffield United goalkeeper John Hope in December 1971.
I felt the pain drive through my body. Instinctively, I realised it was a bad one. I crashed to the turf and the physio was at my side in a matter of seconds. 'That looked sore from where I was sitting, Yogi,' he said. I didn't bother saying it was fairly sore from where I had been standing. He massaged it a little, used the good old magic sponge and asked, 'You okay to play on?'
BRING IT ON…Bertie Auld is ready for a game at Ibrox against deadly rivals Rangers.
I got to my feet, jogged a little and replied, 'Aye, let's give it a try.' The game got underway and my knee felt as though someone had inserted broken glass between the joints. I was in agony, but I wanted to play on because this game meant so much to me. Every player yearns to make an impact in his first game for his new club in front of a fresh set of supporters and I was no different.
However, I was finding it fairly stressful just to run. I wasn't picking up passes and I couldn't get past their full-back. I wasn't even kicking the ball properly. The Sunderland fans must have wondered about the quality of the new signing. There were a few calls from the terracings and I didn't blame them. They couldn't have realised the amount of torment I was enduring. I was in a fair bit of distress and Billy knew something was drastically wrong.
I took another bone-shuddering challenge and, once again, an excruciating jolt rattled through my knee. I had been on the field about fifteen minutes and I knew it was game over. What I didn't realise, of course, that it just wasn't the game that was over, but my entire career, too.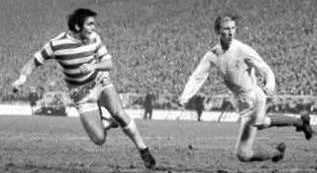 HEADS I WIN…John Hughes dives in front of Leeds defender Jack Charlton to equalise in the epic European Cup semi-final at Hampden in 1970.
HAT-TRICK AND HAVING A BALL…Bertie Auld takes centre stage after the 2-1 win win over Leeds.
We won 2-0, but, in all honesty, that wasn't my main concern the following day. I had to have my knee diagnosed once again to discover the extent of the damage. In the darkest recesses of your mind, there is always the nagging thought that this could be the end. I tried to remain positive, but the fact of the matter was my playing time in England had been decimated and there was no denying it.
I had left Celtic as a physically fit twenty-eight year old and I was looking forward to the next four years I had always insisted was the peak period for a footballer. Two of those prime time years had passed far too quickly and, with my thirtieth birthday coming up on April 3, I was anxious to make the most of the next two and beyond. I hadn't put a ceiling on when I thought my playing days would finish, but I had hoped to still be able to cope with the rigours of the game until I was at least thirty-four and, possibly, another couple of years after that.
The club doctor took a look at the injury the following Monday and was clearly disturbed at the destruction of my knee joint. 'I'll need a second opinion, but I believe this is extremely serious,' he said. I could hear the words, but I couldn't take them in. 'What are you saying, doc?' I asked. 'How bad is it?' He grimaced and answered gravely, 'Very bad. I'm sorry.'
I was whisked off to a private hospital and the prognosis was identical. There was far too much wear and tear in the joint. The advice was simple, 'Stop playing football or you could be on crutches for the rest of your life.' And that was that. Game, set and match and I had always believed and hoped I would be enjoying the best years of my career during that period.
CUP THAT CHEERS…John Hughes gets a close-up view of Bertie Auld lashing in Celtic's second goal in the 3-2 Scottish Cup Final triumph over Dunfermline in April 1965.
Instead, my knee was smashed beyond repair and even attempting to continue would be nothing short of foolhardy. Or, put another way, a complete waste of time. There would be no miracle comeback. It was the end of the road. Or was it?
No player accepts their career will end prematurely. Maybe there are more optimists among the footballing fraternity than in any other profession. However, despite getting the very best medical advice, I still thought there was a chance of proving the docs wrong. Before I left Sunderland for the last time, I had a word with Bob Stokoe and I think he was closer to tears than me. This big, hard man who took no prisoners as a player was hurting. But we were both forced to accept that my playing days at his club were over. After fifteen bloody minutes.
I packed up and prepared to return home to Scotland. I consoled myself with the thought I could always spend my Saturdays watching Celtic. After all, it looked as though I was going to have a fair bit of spare time on my hands. Then, completely out of the blue, came a telephone call from Davie White, the former manager of Rangers. He was now in charge at Dundee and had heard about my bleak news.
I had played against Davie many times during his career with Clyde and then he became an Old Firm adversary when he took over from Scot Symon as boss at Ibrox in 1967. He had lasted only two years at the club before being removed. He left with the unwanted baggage of being the first Rangers manager never to win a trophy.
HAMPDEN HEROES…John Hughes (second left) and Bertie Auld (chairing triumphant skipper Billy McNeill) celebrate the 1965 Scottish Cup victory over Dunfermline.
That, of course, was mainly due to the Celtic team in which I played. But White still had a good reputation as a coach within the game and everyone knew it would only be a matter of time before he surfaced again. Following two years in football's wilderness, White returned as boss at Dundee in 1971. And now he was making a phone call to me.
After the usual pleasantries, he asked, 'Do you think there is a chance of you playing again?' I told him the truth. 'I've been advised against it.' But the Dundee manager was nothing if not persistent. 'Yes, Yogi, but how do YOU feel? Do YOU think you can still do the business?'
Again, I was honest. 'It's a lovely thought, Davie, but I just don't know how realistic.' White wasn't fazed. 'Would you be willing to take a risk? Do a bit of training and see where it takes us?' I thought about it for a moment; it seemed like a reasonable offer from a manager in Scotland's top flight. 'Why not?' I replied.
'When do you want me at Dens Park?' He laughed, 'About two years ago.'
It was all hush-hush stuff as I arrived in Dundee, admittedly, more in hope than expectation. Thoughtfully, Davie didn't want to put any pressure on me. If the newspapers had got hold of it, there would have been conjecture about me returning to the game. Suddenly, I would have found the spotlight back on me. But, let's face it, I had nothing to lose. And there was a list of players who had been written off in the past who had somehow managed to make reasonable comebacks.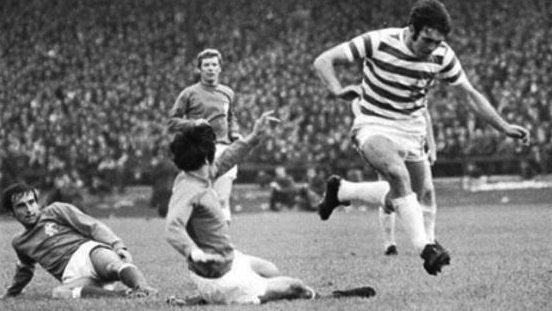 ON THE RUN…John Hughes races away from grounded Rangers defenders Ronnie McKinnon and Colin Jackson as he menaces the Ibrox side's goal.
A chap called Eric Ferguson took the training at Dundee and, helpfully, he gave me a lot of his time. Eric didn't want me to rush anything, but he offered great encouragement. I trained away as I attempted to build up the strength in my knee. After six weeks, I was moving more freely and, I have to admit, feeling good about myself. I couldn't help but wonder if a comeback was feasible.
A reserve game was due for a Friday night around that time and Davie White and his training staff thought it was time for me to take the plunge and test the knee. I went through a couple of light sessions and I was eager to get out there and show I could still do it.
On the Friday morning, though, the searing pain in my knee returned. I was in agony. The timing couldn't have been worse. Any thoughts I had of turning out in a reserve game were obliterated there and then. I phoned the club to break the news. Eric Ferguson tried to soothe my anxieties by saying, 'Don't worry, Yogi, it's just a hiccup.'
Some hiccup! I was finished and this time I knew it. I was absolutely shattered by the setback. I had trained hard for six weeks in preparation for that moment and, without warning, the opportunity had been whisked away from me. I was sick. What really hit me was the suddenness of it all. One minute there was hope. The next there was none. It was very hard to accept.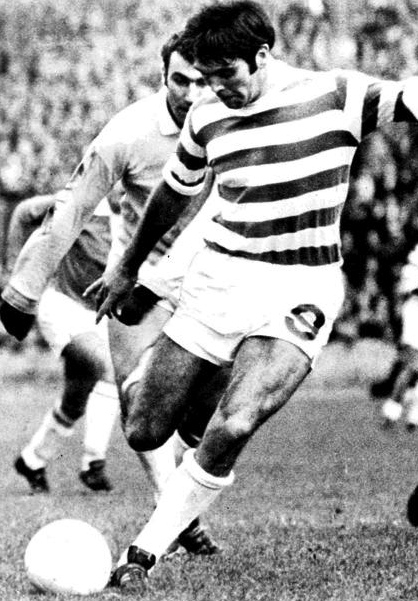 BY THE RIGHT…John Hughes takes the ball round St Johnstone keeper John Donaldson before scoring.
I kept fit by turning out for the Old Crocks, teams put together by former players mainly for charity. They were supposed to be just friendly kickabouts, but, believe me, they could feisty at times. I think some old scores were settled in these encounters. I remember playing quite well in one of these encounters where the standard was at a reasonable level.
We weren't talking about ex-players turning up still in their zimmer frames or anything like that. Some had been performing in the top league just a year or so before.
Anyway, one day I rolled back the years and scored eight goals in one of these games at Petershill Juniors' ground. Former Celtic team-mate John Colrain was also playing and I knew he was still friendly with Bertie Auld, who was by now the Partick Thistle manager.
This was the same Bertie Auld who only passed the ball to me when he didn't have any other options! Colrain must have got in touch with Bertie because I received a phone call shortly afterwards.
'Yogi, I've got something I want you to think about,' he whispered down the line. I was intrigued.
'Okay, Bertie, fire away,' I said.
BIG-GAME BERTIE…Celtic midfield mastermind Bertie Auld revels in the massive atmosphere.
'I think you can play again,' he said. I wondered if he was at the wind-up because my ex-colleague was known to be a bit of a practical joker.
When I realised he was deadly serious, I laughed, 'No chance, Bertie. My playing days are well and truly over.' He wasn't convinced. 'Listen, sign for Partick Thistle and I'll only play you in the last half-hour or so. I wouldn't expect you to play the full ninety minutes. What do you think?'
In situations like that, you can't help but ponder over the possibilities.
THE LOOK OF A WINNER…Bertie Auld celebrates at Hampden as he watches Celtic overcome Motherwell 2-0 in the Scottish Cup Final in 2018.
Bertie added, 'Look, Yogi, I'll only put you on if we have to. If we're winning comfortably I won't play you at all. You can get paid for sitting beside me in the dug-out. What do you think?'
I considered it for a moment before answering, 'Sorry, Bertie, but it's got to be no. I just wouldn't do justice to myself. I know that deep down. Maybe it's best to leave the past alone and let people remember me as I was.'
'You're positive, Big Man? That's your last word on the subject? You can't be tempted? Do you want a day or two to mull it over?'
I smiled and answered, 'That's my final answer.'
And I never did pull on those football boots in earnest ever again. My knackered knee made sure of that.
Click Here for Comments >