Peter Dowds of Irish parentage and the son of an iron miner was born and died in the same house at 27 Graham Street, Johnstone in the space of 25 years. It is what he packed into those years that will be of interest to Celtic fans.
He was a hometown football player with Johnstone Harp before arriving at Celtic via Broxburn Shamrock at the tender age of 17. He played in the same Johnstone Harp team as future Celtic and Scotland international Goalkeeper Willie Dunning, who he would join at Celtic and again on his football travels south of the border.
Making his debut in March 1889 v Clydesdale Harriers Peter established himself as a player of worth and partnered future Manager Willie Maley on the left in his next game v Abercorn. He scored in Celtic's first ever silverware haul – a 6-1 victory over Cowlairs in the final of the North Eastern Cup at Barrowfield (Clyde's ground) in May 1889.
Before the start of the first ever league in Scottish football in 1891-92 season, Celtic were much in demand playing games on tour and at home to the well established English teams. Peter featured in many of these earning himself a reputation against the likes of Newcastle, Bolton, Burnley, Preston N.E., Sunderland, Blackburn and Everton. In August 1889 Peter bagged both goals in a 2-0 win over Rangers.
Emphasising Peter's versatility, Celtic's first two Glasgow Cup wins saw him emerging as the victor playing in two different positions. He also played at centre in Celtic's first Scottish Cup win at Ibrox v Queens Park.
As the Scottish league commenced in 1891-92 season Peter featured in our first official match in a 5-0 win v Hearts at Tynecastle. He was off being treated for a severe eye gash for ten minutes and returned to the field, head bandaged with fifteen minutes remaining. The match report continues, "Dowds who was now playing outside left, easily walked round Adams, and with a fine screw kick put the ball out of McKay's reach for the fifth time…."
The following game a hat trick came his way and soon after he had a golden spell scoring 9 goals in 5 games, 4 in one match, 2 in another including "a backward shot with his heel" against Clyde in the Glasgow Cup at Celtic Park! In our first league season he became the first Celt to be an ever present, appearing in every league game and was Celtic's top scorer as well!
With professionalism established in English football from 1885, payment of players in Scotland, although common was viewed
as a stain on the amateur game. Marie Rowan's excellent book on Paisley born Dan Doyle points to the sign that all was not well for Scottish players.
Willie Daly, a friend of Dowds met him in Paisley after his victorious scoring appearance in a Glasgow cup final. Daly asked what he got for winning – perhaps with a cash bonus in mind. Dowds brought out the medal from his pocket and said, "That!!" He dropped the medal and kicked it as it fell, into some grass nearby before walking on. Medals alone were no use to a man with little money who now had a wife in tow by the name of Mary Smith.
With Scottish football lagging behind England in a professional sense, Dowds was now a highly treasured commodity with clubs south of the border aware of his precocious talent willing to pay enormous sums of money to a young man who clearly needed money!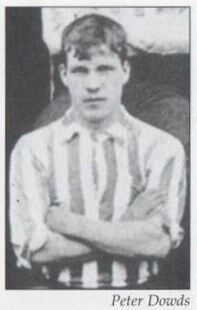 Tom Maley ex Celtic teammate of Dowds and brother of Manager Willie Maley wrote this during the First World War in 1916 while manager of Bradford Park Avenue.
"To tamper or try to wheedle a Celtic player from Parkhead was about as fatal a task as to trifle with the fuse of a big shell."
"Dick Molyneux Secretary of Everton tried to nobble Dowds, one of the best all rounders I can remember.Through the kindness of a friend the movements of Molyneux and Dowds were disclosed.
They were driving from Glasgow to Johnstone. We drove after them, overtook them on the High Road, and bored them so to speak into a hedgerow. Then having compelled them to stop with gloved hands disposed of in pistol shaped fashion, sternly ordered Peter to get off and up – off the Everton machine and on to the Celtic. This removal effected we gave Dick and his pal the order to git!"
"The next day a telegram reached Dowds from Fred Dewhurst on behalf of Preston N.E., desiring Peter to meet him at a certain hotel in Glasgow. That wire I replied to. "Peter can't come. I will." and signed it in full. Fred didn't wait to meet me."
Reminiscing on the start of the 1892 season Willie Maley wrote in a Weekly News article in 1936, "At half we had reckoned on keeping Dowds as he first of all went to Aston Villa in July, changed his mind and returned to us in August and actually played two games. Suddenly he shifted his mind and never returned."
Peter played one season with Aston Villa, Joining up with fellow Harp and Celtic team-mate Willie Dunning, and the next with Stoke City.
Again Willie Maley recounted a Dowds tale in his series of articles. "When he was a Villain (Villa player), Peter once made a bet on the occasion of a West Brom match that his opposing wing would not get the ball during the game. Peter's bet was promptly covered but he was the winner."
Celtic Manager Willie Maley, also highlighting the quality of player Dowds was continued, "Peter Dowds was a wonderful footballer, his versatility was unique. Talk about class all rounders. There never has been and never will be finer. It did not matter in which position Peter played. He distinguished himself. I admired him most as a halfback. He was the perfect middle man, playing the ball all the time and every time. Peter did not have to throw himself about to get contact. Contact came to him by his own intuition. He did not find the ball. Nothing so common. It found him."
Peter Dowds was to die tragically young within a short timescale on his return to Scotland.
Willie Maley in 1931 remembered remarks made to him by a footballing friend in 1895 at the graveside. He paraphrased, "To the present generation Dowds is not even a name, but to old timers he was the greatest ever, at home in any and every position. The equal of a Doyle or Kelly in defence, of Madden on the right, Campbell on the left and Cassidy at centre."
Peter returned to Celtic after an absence of two seasons in 1894 with Scotland embracing professionalism the season previous. He played at the new Celtic Park and also played in the inaugural game at St.Mirren Park, Love St. in September in a 0-3 victory.
In the match report in the Paisley & Renfrewshire Gazette it quotes, "Dowds lagged somewhat during the game and the stalwart Maley had to do his own work and assist Peter also."
This was the first indication that he was not physically at his best.
Unbeknown to Celtic they had re-signed a 24 year-old man who should have been at his peak but was in fact suffering from an illness that would be terminal. Peter Dowds would be dead in a year. He had Consumption (Tuberculosis), a bacterial disease that was a horrific ailment with no cure available.
His last game as a Celtic player was away against Manchester City at Ardwick Road in December 1894.
It's ironic that his death certificate states as his occupation "Professional Footballer," as he had to leave his country to become one. Peter played only three league games as a professional in Scotland for Celtic.
It is especially poignant that he returned to the club he loved and played so few games in what would have been a great future if illness hadn't intervened.
Peter died in September 1895 and lies buried in an unmarked grave in Abbey Cemetery, Elderslie.
Written by Iain Reynolds for CQN Magazine.
NEW CQN PODCAST OUT NOW! CHRISTMAS JUMPERS FOR GOALPOSTS
Paul John Dykes and Kevin Graham are joined by Celtic authors, Stephen Sullivan and Stevie Murray for a special festive episode – Christmas Jumpers for Goal-Posts.
Stephen Sullivan is a former Celtic View reporter who wrote the much-lauded Sean Fallon biography, 'Iron Man'. He is now the editor of FIFA.com.
Stevie Murray has now written two books on Celtic – 'Ten Men Won The League' and 'Kenny of the Celtic' – and he is a respected and authoritative voice on the club.
Treat yourself to a signed copy of Jim Craig – Right Back to 67 and you will receive a copy of That Season on Paradise signed by Bertie Auld, just order the Jim Craig book at CQNbookstore.co.uk and we'll do the rest…
Click Here for Comments >