IN THE HEAT OF LISBON, the new book from CQN Books celebrates the players in part 1, A Season in the Sun and the Celtic supporters from 1967 in part 2 which is titled The Fans Came in Their Thousands.
And there's one supporter in particular who made his presence felt in the heat of Lisbon.
Tommy Gemmell and Stevie Chalmers may have got the goals, Bobby Murdoch and Bertie Auld may have arguably been the best players on the park that day but this Celtic supporter made his own mark on the European Cup Final in Lisbon on 25th May 1967 with his brilliant home made Jock Stein t-shirt.
The fans streamed onto the pitch, in their thousands, delirious with joy at the final whistle as Celtic became the first British side to win the European Cup.
And the one supporter out of these thousands that everyone remembers is the Bhoy wearing his home-made Jock Stein t-shirt.
Now almost 50 years later, you can own your very own Jock Stein t-shirt, inspired by this supporter at the final whistle who became famous at the very moment that Jock Stein became immortal.
CQN has produced a limited edition run of t-shirts and these have just about sold out. Hundreds of you will have received this t-shirt today along with your copy of  In the Heat of Lisbon. Many more will get theirs tomorrow and into next week.
We have less than 100 remaining t-shirts (including 5 in size small*).
And the special offer, where you get both the new book and the t-shirt for just £19.67 will end tonight at midnight.
After that In the Heat of Lisbon will be sold at £14.99 and so will any remaining t-shirts.
The profits from this project are being used to provide a decent Thank You to the playing staff who participated in the 1966/67 European Cup campaign.
Order today from www.cqnbookstore.com 
*The SMALL t-shirt size is NOT an option on cqnbookstore.com, so if you want one please order size L and email david@cqnpublishing.co.uk to change to SMALL.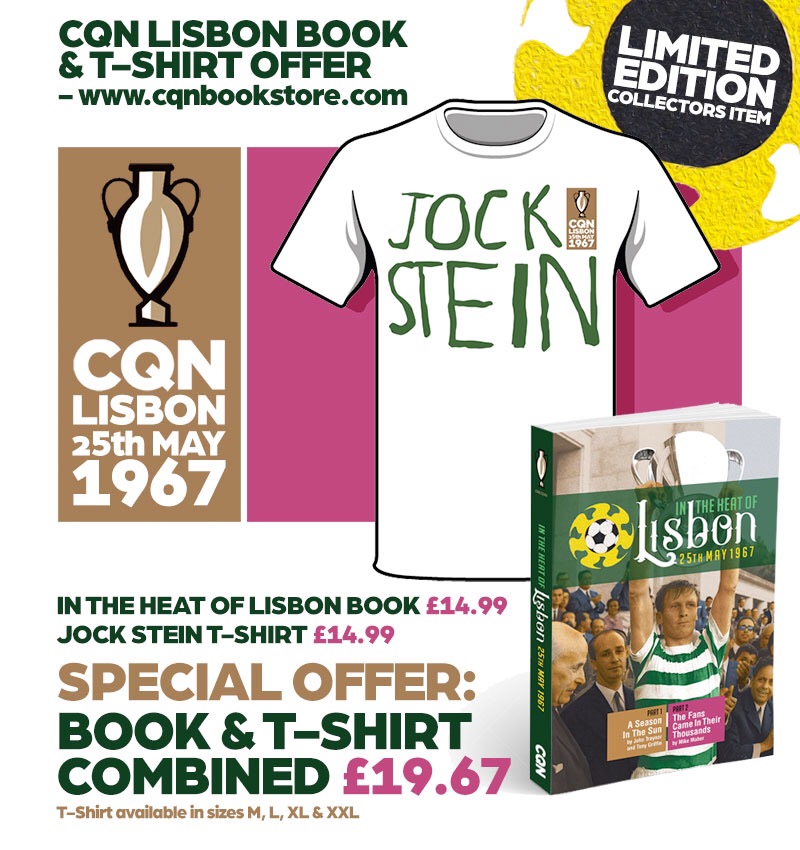 Click Here for Comments >