CQN has been paying tribute over the past five days to Celtic legend John Hughes after the former fans' favourite celebrated his 76th birthday on Wednesday.
The original Yogi, the Hoops' seventh-highest scorer with 189 goals, has been reflecting on games against Rangers, the rollercoaster occasions that brought so many highs and a few lows.
Today, in the final EXCLUSIVE extract from his autobiography, 'Yogi Bare: The Life and Times of a Celtic Legend', co-authored by Alex Gordon, the Parkhead great recalls a couple of League Cup Finals that emphasised the swinging fortunes in these derby confrontations.
I HAD been involved in the League Cup Final in 1964 and was bitterly disappointed to be on the wrong side of a 2-1 scoreline. We knew who the dangerman was – Jim Forrest. The quick and stocky striker was on fire in the tournament and had scored an amazing sixteen goals in nine games leading up to the Final.
He collected a double as Rangers dumped Dundee United in the semi-final. I think Forrest enjoyed the tournament because he had smashed in four in a 5-0 triumph over Morton the previous season's Final. So, we knew we had our work cut out to keep him quiet.
So – surprise! surprise! – we were two goals adrift just after the hour mark. Who scored them? No prizes for guessing Jim Forrest. And yet we had started brightly enough. I skinned David Provan, playing at right-back that afternoon, to whip over a cross, but it was just out of Bobby Murdoch's reach with the goal gaping.
A few minutes later, Eric Caldow headed an effort from John Divers off the line. The game turned in the sixty-fourth minute when Forrest waltzed through the heart of our defence and plonked the ball wide of the advancing John Fallon.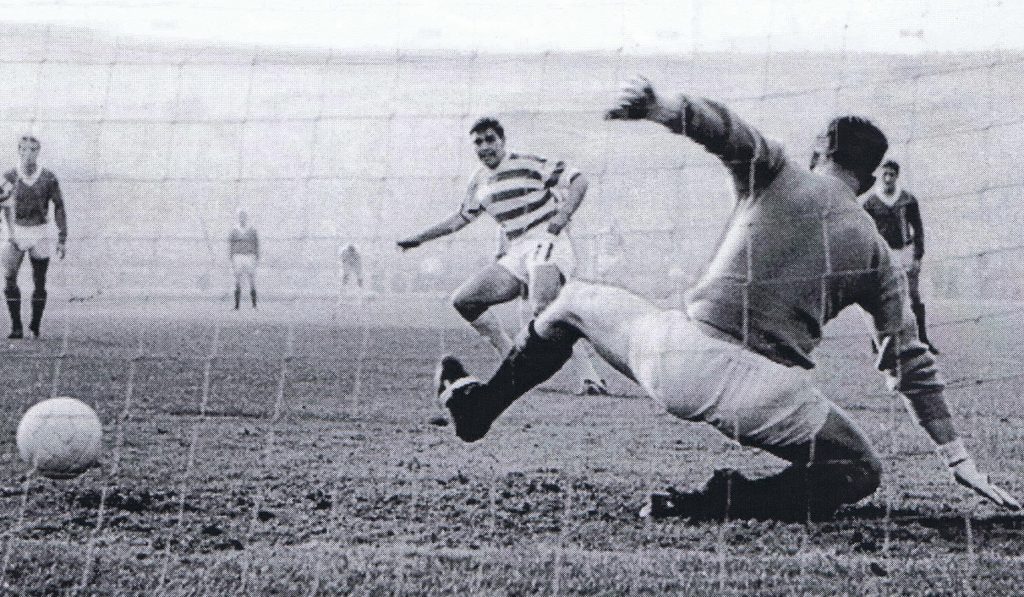 NUMBER ONE…John Hughes sends Rangers keeper Billy Rtchie the wrong way for the opener in the 1966 League Cup Final.
There was a moment of high controversy minutes later when Murdoch hammered in a powerful shot. Billy Ritchie fumbled the effort, it crept under his body and the keeper had to swivel on his stomach to claw the ball back from the line. Was it over? Half of the 91,000 crowd thought so as did eleven players in green and white.
Referee Hugh Phillips wasn't swayed by our appeals and waved play on. To be fair, photographs in the following day's newspapers appeared to indicate Ritchie had just prevented the whole of the ball from rolling over the line.
That was all Rangers needed to motivate themselves into storming back at us and Jim Baxter slipped the ball through for Forrest to score almost an exact replica of the first goal. Jimmy Johnstone pulled one back with twenty minutes still to play, but, agonisingly, it wasn't to be our day once more against our rivals from across the Clyde.
As I've already stated, the League Cup Final only a few months before the 5-1 New Year drubbing was a lot more enjoyable. I believe that was the first time I had come up against Kai Johansen. He had played for Morton for a year after they signed him from Danish team OB Odense. I have to say I didn't know that much about the style of the player, but Rangers manager Scot Symon had paid £20,000 for him and that was a fairly hefty fee in those days.
I had left for Hampden with two wishes in mind – to gain revenge for the previous season. And for Celtic not to be awarded a penalty-kick! Let me hastily explain before you get the wrong impression. I was the designated spot-kick taker at the club and I realised the immense pressure on me if we got an award. It was difficult enough in an ordinary league game, but in a Cup Final against Rangers at a packed Hampden Park would have been awesome.
NUMBER TWO…John Hughes is spot on again with what turned out to be the winning goal in the 1966 silverware shoot-out.
Please remember I was only twenty-two years old at the time. To get two in the same game was unthinkable. Mind you, I wasn't grumbling by time-up after I had placed two shots in the Rangers net and we avenged the defeat of twelve months earlier with an identical 2-1 scoreline.
Both penalties were given in the first-half and I don't think even the biggest Bluenose could have a complaint. The first came when Ronnie McKinnon handled needlessly as a long ball was going out of play. Referee Hugh Phillips pointed to the spot and I realised I had a golden opportunity to put us on our way. All sorts of things go through your mind at that point.
You want to look cool and in control. There must be no trace of nerves. I placed the ball, moved back, the match official blew his whistle and I stepped forward to hit it practically down the middle of the goal. Thankfully, Billy Ritchie had anticipated a shot to his right and took off in that direction. Boy, was I relieved when I saw that net rippling behind him.
Not too long afterwards, Jimmy Johnstone was bought crashing to the turf after a badly-timed challenge from David Provan. Once again, the ref had no hesitation in pointing to the spot. 'Oh hell,' I thought, 'where do I place this one?' Once again, you have to give the impression you haven't a care in the world.
I went through the same routine and hit the ball to the keeper's right. I figured he might have believed he would have more luck going to his left on that occasion. Thankfully, I hit it with enough force to see the effort come off his right hand and the ball strangle itself in the net.
I wasn't playing too badly, even if I do say so myself, and I was having a lot of success running at Kai Johansen. It was an October afternoon, but the playing surface at the national stadium was in excellent condition. The two goals gave me an incredible surge in confidence and I would have happily have taken a third penalty-kick!
ACTION MAN…former fans' favourite Big Yogi in his cherished green and white hoops. 
Ian Young, our right-back, was unfortunate enough to put through his own goal with about seven minutes left, but it was too late for Rangers to change the scoreline. It was their turn to go to the silent dressing room of the defeated we had occupied so often in the past.
No less than such an esteemed newspaper organ as the London Times noted, 'Hughes, the Celtic left winger, exerted such a mastery over Johansen, Rangers' Danish full-back, that the score might have risen.'
Who am I to argue with that acclamation?
Click Here for Comments >