CELTIC legend Jock Stein made an extraordinary immediate impact on the Parkhead club when he returned as manager in March 1965.
To celebrate the incredible life and times of this remarkable character, CQN are paying tribute to the club's unforgettable ground-breaking leader.
Author Alex Gordon, who has written fifteen books on Celtic with his latest, '50 Flags Plus One', on sale now, has opened his files on the Parkhead great for an EXCLUSIVE twenty-one part series in CQN.
Today, in Part Eight of our fascinating look back at these landmark times in the annals of fame at a momentous football club, we continue with Big Jock's achievement of guiding the team to their fourth successive league championship in season 1968/69. They completed the campaign with 54 points – losing just three of their 34 games in the days when only two points were awarded for a win. They lifted the flag by five points from nearest challengers Rangers.
CQN has selected Six of the Best as they remained at the Scottish soccer summit.
CELTIC 2 DUNDEE UNITED 0 (October 5, 1968)
THE Tannadice outfit arrived at Parkhead attempting to preserve their unbeaten record, but a duo of net-bursting strikes from Bobby Murdoch, three minutes after the interval, and Tommy Gemmell, nine minutes from time, sent them home pointless.
An amazing flashpoint concerning temperamental winger Jimmy Johnstone and manager Jock Stein thirteen minutes from the end dominated the headlines afterwards. The situation blew up when the Celtic boss decided to replace an out-of-sorts Johnstone with substitute George Connelly. Clearly, Jinky wasn't quite in sync with Big Jock's pattern of thought.
As one newspaper reporter put it: "It was with some reluctance that Johnstone left the field after, at first, appearing to disregard the instructions from his manager. He appeared to pass some comment towards the dug-out while tearing at his shirt. Mr Stein quickly followed the player into the pavilion."
LORD OF THE WING…Jimmy Johnstone takes on Dundee United's Alex Reid.
The 46,000 supporters in attendance that day must have been wondering what on earth was going on between the team's star player and the manager outwith their vision. Johnstone put it this way: "As soon as I did it, I thought: 'My God! What have I done?' I belted up the tunnel as fast as I could, but I knew he would be right behind me. My first notion was to run straight through the front door without changing and just disappear forever. I got into the dressing room and locked the door behind me.
"I heard him kicking the door then battering it with his fist. I shouted out: 'I'll let you in in if you promise not to hit me!' Then the battering suddenly stopped and there was a kind of silence and – would you believe it? – he burst out laughing at what I had said.  He just laughed and I heard him walking away because, of course, the game was still going on."
WALLOP…Tommy Gemmells thunders one of his specials behind United keeper Donald Mackay.
Immediately after the match action, the fans' favourite was told forcibly by the directors that Celtic would not tolerate such misbehaviour from one of their players and Johnstone was promptly suspended for seven days. The wee winger told friends he readily accepted the punishment because it was a lot better than "being thumped by Big Jock".
Simpson; Craig, Gemmell; Murdoch, McNeill, Brogan; Johnstone (sub: Connelly), Wallace, Chalmers, McBride and Hughes.
BEST FOOT FORWARD…John Hughes tucks a neat shot behind Hibs keeper Willie Wilson.
HIBS 2 CELTIC 5  (November 30, 1968)
CELTIC staged the most breathtaking revival of the season to hammer Hibs into submission in an annual fixture that appeared to be reserved for the dramatic and the extraordinary.
Only eleven minutes remained with the Easter Road side winning 2-1 and looking poised for a hard-fought victory. They had staged their own comeback following Tommy Gemmell's pummelled penalty-kick in the eighth minute that almost ripped the net from its stanchion behind keeper Willie Wilson.
Incredibly, it was old Celtic favourite Joe McBride who piled on the pressure. The strongman centre-forward had been allowed to leave Parkhead by Jock Stein, an unusually hasty decision by the manager, and there was little doubt the player had a point to prove. He struck in the 23rd minute and the enthralling spectacle was deadlocked for the next 51 minutes until the Edinburgh outfit were awarded a penalty-kick.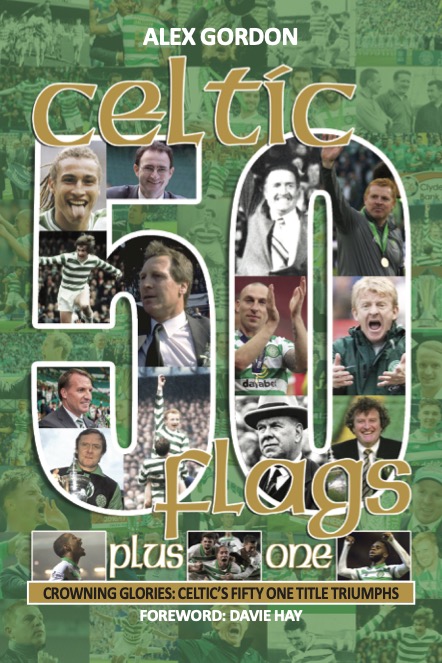 Left-back Joe Davis was Hibs' version of Tommy Gemmell and he took all their spot-kicks. He rarely missed and he didn't disappoint the home support as he calmly sidefooted his effort wide of John Fallon, deputising for the injured Ronnie Simpson.
With the clock ticking down, Billy McNeill, as ever playing a captain's part, launched a header behind the stranded Wilson in the 79th minute. The fightback was on in earnest and Hibs were contemptuously brushed aside as the champions sensed blood. Merely sixty seconds after McNeill's leveller, John Hughes, who had been in rampaging form throughout the afternoon, clubbed in the third.
LIGHTNING LENNOX STRIKES…Bobby Lennox leaves keeper Willie Wilson and Pat Stanton stranded as he nets the Hoops' fourth.
The home players were still reeling when, two minutes later, Bobby Lennox nipped in for a fourth goal. Celtic still weren't satisfied, though, and the relentless Hughes, affectionately known to the fans as Yogi Bear, after the character in the TV cartoon of the era, barged his way through the retreating rearguard before banging No.5 behind the bewildered Wilson.
The triumph was crucial as it moved Celtic onto 22 points from thirteen games – remember, these were the days of two points for a win – two ahead of Dundee United. Rangers were struggling in sixth place, six points adrift of the Parkhead pacesetters.
Fallon; Craig, Gemmell; Murdoch, McNeill, Brogan; Johnstone, Callaghan, Wallace (sub: Chalmers), Lennox and Hughes.
ON THE BALL…the ever-dangerous Bobby Lennox.
CELTIC 3 DUNFERMLINE 1 (January 4, 1969)
CELTIC went into this confrontation nursing a sense of injustice following the game against Rangers at Ibrox only two days earlier. Jock Stein and his players were incensed when the referee awarded a penalty-kick to Rangers on the hour mark. The match official had adjudged Billy McNeill had deliberately used his hand to stop a shot from Willie Henderson.
Despite the long and loud protestations from the skipper and his team-mates, referee Archie Webster wasn't impressed. He waved them away and, once the furore had ebbed, John Greig stepped up to take the kick. The home skipper was not well-known for his finesse and he simply bludgeoned the ball high and straight as John Fallon elected to pick a corner.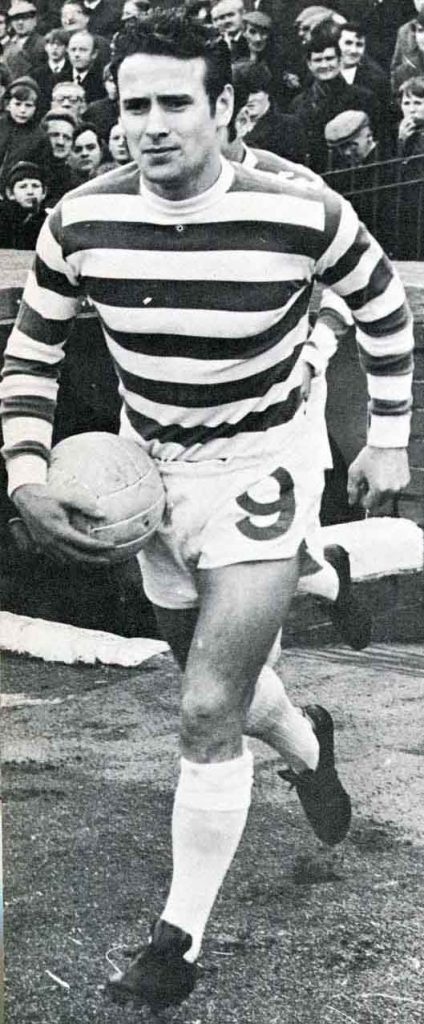 AT THE DOUBLE…Willie Wallace struck twice against Dunfermline.
Stein had his players primed to respond against the Fifers and they didn't let him down in front of 43,508 spectators. Willie Wallace, who had struggled to make an impression at Ibrox, settled the nerves with the opening goal inside sixty seconds, neatly converting past the exposed Willie Duff, in the Dunfermline goal. And it was Wallace who doubled his team's advantage in the ninth minute with another typical chance-snatcher's opportunity.
However, the East End Park line-up proved to be tricky customers and had emphasised their menace the previous year when they knocked holders Celtic out of the Scottish Cup with a 2-0 success in Glasgow on their way to winning the silverware. They could make life uncomfortable and so it proved in the twentieth minute when impish right-winger Alex Edwards, a box of tricks in the Jimmy Johnstone mould, pulled one back.
There was never any love lost between Jock Stein and his opposite number George Farm and there was the usual tension when their teams locked horns. The second-half was fiercely contested until Bobby Lennox, a prince among penalty-box predators, materialised in space and tucked the third and decisive goal behind Duff.
Celtic then introduced Jimmy Johnstone as a substitute for Lennox and the winger went straight to his usual berth on the right with John Hughes switching to the left. The tactical manoeuvre befuddled Farm and the points were in the bag.
Fallon; Craig, Gemmell; Murdoch, McNeill, Brogan; Hughes, Wallace, Chalmers, Callaghan and Lennox (sub: Johnstone).
PITTODRIE PLEASURE…Willie Wallace (right) knocks one past Aberdeen keeper Ernie McGarr.
ABERDEEN 1 CELTIC 3 (January 11, 1969)
CELTIC travelled to Pittodrie in defiant mood to meet a worthy adversary. Sparks often flew when these teams shared a football pitch and this confrontation promised to be no different. However, on this occasion, the visitors won with surprising ease at the home of long-term rivals.
Juggernaut John Hughes enjoyed the Dons' huge playing surface as he roamed the left wing, probing patiently for openings before exploding into action, his powerful frame carrying all before him. The 6ft 2in forward was remarkably gifted and nimble for such a tall and muscular character. Amazingly, though, he was gifted with mesmerising close control and, when he got into his stride, he was virtually unstoppable.
Opponents realised they were in for a torrid ninety minutes when Big Yogi was at the peak of his powers. He was a one-man demolition squad when he was in the mood.
A MAN AND HIS TROPHIES…Jock Stein and a silverware haul in the Celtic boardroom.
Unfortunately, for the Dons, on a cold, blustery afternoon in the north, Celtic's personality forward raced on to the frozen-solid playing surface with the sole intention of teasing, tormenting and, inevitably, terrorising their defence. He opened the scoring in the third minute and the pattern for the following eighty-seven minutes had been set.
Willie Wallace had regained his form, too, and the man known as Wispy was also proving to be a thorn in the Aberdeen rearguard. On this occasion, the former Hearts player was deployed smack in the middle of the attack alongside Bobby Lennox.
Jimmy Johnstone occupied the outside-right berth and left-sided Tommy Callaghan, who had arrived in a £35,000 transfer from Dunfermline, linked up with Bobby Murdoch in the middle of the park.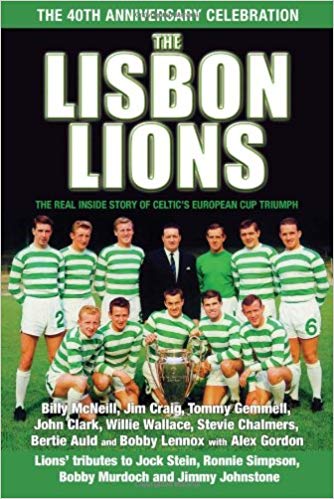 It was Wallace who netted the second goal just before the half-hour mark and Eddie Turnbull's team were unable to fashion a way back into the game. And Wallace made a telling contribution to the goal that brought the opponents to their knees. He glanced in a header and panicking defender Henning Boel deflected the ball past his own keeper, Ernie McGarr, in the sixty-second minute. Jim Forrest snatched a late consolation effort, but the points were already heading for the east end of Glasgow.
Simpson; Craig, Gemmell; Murdoch, McNeill, Brogan; Johnstone, Wallace, Callaghan, Lennox and Hughes.
BOBBY DAZZLER…mighty midfielder Bobby Murdoch (extreme left) fires an unstoppable drive past Hearts keeper Jim Cruickshank.
CELTIC 5 HEARTS 0 (February 1, 1969)
RONNIE SIMPSON was the man Celtic had to thank for their one-goal interval lead against a Tynecastle side primed for counter-attack. It had all been going according to the script when Bobby Lennox fired the opening goal behind Jim Cruickshank in the thirteenth minute.
However, the visitors from Edinburgh were not about to wave the white flag of surrender as they hit on the break with verve and vigour. Goalkeeper Simpson, so often a spectator as his team-mates laid siege to their opponents' goal, was called into action to make three smart saves with Hearts somehow finding gaps between Billy McNeill and Jim Brogan in Celtic's normally reliable and robust central defence.
Whatever Jock Stein had to say to his troops over their half-time cuppa it worked! Jim Craig remembered an incident during an interval when the far-from-impressed manager laid into his players to let them know the extent of his dissatisfaction about their performance in the first forty-five minutes of one particular outing.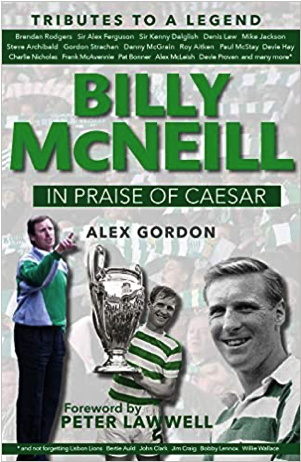 Craig wasn't playing that day, but was in the dressing room as Stein had his say. The European Cup-winning right-back said: "Big Jock was going round everyone and telling them where they were going wrong. After sweeping through the entire team he turned to me and said: 'I don't know why you're so smug. You're not even good enough to get into this side.' What could I say?"
Celtic took the field in slightly more aggressive fashion for the second period and suddenly Cruickshank was the busiest man on the park as he attempted to repel wave after wave of attack. Willie Wallace hit a second goal ten minutes after the turnaround and Bobby Murdoch zipped in a third eight minutes later.
Jimmy Johnstone pirouetted onto the scene to roll in a fourth goal and the champions were so much in command that defensive anchorman Brogan, who had taken over the sweeper's role from John Clark, joined in the attack to belt No.5 past the overworked and exhausted Cruickshank. Simpson, on the other hand, could have taken out a deckchair and settled down with a good book for the second-half as he was so rarely called into action. When Big Jock talked, players listened!
Simpson; Craig, Gemmell; Murdoch, McNeill, Brogan; Johnstone, Lennox, Wallace, Chalmers and Auld.
JUST CHAMPION…Billy McNeill and Tommy Gemmell after the title-winning stalemate against Kilmarnock.
KILMARNOCK 2 CELTIC 2 (April 21, 1969)
CAVALIER defender Tommy Gemmell, a genuine world-class performer, will be forever remembered and revered for his almighty whack that sent the ball hurtling into the roof of Giuliano Sarti's net for Celtic's equaliser against Inter Milan on their way to the magnificent 2-1 European Cup triumph in Lisbon on May 25, 1967.
Gemmell enjoyed the sensation of scoring in the grand finale of Europe's elite tournament so much he staged an action replay three years later when he flashed a wicked twenty-five yard howitzer into the Feyenoord rigging in the San Siro Stadium in Milan. Alas, on this occasion, there was no happy ending as the Dutch won 2-1 with a goal three minutes from the end of extra-time.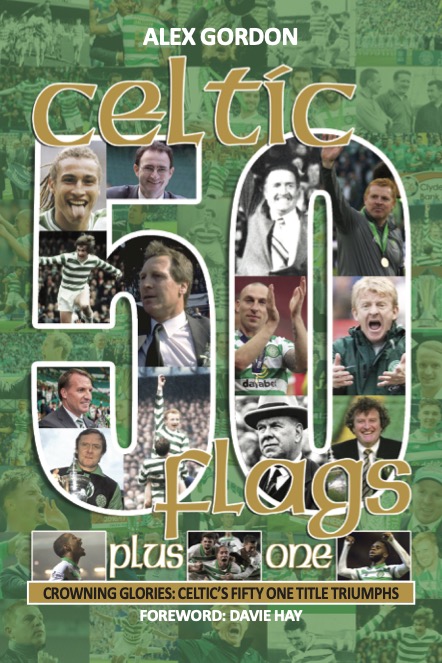 How many remember, though, a typical long-range goal from the extravagantly-gifted left-back that won Celtic their fourth successive title? Glorious Gemmell hit the headlines once more in a midweek game against Kilmarnock at Rugby Park when Jock Stein's team once again demonstrated their stubborn refusal to admit defeat even when the alarm bells were ringing loud and clear. The Parkhead men arrived in Ayrshire knowing a solitary point would be enough to claim the crown.
However, after only half-an-hour, that eventuality might have looked beyond them as they trailed 2-0 to a dangerous Killie outfit. In the eighth minute, John Fallon was retrieving the ball from the back of the net after Eddie Morrison flicked home a Tommy McLean cross. In the thirtieth minute, the Celtic keeper was required to repeat the function. This time Gerry Queen was the scorer and the home side held onto their advantage until the interval.
Obviously, it was time for boss Stein to go to work on his players. Big Jock had the ability to cajole and coax a performance out of an individual. Othe times, he reckoned fierce criticism might be the key to activate a character. Once again, a rejuvenated set of players took the pitch for the second instalment in another tale in Celtic folklore. Killie were resolute as they repelled the raids of their rivals, the attacks growing more frantic as the half wore on.
CRASH…Tommy Gemmell thumps in the last-gasp leveller to clinch title No.4 – and leave Kilmarnock keeper Sandy McLaughlin and defender Jackie McGrory helpless. 
CHEERS…Tommy Gemmell leads the celebrations as he turns away with his arm aloft to signify his flag-winning effort.
Suddenly, there was hope from an unexpected source. Bobby Murdoch flighted in a high ball and it was diverted into his own net by the Ayrshire team's skipper Frank Beattie. Game on!
With only a handful of seconds remaining, the ball was worked across to the menacing Gemmell about ten yards outside the penalty area. Distance was never a barrier for the club's idolised extrovert. His timing, as ever, was impeccable as he smacked the ball first-time with his right foot and it was a blur as it fizzed low past the static Sandy McLaughlin.
Job done! And Championship Number Four in the history books!
Fallon; Craig, Gemmell; Murdoch, McNeill, Clark; Johnstone, Callaghan (sub: Lennox), Wallace, Chalmers and Hood.
* TOMORROW: THE JOCK STEIN YEARS (PART NINE): Bobby Lennox goes on goal romp at Hampden.
Click Here for Comments >