CELTIC legend Jock Stein made an extraordinary immediate impact on the Parkhead club when he returned as manager in March 1965.
To celebrate the incredible life and times of this remarkable character, CQN are paying tribute to the club's unforgettable ground-breaking leader.
Author Alex Gordon, who has written fifteen books on Celtic with his latest, '50 Flags Plus One', on sale now, has opened his files on the Parkhead great for an EXCLUSIVE twenty-one part series in CQN. 
Today, in Part Eleven of our fascinating look back at these landmark times in the annals of fame at a momentous football club, we continue as Big Jock leads the club on course for more success.
JOCK STEIN possessed neither the desire nor the requirement to indulge in haphazard panic buying. He was clearly satisfied with his first-team squad as he prepared for the 1969/70 campaign and a tilt at Celtic's fifth consecutive championship.
Stein had spent wisely and sparingly in the transfer market since being put in charge in March 1965. Joe McBride, a bustling, strapping centre-forward, had arrived from Motherwell in June 1965 as his first signing at the cost of £22,500. Willie Wallace, a clever, versatile attacker, was next at £30,000 from Hearts in December 1966 and Tommy Callaghan, a strong-running midfielder from Dunfermline, joined in November 1968 for £35,000. He was followed by the astute Harry Hood from Clyde for a club record £40,000 in March 1969.
In four years, Stein had spent a total of £127,500 on four players or, put another way, £32,375 per campaign. He was a chief executive's dream. To put that in context, Rangers had splashed £100,000 on one player, Colin Stein, from Hibs in 1968. The Celtic manager even managed to bring in £10,000 from Carlisle United for under-rated left-back Willie O'Neill during the summer.
GOVAN GLEE…Harry Hood slams the ball past the lunging John Greig for a superb goal against Rangers.
To kick off the season, Stein decided to go once more with the nucleus of his experienced campaigners while youngsters Davie Hay and George Connelly were afforded vital game time. The launch into the turbulent, unpredictable seas of a fresh and challenging term proved to be more problematic than could have been anticipated. There was a jolt in an early League Cup group confrontation with Rangers at Ibrox on August 13.
The gifted Hood pirouetted his way through the defence to glide the ball beyond Gerry Neef to open the scoring in the eighth minute, but the home team rallied to win 2-1 with two goals in three second-half minutes from Orjan Persson and Willie Johnston.
A week later, Tommy Gemmell dived full-length at the back post to flash in the only goal of the return tie and successive wins over other section opponents Raith Rovers (5-0 and 5-2) and Airdrie (6-1 and 3-0) edged the holders into the quarter-finals, a point better off than Rangers who had been held to a draw by the Fifers at Ibrox to shed the crucial counter.
HAMPDEN HERO…Bertie Auld thumps in the League Cup winner past grounded St Johnstone keeper John Donaldson and right-back John Lambie.
SILVERWARE SUPERSTAR…a beaming Bertie Auld with the glittering trophy.
Celtic eventually claimed the trophy for a fifth successive season when they beat St Johnstone 1-0 in an exciting Cup Final at Hampden after the wily Bertie Auld had lashed a close-range drive beyond John Donaldson in the second minute. The game, however, had been marred with Stevie Chalmers being carried off in the second-half with a hairline fracture of the left ankle. Substitute Jimmy Johnstone took his place.
Nor did the Hoops carry much good fortune at the national stadium in the Scottish Cup Final against Aberdeen on April 11 when they lost 3-1, but that's a story for another day.
If there had been a mere stumble in the League Cup at Ibrox, there was something akin to a nosedive in the league with only one win in the first four games, one draw and two defeats. The champions had carelessly shed five out of a possible eight points. Amazingly, the previous year, it took Celtic the entire league campaign of thirty-four matches to drop the same amount of points.
Stein could hardly have dismissed the red flag on the opening day of the league on a sweltering Saturday afternoon at the end of August when a shirt-sleeved crowd of 60,000 watched their favourites being forced to come back twice to gain a 2-2 draw with a lively and attack-minded St Johnstone in Glasgow. Three days later, Celtic won 4-2 against Kilmarnock at Rugby Park – Willie Wallace and Bobby Lennox scoring two goals apiece – and that was followed by John Fallon conceded two goals for the third league game in succession – one a deflection from Jim Craig – and this time there was no comeback against Dunfermline.
MAN AT WORK…Jock Stein prepares for a Celtic training session.
Tommy Gemmell almost ripped the net away behind keeper Willie Duff ten minutes after the turnaround, but there was no reward during a bad-tempered confrontation at East End Park where Willie Wallace and Fife defender Willie Renton were invited to leave proceedings by referee Bill Anderson following a private off-the-ball feud in the thirteenth minute. Remarkably, Wallace had the dubious 'distinction' of becoming the first Celtic player to be sent off in two years.
A week later at Parkhead, Jimmy Johnstone gave the team a half-time advantage with a neat header against Hibs, but there was a swift equaliser shortly after the break and the second-half became a procession towards Gordon Marshall's goal as the champions looked for the winner. As so often happens on these occasions, Hibs snatched the points when Pat Stanton, who would bring down the curtain on an illustrious career at Celtic eight years later, smashed a spectacular twenty-five-yard drive beyond Fallon with seven minutes remaining. There was no reply from a strangely lacklustre opponent.
Clearly, there was trouble in Paradise. With only one victory from four league games, the four-in-a-row champions were languishing in an unaccustomed eleventh place in the division.
The turning point came the following week at Ibrox, of all places, a ground where they had not won a league game in twelve years. Their cause wasn't helped by the fact influential players such as Bobby Murdoch, Bertie Auld and John Hughes were missing with an assortment of ailments while promising youngster George Connelly was another casualty.
JOY BHOYS…Harry Hood salutes his goal at Ibrox with Davie Hay and Jimmy Johnstone sharing the joy.
The third Old Firm head-to-head showdown so early in the season turned into a snarling, rugged encounter where referee Tom 'Tiny' Wharton, after booking Davie Hay and Jim Brogan, of the visitors, and Rangers' Sandy Jardine while lecturing both captains Billy McNeill and John Greig, was compelled to order off Jim Craig with twenty-three minutes still to be played.
The cultured right-back, hardly lumbered with the reputation as one of the game's hard men, somehow got involved with fiery opponent Willie Johnston as the forward prepared to take a throw-in. He appeared to kick his opponent and was immediately banished.
Celtic were a goal ahead at the time courtesy of a virtuoso and sublime exhibition of dazzling footwork from Harry Hood four minutes after the interval when he swivelled and sidestepped the lunging Ronnie McKinnon to conjure a shooting chance eight yards out. He made no mistake with a crisp effort between keeper Gerry Neef and his near post. A goal fit to win any game.
WALLOP…Tommy Gemmell crashes a penalty-kick on target, but Hearts keeper Jim Cruickshank prepares to pull off a valiant save.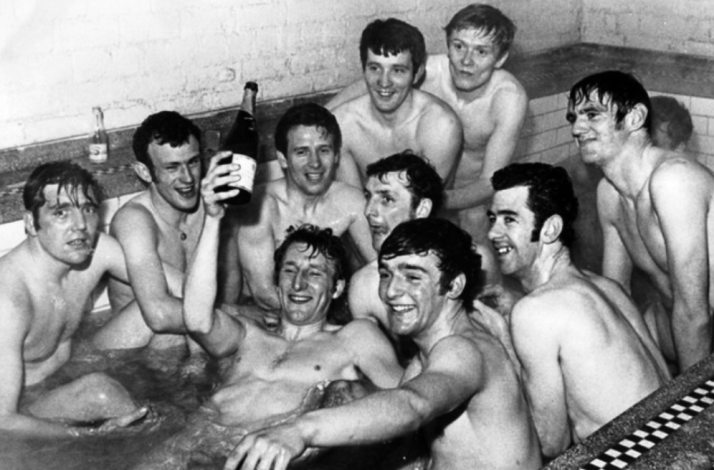 WATER BHOYS…Tommy Gemmell holds aloft the champagne as the Celtic players celebrate the fifth successive title in the bath at Tynecastle.
The momentum carried them all the way to Tynecastle on March 28 and it was party time in the capital when, for the fifth successive year, Celtic celebrated on their travels following a goalles draw with Hearts. The home team's Scotland international keeper Jim Cruickshank was Man of the Match as he produced a string of breathtaking saves with the highlight a dramatic swoop to his right to push away a Tommy Gemmell penalty-kick five minutes into the second-half.
The home side ended the game with ten men after the experienced Jim Townsend had been involved in a skirmish with Davie Hay. Years later, the genuine club legend told author Alex Gordon: "I think the Hearts guy was trying to soften up a young boy." Hay smiled and added: "He picked on the wrong young boy."
After the game in Edinburgh, a sports writer with a national newspaper asked Jock Stein: "Is it true you order league flags wholesale?" The Big Man didn't answer, but responded with a rather large grin.
In 1966, Celtic had laid claim to the title with two points to spare. A year later, it was a winning margin of three, that followed two and then five. Now it was twelve.
A crack had become chasm.
* TOMORROW: THE JOCK STEIN YEARS: PART TWELVE: The European dream and the Dutch obstacle.
Click Here for Comments >