CELTIC legend Jock Stein made an extraordinary immediate impact on the Parkhead club when he returned as manager in March 1965.
To celebrate the incredible life and times of this remarkable character, CQN are paying tribute to the club's unforgettable ground-breaking leader.
Author Alex Gordon, who has written fifteen books on Celtic with his latest, '50 Flags Plus One', on sale now, has opened his files on the Parkhead great for an EXCLUSIVE twenty-one part series in CQN.
Today, in Part Fourteen of our fascinating look back at these landmark times in the annals of fame at a momentous football club, we continue as Big Jock leads the club onwards and upwards.
IT WAS question time during the advent of season 1971/72. Could Celtic overtake their own record title sequence set in Edwardian times and achieve the hitherto unthinkable and improbable Magnificent Seven?
Had Aberdeen learned anything from their near-miss of the previous campaign? Could Rangers recover after a wretched term where they finished fourth, three points adrift of St Johnstone and a massive fifteen behind the champions and ancient foes? Would Edinburgh's double-act of Hibs and Hearts stir from their slumbers and deliver a sustained challenge?
Could, in fact, Jock Stein lead Celtic to their twenty-seventh championship?
Intrigue surrounded events at Celtic Park. The Lisbon Lions' era had faded into golden memory, never to be disturbed and forever cherished. Eyes were now riveted on Jock Stein. Clearly, he was in the throes of a rebuilding job. He had inherited the likes of Billy McNeill, John Clark, Jim Craig, Bobby Murdoch, Tommy Gemmell, Bobby Lennox and Stevie Chalmers and, by his own recent admission, the irrepressible Jimmy Johnstone. That particular jigsaw had seen a few pieces removed in a summer of dramatic, but inevitable, change.
How would the Celtic manager cope?
"I have a dream of achieving a transition in the team and still staying at the top," said Stein, with certain defiance. "I cannot promise it will succeed, but it is certainly the aim of everyone at Celtic."
MAGNIFICENT SEVEN…Billy McNeill and his Celtic team-mates accept the plaudits of the fans after winning title No.7 in a row.
In these ever-changing times, Celtic prepared for their 'home' opening League Cup-tie – at Ibrox. The season's curtain-raiser should have taken place at Celtic Park, but with renovations still taking place, the encounter had been switched to the home of their opponents, Rangers. Hampden had been ruled out as it was also undergoing reconstruction work. By a quirk of the ballot, Celtic would play their old rivals three times in just over a month, twice in the League Cup and once in the First Division – all in Govan.
Stein and his players couldn't have asked for a more fascinating introduction to a new campaign. Just how capable were the young pretenders such as Davie Hay, George Connelly and Kenny Dalglish? We were about to find out. So, too, were opponents, to their considerable cost. Starting with Rangers.
The manager introduced the aforementioned talented threesome to his line-up against Rangers. The experience that day was provided in the form of Billy McNeill, Bobby Murdoch, Jimmy Johnstone, Bobby Lennox and John Hughes. On the same day, at a deserted Celtic Park, Lisbon Lions Tommy Gemmell, Willie Wallace and Stevie Chalmers turned out for the reserves in a 1-1 draw with their Ibrox counterparts.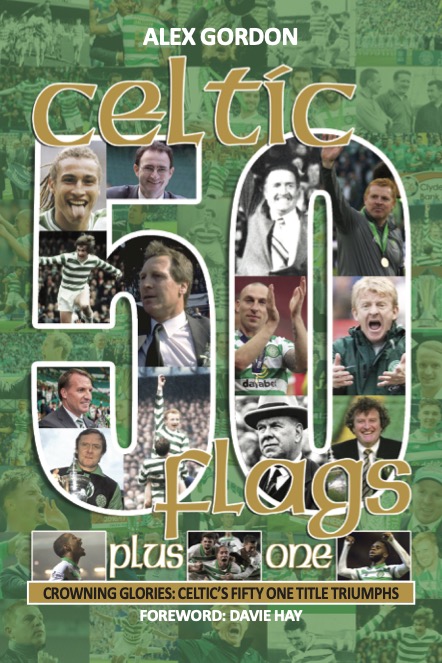 An enthralled crowd of 72,500 in Govan – the biggest attendance in Britain that weekend – watched a gripping and suspenseful encounter swaying to and fro until a sixty-seventh-minute strike from Johnstone rocketed high into the net to put the home/away team in the ascendancy. One-time Rangers fan Dalglish was handed the ball by captain McNeill when referee Bill Mullen was left with little alternative to award a penalty-kick following a scything tackle by Willie Mathieson which had downed Hughes and, just three minutes after the opener, the twenty-year-old forward, displaying signs of things to come, calmly sidefooted the ball away from Peter McCloy to the keeper's left as the beanpole custodian elected to take a chance on moving to the opposite corner.
A fortnight later, the teams locked horns again, this time in Rangers' home game, and once more Dalglish scored with the breakthrough goal three minutes after the turnaround. Tommy Callaghan and Bobby Lennox were also on target to hoist the winning margin to 3-0. On this occasion, Stein added Lou Macari to his three Quality Street Gang compatriots and the chirpy, cocky little lad from Largs thoroughly revelled in the occasion.
Macari claimed his first Old Firm goal two weeks later when Celtic played once more at the home of their lifelong rivals, this time on league business. On this occasion, though, it took a last-minute strike from Johnstone to secure a 3-2 victory with Dalglish, clearly glorying in these duels, hitting his third goal in as many games. To onlookers it looked fairly obvious he had shed all allegiance to his former heroes. Ironically, Alfie Conn, who crossed the Great Divide via Spurs in 1977 to become the first post World War II player to turn out for Celtic and Rangers, was dismissed that afternoon after two bookings.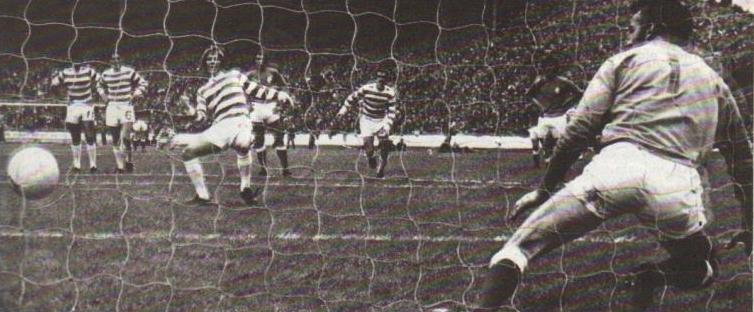 ON THE SPOT…Kenny Dalglish slots a penalty-kick away from Rangers keeper Peter McCloy.
HAMPDEN CONSOLATION…Kenny Dalglish, watched by Lou Macari, scrambles in Celtic's goal past Alan Rough in the Hoops' Leagie Cup Final shocker.
And, so, the scene was set for a memorable campaign, an exciting influx of fresh-faced youngsters as Stein steered Celtic towards a new era. Once the dust of battle had settled on another season of celebration, the Celtic manager said: "The business of changing a side is never easy. It is perhaps doubly difficult when it is attempted during the season.
"That is why, when I look into the Celtic Park boardroom and see the two trophies, the League Championship award and the Scottish Cup, sitting there yet again I salute the players who achieved it.
"It was our seventh successive league trophy, a wonderful record-breaking feat of which I am so proud, but I think it can truthfully be said that it was a different Celtic side who won it. There were a bright new crop of Celtic youngsters such as Kenny Dalglish and Lou Macari, who turned out to be just as exciting as the players they replaced.
"I would have loved to have kept together the 1967 Lisbon Lions side, but the football world is littered with the wrecks of managers who could not see the need for change."
Two players who had been moved on, John Hughes and Willie Wallace, were in the Hampden stand when Celtic played Partick Thistle in the League Cup Final on October 23 1971 in one of the most perplexing games in the club's history. Jock Stein's team were runaway favourites, but somehow contrived to be four goals adrift at the interval.
No-one could quite believe what they were witnessing that afternoon at the national stadium. Everything the Firhill club did going forward ended in the net behind Evan Williams. Kenny Dalglish scrambled in a consolation goal in the second-half, but the trophy was already heading for Maryhill. That performance had not been in the script.
However, on April 15, with four league games still to play, Celtic wrapped up their seventh successive championship following a 3-0 saunter against East Fife at Methill, the sort of ground that made Airdrie's Broomfield look like a state-of-the-art sporting arena. Twelve thousand fans crammed it to watch Stein's outfit, with only three Lisbon Lions in the line-up – Billy McNeill, Jim Craig and Bobby Murdoch – ease to the flag with two opportunist goals from Dixie Deans and a slick header from Harry Hood.
CAPTAIN MARVEL…Billy McNeill opens the scoring in the 6-1 rout of Hibs in the Scottish Cup Final. Erich Schaedler and Jim Herriot are onlookers while Dixie Deans celebrates.
HAMPDEN HERO…hat-trick man Dixie Deans races away after netting one of his sizzling trio in the 6-1 win over Hibs. Keeper Jim Herriot and right-back John Brownlie are helpless.
The race had transformed to a canter as the champions eventually claimed the silverware in a breeze, ten points clear of Aberdeen and sixteen ahead of third-placed Rangers.
The Scottish Cup was added to the honours list with an astonishing individual striking display from Dixie Deans, ironically brought to the club in the fall-out of the League Cup Final failure against Partick Thistle. A fortnight after that debacle, Jock Stein paid £22,000 to Motherwell for their chunky frontman and it turned out to be money well spent.
He collected a hat-trick in the 6-1 victory over Hibs with Billy McNeill piloting the team to success with the opening goal. Lou Macari added the others on a glittering May 6 afternoon in Mount Florida that saw Jim Craig make his farewell appearance for the club. The lad always had a sense of style. In the showpiece events, Celtic had been awful against Thistle and awesome against the Edinburgh side.
THE CUP THAT CHEERS…Jock Stein with the newly-won Scottish Cup on the Celtic coach on their way to aftermatch celebrations.
Jock Stein rarely basked in reflected glory and, already looking towards the challenge of next season, remarked: "I could never have predicted in my wildest dreams that we would go on to win the championship so easily, perhaps the smoothest run-in we have had in all of my seven titles.
"If I ever lost the pleasure I get from winning then I will know it is time to quit football. I do not believe in living in the past – as I think I have proved – and I look for even more of our youngsters making the breakthrough next season. However, for all our resources, I wouldn't want to make any forecasts about next season's title."
Asked about the possibility of another team emulating Celtic's achievement of seven successive crowns, Jock Stein didn't hesitate with his assertion.
"It won't happen again in my lifetime."
* TOMORROW: THE JOCK STEIN YEARS: PART FIFTEEN: The Eightsome Reel.
Click Here for Comments >