CELTIC legend Jock Stein made an extraordinary immediate impact on the Parkhead club when he returned as manager in March 1965.
To celebrate the incredible life and times of this remarkable character, CQN are paying tribute to the club's unforgettable ground-breaking leader.
Author Alex Gordon, who has written fifteen books on Celtic with his latest, '50 Flags Plus One', on sale now, has opened his files on the Parkhead great for an EXCLUSIVE twenty-one part series in CQN.
Today, in Part Nine of our fascinating look back at these landmark times in the annals of fame at a momentous football club, we continue as Big Jock leads the club to League Cup silverware at Hampden on the Saturday afternoon of April 5, 1969.
CELTIC 6 HIBS 2 
THIS was a day in history when smart observers claimed Celtic won TWO trophies on the same day. A sizzling hat-trick from Bobby Lennox helped his team dismantle their Edinburgh opponents on a gloriously sunny afternoon at Hampden Park.
Elsewhere, though, a result emerged that virtually handed the Parkhead side their fourth successive First Division championship to sit nicely with their fourth League Cup on the bounce. Nearest challengers Rangers collapsed to a 2-1 upset against Dundee United at Tannadice and, while it's true the Ibrox side's loss went a long way to guaranteeing Celtic the crown yet again, the title was not finally settled until the 2-2 draw with Kilmarnock at Rugby Park on April 21.
Two league games later after the dust had settled on another exhilarating campaign, Jock Stein's side sat comfortably in pole position with fifty-four points from thirty-four games, five more than their Ibrox rivals.
HAMPDEN HAT-TRICK HERO…Bobby Lennox celebrates again.
The only thing on the Celtic manager's mind on April 5, though, was the League Cup confrontation against an Easter Road side that had eked out a 1-1 draw in Glasgow the previous month. Hibs were the chameleons of Scottish football. One week, awesome; the next, awful. They would complete the league season in joint twelfth place alongside Clyde. Remarkably, considering their playing resources, they lost fifteen games.
And yet they could point to quality players among their ranks such as reliable goalkeeper Thomson Allan, who would go to the 1974 World Cup Finals as the Scotland back-up to David Harvey, Pat Stanton, who would enjoy an Indian Summer at Parkhead, John Blackley, an international defender, astute midfielder Peter Cormack, who would go onto play for Liverpool, and snake-hipped winger Peter Marinello, who, only nine months later, joined Arsenal for £100,000, a phenomenal amount for a Scottish player at the time.
For twenty-three minutes they kept an eager Celtic side at bay. Inside an hour, though, they had conceded six goals and were in football's equivalent of hell. Willie Wallace drew first blood when Bertie Auld, with his usual precision, curled a free-kick into the penalty area. Stanton managed to head clear, but the ball dropped stright at the feet of Wallace who rattled it through a ruck of players and beyond the reach of Allan.
BY THE RIGHT…Bertie Auld thumps in the second goal against Hibs with future Celt Pat Stanton too late to intervene. 
Auld was enjoying the occasion as he strutted around the immaculate playing surface, spraying passes hither and yon as he probed for weaknesses in his opponents' defence. Not content with exploiting the gaps for his team-mates, the masterful Auld decided to add his name to the scoresheet.
On the half-hour mark, he released Stevie Chalmers who scurried down the left before pitching over a teasing cross. Auld struck it first time with his right foot and the next time Allan saw the ball was when he was fishing it from the back of his net.
The Hibs players were looking forward to the sanctuary of their dressing room at half-time when lightning-swift Lennox struck for the third goal. Nothing could have been simpler. Jimmy Johnstone zipped in a right-wing corner-kick to the near-post and Lennox bolted in front of the massed ranks to get the merest of touches with his head to glide the ball away from an open-mouthed Allan.
Was there any point in restarting the game for the second period? Hibs, as everyone in the 74,240 crowd would surely have atested, were a beaten team.
BACK OF THE NET…Bobby Lennox follows the ball as he scores No.4 with Erich Schaedler getting a close-up view.
THREE'N'EASY…Bobby Lennox completes his hat-trick with keeper Thomson Allan and Chris Shevlane helpless.
Thirteen minutes after the turnaround, Auld split the Edinburgh side's back lot and Lennox – "I'm convinced he was born fast," Danny McGrain was fond of saying – waltzed onto the pass, leaving gasping defenders in his slipstream, and drew Allan from his line before stroking the ball into the vacant net. If it had been a boxing match, the referee would have put the Edinburgh players out of their misery.
No such luck in this particular sport, however. Celtic continued the trek towards Allan, who must have wondered about the wisdom of becoming a netminder.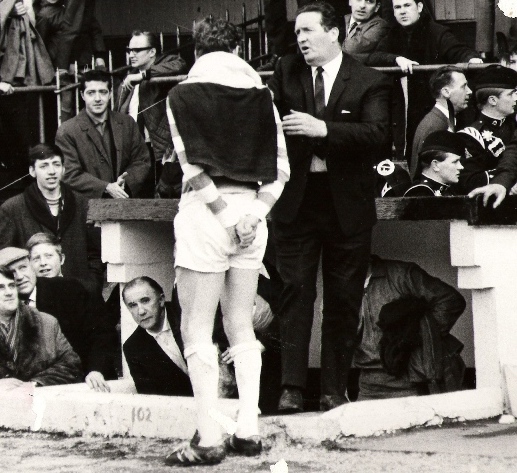 TOUCHLINE TALK-IN… Jock Stein and Tommy Gemmell, substituted near the end, have a chat just before the full-time whistle. 
Lennox completed his trio in the seventy-third minute and Jim Craig, who scored goals with the regularity of sighting of Hally's Comet, slotted in the sixth goal from a tight angle. Jock Stein decided to give John Clark some exercise and sent him on for Tommy Gemmell.
The defender's arrival coincided with two late goals from Hibs, Jimmy O'Rourke netting in the eighty-second minute and Eric Stevenson five minutes later. Apparently, Clark didn't even blush as he picked up his winner's medal.
BUBBLY BHOYS…Tommy Gemmell, Bobby Murdoch and Billy McNeill celebrate with a League Cup filled with champagne.
The game had been due to take place in October, but had to be delayed because of a fire in the Hampden stand. Three weeks later, Celtic would return to the national stadium to take on Rangers in the Scottish Cup Final.
Who would have bet on another four-goal winning margin for Jock Stein's team?
Fallon; Craig, Gemmell (sub: Clark); Murdoch, McNeill, Brogan; Johnstone, Wallace, Chalmers, Auld and Lennox.
* TOMORROW: THE JOCK STEIN YEARS (PART TEN): Rangers are routed at Hampden.
Click Here for Comments >