CELTIC legend Jock Stein had an extraordinary impact on the Parkhead club after returning as manager in March 1965.
In another CQN EXCLUSIVE,  Alex Gordon, author of fifteen publications on Celtic, has opened his book files on the Parkhead great for an absorbing twenty-one part series.
Today, in Part Nineteen of our fascinating look back at these landmark times in the annals of fame at a momentous football club, we  continue as Big Jock comes back from his near-fatal accident to clinch the league and Cup double.
JOCK STEIN, at the age of fifty-four, was about to enjoy his last hurrah as Celtic manager in season 1976/77 after constructing a captivating line-up that would expel Rangers to among the also-rans after the Ibrox outfit had experienced back-to-back championship victories.
In the previous campaign, Celtic had been cast adrift without Stein's steady hand on the tiller.
They had been a chaotic, rudderless ship and, on far too many uncomfortable occasions and with all due respect to caretaker manager Sean Fallon, the only similarity with the team that had rampaged through nine successive title triumphs and this malfunctioning unit was the green-and-white hooped shirts.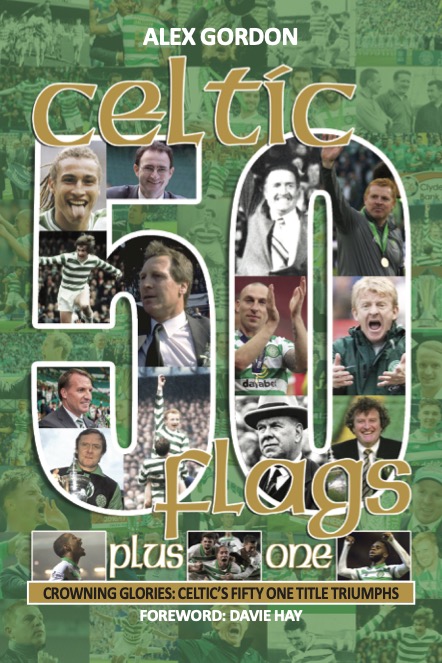 Stein, of course, had survived a brush with death following a horrific car crash on the A74 at Lockerbie in July 1975. He had been returning from holiday with his friend Tony Queen, a well-known Glasgow bookmaker, and their wives when his Mercedes saloon was involved in a direct collision with a vehicle travelling in the wrong direction.
The manager suffered head and chest injuries and was taken to hospital in Dumfries where he was deemed to be in a critical condition.
Without Stein's guidance and influence, Celtic lurched to nine defeats from thirty-six games in the inaugural Premier Division season. To put that in context, it had taken the last three campaigns in the nine-in-a-row sequence for the team to rack up nine losses. An insipid Celtic limped in second behind Jock Wallace's Ibrox outfit, six points behind in the era where you still received two points for a win.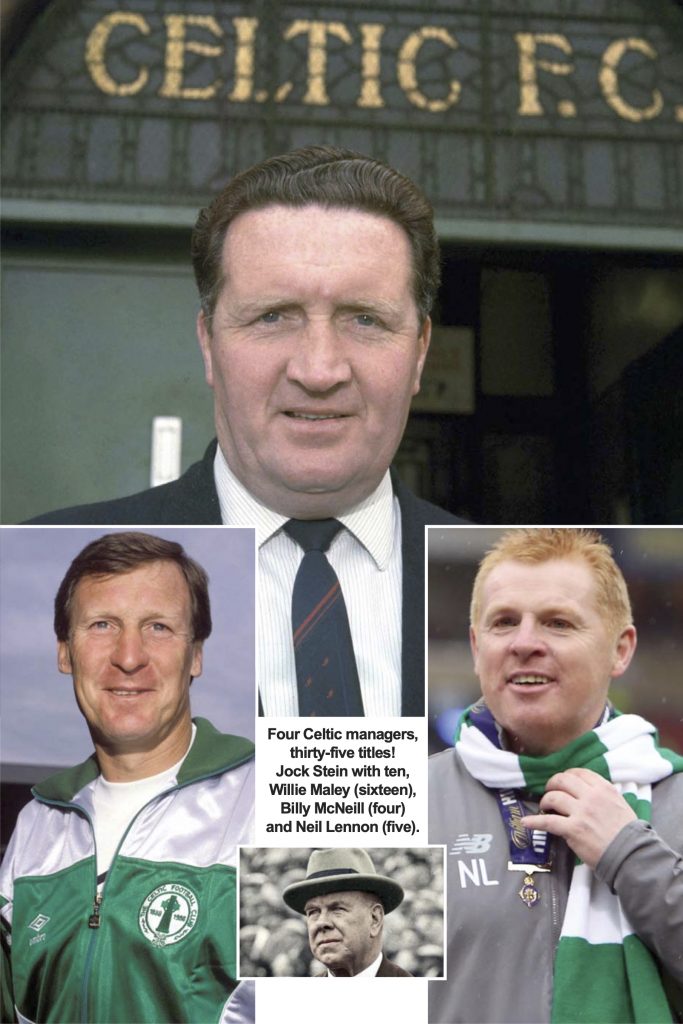 IMAGE COURTESY '50 FLAGS PLUS ONE'
Following the car accident, Jock Stein had made a remarkable recovery and, within a week, he was in good spirits and allowed to go home. He was ordered to recuperate away from football. He was expressly forbidden by doctors to go anywhere near a dug-out on matchday. Stein compromised. He would turn up at Celtic Park a  couple of days a week while Sean Fallon took charge of team matters. Celtic endured their first trophyless season in eleven years in the absence of a fully-functioning Stein.
So, no-one was unduly surprised to realise monumental changes were in the wind in the east end of Glasgow as the club prepared for another voyage in the summer of 1976. Sean Fallon moved aside to become chief scout with responsibilities for youth development while Davie McParland, the manager who had masterminded Partick Thistle's extraordinary 4-1 League Cup Final victory over Celtic in 1971, was named as Jock Stein's assistant.
Stein, of course, had the reputation of having a sharp eye for a player. After a quiet pre-season in the transfer market, there were a few sceptics who doubted his wisdom in going for a particular thirty-two year old individual in September of his comeback year.
To a fair percentage of critics, Pat Stanton's "future was behind him", as they say in oh-so-clever football speak. The former Scotland international, who had earned his sixteenth and final cap in a 2-1 loss in a friendly to West Germany in Frankfurt in March 1974, had fallen out with manager Eddie Turnbull at Hibs. His largely impressive thirteen-year career at the Leith club appeared to be winding down.
CHEERS…Jock Stein and Kenny Dalglish celebrate the title win at Easter Road in April 1977.
Stein was aware of the player's qualities following their year together at the Edinburgh club in 1964. Stanton's highlighted seasons at Easter Road were when he had performed as a dynamic and powerful force in the middle of the park, a driving, inspirational leader with an indefatigable appetite for sheer hard work.
Years took their toll and Stanton had been forced back to a more defensive role, but Turnbull, Stein's old foe on the pitch and on the touchline, clearly preferred John Blackley, four years Stanton's junior who had been chosen for Scotland's World Cup Finals squad for West Germany in 1974 while Stanton remained at home. It had become evident the player would have to look elsewhere to play regular football.
Stanton was given a role in the team beside Roddie MacDonald in the heart of the rearguard. The centre-half, who had just celebrated his twenty-second birthday a month before Stanton joined, had all the attributes of a dominant defender, but his lack of game craft had been exposed by opportunistic opponents.
Basically, he needed a helping hand, a guiding light beside him. Stanton provided that rock. MacDonald had one of his best seasons in 1976/77 in his ten-year Celtic career. The transformation in his demeanour was nothing short of startling. Almost overnight, he began to look a commanding and worthy successor to Billy McNeill.
Stanton – "with his future behind him" – played forty-three games, including every match in the Premier Division and Scottish Cup as Celtic won both trophies. He was the first of three extraordinary deals done by Stein that seismic season.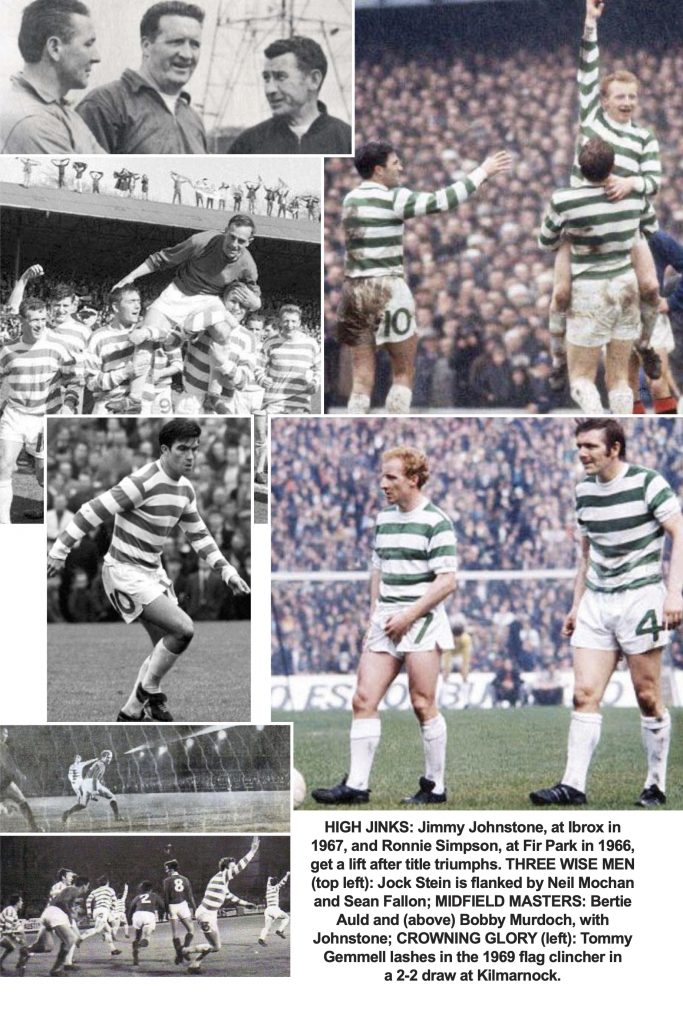 IMAGE COURTESY '50 FLAGS PLUS ONE'
Sixteen days after the Stanton switch, the Celtic manager returned to Partick Thistle where he had bought Ronnie Glavin two years earlier for a club record £80,000. Former Firhill boss Davie McParland undoubtedly played his part in the £60,000 transfer of Joe Craig to Celtic. Again, the deal may have surprised a few. Craig's style of play would never appeal to the game's purists.
He was an old-fashioned rummle-'em-up type of centre-forward. He had been four years at the Maryhill club after joining from Sauchie Juniors and most viewed him as a journeyman striker. Stein – and, most assuredly, McParland – had other thoughts.
Craig, like Stanton, was a revelation. His physical presence took some of the burden off Kenny Dalglish. Glavin also benefited from playing in front of a settled back-four with Danny McGrain and Andy Lynch flanking Pat Stanton and Roddie MacDonald while the dependable Peter Latchford made the goalkeeping berth his own. It was no fluke Dalglish and Glavin finished the campaign as the team's joint top scorers with twenty-six strikes each.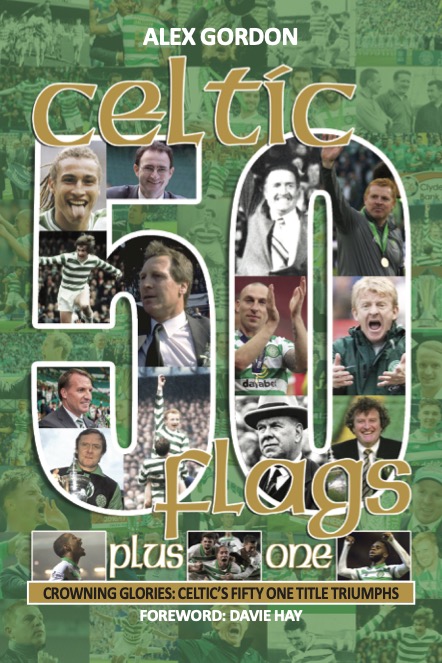 Completing three inspired signings was the £65,000 transfer of a Scotland international midfielder Alfie Conn, a former Rangers player who ticked most of Stein's boxes. He joined from Spurs in March and fitted Stein's identikit of a Celtic player. He was a flamboyant, attack-minded individual who could excite the paying customer.
Celtic required a point to win their thirtieth league championship when they travelled to Fir Park to take on Motherwell on the Wednesday evening of April 13. They succumbed to their heaviest defeat of the season, losing 3-0 with the unfortunate Andy Lynch deflecting two shots in the last five minutes beyond Roy Baines, deputising for the injured Peter Latchford.
It had been a strange experience for the 13,820 onlookers with the visitors dominating the encounter without managing a solitary goal. They went in at the interval trailing to an Ian Kennedy effort and Dame Fortune continued to snarl in their direction throughout the somewhat bizarre second forty-five minutes.
The focus very swiftly switched to Edinburgh and a meeting with Hibs at Easter Road where Pat Stanton had the opportunity to lift his first – and only – league medal in his distinguished career.
HIGH AND MIGHTY…Kenny Dalglish is lifted shoulder high by team-mates Johnny Doyle, Tommy Burns, Danny McGrain and Joe Craig after the win over Hibs at Easter Road for the club's thirtieth championship.
On Saturday, April 16 1977, with Hibs' cranky chairman Tom Hart churlishly banning TV cameras from Easter Road, Celtic made absolutely certain of the flag when Joe Craig netted the solitary strike of an entertaining encounter in the sixty-third minute.
The opportunity was set up by Alfie Conn with some quick thinking following a shot from Ronnie Glavin which had clattered against Mike McDonald's post. While Craig scored and Conn sparkled, veteran Pat Stanton strolled through the ninety minutes in imperious fashion. Jock Stein's wheeling and dealing had paid off handsomely.
WELCOME TO CELTIC…Jock Stein greets new Bhoy Pat Stanton.
The manager, celebrating his tenth title, sipped at his orange juice as he talked to journalists and, with a bright and beaming smile, admitted: "Well, I'm glad that it's all over. There's been a great deal of tension on the players over the last few games.
"Now that it has lifted, we will get down to playing real football. I've always felt this team would be better once they had won something and I think we are going to enjoy the rest of the season."
And indeed they did. The title had been secured with four games to go and they eventually settled for a nine-point gulf beaten themselves and runners-up Rangers.
Jock Stein had won his twenty-fifth trophy in twelve years as Celtic manager.
Unfortunately, it was to be his silverware swan song.
*TOMORROW: THE JOCK STEIN YEARS: PART TWENTY: And now the end is near…
Click Here for Comments >