CELTIC legend Jock Stein made an extraordinary impact on the Parkhead club after returning as manager in March 1965.
In another CQN EXCLUSIVE, author Alex Gordon, who has written fifteen publications on Celtic, has opened his book files on the Parkhead great for an absorbing twenty-one part series.
Today, in Part Seven of our fascinating look back at these landmark times in the annals of fame at a momentous football club, we continue as Big Jock launches into season 1968/69 with a point to prove.
JOCK STEIN was a man on a mission as he prepared his Celtic team for season 1968/69. Two trophies – the European Cup and the Scottish Cup – had been removed from the Parkhead trophy cabinet during the previous campaign.
And it was well known in the world of football Jock Stein was a bad loser; a very bad loser. To relinquish their grip on Europe's elite competition at the first hurdle hurt the pride of the manager. To have it virtually prised from his grasp following a bizarre encounter in the east end of Glasgow by a merely-competent Kiev Dynamo side was unacceptable.
Celtic lost the first leg 2-1 on home soil and, in controversial circumstances, drew 1-1 in Russia where they had 'goals' from Billy McNeill and John Hughes ruled out in mysterious circumstances and, just to add insult to injury, they had Bobby Murdoch ordered off for the heinous crime of bouncing the ball after disagreeing with one of Italian referee Antonio Sbardella's many unfathomable decisions.
UP AND AT 'EM…Bertie Auld and Billy McNeill go for a high ball against Kiev Dynamo with  Stevie Chalmers lending support in the European Cup shocker  at Parkhead.
Their defence of the Scottish Cup didn't get beyond the initial stage, either. In January 1968 they succumbed 2-0 to Dunfermline at their own citadel in a Cup-tie marred by more contentious decisions by the match official, on this occasion Bobby Davidson, who would certainly never get a place on Stein's Christmas card list. The Airdrie whistler had the uncanny knack of upsetting the Celtic gaffer and the team's followers.
It appeared the holders had nullified a Hugh Robertson goal for the visitors. Jim Brogan caught the ball sweetly from about twenty-five yards and his first-time drive left his former team-mate, Danish keeper Bent Martin, motionless as it thumped into the net. Celtic Park erupted and not one Fife player complained, but, bewilderingly, it was disallowed.
Apparently, Bobby Lennox had been in an offside position. That was correct, but it was also accurate to point out that the player was in no way interfering with play. Celtic's protests fell on deaf ears.
HAIL THE HERO…Jock Stein in Paradise.
It was all over when a wayward pass from young Davie Cattenach in the second-half was seized upon by the Fife team's striker Pat Gardner and Ronnie Simpson's late rush from goal couldn't avert disaster.
That bleak January afternoon saw the Dunfermline players celebrate like they had won the tournament and, in fact, they managed that feat late in April when they beat Hearts 3-1 in the final at Hampden on an extraordinary day, not only for them, but also Celtic.
With two league games to go as the season headed for a dramatic climax, Celtic were on top of the First Division table, albeit on goal average, as it was then before goal difference was introduced.
UP FOR THE CUP…Jock Stein and Dunfermline boss George Farm jokingly wrestle for the silverware before the kick-off in Fife.
UP FOR THE GAME…Jock Stein looks concerned with Celtic fans on the enclosure roof at East End Park.
Celtic had scored 102 goals and conceded twenty-two as opposed to Rangers' eighty-nine for and thirty against. Stein's men had claimed thirteen more and conceded eight fewer. Their goal average was 4.64 compared with Rangers' 2.97.
Celtic knew they could afford to win their remaining two games by the slenderest of margins and the championship would be theirs for the third successive season. Rangers could win two and match them on points, but only a miracle would pull things around in their favour as far as goal average was concerned.
That season's championship had ebbed and flowed in a truly memorable campaign. With one game to go, Rangers were due to play Aberdeen at Ibrox on Cup Final day – April 27 – and faced the genuine prospect of going through the entire league programme, all thirty-four games, without defeat and still not winning the title. That would have been one for the history books.
CHEERS…trainer Neil Mochan pours a glass of bubbly for John Hughes as Celtic celebrate another title success.
Stein was at Hampden that afternoon to watch his old club Dunfermline, the team who had abruptly cut short Celtic's interest in the tournament, face Hearts. Two goals from Pat Gardner and a penalty-kick from Ian Lister gave the Fifers a 3-1 triumph.
It seemed a lifetime ago that Stein had been congratulating his Dunfermline players after their replay success in the competition over Celtic; in fact, it had been seven years minus a day.
The Celtic manager stood to applaud when a national newspaper reporter gave him the news. "Rangers have lost 3-2 at Ibrox."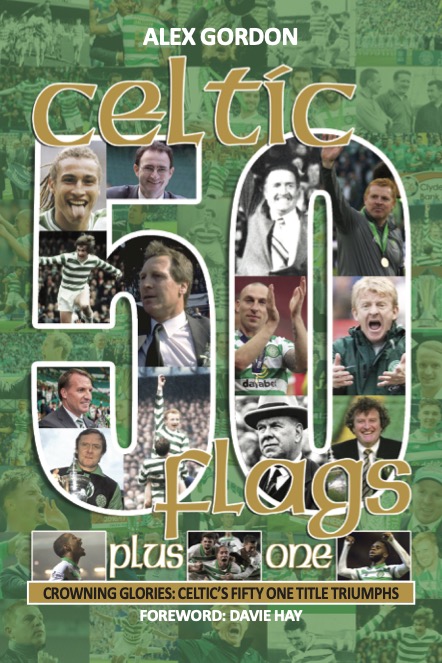 Stein asked: "Are you certain?" He was assured the Pittodrie side had indeed scored a last-minute winner. Rangers had definitely gone down 3-2.
Ignoring the limp that had ended his playing career, Stein attempted to bound down the Hampden steps and his ankle almost buckled under his weight. He stumbled, got his bearings and raced off to spread the news. "This has been a great day," he said. Who could argue?
Celtic realised they could now afford to lose their last league game against Dunfermline the following midweek and still keep their crown. It was a joint celebration in Fife; the champions v. the Cup winners and it was the hottest ticket in town. The game attracted East End Park's official record attendance of 27,816, but it was estimated some 5,000 fans also crammed into the packed surroundings.
GOING IN…Bobby Lennox chases the ball into the Dunfermline net.
GOING IN…Bobby Lennox stoops to conquer with a close-range header with Fife keeper Bent Martin helpless.
Bobby Lennox had scored in every one of Celtic's last eleven games, amassing an extraordinary eighteen goals, as he prepared for the duel in Dunfermline. He had also scored in the opening 3-0 win over Clyde in September. Now he was about to finish what he had started.
In typical style, he did just that. Lennox flashed two beyond ex-Celt Martin in a 2-1 victory and Celtic did not have to rely on goal average to bring the third successive title back to Parkhead, the first time the feat had been achieved by any Scottish club since 1935.
The total of sixty-three points was a record post-war total for the Scottish First Division; it was to turn out to be Jock Stein's best league performance as manager. Celtic had scored 106 goals, more than that of Motherwell, Falkirk and Stirling Albion combined. It was also the third successive season they had topped the ton.
YOGI ON THE RAMPAGE…unstoppable John Hughes slots in one of Celtic's five goals against Dundee keeper John Arrol in the League Cup Final at Hampden.
The League Cup had also been reclaimed for the third consecutive season following a thrilling 5-3 victory over Dundee with Stevie Chalmers (2), John Hughes, Bobby Lennox and Willie Wallace on target. Stein, though, demanded more from his Celtic players as he pointed them in the direction of another eventful and intriguing campaign.
He was asked how he continued to instill such enthusiasm, hunger, drive, ambition and passion in his team season after season. He contemplated for a moment before delivering the classic response:
"The secret of being a good manager is to keep the six players who hate you away from the five who are undecided."
Jock Stein did possess a sense of humour, but no-one knew for certain if he was joking or serious on this particular occasion.
* TOMORROW: THE JOCK STEIN YEARS (PART EIGHT): Six of the Best: The pick of the bunch as the Hoops dominate Scottish football again.
Click Here for Comments >