CELTIC legend Jock Stein made an extraordinary immediate impact on the Parkhead club after his return as team boss in March 1965.
In another CQN EXCLUSIVE,  author Alex Gordon, who has written fifteen publications on Celtic, has opened his book files on the Parkhead great for an absorbing twenty-one part series.
Today, in Part Six of our fascinating look back at these landmark times in the annals of fame at a momentous football club, we continue as Big Jock prepares his players for a momentous occasion in Lisbon on May 25, 1967.
CELTIC 2 INTER MILAN 1 
THIRTY-ONE seconds. One throw-in. Six passes. A thundering shot. That's all it took for Celtic to turn football on its head on that magical, memorable, exhilarating day in Lisbon on May 25, 1967.
For over an hour the marauding green and white legions had battered away at the Inter Milan goal without success. Goalkeeper Giuliano Sarti had been seen as a possible weak link in the Inter Milan defensive armoury which was otherwise festooned with seasoned internationals.
But his was an extraordinary act of defiance that day; an impressive one-man barricade standing in the way of Celtic and destiny. He repelled raid after raid with one of the most astonishing goalkeeping performances ever witnessed.
ON THE BAWL…Jock Stein has a message for Inter Milan manager Helenio Herrera before the Lisbon kick-off.
On the rare occasions when he was beaten, the angels appeared to be on his side. Bertie Auld, sensing a rare opening, clipped the crossbar with a cunning left-foot effort while running at speed. Shots and headers rained down on the black-clad No.1 who dealt with everything with an annoying assurance.
Jock Stein ventured to the touchline, his massive left paw pointing the way for his troops. "Keep going," he urged. "Keep moving forward."
Sixty-one minutes. Still Sarti and Inter are standing firm. Sixty-two minutes. Still nothing doing. Sixty-three minutes. Celtic have a shy thirty yards from the goal-line on the left. Willie Wallace, confronted with the giant frame of Giacinto Facchetti, is looking for a team-mate in a good position. Facchetti, blocking his view, holds his ground.
Wallace shapes to throw it and changes his mind. Gemmell looms into view to offer an option. The ball duly drops at his right foot. A quick switch across the park to Jim Craig on the right.
NINETY MINUTES FROM HISTORY…Billy McNeill shakes hands with Inter Milan captain Armando Picchi as West German referee Kurt Tschenscher looks on.
Craig rolls it inside for Bobby Murdoch who is crowded out on the edge of the box and the ball is retrieved by Jimmy Johnstone, on the left. He touches it back to John Clark who thrusts it foward again to Murdoch, this time in the old inside-left channel thirty yards from goal. The Italians, methodical as ever, are refusing to be put off their stride. They regroup, cover, pick up a man, shut down space. Celtic continue to show commendable patience as they pass the ball around.
Murdoch slips a simple pass in front of the galloping Craig. He controls the ball as he gathers momentum heading for the danger zone. Another touch – three in all – before squaring across to Gemmell. There is no break in his stride as he reaches the eighteen-yard box with precision timing before clubbing the ball high past Sarti. The unbeatable is beaten at last. Hallelujah!
Thirty-one seconds. A throw-in. Six passes. One thundering shot. That's all it took.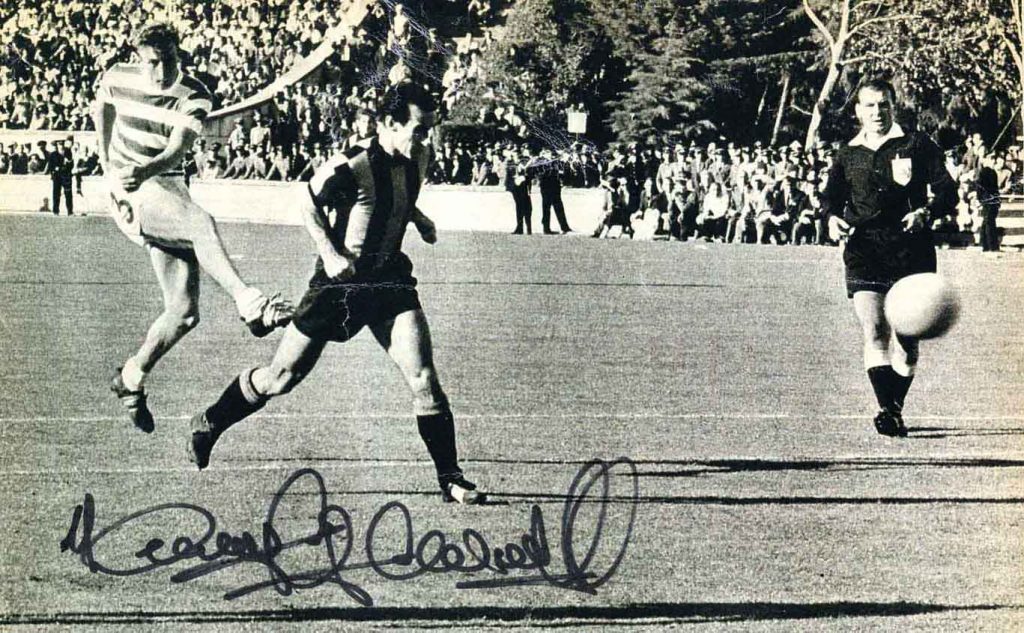 THE EQUALISER…Tommy Gemmell first-times an unstoppable effort beyond Inter Milan defender Armando Picchi on its thunderous path towards the net.
Liam Brady, who had the distinction of serving both Celtic and Inter Milan, recalled watching the game on television in his native Dublin. "Inter actually started quite well. Sandro Mazzolo, who was a director when I was at the club, had a good chance, but Ronnie Simpson made an important diving save.
"We were all outraged when the referee awarded Inter a penalty-kick in the seventh minute. Jim Craig's challenge on Renato Cappellini seemed good, but, looking at it again, you could see it was very much a penalty-kick.
"Mazzolo was Inter's star player around that time and he accepted the responsibility of taking the penalty-kicks. Credit where credit is due; he took that one against Celtic very well and scored quite comfortably, sending the keeper the wrong way. What was very interesting, though, was the way Celtic's players kept interchanging as they continued to move forward. Jimmy Johnstone was everywhere and even came close with a header which was well saved by Sarti. Willie Wallace and Stevie Chalmers had the ability to drop deep and Bobby Lennox continually switched wings.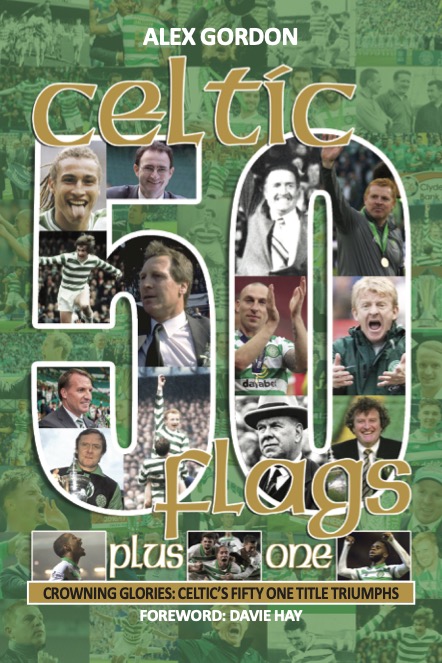 "Celtic got the neutral fans on their side with their flair. They played with such skill and commitment to going forward. They seemed to be strong in all departments, especially in centre midfield where they had Bobby Murdoch and Bertie Auld, of course. These two guys really complemented each other. Bobby was up and down, from penalty box to penalty box; a real dynamo. He was a great passer of the ball with either foot. Bertie could put his foot on the ball when the pace needed to be slowed down. He had a great footballing brain.
"I was also amazed at how far forward the full-backs were against the Italians. They were popping up on the edge of the penalty box all the time. I remember Tommy Gemmell, in particular, having a helluva shot and Sarti making a tremendous save from his volley in the first-half. It was a real screamer, but the keeper got down to his left to push it away."
Brady, a player of exquisite footballing ability who spent two years at Inter Milan as a player and just over two years at Celtic as manager from 1991 to 1993, could hardly believe what was unfolding in front of his eyes as he watched the action. "I think goalkeeper Ronnie Simpson showed how vigilant he was inasmuch Celtic were pushing up in the search for the equaliser and were always open at the back and vulnerable to one long ball that could present danger.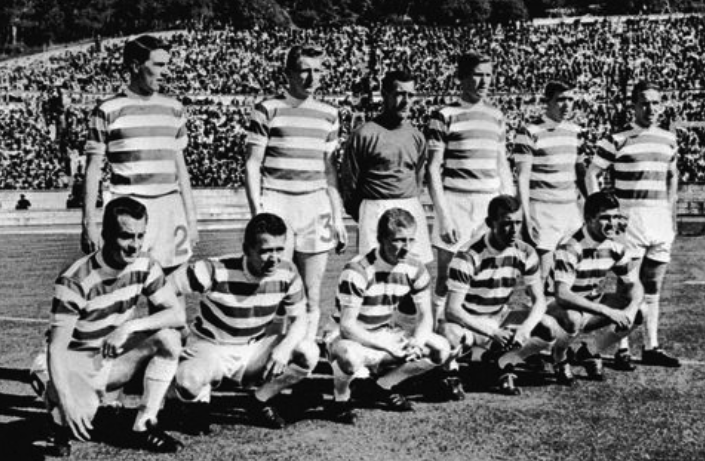 THE LIONS-IN-WAITING…back row (left to right): Jim Craig, Tommy Gemmell, Ronnie Simpson, Bily McNeill, Bobby Murdoch and John Clark. Front row: Stevie Chalmers, Willie Wallace, Jimmy Johnstone, Bobby Lennox and Bertie Auld.
"That's precisely what happened when a defender thumped one straight down the middle from just inside his own box. Ronnie raced out of his area and gave everyone heart failure when he backheeled the ball to John Clark with an Inter Milan player breathing down his neck. It was an unbelievable bit of skill and, I suppose in a way, epitomised the spirit of the Celtic side that day.
"There was to be no goal for Celtic in that first-half, of course, but I believe Jock Stein would have told his players to carry on doing what they were doing. 'You've got Inter Milan on the rack,' he would have said. I think he might have encouraged more shots from outside the box because it was becomingly increasingly more difficult to get in behind the Inter Milan defence.
"Several times it looked as though Celtic would score only for Sarti to keep them out. He made some truly stupendous saves that day and none more so than his one-handed save after the ball had been deflected past him from a shot by Tommy Gemmell. Somehow he got back to stop the ball right on the line. Celtic claimed a goal, but it was a truly superb save.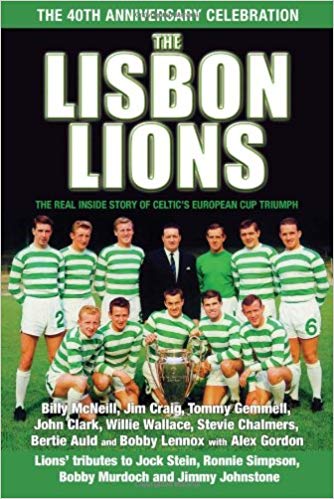 "The second-half was more or less played in Inter's half which was quite amazing when you consider their reputation for counter-attacking. Obviously, it was something they were very good at because they played that way week in, week out. They got plenty of practice. Mazzola and Domenghini were especially dangerous going forward.
"But the Celtic players simply never allowed them to get out. The patience in Celtic's play in that game was something to be admired. They never got panicky because they were a goal down. They never got carried away. The unrelenting spirit throughout the team, as I have said, was magnificent.
"They kept passing away, coming forward and probing, looking for openings. And, in fact, it was good possession football that led to the equaliser. Again both full-backs were well forward with Jim Craig laying the ball back for Tommy Gemmell and he just buried it past Sarti. There was no way the goalkeeper was going to keep that effort out of his net.
MILAN MENACE…Tommy Gemmell and John Clark keep an eye on Inter dangerman Sandro Mazzola.
"It was interesting to see how many heads went down among the ranks of the Inter Milan players when they went forward to restart the game. They knew it was going to be very, very difficult to stem the tide with twenty-seven minutes still to go. I think they knew then that the game was up."
Brady continued: "There was a move shortly after the equaliser when Tommy Gemmell got down the left again and his ball inside eventually broke in front of Bobby Murdoch about 25 yards from goal. He demonstrated his awesome shooting power he possessed in both feet when he hit it first-time with his so-called weaker left foot and Sarti was forced to make another miraculous save.
"Later in the second-half, we saw a cross from far out on the left by Tommy Gemmell. I hope I am not doing Tommy an injustice by saying it was a cross – he might say he was trying for goal – and Sarti made one of his few mistakes when he lost the flight of the ball. He misjudged it completely, but it hit the bar when it could so easily have dropped behind him.
"One of the most impressive things for me in that performance was the technique each and every player had. They were of a very high quality. I can remember watching a lot of football back then – it was like a drug to me as I was growing up. I watched a lot of Manchester United and Tottenham Hotspur on the television.
"I used to marvel at players such as George Best, Bobby Charlton, Denis Law, Pat Crerand, Jimmy Greaves, Pat Jennings  and so on. The BBC used to show a lot of English football, but then along came this Celtic team and suddenly we were all Celtic fans!
"Few teams had the technique that Celtic possessed right throughout the side. This was undoubtedly a conscious decision by Jock Stein to get each and every one of his players to perform at a certain level. I still believe Celtic should have been ahead even before Stevie Chalmers scored the winner.
"They were denied a legitimate penalty-kick, as far as I am concerned. I remember it vividly. Tommy Gemmell got the ball across and Sarti and his defender got in a terrible mix-up and the ball broke to Willie Wallace. He was just about to knock it into the empty net when the goalkeeper wrapped his arms around one of his legs and quite deliberately pulled him down. No-one could believe the referee didn't immediately point to the spot.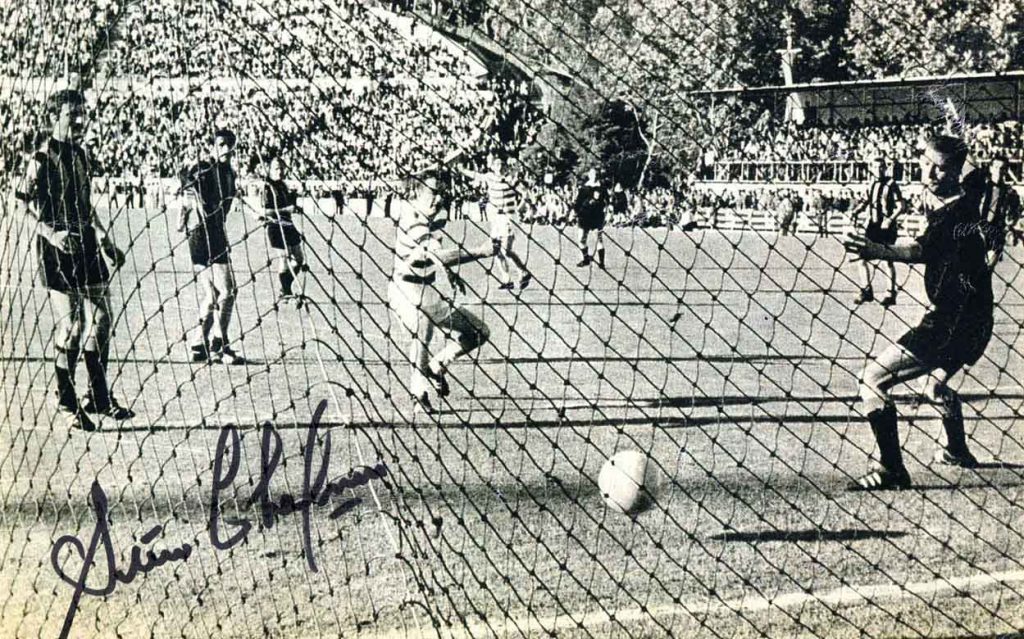 THE WINNER…Stevie Chalmers turns the ball past Inter Milan hero Giuliano Sarti and the European Cup is on its way to Parkhead.
"Well, the second goal just had to come, hadn't it? Without going overboard, it would have been a tragedy if Celtic hadn't won. I have never seen a team dominate a match so much. It could have been 5-1 or 6-1 at the end and no-one could have complained. However, with about five or so minutes to go, it was Tommy Gemmell once more getting down the left and again showing his wonderful ability at taking on players.
"He pushed the ball inside for Bobby Murdoch and he let fly. Stevie Chalmers was right in line with the effort and he guided it in with his instep from close range. The Italians actually appealed for offside, as you might expect, but film showed Stevie was well on.
BEAR NECESSITIES…Stevie Chalmers and Tommy Gemmell, in their swapped Inter Milan shirts, with the club mascot after the historic triumphant.
"Justice was done. It was a victory for the good guys. It was a victory for football. Everything that Inter Milan stood for was wrong. It was wrong for them to deny their exceptionally skilful players such as Mazzola, Suarez and Jair the opportunity to express themselves in games. However, when they got a goal ahead, they fell back into deep defence and put up the shutters. It was all so negative.
"Helenio Herrera v. Jock Stein was an intriguing contest on a coaching level. Thankfully, Jock's philosophy won the day. Celtic really stopped the domination of European football by these stifling, frustrating, unattractive and unimaginative tactics.
"They did Europe a real favour in Lisbon. They put the smile back on the face of football."
Simpson; Craig, Gemmell; Murdoch, McNeill, Clark. Johnstone, Wallace, Chalmers, Auld and Lennox.
* TOMORROW: THE JOCK STEIN YEARS (Part Seven): Big Jock does it again! How the Celtic manager guided the team to only its second silverware clean sweep.
Click Here for Comments >