CELTIC legend Jock Stein had an extraordinary impact on the Parkhead club after returning as manager in March 1965.
In another CQN EXCLUSIVE,  Alex Gordon, author of fifteen publications on Celtic, has opened his book files on the Parkhead great for an absorbing twenty-one part series.
Today, in Part Twenty of our fascinating look back at these landmark times in the annals of fame at a momentous football club, we  continue as Big Jock finds problems piling up in Paradise.
JOCK STEIN, at the age of fifty-five, may have been entering the autumn of his extraordinary managerial career, but future prospects genuinely looked rosy as he prepared to defend his tenth league title in season 1977/78.
The Celtic boss knew he possessed two world-class performers in Danny McGrain and Kenny Dalglish. Pat Stanton's arrival from Hibs in a straight swap for Jackie McNamara was a steadying influence on the relatively inexperienced Roddie MacDonald in the heart of the defence.
Ronnie Glavin was scoring goals from midfield and Joe Craig, a different type of player to Joe McBride, Willie Wallace or Dixie Deans, was a powerful attack-leader. There was the artistry of the flamboyant Alfie Conn while teenager Roy Aitken was an emerging talent, in defence and midfield. Another youngster named Tommy Burns had been introduced in selected games during the previous season and had looked the part with a sweet left foot.
THE LAST HURRAH…Jock Stein and Kenny Dalglish celebrate the manager's tenth title success – their final flag triumph together.
All that, and Peter Latchford was earning a reputation of being dependable between the sticks. Indeed, Stein was preparing to turn back the clock to the mid-sixties and launch a new Celtic on the world of football. And, of course, there was also the influence of the ever-popular Bobby Lennox, the last of the Lisbon Lions who was still around to do his bit in cameo roles after recovering from a broken leg.
It didn't take long for the expectation levels to be fragmented. The season hadn't even kicked off when the first setback arrived. Liverpool, looking for a replacement for Kevin Keegan, bound for the Bundesliga in a £500,000 move to SV Hamburg, turned their focus on Dalglish. Like Davie Hay and Lou Macari before him, Dalglish, as he was entitled to do, wanted what he thought he was worth.
The English champions put a £440,000 cash offer on the table, a British record transfer fee at the time. Celtic accepted and yet another of the fans' favourites was spirited out the door. Someone on Merseyside deserves a massive pat on the back or at least a statue erected outside the ground at Anfield. They got Dalglish and made a £60,000 profit into the bargain.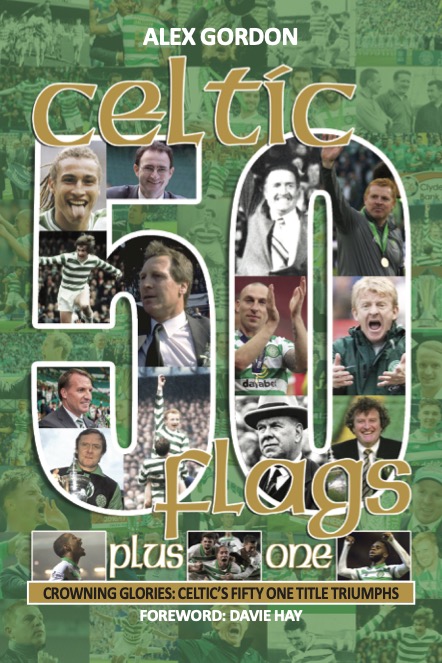 A couple of months before Keegan's departure to Germany and Dalglish's to England, Stein was quoted as saying, 'Keegan is a fine player, but I don't rate him any more highly than Dalglish. They are different types of player, but I believe they have equal influence.' Why, then, did Celtic not demand an identical fee for their player?
It was a brilliant bit of business from Liverpool's point of view and, without a shred of doubt, Dalglish contributed even more to their club's cause than Keegan ever managed.
Celtic spent £60,000 of the transfer cash on Dundee United striker Tom McAdam, who would eventually do his best work for the club at centre-half, and £25,000 on unknown Fulham midfielder John Dowie, a one-time reject from Rangers. Presumably, the balance of £355,000 was placed in a high-interest account that Celtic could unlock some time in the Twenty-First Century.
As Harry Hood had so astutely observed the previous season, the warning signs were flashing. Stanton was seriously injured in the opening goalless draw against Dundee United. Dalglish made his debut for his new club in the Charity Shield match against Manchester United at Wembley. That, too, ended scoreless. Dalglish was the focal point of attention for the TV camera crews and interviewers afterwards.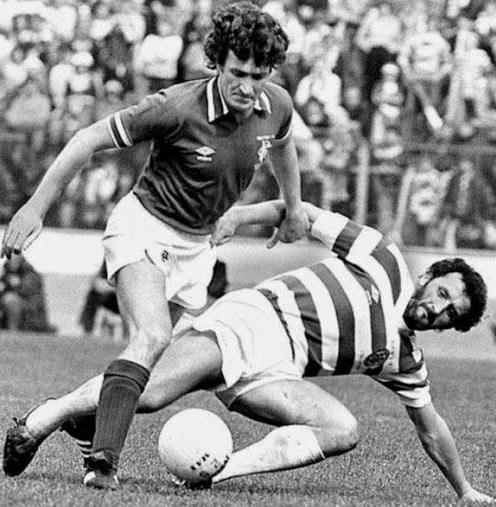 HEADING FOR A FALL…Danny McGrain hits the deck as he challenges Rangers' Sandy Jardine. The Celtic icon was sidelined for most of season 1977/78.
Before they could ask him a question, he had one of his own. 'How did Celtic get on? Anyone know the score from Parkhead?' asked Dalglish. He was informed it had ended 0-0. He reflected for a moment and said, 'Oh well, it's a point, at least.' Then, and only then, could the live interview continue. News filtered through that the injury to Stanton was so severe there was no hope of a comeback that season. In fact, his playing career was over.
After a mere ninety minutes, it was already the start of the disintegration of a season. A week later Ayr United beat Celtic 2-1 at Somerset Park and, following that, Motherwell left Parkhead with a 1-0 victory. Johannes Edvaldsson gave Celtic a two-goal advantage at Ibrox, but Rangers came back to win 3-2.
Dowie made his debut in that encounter and produced the sort of performance that stripped away any notion that Rangers might have made an error of judgement when they let him go for nothing.
A lanky 6ft 6in centre-half called Iain McWilliams, from Queen's Park, was drafted in beside MacDonald. It became the double-act from hell. The cloud-scraping pair were unbeatable in the air, but, unfortunately, couldn't pass the ball six yards on the ground to anyone wearing the same colour of jersey.
Celtic were using sticking plasters when major surgery was required. Aberdeen won 2-1 at Pittodrie to make it four losses and one draw from the first five league games.
HOOP HOOP HOORAY…Johannes Edvaldsson is congratulated by John Dowie (No.6) after his League Cup Final equaliser against Rangers. George McCluskey, Alan Sneddon, Ronnie Glavin and Tommy Burns join in.
Celtic struggled to overcome Clydebank 1-0 and worse was to follow. McGrain, after only seven league games, damaged an ankle so severely in a 2-1 win over Hibs that his season was over, too; his very career threatened. Dalglish transferred, Stanton finished and McGrain sidelined.
All it required to complete a bleak picture would have been a sudden outbreak of bubonic plague in the vicinity of Kerrydale Street.
The team was falling apart. Remarkably, it still managed to reach the League Cup Final where Rangers were lying in wait at Hampden in October. Davie Cooper thumped one past Latchford, but Celtic gamely battled throughout and Edvaldsson outjumped Stewart Kennedy to head in a late leveller to force extra-time. Fortune continued to ignore Celtic.
EXTRA SPECIAL…Jock Stein gives instructions to Tommy Burns as Celtic prepare for the additional half-hour in the 1978 League Cup Final against Rangers. Neil Mochan addresses a problem with keeper Peter Latchford. Johnny Doyle and George McCluskey listen in.
Latchford, jostled in mid-air by Alex Macdonald, mishandled a high ball, patted it straight onto the head of Gordon Smith and he nodded it into the net. Celtic couldn't come back a second time. Not this Celtic team, anyway. Stein was raging with referee Davie Syme at full-time and was later fined £200 by the SFA for comments to the match official which were hardly likely to have been uncomplimentary.
Both the keeper and the manager were convinced MacDonald had fouled the Celt in the lead-up to what proved to be the winning goal. Their protests fell on deaf ears.
AERIAL ANTICS…Peter Latchford is challenged by Alex MacDonald at a high ball.
YOU NEED HANDS…Jock Stein listens to Peter Latchford's explanation following the incident that brought the Ibrox side's controversial winning goal at Hampden in March 1978.
A WORD IN YOUR EAR…a disgruntled Jock Stein awaits to make his feelings known to referee Davie Syme at the end of the Final.
Dowie was in the line-up, but, once again, contributed next to nothing. He would make nine appearances in total before being invited to leave the premises. The wretched Dowie would join the ranks of Hugh Maxwell, Bobby Craig and Paddy Turner as a colossal waste of money. When they first arrived at Celtic, the fans chorused , 'Who?' When they departed, the Celtic fans echoed, 'Why?'
After beating Luxembourg's Jeunesse D'Esch 11-1 on aggregate in the European Cup first round, Celtic surrendered meekly to Austria's SSW Innsbruck at the next hurdle. Conn and Craig scored in a 2-1 win in Glasgow, but the team, with another uninspiring new face in Jim Casey playing, flopped 3-0 in the second leg.
Worse was to follow in the Scottish Cup. George McCluskey, skilful and clever, netted a hat-trick in a 7-1 demolition of Dundee in the first round, but some unwanted history was around the corner.
Celtic toiled to a 1-1 draw against First Division Kilmarnock in the next stage at Parkhead. An out-of-sorts team relied on a goal from MacDonald to force a replay at Rugby Park. Roy Aitken was sent off in a night to forget when Celtic were humbled 1-0 for the first time in the national tournament by opponents from a lower division.
THE LAST POST…Peter Latchford is helpless as Derrick McDicken's Cup shocker smacks off the upright on its way into the net.
It was goalless with seven minutes to play when Derrick McDicken fired in a speculative low shot that swet past Peter Latchford, clattered off the base of his right-hand post and ricocheted into the net. In the fading moments, the same home player blocked a goalbound effort from Edvaldsson on the line to prevent the tie going to extra-time.
A miserable campaign, that had looked so promising in the summer, ended with a dismal 3-1 defeat against St. Mirren at Love Street.
Celtic finished fifth in the table on thirty-six points – nineteen fewer than the previous campaign – with Rangers regaining the championship on fifty-five. Aberdeen (53), Dundee United (40) and Hibs (37) all out-performed a poor Celtic team.
Massive changes beckoned in the east end of Glasgow.
* TOMORROW: THE JOCK STEIN YEARS: PART TWENTY-ONE: As one legend leaves, another makes a return.
Click Here for Comments >