Was that a penalty? That WAS a penalty!
First a little background! I was born in Glasgow in 1947 into a Celtic supporting family and have been a Celtic fan all my life.
I moved to Manchester for work purposes in September 1969 and married a local girl. For three years in the early 2000s my sons and I had season tickets. Times move on! My children are all married with family commitments and while the lads and I are still Celtic daft those responsibilities restrict our opportunities to visit Paradise and watch the Bhoys. We have to be satisfied with television, the club website and highlights.
For seven seasons from 1972 I was a referee progressing through the local leagues to reach a reasonably high standard. This article is from the point of view of a retired whistler who loves to see the game played and officiated well.
Was it a penalty? I am looking at three incidents in recent Celtic matches: Ross County (A) 18 November 2017, Motherwell (N) 26 November 2017 and Motherwell (A) 29 November 2017.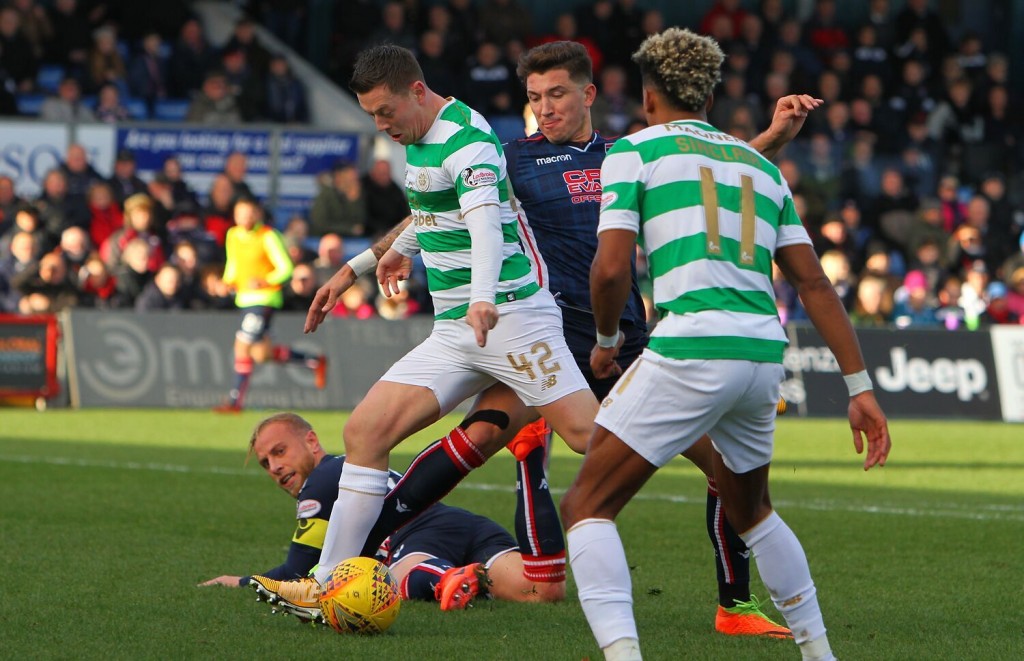 Ross County v Celtic:
Watching the match on television I am just about to celebrate Calum McGregor giving us the lead when a defender seems to make a superb tackle and snuffs out the danger. My immediate reaction was, "What a superb piece if defending." A few moments later a replay from a different camera angle shows a clear penalty for Celtic. It also shows that the referee who had been in an excellent position to decide suddenly had his view blocked by three defenders as they moved quickly to try to react to the situation leaving him no time to adjust. My attitude is that that is football. You win some and you lose some. I was delighted to note that there was no criticism of the official or certainly none that I heard. One that got away? Most definitely!
Motherwell v Celtic (N):
There has been much said and written about this one including by Chris Sutton on BT TV. I mention Sutton because I respect his opinion but disagree with him totally this time and have emailed BT TV to say why. I quote from that communication, "There was an obvious offence of holding by Kipre on Sinclair. The law is clear. Holding an opponent is a penal offence under Law 12 punishable by either a free kick or a penalty kick. The Law makes no distinction in respect of the severity of the pull. For Chris Sutton, a man I admire as a player and an analyser, to try to differentiate is below his dignity. His claim that Sinclair "went down too easily" is utterly stupid and to be dismissed out of hand. Whether the player who has been impeded "goes down" or not has no bearing. The Law is silent. Kipre held Sinclair in the Motherwell penalty area. Penalty against Kipre. No other decision is possible." Watching in real time on television my immediate reaction was "penalty" and I looked straight at the referee to see if he had given the spot kick. Obviously I was delighted but not surprised to see him point to the spot. The furore that this decision created was ridiculous.
"It wasn't a penalty. I've seen it back. I've planted my leg and he's ran into me and flopped over."
Andy Rose pic.twitter.com/AGFkeQRrxp

— CelticQuote (@CelticQuote) November 30, 2017
Motherwell v Celtic (A):
I listened to the commentary on the Celtic website. I recall clearly Paul Cuddihy describing the action and after the award of the penalty referring to the foolishness of the defender for having bundled McGregor off the ball. I was keen to see the incident and watched it several times. From the camera angle on the highlights it is simple to dismiss the award as wrong or "soft" and I could subscribe to that belief easily but equally my early impression was that the referee was in a perfect position to judge. He awarded the penalty without hesitation which gave me comfort that he was probably correct. Another furore! Perhaps that is understandable bearing in mind that many Celtic fans at the game with a good view of the incident believed that the award was wrong. Further footage to emerge has shown that the decision was not only correct but indisputable.
Football is an emotional game which rouses passions and is none the worse for that. Those of us who support a team wholeheartedly as Celtic fans do and subscribe to its heritage and ethos can be over enthusiastic but occasionally a moment's reflection can pay dividends.
I recall a colleague saying "Refereeing is a poor substitute for playing." That is very true but it can be a wonderful way to be involved. Equally it can be cruel and hurtful. It is certainly not easy and with the modern professional game having become so quick it requires concentration, fitness and stamina as well as dedication. I could, perhaps, comment on Scottish referees in general but maybe another day. I will leave it with a salient point from another colleague which illustrates perfectly the situation at Motherwell. Explaining his philosophy about disputed and controversial decisions he would always remind us "No one sees what the referee sees." The words of a wise man!
Hugh Cairns
DidsburyCelt
ORDER YOUR SIGNED COPY OF JIM CRAIG – RIGHT BACK TO 67, A LISBON LION DIARY TODAY!

Click Here for Comments >