CELTIC'S legendary manager Jock Stein was born on this date in Burnbank, South Lanarkshire, in 1922
Ironically, he played his first senior game as a trialist centre-half against the Parkhead club on November 14 1942. He witnessed his future team score four goals. Mind you, Rovers were good enough to score four of their own in an eight-goal stalemate.
Here is part of Big Jock's great football adventure…
WHEN Jock Stein swept into Celtic Park in March 1965, he was paid the highest compliment by Hal Stewart, who was the flamboyant chairman of Morton. He told Big Jock: "You're a real upstart. There we were, going about our business and getting away with it. Now you are at Celtic and we all have to buck up our ideas and start working at the game."
Tongue-in-cheek? Possibly, but you just knew Stein was the phenomenon who drove not only Celtic, but also Scottish football, forward into a new era, achieving goals that were believed to be simply outrageous in earlier times. The enthusiasm of the man was staggering. He would often be found at obscure Junior grounds on a night off watching Cambuslang Rangers, Johnstone Burgh or Baillieston. A few days later he could be taking in Manchester United v. Benfica. Football was football in its many shape and forms for Big Jock. His hunger for knowledge was insatiable.
Sir Matt Busby, the Manchester United legend who was a close friend of Stein, once recalled: "There were a few of us talking about a game we had just seen and some of us were discussing a goal that had been scored. To say we were dumbfounded when Big Jock had his say was to put it mildly.
"He took the play back about a minute or so. He told us of how some player had chosen the wrong option and had given the ball away. How it was moved around before it found its way into the opponent's net. He had a remarkable eye for detail and a memory bank that bordered on the impossible. As history shows, he put it all to a good use."
Billy McNeill was his onfield general and he knew the man better than most. Okay, what was his secret? McNeill would reply: "He would always tell you to play to your strengths and disguise your weaknesses. He insisted you helped out a colleague who may not have been having the best of days. He told you it may be your turn in the next game to need assistance.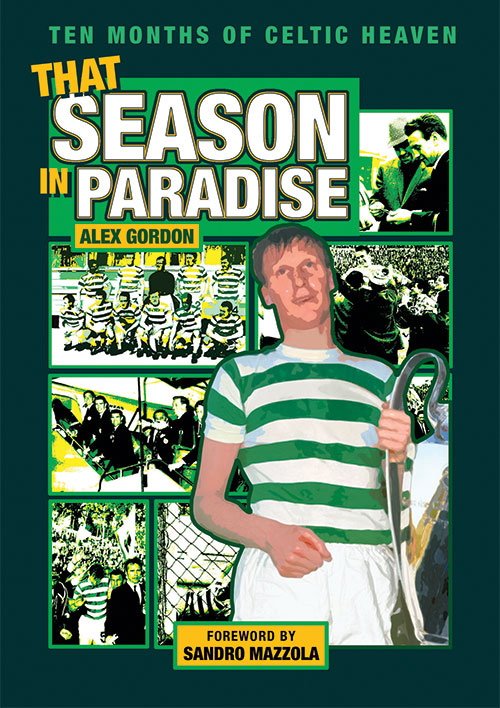 "He kept it simple. Big Jock never asked anyone to do something he didn't believe they had the skills to cope with. We had a real mixture of players at Celtic Park and he was the man who fused all those talents together."
The mercurial Jimmy Johnstone was on the receiving end of a tongue-lashing from Big Jock on more than one occasion, but, in truth, as one Lisbon Lion confided to me: "Jock Stein loved the Wee Man. He always had a soft spot for him." Wee Jinky may not have thought that was the case after one particular game, a league encounter with Dundee United at Celtic Park.
Johnstone remembered it like this: "I wasn't having the best of games and I admit I was struggling for form. Big Jock would have been better off leaving me out, but he kept playing me. Anyway, I wasn't too happy when I got the shout that I was going to be substituted in this game. I didn't think as I raced off the pitch, frustrated and angry, and I threw my shirt at the dug-out.
"I was running up the tunnel when I heard this growl behind me: 'Johnstone – I want a word with you!' I didn't know what to do. I could either run into the dressing room and try to hide or just keep running out of the main door in the general direction of Parkhead Cross. I was convinced the Big Man was going to do me! He didn't I'm glad to say, but he did fine me. I had no complaints."
Stein's history has been well chronicled. He started as an awkward centre-half with Blantyre Victoria before moving to Albion Rovers in 1942 and then onto Welsh club Llanelli. He returned to Scotland and Celtic in a £1,200 deal in December 1951. Many thought he was there as mainly a back-up defender and to help with the reserves. They reckoned without the desire and ambition of this man.
He swiftly won a place in the first team and led the club to their Coronation Cup success in 1953 and the League and Cup double the following season. He also skippered the side to victories in the Charity Cup (1953) and the Glasgow Cup (1955).
An ankle injury forced him out of the playing side of the game in 1956 and he was appointed coach of the reserve team. Celtic overlooked what he was achieving at this level and they allowed him to move onto relegation-threatened Dunfermline.
He saved them from the drop and guided them to a Scottish Cup triumph in 1961, beating, of all clubs, Celtic 2-0 in a replay. He took over as Hibs manager in April 1964 before Celtic, in disarray, sent out the SOS in 1965. He answered that call. Things were never to be the same again at Celtic Park.
The European Cup, 10 league championships, eight Scottish Cups and six League Cups were to cascade through the frontdoor at Celtic Park as Big Jock revolutionised the game in this country.
Victory over Inter Milan in the European Cup Final in Lisbon on May 25 1967 was of paramount importance for Stein as he pointed out immediately afterwards: "Even some of the Italian Press have been congratulating us. They were delighted we won.
"It is the trend for clubs to follow successful teams, who are winning things by playing defensive football. We hope our success will make the game better throughout Europe. We would like to think people will now follow our example."
He left his beloved Celtic in 1978. After a short spell at Leeds United, he became manager of the Scotland international side. Jock Stein died on September 10, 1985 following a 1-1 World Cup qualifying draw with Wales at Ninian Park in Cardiff. He suffered a massive heart attack and died 30 minutes after the game.
In the words of the Tartan Army's adopted national anthem: "When will we see his likes again?"
READ the thoughts of the eight Lisbon Lions still with us on Celtic's greatest-ever manager, next on CQN…
McNeill talking Stein…read
HERE.
STEIN'S 'FAIRLY FEROCIOUS TEMPERAMENT,' CAIRNEY…read
HERE.
How Jock Beat Off Barcelona…read
HERE.
Order your copy of That Season in Paradise, Ten Months of Celtic Heaven out now and available from Celtic stores and from
www.cqnbookstore.com 
*Jock Stein/ European Cup image by Barry McGonigle
Click Here for Comments >