Back at the beginning of 2013, Brogan, Rogan, Trevino and Hogan followed the money for CQN Magazine…
At a time when events off the field of play compete with any given 90 minutes plus stoppage time for domination of the back page headlines, can you really blame James Traynor for hanging up his pen?
Football in Scotland has become a boardroom game of monopoly with your average sports journalist having to cover such away grounds as The Court of Session, FTT  Tribunals, The AIM market, Administrators Press Conferences, SPL Commissions and so on. These forums deal with details, rules, laws and the minutiae of the administration of the game as opposed to whether or not a team has played well, punched above its weight, is in need of a new striker and so on.
Players' names have been replaced by constant references to Nimmo Smith, Carloway, Regan, Doncaster, Duff, Phelps, and countless others who have never- and never will—kick a football.
It is no surprise, therefore, that just over a year ago one sports journalist—Roddy Forsyth—bemoaned the fact that the business journalists had not taken a greater interest in what was going on in football and in particular at Ibrox—as they may well have been able to point out to sports colleagues that financial Armageddon was coming football's way, and that financial disaster was staring Rangers PLC in the face. Tom English has since backed this up and said that the business desks should have done better in the face of the eventual Administration and subsequent Liquidation of Rangers PLC.
The fact is that some of the Sports Journalists at least have come round to the notion that they are ill equipped to comment on such business matters from a position of knowledge, and that these business matters are—perhaps regrettably— now essential considerations when discussing football and its future. I don't say that as a means of suggesting that Sports journalists are stupid or incapable—far from it— what I mean is that Scottish Football has now entered detailed areas of business expertise where even the most expert professional view will be countered and contradicted by another similarly qualified commentator with a different opinion.
Suddenly, however, the public has access to all sorts of opinion and expertise on such matters via the net—the blogosphere, the World Wide Web or whatever you want to call it. Some opinions and interpretations of business matters, the law, accounts and so on will be wrong, or only partially right, or based on less than the full information, while others will be absolutely spot on.
What that blogosphere does do is create a forum for discussion and comment for all—those who do have some expertise and of course those who don't, and this type of forum is a real paradigm shift away from the traditional reporting and copy of a newspaper. The print journalist may well have the benefit of direct access to some key players in football, which the blogger or poster will never be likely to equal, and so the journalist should be able to get the news straight from the horse's mouth allowing the rest of us to learn what those key players have done, are doing and what they are about to do that may affect us—the fans.
But what happens when the Sports Journalist is fed what can only be described as a pile of bull, which he or she then repeats as gospel? At that point the rest of us are left mislead, uninformed, bewildered and lacking trust in the veracity and accuracy of our newspapers.
Via the Blogosphere, that view can then be challenged, supported, corrected, discussed and at times absolutely dismissed if it is based on an entirely false pretence which renders the original message of dubious quality and accuracy or even downright impossible.
For example, take an article written by Jim Traynor on 2nd November 1996 where we were informed that Sir David Murray was prepared to give newly appointed super scout Kenny Dalglish an Open Chequebook to bring the very best to Ibrox. Apparently £80M was available for the capture of the likes of Mark Overmars, Patrick Kluivert, Jurgen Klinsman, Paolo Maldini, Eric Cantona, Robbie Fowler, and even Barcelona's Ronaldo—the clear message being that Rangers were about to hunt for the very best in the world. The article stated that "If Rangers are making Millions then the sky is the limit!".
Now the problem with this article is that absolutely none of those players ever arrived or to my knowledge were close to arriving, and no questions were ever asked about whether Rangers could ever afford such players on any sensible examination of their finances. Were they making Millions or the kind of Millions that would allow an £80M spending on players?
Obviously this article turned out to be "Bull" in terms of what eventually happened in real life. Now I have no doubt that Jim Traynor did not simply go and make up the story. Instead, it had to come from somewhere, and JT simply reported what he was told in good faith. There is no suggestion that he questioned his informant about the ability of Rangers to pay for such stars— it seems that it was just accepted that they could. As Rangers were in the midst of a super successful run with Celtic and the rest of the league struggling to keep up—who would doubt whoever was feeding Jim this kind of story? Certainly not the sports guys— and presumably not the business guys who seemed to make no comment on Rangers being able to fork out £80M in 1996.
Swing forward in time by almost exactly two years to November 1998. Here we find JT with his famous interview with Sir David Murray over a bottle of fine red and a plate of succulent lamb.
Murray openly tells the sports journalist that the events of Saturday 9th May that same year hurt greatly. It was on that day at precisely 27 minutes past 4pm when Harald Brattbakk stroked the ball into the net to secure the league title for Celtic for the first time in a decade.
Here, in contrast to the article of two years previous, Jim Traynor is given a real scoop by David Murray in person. Murray is quoted as follows:
"Bring on the next 10 years, there's more to come for Rangers. Understand that I care passionately about what I'm doing with Rangers and believe that in 10 years time we will still be setting the pace. Too many of us have put too much into this club and we won't let someone come along and take it all away. What I'm saying here is that no matter who buys Celtic from Fergus, they will need to have the deepest of pockets imaginable.
"The fresh challenge would be good for the Scottish game and lift the profile, but Celtic's new owners had better be prepared to spend. In the past, Celtic's people maybe just haven't fancied trying to take Rangers on financially, but if I have to go in deeper to keep my club up there then I will. I have done it too many times to be frightened now."
"£56m has been invested in the stadium and in my time £200m has been turned over and after interest our trading profit is minimal. Perhaps as much as £60m has been spent on players and I have even paid in about pounds 1m in hospitality but never taken a salary from the place. I get six complimentary tickets the same as everyone else and if I want extra I have to pay for them the same as everyone else. There are no free lunches for David Murray at Ibrox and I have never taken part or been at the centre of any of the numerous victory celebrations we have had."
"Supporters don't want chairmen hanging around, even though they look to people like me to provide some kind of direction and the new ways to keep moving the club on. I hope I can say that in my 10 years so far I've been fairly good at that, but the day I run out of ideas is the day I'll know it's over. I'm sure someone will tell me because I have good people around me, I always have. But I'm not ready yet to step back and I see enough fresh challenges, staying ahead at home and winning a place at the European table, ahead in the next 10 years to keep my own adrenaline flowing."
It is from this point onwards that David Murray is as good as his word in as much as he looks for every conceivable way possible to keep Rangers at the top in terms of finance. He borrows hugely from HBOS and of course starts to embark upon an aggressive tax avoidance schemes which will eventually lead to huge controversy and debate, and which will play a significant role in the downfall of the company he had chaired for a decade.
In this one interview, Jim Traynor scoops all his colleagues to the story of the decade. Sir David, in the interest of his team will dig deep into the pockets—deeper than anyone with any sense would deem sensible— and deeper than would actually have seemed possible— without an unbelievable amount of latitude from a friendly bank. Further he provides continued  "direction and the new ways to keep moving the club on"—- these new ways will include substantial borrowing, creative tax schemes,  the franchising of merchandise , catering and other services and the use of business skills and tactics that are way beyond the ken of the average sports reporter.
With a bigger ground capacity and more bums on seats Celtic were in a position to take on Rangers Financially—especially if they got it right on the pitch and in the boardroom— and so the big two in Scottish football would go head to head on all fronts leaving the rest of the clubs far behind in terms of finance and spending power.
How would they compete?
By 2004/2005 the finances of the SPL were in tatters with imminent doom being predicted for many clubs. They were being publicly warned that they had to reduce their spending and to cut costs. Administrations and Liquidations were on the horizon and all chairmen knew that there were financial troubles ahead.
Who was conveying this message? Was it the business journos?  The SFA?  The accountants?
Well the message was spelt out loud and clear in an article that appeared in the Glasgow Herald on 2nd February 2004, which appeared under the following headline.
SPL in crisis as bank gets tough. Now administrators are ready to knock at Livingston's door as HBOS lose patience
February 2004!— Just think about that date for a moment, and then look at the headline again.
What happened in footballing terms, in title winning terms, in transfer terms at certain clubs both before and since that date?. No doubt supporters of different clubs reading this will think of different events, but the headline above makes something plain—namely that HBOS had lost patience—The Bank had had enough of lending to football clubs, or so it seemed.
Oh—and you should also note that the journalist who penned this article and was able to gather quotes from all the necessary parties was Daryl Broadfoot —- yep a sports journo and—since 2009— an employee of the SFA!
Now, at the relevant time, all SPL clubs had a cumulative debt of something like £160Million with HBOS being exposed to something like £110M of that—per the balance sheets and official records.
I say official records because as we shall see below, HBOS at that time did not exclusively deal in what was necessarily official. A culture within the bank had evolved and developed along lines that it routinely set up a series of joint ventures, trusts, and other financial vehicles in common with selected partners and customers, and these vehicles often acted as shadow banks—working away providing finance and holding interests off balance sheet – all tucked away outwith the scope and gaze of an already ineffective system of regulation.
In short, HBOS was working in a world where there was no transparency about its operations with customers, and in fact some would say that things were as clear as mud with regard to certain bank matters. This was a policy which would come back to haunt the bank and its executives, and which would be mirrored in the activities of many big businesses.
So—go back and read the headline again and check the date. Then ask yourself the old question of sport question:
What happened next?
To help you answer that, here are a series of chronological bullet points—all taken from an Article entitled : The Worst Bank in the World? HBOS's Calamitous Seven Year Life written by the respected financial journalist and blogger Ian Fraser. The Article was published on February 27th 2010.
Note the time lines, and compare it to your own knowledge of the football world and what was happening in the SPL and how that was being reported on the sports pages.
Let's start a couple of years after Murray told JT that the Celtic folk would have to dig deep to stay with Rangers spending power.
Aug 2001:   Peter Cummings, managing director of corporate banking at Bank of Scotland, tells the Edinburgh Evening News he has been given practically an open chequebook by the bank's board to invest in joint venture companies alongside customers of the bank. Targeted sectors include house building and commercial property. The board's decision to allow Cummings such autonomy followed successful deals Cummings had struck with the Topshop owner, Sir Philip Green.
May 2002:   Lord Simpson of Dunkeld, the man who destroyed Marconi, is jeered by shareholders at the bank's Edinburgh annual general meeting as he is forced out as a non-executive director. Shane O'Riordain, HBOS communications director, confirms a report that the bank's director bonus schemes will allow Peter Burt and  James Crosby to each earn bonuses of up to £10m on top of salary over the three-year term. Other directors could be in line for bonuses of between £6m and £7m over the same period.
Late 2002:   The FSA conducts a full risk-assessment of HBOS, known as an Arrow assessment. It identifies the need to "strengthen the control infrastructure within the group". It also commissions a report from PricewaterhouseCoopers on HBOS's risk-management framework.
Jan 2003:  The bank's total exposure  to Murray International Holdings, holding company of favoured entrepreneur and Rangers owner David Murray, has soared to £139m, up from £97m the previous year (see:The football money league)
Note that in 1996 it had been suggested that King Kenny had £80M or so to spend on Rangers' targets like the list above. In other words the £80M quoted in 1996 would have represented almost, if not all of the borrowing power of MIH let alone Rangers!  In May 2003 Celtic would go to Seville and Rangers would win the league on the last day of the season against Dunfermline.
Oct 3, 2003:  HBOS claims to be on track to double its share of the UK business banking market from 3% to 6% by end 2004. The bank also says chief executive of business banking, Colin Matthew, is moving sideways into a newly created international and strategic role. HBOS says the business banking division will be subsumed into retail banking, under Andy Hornby. Larger SMEs will be shifted into corporate banking under George Mitchell, the bank's head of corporate banking. The bank also announces that chief executive of treasury Gordon McQueen will retire in December, and is to be replaced by head of treasury Lindsay Mackay. Alan Weatherston, analyst at Collins Stewart, says McQueen's early retirement came as "no surprise" and the bank's treasury was "fairly plain vanilla" with few risks attached.
Dec 2003:  The FSA says it has identified some serious internal audit issues including lax money laundering controls. The regulator says it found unacceptably high levels of non-compliance with record-keeping procedures across BoS's retail, corporate and business divisions and an "absence of effective systems and controls in respect of its record-keeping policies and procedures". Andrew Proctor, the FSA's director of enforcement, says the failures
"were particularly serious as they undermined the bank's ability to comply with the requirements of orders served by law enforcement agencies under the Proceeds of Crime Act."
Jan 12, 2004: The FSA fines HBOS £1.25 million for the sloppy internal auditing and lax anti-money-laundering controls that it identified at HBOS the previous month (see: 'FSA identified' above). The FSA final notice states that:
"the widespread nature of the breaches [which mainly relate to the period 2002-03] meant that BoS was unable adequately to monitor the effectiveness of the customer identification aspect of its anti-money laundering policies and procedures…across its retail corporate and business divisions. The FSA said the breaches were so serious it considered whether criminal prosecutions were appropriate.
Jan 15, 2004:   Crosby joins the FSA's board of directors. An appointee of the chancellor Gordon Brown, Crosby remains on the regulator's board, latterly as deputy chairman, until February 2009. After January 15, 2004, all fines from the regulator mysteriously dry up, and the regulator basically gives up any attempt to properly regulate HBOS.
Feb 2004:   The Stadia Group, founded by former Bank of Scotland treasurer and deputy general manager Gavin Masterton before his retirement from the bank in 2001, collapses into receivership owing the bank a reported £28m. Kevin McCabe's Scarborough Development Group steps in to mop up the mess, prompting complaints to the FSA about the bank's abuse of off-balance-sheet vehicles to massage its bad debt position (see Keane's last stand).
NB Note that significant stakeholders in Stadia are Gavin Masterton and George Yorkston-both Directors of Dunfermline FC.
Feb 2, 2004: With Livingston F.C. on the brink of bankruptcy ( an event closely linked to the Stadia collapse), the Herald reports that HBOS, which controls £110m of the Scottish Premier League's £160m debt, is rapidly losing patience with its football club clients. Darryl Broadfoot reports: "If the bank is now beginning to tighten the noose on its SPL clients, several other premier league clubs, including Rangers, will be under pressure to make savage cuts." The article also claims Hearts, Aberdeen, Dundee United and Dunfermline as being in severe financial difficulties. Dundee United chairman Eddie Thompson urged the Scottish Executive to take action to prevent SPL meltdown. Aberdeen chief executive Keith Wyness called Scottish football "a car crash waiting to happen" and said the situation will get even worse. "If you continue to spend money you don't have you will eventually find trouble." (see SPL in crisis as bank gets tough).
Sept 2004:  A formal complaint is lodged with John Tiner, chief executive of the FSA, that HBOS is using a lattice-work of off-balance sheet vehicles part-owned by favoured corporate borrowers, including Scarborough Development Group owner Kevin McCabe, to disguise its true corporate bad debt position and mislead investors.
Like others, the complaint fell on deaf ears at the FSA's Canary Wharf HQ.  The regulator responded by saying that it did not police "business models".
Oct 2004:   A report by head of group regulatory risk Paul Moore (pictured left) warns that the bank's sales-obsessed culture and inadequate internal controls mean it is headed for collapse. The report stated that HBOS is "going too fast" and had become "a serious risk to financial stability and consumer protection". According to evidence later submitted to the Treasury Select Committee, the bank's finance director Mike Ellis ensures that neither the audit committee nor the HBOS board has sight of Moore's report. (See: The Moore Memo)
Nov 2004:   When Moore, who was only doing his job, complains about this, Crosby personally fires him. A business manager at Bank of Scotland, Alistair Wilson, is shot dead on the front doorstep of his home in Nairn. Despite suggestions that Wilson may have uncovered serious financial irregularities at the bank, his murder remains unsolved to this day.
Nov 9, 2004:   Bank of Scotland grants a £37m facility to Rangers, even as the football club launches a £57m share issue. Bizarrely, the  club's owner David Murray insists he is determined to eradicate Rangers debt as quickly as possible!
Nov 23, 2004:  Crosby writes a letter to Paul Moore, stating that the decision to eliminate his role and replace him with someone who lacked knowledge or experience of risk management (the saleswoman extraordinaire Jo Dawson)  was "mine and mine alone".
Dec 2004:   The bank announces details of a share buyback of up to £750m and declares that its 2004 profit will beat forecasts. HBOS shares are on a roll…
Jan 2005:   After Crosby appoints saleswoman extraordinaire Jo Dawson to replace Moore as head of group regulatory risk, the risk management function is "dumbed down", according to the whistleblower Anthony Smith. Crosby appointed Dawson even though she has limited experience, knowledge, or understanding of risk management or regulation, Moore later alleged.
Jan 31, 2005:  The bank has dramatically increased its overall exposure to David Murray's Murray International Holdings, majority owner of Rangers, to £500m, up from £164m one year earlier. See Murray hits out at executive)
Feb 21, 2005:   Further to a complaint about the  bank's abuse of off-balance-sheet vehicle to mask its bad debt position (see Sept 2004) in particular to cover up the fiasco of Stadia Group / Stadia Management, a Scottish businessman writes a letter to the FSA. Stadia Group was founded by former Bank of Scotland treasurer and managing director Gavin Masterton ahead of his retirement. Sources claim that the circa £28m the bank lent to Masterton to fund his own start-up business did not go through the proper risk management and credit vetting procedures. The money was lost when the venture went bust in February 2004. The letter concerned the bank's questionable behaviour after the Stadia businesses went bust:-
"This complaint involves the professional actions of the former Treasurer and Managing Director of [Bank of Scotland], and the subsequent behaviour of [HBOS] in clearing up these alleged irregularities, which would appear to involve the hiding of substantial debt write-off and the resulting over-inflation of the asset value of the [bank's] balance sheet.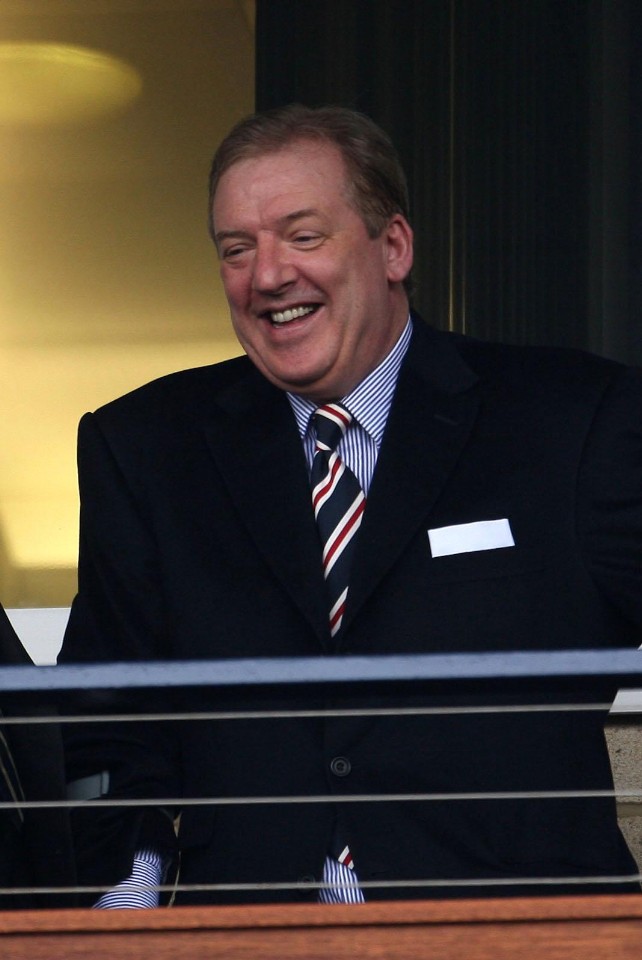 It requires a full inquiry and a public statement from the institution about whether it allows its senior executives to conduct business on their own behalf while running a [listed banking group]. This is a matter of public interest and needs clarification by the FSA. Given the status of the individual concerned … then I would assume that this would have merited a more detailed investigation … One fundamental question needs to be raised about whether the operations of a secret bank account held in the British Virgin Islands, called Charlotte 18, was acting in the best interests of the customers and shareholders of the Bank of Scotland. Were money laundering processes and procedures clearly followed? Clearly not, given that the current office-bearers of the bank, as recently as October 2004, did not know of the existence of this company and the fact that it was the parent company behind some of the former Managing Director's companies …  I refer you to the legal case of Woods versus Martins Bank, which states that a bank manager has a "fiduciary duty" to act in the customers' best interests. Mr DK claims this is not the case in relations to the Bank of Scotland. Mr DK knew nothing of the activities of Charlotte 18. And Mr DK claims that in "fixing" this position the parent company, HBOS, has used assets to cover up the bad debts caused by the collapse of a company run by the former Managing Director of the Bank of Scotland. Such serious irregularities need to be properly examined by competent and independent authorities.
What is concerning is that the FSA can make a judgement on this matter without viewing the proper information …. I'd also like to remind you that there are conflicts of interests involving this case because James Crosby is a non-executive director of the FSA. He is well aware of this case and has chosen not to investigate it inside HBOS."
Dec 2005:  Perhaps dismayed at the bank's recklessness, Bank of Scotland governor and HBOS head of corporate George Mitchell retires at the age of 55. Mitchell is replaced as head of corporate by Peter Cummings, who is given free rein to create a "bank within a bank" by HBOS's board, who were impressed by some earlier deals he had done with retailer Sir Philip Green. Someone with knowledge of the situation later told the Financial Times:
"As long as George Mitchell held the reins, Peter was kept in his box. But as corporate banking helped drive profits, Peter was seen as a star."
March 2006:  Pre-tax profits for 2005 soar by 17% to £4.8bn. The biggest contributor is a 27% rise in profits from corporate banking, presumably a consequence of the banks loose lending criteria and the inadequacy of its controls in this area. The bank has by now gained a reputation in the City for lending on deals at crazy multiples of Ebitda. Basically it has become known as a soft touch. Yet Crosby insists the bank is taking a "cautious" approach to corporate lending — and in the interview with the Independent on Sunday's Jason Nisse, the previous summer Crosby had insisted:  "As bankers, when we lend money it's rather important for us to get it back." Profits from retail grow by only 8%, partly as a consequence of sharply increased bad debts, which soar by 48% year-on-year to £991m.
August 21, 2007: In a further tipping point for the markets, Paul McCulley an official at the world's largest bond investors Pimco, gives a speech to economists at Jackson Hole Wyoming. He warns of the beginnings of a run on the world of  "shadow banks" which he defines as "the whole alphabet soup of levered-up non-bank investment conduits, vehicles and structures". HBOS has scores of these.
Feb 2008:   Peter Cummings, HBOS's head of corporate banking, defends the bank's decision to continue lending to the UK's bombed out commercial property sector at an awards ceremony. In remarks that will come back to haunt him, Cummings says:
"Some people look as though they are losing their nerve — beginning to panic, even — in today's testing property environment. Not us."
March 19, 2008:  Shortly after midnight a London trader takes a call from a colleague in his bank's Sydney office. He says there are rumours flying around the Aussie market that HBOS was in trouble. The London trader, who was on a night out in a West End club, replied briefly. Although people thought HBOS had more risk exposure than its competitors, he believed it to be well-capitalised and healthy. After joking  the world had gone mad, the pair rang off [source: Sunday Telegraph]. A few hours later the same rumour was doing the rounds on trading floors in Singapore, but was gaining credence. When City traders arrived for work at 6am, chatter about a liquidity crisis at HBOS was followed by three rapidly circulating e-mails. The first said: "We're hearing that tomorrow's Financial Times will write a piece about HBOS. It won't be pretty, likely to focus on £128bn of non-customer liabilities that must be rolled in the next three months. This will raise the spectre of a run on the bank." The others claimed that Bank of England Mervyn King had cancelled a trip to Asia because a UK bank was in trouble and that the BoE had cancelled Easter leave for all staff. By the time markets opened, City traders were hyped up and ready to dump the stock . By 8.52am frenzied, high-volume trading had wiped £3bn – or 17% – off the value of HBOS stock. By 9am, HBOS had two denials running on newswires. Hornby vehemently denies rumours that HBOS is struggling to fund itself and that it needs emergency funding from the Bank of England — even though the rumours were almost certainly true — and pins the blame on short-sellers spreading false rumours. The bank demands, and gets, an FSA inquiry. In a statement the FSA say that "HBOS is a strong financial institution". But if this was true, why had the bank raised £750m at 9.5% earlier in March. Credit default swaps on HBOS's debt soar to 237 basis points. (see Worst CDS ratings).
March 24, 2008:  HBOS shares rebound after directors express their faith in its future by snapping up an additional 1.4 million HBOS shares. Mark Kleinman writing in the Telegraph said: "HBOS led a rally in the banking sector this morning after its shares soared as much as 17%, helped by the news that its chief executive Andy Hornby had spent hundreds of thousands of pounds on shares in the high street lender in the days surrounding last week's share price plunge." Hornby topped up his shareholding by buying an additional 92,812 shares. Colin Matthew, Bank of Scotland treasurer and HBOS chief executive of strategy and international, bought 58,543 shares and head of insurance and investment Jo Dawson picked up 57,115 shares. HBOS's finance director Mike Ellis bought more than 10,000 shares, alongside executive directors Peter Cummings, Philip Gore-Randall, Dan Watkins who bought in excess of 25,000, 9,000 and 11,000 shares respectively. "The purchases were a way of demonstrating confidence in the bank," said a source. (See: HBOS directors profit).
April 2008:  Despite sanctioning massive immorality at HBOS, and despite being the architect of its collapse, Sir James Crosby is appointed, by his close friend the Prime Minister Gordon Brown, to chair a working group examining how to boost confidence in the UK's rapidly shrinking mortgage market. The bank again ignores investor and internal concerns about its massive exposure to the UK's crumbling property market and buys a significant equity stake in the Edinburgh-based housebuilder Miller Group, to which it is already a significant lender. Peter Cummings allegedly over-rules advice from executives in Uberior Investments / BOSIF who, given the market turmoil,  strongly advised against buying the stake on the strength of pre-crisis valuations. But determined not to let down Sir Angus Grossart, who is acting for Miller Group, Cummings ploughs ahead. One former insider said this was:
"the final straw for [BoS Corporate head of credit risk] Hugh McMillan. It was pushed through credit and I wouldn't be surprised if that sparked Hugh's departure."
McMillan left Bank of Scotland Corporate on April 30th, 2008.
By April 2008 HBOS was absolutely bust. In that month I attended a meeting at the HBOS offices in Bishopsgate in London with a view to completing the details and the technicalities of a £12M transaction for a client company, only to find that the deal could not go through after months/years of preparation because " The Bank has simply ran out of money" as the bank representative put it.
Before the bank collapsed in September 2008, things had become so completely mental within the bank that one board meeting had to be brought to an abrupt end by security staff because Hornby and Cummins had now resorted to physical violence in the boardroom such was the level of tension. Reports suggest that Hornby grabbed Cummins by the throat apparently because not even Cummins would agree to the granting of further crazy loans to finance even crazier deals. The lunatics had indeed taken over the asylum.
In the intervening period, Peter Cumming, who succeeded former Governor George Mitchell as head of Corporate, and was reputed to be a protégé of former bank guru Gavin Masterton ( the master of handshake banking and the most "creative" banker in Britain ) has been handed down the heaviest ever sanction by the FSA— namely a £500k fine and a lifetime ban from any financial institution—although he does get to keep his £350,000 plus annual pension. It looks as though Cummins is set to take the sole blame for the demise of the HBOS.
According to some this is unfair, and many of the old brigade have now publicly come out and berated the FSA for the decision. Among those going public on how unfair this decision is on Cummings are Jim McColl, Sir Tom Hunter and Donald McDonald of McDonald Hotels—all of whom were former clients of Cummings. Their complaint is that Cummings has been hammered and vilified while others such as James Crosby, Lord Stevenson and various others have been ignored and let off scot-free
All 3 were very much HBOS stars at the relevant time.  McDonald's former financial group controller, Donald McIntyre, went on to be financial director at Rangers PLC.
However, even more focus will be brought on the HBOS Corporate banking  structure when Thames Valley police and the DPP bring charges at the conclusion of operation hornet—Britain's biggest ever fraud investigation which looks at the operation of the bank and the involvement of Quayside—a so called turnaround specialist company which was foisted on Bank customers with disastrous results for most. Now is not the time to go into the allegations of criminal activity alleged against those involved at Quayside and the links back to HBOS personnel, nor the class actions brought by so called victims against the bank and others. However what may be of interest is that when the bank was eventually forced to close down the Quayside involvement it did so by effectively winding all the businesses down through specialist firms to avoid further awkward questions—with one of those firms going on to become— "Duff & Phelps".
However, the point of all this is that by 2004 HBOS had made it plain that it was over exposed to the SPL and had by that time settled on a culture of misregulation, lack of proper corporate governance, poor credit risk management and had a tendency to enter into off balance sheet transactions with selected corporate clients in off shore jurisdictions—a la Charlotte 18.
So—how come having made a public stance in Feb 2004, did HBOS decide to ramp up its exposure to Murray, MIH and Rangers within a further two short years— whilst supposedly demanding that all other clubs that banked with them cut their facilities and their costs?
It can hardly be argued that the financials produced by Rangers PLC between say 2001 and 2005 merited further increased facilities because to be frank the accounts for the period showed repeated losses of an unparalleled scale!
In 2010, Ian Fraser was able to write the following:
"The bank's largesse had been a critical factor in driving Murray's success during the property bubble. MIH's debts rose from £233m in 2004 to £759m in 2009, with the bank's preference being for these funds to be channelled into the commercial property market. Under Cummings, HBOS's corporate division also had a penchant for forming a complex series of joint-venture companies with property tycoons such as Murray in which it would take chunky equity stakes.
He (Murray) still owes Lloyds Banking Group some £609m (down from £759m) (after certain write offs by the bank). He must find a credible buyer for Rangers football club. And to qualify for continued support from Lloyds, the bank expects him to introduce much greater transparency into his business dealings, stop using cross-guarantees within his labarynthine business empire, shift his private equity group to family ownership, and refocus his business on an area he best understands: metals trading.
But there remain unanswered questions about Murray's business empire, including what will happen to the £70m that Rangers owes MIH and whether the bank rolled some of his debt into equity simply because it was unrepayable."
Note  this last part very carefully!
In other words, as well as owing the tax man, The bank or anyone else—as at 2010 Rangers PLC owed circa £70M to MIH who in turn owed it to the bank—that will be the very same bank who were telling any other SPL clubs to cut costs and reduce facilities in 2004, and that will be the same bank who has had all sorts of questions asked about its book keeping and regulatory records, its risk strategy, its conflict of interests, its partnerships with favoured clients and its fiduciary activities in general.
In short, there comes a time when you have to conclude that HBOS was part of the fabric of Rangers PLC and Murray, with the business dealings between Murray/MIH/Rangers PLC best described as a spiders web of cross guarantees, joint venture companies and vehicles, and perhaps hugely inflated valuations which shored up the position of all.
So I find myself asking whether or not the world of Scottish Football was immune to this culture within the bank and what role did the bank play in leading the beautiful game down the so called  "Armageddon" route that we have heard so much about and which was reported by Daryl Broadfoot all those years ago? Did HBOS play fair with Scottish football- or did it ultimately look upon one particular club as its home team—deciding to fund it and assist it in every way possible with no regard for proper risk management or regulation—whilst insisting that large sections of the competition exercise a caution and a set of frugal policies which just did not apply to Rangers PLC?
Given the headline and the statements made in the Broadfoot piece, how does anyone explain the funds that were made available in subsequent years to strengthen Rangers FC? Also if you go back to the timeline outlined above, at what point would a properly regulated bank, with an eye on proper risk management, have decided that they were not only over exposed to Scottish Football generally but to Rangers PLC—and any associated company or companies— in particular? Further what strategies were the bank party to which were designed to ensure that their borrower was in the best position possible to repay debt—after all as Sir James Cosby put it "As bankers, when we lend money it's rather important for us to get it back."
In February 2008 Cummins gave an interview to James Whitmore of Property Week. COM  where he talked at length about the Bank's Corporate division and how it sought to seek partnerships and joint ventures with what he described as the "best in class" customers of the bank and how such initiatives had seen a fast and vast growth in the bank's lending book—which was seen as a measure of success.
In the course of that interview, Cummins makes the following statement:
'What's also important is when you're going to exit, how you're going to exit and what you do in between to create value. I know that sounds very simple, but there aren't as many people that can do that as you'd think.'
When it came to Rangers PLC then how was the bank going to exit either from the Rangers direct debt or the MIH inter related debt? Forgetting the when and the how for the moment, what strategy did the bank follow "to create value"? In other words what did the bank do to make Rangers PLC a stronger businesses and so enable it to repay its debts? Did it have one mantra for its other football clients but a separate one for Rangers PLC?
In the past week HBOS executives have been grilled by MP's, QC's and former chancellors of the exchequer like Nigel Lawson—who accused former chairman of the bank, Lord Stevenson, as being "delusional"—amongst other things! It would be fair to say that the guys in charge of HBOS have been disgraced in banking terms and there seems to be a concerted and continuing effort to cover up just who did what and why at HBOS—leaving Cummings as the very well paid fall guy!
At the end of the day, the people who bought from Fergus didn't need to have the deepest pockets imaginable—they needed to have a degree of sanity and common sense.
Back in 1998 Jim Traynor said in the same "succulent lamb" article:
"There have been times in his 10 years when he has taken Rangers somewhere between £15m and £20m into debt and he knows that if this season goes belly up like the last one he could be looking at a potential debt of £20m. However, having taken the value of Rangers from pounds 6m to approximately £186m in 10 years he knows how far he can gamble in pursuit of success.
This season alone he has allowed his new manager Dick Advocaat to spend almost £30m, but he refuses to lose any sleep over it. He said: "I don't because I consider spending as much as pounds 5million on someone like Andrei Kanchelskis as a necessity. If a club like ours doesn't do that then we fall by the wayside."
Rangers won the title in 1999 while Celtic once again felt the wind of change at managerial and boardroom level and so in the face of it the Murray strategy appeared a success.
Yet soon there were to be loans from the banks, loans from MIH, loans or investments from David King, loans to Jersey Trusts to pay players benefits—many of whom would play very  few games for Rangers. Many of these loans—whether to the bank or to the trusts appear now to be unrecoverable leaving one great big mess behind.
HBOS is gone, its officers are gone and its money is gone. Rangers PLC is gone, its former chairman is gone, the former directors are gone, the star players are gone, and Rangers no longer sit at the top table in Scottish Football.
Beleaguered Scottish football is still here though—struggling on but still here— even though the Golden era of all those top class names wanting to come to Scotland is a thing of the past.
This week Celtic reached the last 16 of the Champions League with a team that was frugally put together and which has real value at its core. The club has amassed substantial financial rewards as a result and those in charge of finances will indeed be in need of deep pockets to carry off the booty that comes from qualification.
High Ho Silver Away— as someone once said!
The link to Daryl Broadfoot's article of 2004 is HERE.
Click Here for Comments >