THE remarkable Ronnie Simpson was voted Celtic's Greatest-Ever Goalkeeper by the Hoops supporters in the Millennium Poll.
To celebrate the extraordinary Hoops career of the Lisbon Lion, CQN are publishing a week-long tribute to the netminder who was known as 'Faither' to his team-mates.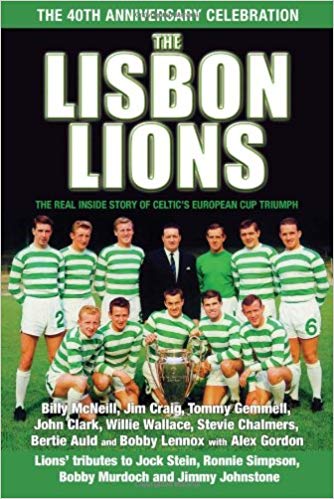 In Part Four of our EXCLUSIVE series, author Alex Gordon opens his book files once again as we travel back in time to acknowledge the fabulous career of an incomparable character.
Over the past two days, we published the thoughts of club legend Billy McNeill and a few of the Celtic stalwarts of the era in interviews with Alex for his publication, 'The Lisbon Lions: The 40th Anniversary', which was published in 2007. Today we catch up with some more memories of Ronnie's fellow-history makers in the Portuguese capital on the unforgettable evening of May 25 1967.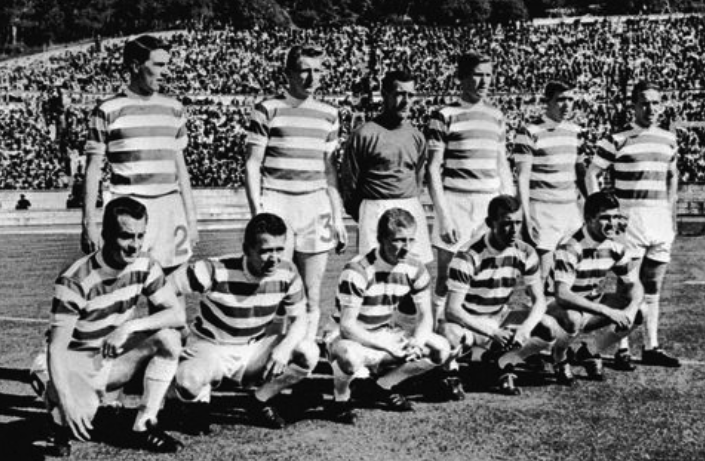 THE MEN WHO BROUGHT PARADISE TO PORTUGAL…Back row (left to right): Jim Craig, Tommy Gemmell, Ronnie Simpson, Billy McNeill, Bobby Murdoch, John Clark; Front row: Stevie Chalmers, Willie Wallace, Jimmy Johnstone, Bobby Lennox and Bertie Auld.
STEVIE CHALMERS:
Ronnie and I missed our vocation, of course. The world of golf was robbed of two top performers when we took up football. I suppose as footballers we were good golfers and as golfers we were good footballers. Ronnie's sense of humour would unravel that comment.
I liked the guy a lot. Bit of an understatement there, I can assure you. Celtic used Seamill as our training HQ before big games and Ronnie and I always made sure we had our golf clubs packed in with the football stuff to make sure we enjoyed their facilities. It was a smashing way to relax and, take my word for it, Ronnie could have been a top-class golfer if he had chosen that profession. I should know what I'm talking about.
I'm not too bad with the sticks, either, even if I do say so myself, but I never beat him.
And he was difficult to beat, too, as a goalkeeper. Again, I am speaking from experience. I played against him a few times when he was at Hibs in the late Fifties and early Sixties and I don't recall ever getting too much joy out of our meetings. I had to laugh – and I'm sure Ronnie would have seen the funny side, too – when I was reading an old football book not so long ago. There is a sentence that went along the lines of: "Hibs have signed Ronnie Simpson, the 30-year-old goalkeeper of Newcastle United, who is thought to be past his best."
NEW BHOY AT THIRTY-PLUS…one of the early images of Ronnie Simpson after his move to Celtic.
Is that the same Ronnie Simpson who would win a European Cup medal and everything else six years later!
Of course, he made his international debut in 1967, too, when Scotland beat world champions England 3-2 at Wembley. Jim Baxter took most of the headlines with his mickey-taking and keepy-uppy routines against Bobby Moore and Co, but Ronnie, in my opinion, was a genuine stand-out that afternoon. If you get a chance, have a look at that game again – Ronnie made some superb saves against the English.
And his distribution, as ever, was exemplary. No-one could turn defence into attack quicker than Ronnie.
He was a great all-rounder and he brought stability to a defence that may not have enjoyed that luxury too often beforehand. Big Jock may have changed his forward line around quite a bit to keep us all sharp and on our toes, but our fans got used to the first five names that were read over the tannoy on matchday: Simpson; Craig and Gemmell, Murdoch, McNeill and Clark.
They came as a unit and Ronnie was in with the bricks. He thoroughly deserved to be, too.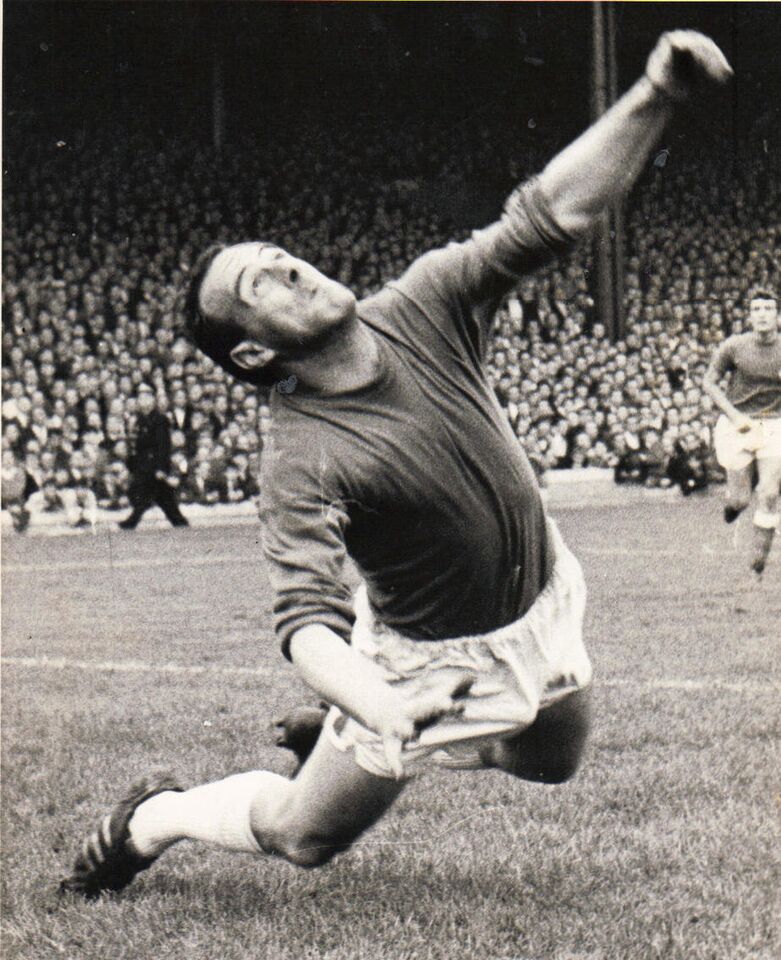 THOU SHALT NOT PASS…Ronnie Simpson in a typical action shot as he denies Rangers.
BERTIE AULD:
Ronnie came in at just the right time to solve our No.1 problem. Absolutely no disrespect to anyone who was there before him, but we never really attained consistency in that position and Ronnie, with all his experience and vast knowledge, brought that with him. Before Ronnie, most of the Celtic goalkeepers thought the net behind them was for stopping the ball!
I know he really helped settle the defence because he was a shouter. Possibly, they hadn't been used to that before, but Ronnie would fire out instructions left, right and centre throughout a game and tell them what was happening on their blindsides.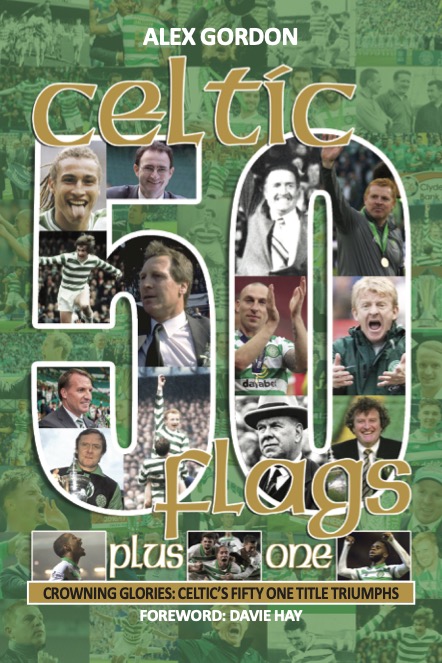 John Clark, of course, was the sweeper who did some great work behind Jim Craig, Billy McNeill and Tommy Gemmell.
However, Ronnie was a bit of a sweeper, too, who covered for Luggy! He just read the game so well.
He may have been a bit unorthodox, but he didn't give a monkey's how he kept the ball out of the net, as he often said. I remember our Scottish Cup Final against Aberdeen at Hampden in 1968, only a few days after Faither had put up the shutters in the European Cup semi-final against Dukla Prague in Czechoslovakia.
ORDER OF THE BOOT…Ronnie Simpson kicks an effort off the line from Aberdeen's Jens Petersen (No.6).
We were leading 2-0 through two goals from Willie Wallace at the time, but the Dons were determined to get something back to stage a grand finale. They weren't going to give up without a fight.
One of their guys, I believe it was a Norwegian player called Jens Petersen, got a chance close in after a cross had come over from the right. Ronnie was at his near post and the Aberdeen guy was all smiles when he saw he had an empty net smack in front of him, about 10 yards away. He rolled the ball forward and was startled to see our keeper race across his line and KICK it to safety.
Ronnie didn't have time to re-adjust his shape to dive at the effort, so he simply improvised and booted the ball away. It may not have been the way Lev Yashin would have dealt with it, but it was effective and Ronnie had kept another clean sheet.
"That's what it's all about, son," he would say.
Who could argue?
BOBBY LENNOX:
Ronnie was the wittiest, coolest guy I knew. He could cut you in two with his remarks. I remember a few years ago when I was invited along to a Supporters' Association function when they unveiled the 11 players who were named as Celtic's Greatest-Ever team.
I was lucky enough to win the No.11 place in that formidable line-up. As I stepped up to receive my award, I was handed the microphone to address the guests. I started: "I'm really surprised to be given this honour." From behind me I could hear the unmistakeable drone of my old colleague: "Aye, and so are we!"
SCOTLAND THE RAVE…Ronnie Simpson, at the age of 36, makes his international debut in the historic 3-2 win over Engand at Wembley in April 1967.
On another occasion, Ronnie and I were in Ireland and decided to take in some Gaelic football. You know, the game where they have the nets and the rugby goalposts. I believe you get a point for the ball going over the bar and through the posts and three for actually hitting the net.
Most of the efforts seemed to be flying over the bar and Ronnie turned to me and said: "Lennox, you would have been a star at this game."
I was so happy to play at Wembley in 1967 when Ronnie made his debut at the grand old age of 36. Imagine taking your international bow at that age. Ronnie was as calm and collected as ever, though. We came out to have a look at the pitch before the game and already the Scottish fans were everywhere.
Wembley already looked packed and there was still about an hour or so to go to kick-off. Lion Rampant flags were flying everywhere, the Scottish fans were singing their heads off and Ronnie turned round and said: "Hey, Lennox, is there a game on today?"
I scored that day, of course, as did Denis Law and Jim McCalliog, who like, Ronnie, was also making his debut. Mind you, there was the little matter of a 17-year age difference between Ronnie and our young goalscorer!
*TOMORROW: PART FIVE: Simpson v Stein.
Click Here for Comments >