THE remarkable Ronnie Simpson was voted Celtic's Greatest-Ever Goalkeeper by the Hoops supporters in the Millennium Poll.
To celebrate the extraordinary Hoops career of the Lisbon Lion, CQN have been publishing a week-long tribute to the netminder who was known as 'Faither' to his team-mates.
In the EXCLUSIVE series, author Alex Gordon opens his book files once again as we travel back in time to acknowledge the fabulous career of an incomparable character.
Today we conclude the seven-part series on one of the most mercurial figures in the club's proud history.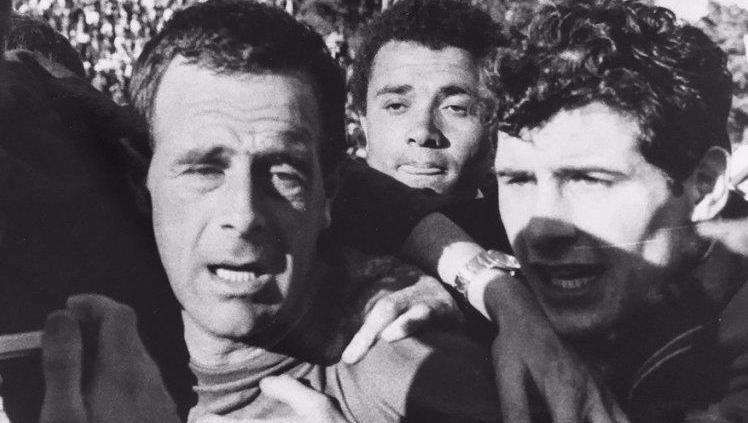 EURO STAR…Ronnie Simpson is mobbed by fans after the Lisbn triumph.
BILLY McNEILL was never slow to chat about Celtic's glorious European Cup triumph in Lisbon on the celebrated day of May 25 1967.
In an edited conversation with Alex Gordon for his book 'That Season In Paradise', published by CQN in2016, the iconic Celt recalled: "We were invited to take the game to the Italians and it was an invite we so readily accepted. We really should have been in front by half-time, but their goalkeeper, Giuliano Sarti, was quite outstanding.
"When we got in at the interval, we couldn't wait to get out to restart the second-half. The penalty-kick decision really inspired us. We were all rattling on about the injustice of it and there was no way we were going to be beaten by a dodgy refereeing decision.
"Jim Craig, won't thank me for this, but, having watched the incident several thousand times, I now think the referee called it right. Back then, though, we were all united in believing the match official had done us no favours whatsoever. I know Cairney will still argue that it was never a spot-kick, but let's just say it certainly acted as a catalyst for us to get out there and turn them over.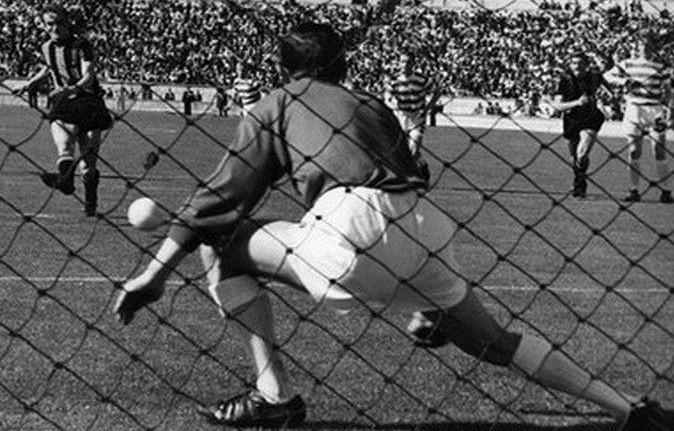 NO CHANCE…Ronnie Simpson is helpless as Sando Mazzola strokes in Inter Milan's penalty-kick goal.
"I recall it was actually quite calm in our dressing room at half-time. There were no histrionics.  Big Jock simply insisted: 'Keep doing what you're doing and we'll be okay'. He did make one telling observation, though, when he asked our wide men to think about pulling the ball back closer to the edge of the penalty box because Inter were crowding into the six-yard area as they tried to protect their goalkeeper.
"When you look again at our first goal, you'll see how good that advice was. Cairney was calmness personified when he came racing into the box onto Bobby Murdoch's pass. His cutback for Tommy Gemmell was just right and Tommy simply belted one of his specials high into the net. Sarti had no chance. Eleven Sartis would have had no chance!
"Stevie Chalmers duly knocked in the winner with about five minutes to go and Inter Milan were out of it. They were a beaten team. If, by some chance, they had equalised, then the game would have gone into extra-time. Believe me, those guys didn't want to endure another half-hour of what they had already been through."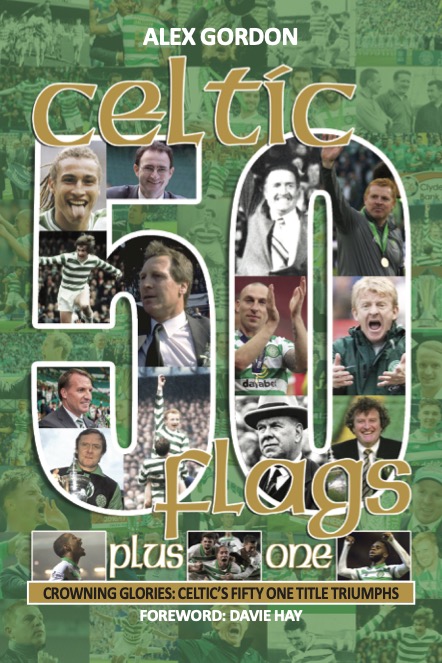 Ronnie Simpson remembered the countdown to the landmark spectacle: "After lunch at 1pm, we were packed off to bed for two hours. I was sharing a room with John Fallon, who slept soundly. My normal practice is to doze off and read in between times and for some time I have got into the habit of reading a golf magazine.
"It gets my mind completely away from football as I am very interested in the sport, being a 4-handicap player at Dalmahoy. Neilly Mochan, our trainer, got us up around 3pm when we had a wash and a shave and then reported for our spot of loosening-up work.
"The hotel guests watched us jog around and exercise and most of them took photographs. We then had steaks, which we had taken with us from Glasgow, and then boarded the bus. The six-mile journey shouldn't have taken us any more than twenty minutes, but before very long we were trapped in the middle of the heavy traffic heading for the game.
HE FLIES THROUGH THE AIR…Ronnie Simpson makes a superb diving save against Rangers.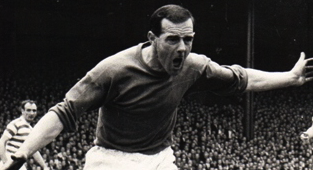 ON THE BAWL…Ronnie Simpson shouts instructions to his Celtic colleagues.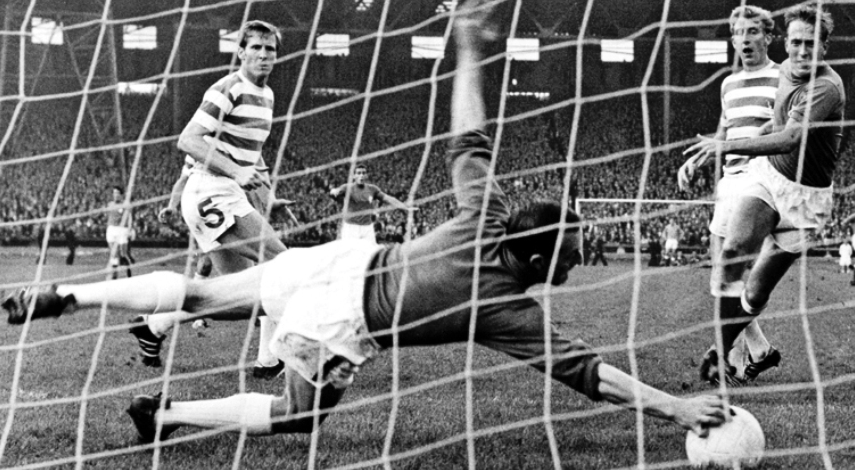 ON THE BALL…Ronnie Simpson denies Rangers' Orjan Persson with Billy McNeill and Tommy Gemmell looking on.
"We had no sooner taken our seats in the bus than the songs began – Bertie Auld, John Clark, Jimmy Johnstone and Tommy Gemmell are the boys who usually get us going. They were all in fine voice. We got the full repertoire about four times before we finally sighted the stadium. We were late."
Simpson continued: "Some of our boys like to walk over the ground before a game. Some, like myself, don't like to see the ground until we run out for the game itself. And before every game, I have a cold shower, whether the weather is cold or hot. It is a habit I developed during my years with Newcastle United where some of the players there told me it was the best thing to tone you up for a game.
"The dressing room accommodation was unusual. It was like two small rooms joined by a passageway in which there were showers and baths. It meant that the team had to be split, so the manager decided that the defenders – goalkeeper to left-half – should dress in one section with the forwards and reserve keeper John Fallon in the other. The doors of each room were firmly closed and no-one was allowed in. Our manager saw to that.
"Inter Milan? I didn't see them when I arrived at the stadium and I just couldn't have cared less about them. The atmosphere was really building up now as we got ourselves stripped for action. I can honestly say that the players weren't in the least bit worried about Inter Milan. We all seemed to sense that we were going to do something in this game.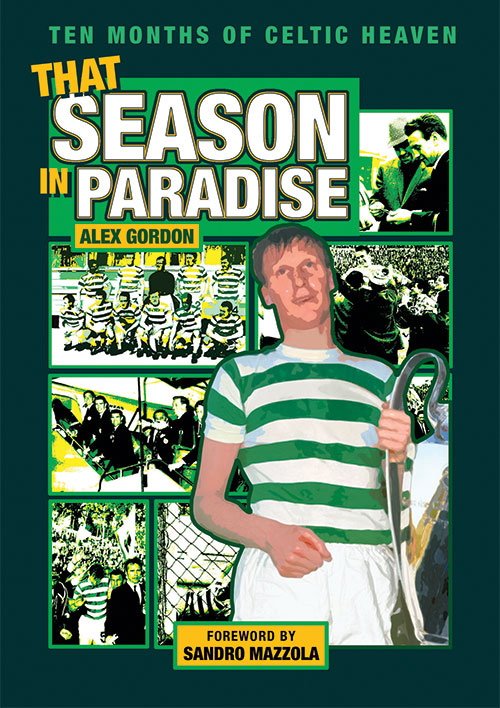 "We got the impression that we were going to be allowed one chance and that was it. The boys were eager to get started. They were ready. The last words of Jock Stein were: 'This is your one chance. Let's try and take it'. I've never seen Billy McNeill or John Clark so excited.
The evergreen netminder added: "We wanted to make sure of victory for Celtic and Scotland – that was what we were playing for. Not the bonus. We didn't even know what the bonus was and at that stage none of us cared. We would have played for nothing. This is one occasion no player in his right mind would want to miss.
"We, at Celtic Park, are never told what our bonus will be before any game. All I can say is that the bonuses are very generous and that our bonus for winning the European Cup was bigger than expected. I think this was because of the manner with which we won. Had we lost, we would still have been paid a huge bonus.
"My first Cup-winning bonus with Newcastle United was £25. The European Cup bonus was a few quid more than this! It was paid exactly one week later."
RISE AND SHINE…Ronnie Simpson prepares to grab a high ball against Inter Milan.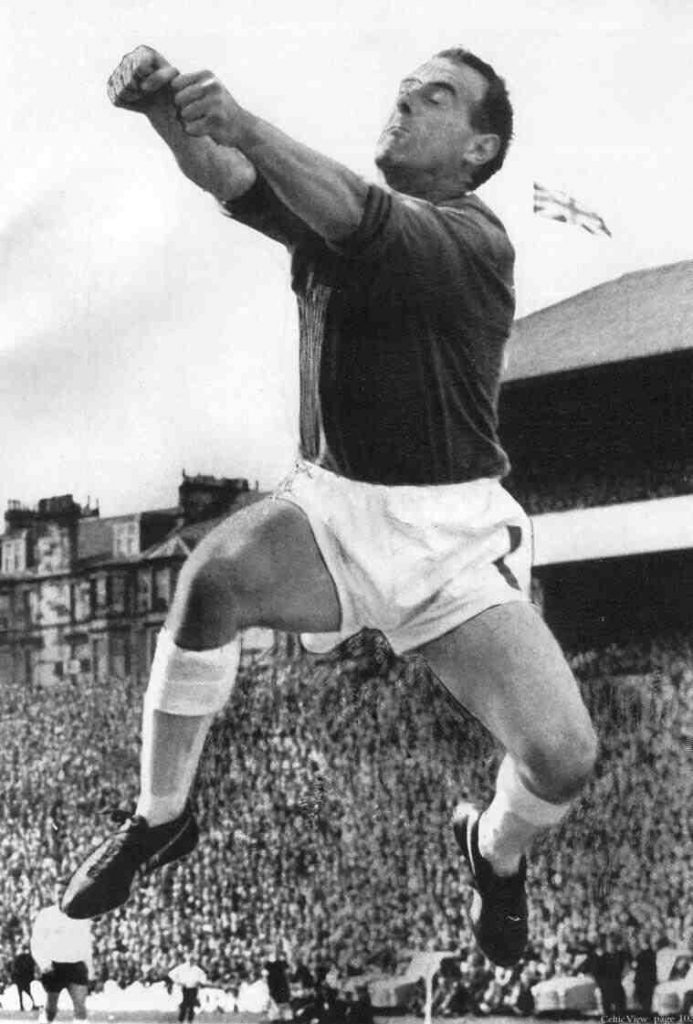 UP, UP AND AWAY…Ronnie Simpson punches the ball to safety.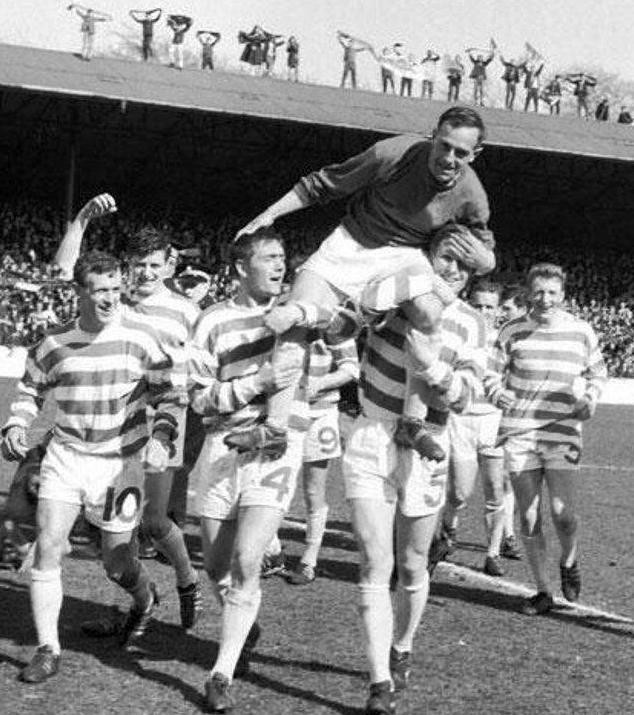 HIGH AND MIGHTY…Ronnie Simpson is held shoulder-high by Celtic team-mates Bobby Murdoch and Billy McNeill after the title win at Fir Park in 1966.
Jock Stein insisted Celtic conquered Europe by "playing pure, beautiful, inventive football" and if one little moment captured the flair, style and precocious sense of entertainment in Celtic's win over Inter Milan, Simpson's cameo was it. With Celtic playing Inter off the park the ball was shuttled back to Ronnie, who was well outside his area, some 25 yards from goal.
With an Inter Milan player bearing down on him, he waited to the last second before back-heeling the ball to team-mate John Clark. It was typical Simpson, coolness personified and years later inspirational captain McNeill commented: "Ronnie was as much a footballer as he was a keeper. Anything that went behind the defenders, Ronnie dealt with it."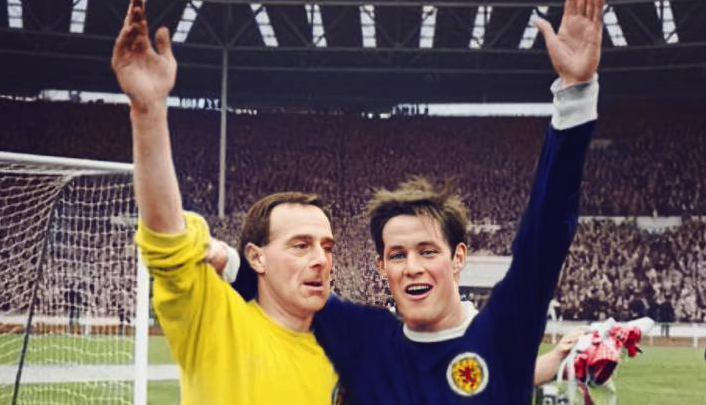 WEMBLEY WONDERLAND…Ronnie Simpson and matchwinner Jim McCalliog after the 3-2 win over England in April 1967.
On April 15, 1967, Ronnie made his return to Wembley and took his international bow at 36. His debut turned out to be worth waiting for as Scotland humbled world champions England on their own turf, with the 3-2 triumph is still regarded as one of the national team's finest moments. Ronnie more than played his part and won four more caps for Scotland.
In the space of just over a month, in London and Lisbon, Ronnie Simpson had entered football folklore which would have been deemed incomprehensible three years earlier.
CQN's week-long salute to this Peter Pan of goalkeepers only touches the surface of a truly unique individual. In the unforgettable campaign of 1966/67, the Glasgow-born phenomenon was entering the TWENTY-SECOND YEAR of a career which had seen triumphs on both sides of the border.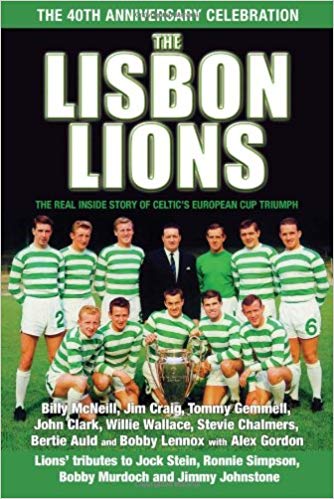 Ronnie was adored by his team-mates and the supporters and he remained a regular at Celtic Park up until his untimlmely death at the age of 74 with heart failure on April 22, 2004.
We can travel all the way back to the beginning of a spectacular career when he was summoned to the headmaster's office one day in 1945. He was 14 years old. He was intoduced to the chairman of Queen's Park and was signed up to his local club as a youth player. With their regular keeper, Bobby Brown, on duty with the Navy, the club chief had come to seek the school's permission to play Ronnie in the following day's Summer Cup meeting with Clyde.
Less than 24 hours later the schoolboy was running out at the national stadium to make his debut at the age of 14 years and 243 days in a 5-2 win in front of 25,000 fans.
THE BOY…Ronnie Simpson at the start of his professional career at Third Lanark.
THE MAN…Ronnie Simpson in his early seventies.
The Olympic Games were held in London in 1948 when Ronnie lined up in an amateur select team led by Manchester United legend Matt Busby. He made four appearances for the Britain team as an amateur. Simpson's inevitable move to the professional ranks was stalled after he had been called up for National Service with the Royal Armoured Corps in Catterick.
He then joined Third Lanark in 1950, spending a year at Cathkin before Newcastle United signed him. In 1952 and three years later, the keeper won two English FA Cup medals, beating Arsenal 1-0 and Manchester City 3-1 in the respective years.
He was a regular for seven seasons at St James's Park, but, following a year out with injury, he was released at the age of 30.
THREE CHEERS…Ronnie Simpson is flanked by Billy McNeill and Tommy Gemmell before the epic encounter in Lisbon.
PARADISE IN PORTUGAL…Billy McNeill leads out Ronnie Simpson, Tommy Gemmell and the rest of his Celtic team-mates as history beckons in Lisbon on May 25 1967.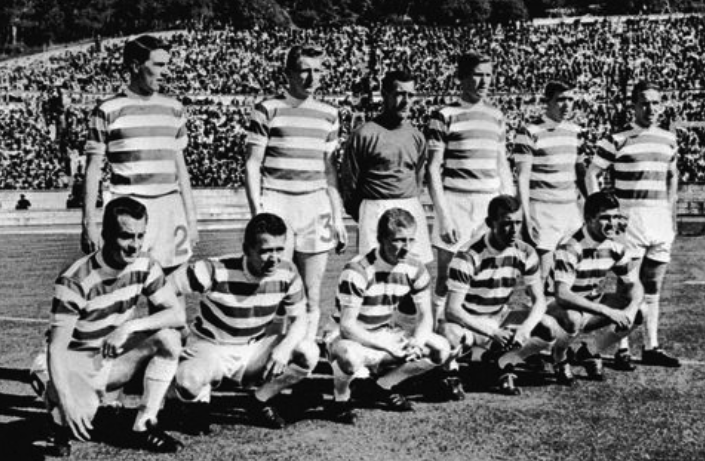 THE HISTORY BHOYS….back row (left to right): Jim Craig, Tommy Gemmell, Ronnie Simpson, Billy McNeill, Bobby Murdoch, John Clark; Front row: Stevie Chalmers, Willie Wallace, Jimmy Johnstone, Bobby Lennox and Bertie Auld.
Simpson had four years at Hibs before Jock Stein sold him to Celtic in late 1964 for a transfer fee described as "a few sweeties" by the keeper. Five months later, they were reunited in the east end of Glasgow and Simpson was convinced he would be on the move again. Instead, Simpson took over from John Fallon and established himself as the manager's first choice.
CQN has chronicled the achievements of Simpson and Celtic in season 1966/67 and we offer no apology for repeating our applause. At the age of 36, he played his part in all of the victories of the clean sweep season, winning the European Cup, the league title, League Cup and Scottish. The Glasgow Cup was thrown in for good measure.
To top it all off, he was voted the Scottish Football Writers' Player of the Year.
It was an accolade well deserved by Celtic's finest-ever goalkeeper.
Click Here for Comments >