CQN continue our EXCLUSIVE extracts from Alex Gordon's book, 'The Lisbon Lions: The 40th Anniversary', with a look at two of the figures who were absolutely pivotal to the team's historic triumph on May 25 1967.
Today, Alex repeats the interview with legendary captain half Billy McNeill, who sadly passed away in April 2019, and asked him about his special relationship with manager Jock Stein.
MAY I state here and now, once and for all, that I was not, repeat not, Jock Stein's blue-eyed boy. I know a lot of folk have said he never gave me a rollicking because I was the captain and he wouldn't belittle me in anyone else's presence.
Fair enough, but I can only point out: Why on earth would you have a go at someone who was always completely blameless and never ever made a solitary mistake in any of the games in which he played?
Seriously, though, I would like to think Jock and I had a special relationship. I would hope it was the same for everyone at the club at the time. However, I have to say there were occasions when he might point out a thing or two to me. I never took it personally, believe me. Everything he did was for the good of Celtic and I was well up for that. I found him most helpful.
THAT'S MY BHOY…Jock Stein and Billy McNeill celebrate another Cup Final success at Hampden.
I never forgot the fact that he had also played in my position at centre-half for a lot more years than I had and had a lot more experience. So, if he had a little gem of knowledge to impart that would make a better player then I was more than willing to listen.
Big Jock, of course, was blessed with more than his fair share of common sense. You know what they say about common sense, don't you? It's not that common!
But the boss had the ability to never complicate things. He saw football as essentially a simple game. He had the wonderful knack, though, of finding someone's strengths. He could look at a player and have the ability to immediately see where they could improve their game. It could be simple little things.
Bobby Lennox was an outside-left when Big Jock arrived. Lemon wasn't bad on the flank, but just take a look at what he contributed to the club when he came inside. What an improvement. His pace was breathtaking and I honestly wonder just how many legitimate goals the wee man scored that we never got because of dodgy offside calls.
He finished his career at Celtic with 273 goals from 571 games; an absolutely fantastic return. How many were wiped out by bad refereeing decisions because of Bobby's speed off the mark? Probably another 100! I can think of one referee, who has since passed on so I won't bother naming him, who must have chalked off about 50 himself!
Bobby Murdoch, too, benefited from the arrival of Big Jock. Bobby started off as an old-fashioned inside-right, but the boss thought he would be better off at wing-half. He made the switch against other people's perceptions of the player and once again was justified in his decision-making.
HOOP HOOP HOORAY…Stein and McNeill are all smiles.
Big Jock also had a presence about him that told you he was the boss. He may be thought of as being a strict disciplinarian – and certainly he wouldn't tolerate any nonsense – but he could have a laugh and joke with the lads, too.
He was once asked in one of the many European hotels we stayed in at the time if he was Stein. The accent – I think it was Spanish – came out something like Steeyin. Jock, quick as a flash, replied: "No, I'm leaving on Thursday!" He was in no way aloof; he was far too down-to-earth for that. But you always knew he was the gaffer.
He never asked anyone to do anything he believed was outwith their capabilities. That may sound fairly obvious, but I still watch football today and see players in positions that clearly don't suit them. You've got wingers playing at full-back whose defensive knowledge is negligible. You've got guys up front leading attacks who might be better served in defence.
Jock would take a player aside and say something like: "Look, I don't expect you to be top goalscorer at the club, so just you leave the shooting to the others."
Or he might point out: "I don't want to see you taking on an opponent. Think about passing quickly and accurately and don't bother running with the ball, that's a job for someone else."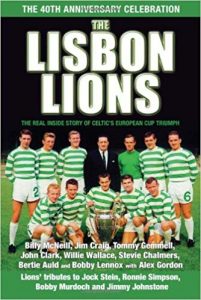 Another manager might have taken Route One and said: "You're shooting is bloody awful." Or: "You dribble like an old lady." I'm not sure that would get the best out of a player. Simple, but so effective.
All the players were treated alike by the boss. There were no superstars although, I suppose, Wee Jinky could have walked into the first team of just about any side on the planet. But he, too, realised he would get a lacing if Big Jock thought he wasn't pulling his weight.
Jinky, of course, was special, but if he turned up late for training in the morning he could expect to be sent home and told to return and train on his own in the afternoon.
It happened a few times, as I recall!
TOMORROW: The Spirit of 67: Another Celtic legend is in the spotlight.
Click Here for Comments >