CQN continue our EXCLUSIVE extracts from Alex Gordon's tribute book, 'The Lisbon Lions: The 40th Anniversary', to honour Celtic's greatest-ever team.
Today, Alex recalls the interview with the wonderful Tommy Gemmell, a close friend for decades. Here, the late, great goalscoring left-back reveals some things on the pitch on May 25 1967 which may surprise Hoops fans.
LET'S get this straight, the Lions loved each other. We were friends and buddies off the pitch. On it was a different ball-game entirely. Those Lions could snarl, believe me.
We were all winners and couldn't tolerate anything else. I think that's what made us a bit special. We could rant and rave at each other throughout the game, but afterwards it was all forgotten.
There were no grudges or backstabbing. That was not our style. Everything was said to your face and there were plenty of clear-the-air views back then. We all knew where we stood with each other. Big Jock actively encouraged that side of our game and it didn't do us any harm, did it?
WATCHING BRIEF…Tommy Gemmell and John Clark keep an eye on Inter Milan striker Sando Mazzola.
Travelling back in time, though, I must point out two players who have never received any credit for our victory in Lisbon. The names Amando Picchi and Angelo Domenghini may not be instantly recognisable to the Celtic supporters, but I can assure them these individuals have played a significant, if unwitting, part in the club's history.
Let me explain. As we prepared for Lisbon, Big Jock took me aside and told me: "You'll get the freedom of the left wing. That Italian Domenghini won't chase back – he doesn't know how to tackle. I know what his game is all about.
"He'll want to do his tricks and flicks at the other end of the pitch. The hard work will be left to the guys behind him. You're going to enjoy this game."
Sure enough, Big Jock, as usual, was absolutely spot on. Domeghini was a seasoned and gifted Italian international and, yes, he was exceptionally dangerous going forward, but he didn't want to know about defending.
When I received the ball I never had to look over my shoulder. He would simply be standing there, hands on hips, waiting for one of his colleagues to get the ball off me and feed it forward to him.
GREEN-AND-WHITE CAVALIER…the irrepressible Tommy Gemmell.
He was a bit precious, as they say in football. Porcelain, even. Around my part of the world we would have labelled him a lazy beggar! He may have possessed bundles of skill, but he would never have been in any Celtic team managed by Jock Stein, that's for sure.
So, certain in the knowledge that I would be unhindered throughout the 90 minutes, I launched into as many assaults on the Inter Milan defence.
That's why I thoroughly enjoyed Lisbon. I could join the attack safe in the knowledge that Domenghini would not be tracking me and, basically, making a nuisance of himself.
Amando Picchi? Yes, he's another for whom Celtic should have a special medal struck. I can't recall how many times I have replayed my equaliser over and over in my head. I've seen it countless times and on each and every occasion I offer up a wee thanks to Picchi.
Why? If you watch that goal again, keep your eye on the Inter Milan No.6 who charges out from defence as Jim Craig passes the ball inside for me. Picchi comes at me at pace, but, for whatever reason, he hesitates and turns his back just as I am about to pull the trigger.
BY THE LEFT…Tommy Gemmell fires a cross into the Inter Milan danger zone.
As I said, I have watched film of that goal over and over again and I have to admit that if he had kept his momentum going then there would have been every chance he might have blocked my effort. If he had come out with his foot up or to the side he might have made contact with my shot.
Maybe he was thinking of his manhood, marriage prospects or whatever, but, thankully, he had a swift change of mind and got out of the way.
In fact, I should actually thank him twice because there is every possibility that his aerial acrobatics also blinded their excellent goalkeeper Giuliano Sarti, who had looked unbeatable that day. He was immense throughout and sometimes you start to believe it is just not going to be your day.
We hit him with everything, but he thwarted us time and time again. I was beginning to hate the sight of him as he patrolled his area with so much confidence and composure.
I have described my effort that day in great detail over the past four decades, but I saw it again when I was at Celtic Park for the Champions League last 16 encounter with AC Milan. I was invited along to a corporate box to witness the action and, as we were having something to eat, the television was on and SKY were showing old footage of the game in Lisbon as a scene-setter.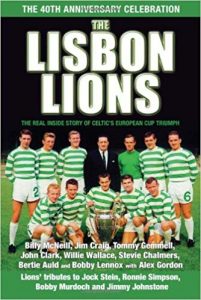 I noticed that Picchi definitely was in Sarti's line of vision. The goalkeeper would not have got a great view of the shot until it was too late. He still made a spectacular effort to keep it out, though. I'll give him that. Actually, I thought my shot was a goal all the way. It was destined to hit the net. You instinctively know these things.
I belted it right on the money. It was a sweet strike alright and, of course, I had been fortunate enough over the years to knock in a few from distance.
Most of the times you know there is nothing the goalkeeper is going to do to keep it out.
Nobody or nothing was going to get in my way. At last, Cairney put the pass in – perfectly weighted, may I say – and, well, the rest is history.
Wonderful, wonderful history.
TOMORROW: The Spirit of 67: Another legend is in the spotlight.
Click Here for Comments >