CQN continue our EXCLUSIVE extracts from Alex Gordon's book, 'The Lisbon Lions: The 40th Anniversary', with the focus on Willie Wallace, two-goal hero of the 3-1 European Cup semi-final first leg over Dukla Prague at Parkhead.
Today, Alex talks to the versatile forward who reveals how he managed to upset a World Cup superstar 
I KNEW I had arrived on the big-time scene when a truly great world-class international star refused to shake my hand! That's exactly what happened at the end of our goalless draw against Dukla Prague in the Czechoslovakian capital; the result that sealed our date with destiny in Lisbon.
I turned to Josef Masopust, Dukla's captain and superb midfielder, and offered my hand as soon as the referee blew for time up.
I had always admired Masopust and had watched him on the television as he skippered his country all the way to the World Cup Final in Chile in 1962 where they eventually lost 3-1 to Brazil. He had acted as a gentleman back then, even in defeat, but he wasn't acting like one after our semi-final.
He looked at me and simply walked away. I was snubbed by Josef Masopust. I didn't blame him, really.
HISTORY BHOY…Willie Wallace fires in a shot as Celtic prepare for their barrier-breaking triumph over Inter Milan in Lisbon.
Jock Stein had changed our tactics for that fateful match in Prague on April 25 1967. Whereas we had really got about the Czechs in Glasgow and had won 3-1 with yours truly scoring twice, Big Jock, for the first time, sent out a side to defend. Everyone knew that was not Celtic's style. We were a team happiest going forward, but, for that particular occasion, Big Jock changed everything.
My role in the line-up was fairly basic – keep Masopust company for the entire 90 minutes and make sure he didn't do anything special. Thanks, Jock!
I had played up front alongside Stevie Chalmers on my Celtic European debut a fortnight beforehand and now I had to adopt a man-marking role. Fair enough. I had played several roles in football since making my breakthrough at Stenhousemuir. I then moved onto Raith Rovers before landing at Hearts. Then, of course, it was off to Celtic in December 1966, the only one of the Lisbon Lions bought by Jock Stein.
I had operated as a wing-half and and as an outside-right. But shadowing a player for a whole game was alien to me.
I knew it made sense to try to nullify Masopust's presence. He was Dukla's engine and, without him, they would not have been as much of a threat.
So, I stuck to him like glue and, when the end of the game arrived, I think he had had enough of Willie Wallace. He didn't want to shake hands, but, being the true sport he was, he did search me out in the Celtic dressing room afterwards.
GLORY BHOY…Willie Wallace is held aloft by joyous Celtic fans at full-time in the Portuguese capital.
He shook my hand then and apologised for his actions. Looking back, he must have been dreadfully upset. Really, this probably was his last chance of doing something on the European scene. He had entered the veteran stage and you don't get too many opportunities in your mid-thirties of conquering Europe. Unless you are Ronnie Simpson, of course!
I was well up for the first Dukla game. I had anticipated it for weeks and just hoped I would get the go-ahead from Big Jock to play. Everything went so well for me on my European debut for Celtic in that semi-final. I couldn't have scripted it better myself. A 3-1 victory and two goals from me.
Okay, it would have been nice to have claimed a hat-trick, but I wasn't grumbling. I came close, you know. I actually hit the face of the crossbar near the end. Big Jock had told us beforehand: "Get a two-goal advantage and I'm sure we'll get through."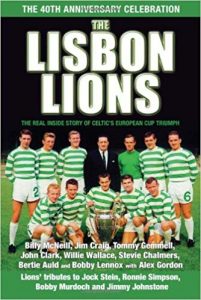 I must give a special mention to Stevie Chalmers who was quite outstanding in Prague. He covered every inch of ground inside Dukla's half for 90 minutes and never complained. He was on his own, a solitary green-and-white hooped shirt in enemy territory.
We got through and, after being involved in only three hours of the competition, I was in a European Cup Final!
I had come an awful long way from making my debut for Stenhousemuir in front of a sparse crowd at Ochilview.
TOMORROW: The Spirit of 67: Another Celtic legend is in the spotlight.
Click Here for Comments >