CQN continue our EXCLUSIVE extracts from Alex Gordon's book, 'The Lisbon Lions: The 40th Anniversary', with a look at sweeper supreme John Clark.
Today Alex speaks to Billy McNeill's defensive anchorman partner as he reveals the hurt that inspired him in the Portuguese capital.
IT took utter humiliation in Hungary to make absolutely certain there was going to be a lot of partying in Portugal when we lined up to face Inter Milan.
As we prepared for the European Cup Final on May 25, 1967, I couldn't help but cast my mind back to Budapest three years earlier when we blew the opportunity of playing in the European Cup-Winners' Cup Final. We arrived for the second leg on April 29 with a handsome three-goal advantage from the first semi-final at Celtic Park. Stevie Chalmers (2) and Jimmy Johnstone had scored against MTK Budapest and we believed – stupidly, not arrogantly – we held an unassailable lead over our opponents. How wrong we were!
The history books will show the Hungarians won 4-0 and every single Celtic player was totally embarrassed. Devastated is probably a better word. We had thrown away a massive advantage and we had no-one to blame but ourselves.
The pitch was okay. The referee was fine. We were awful, naive in the extreme. We made every mistake possible. No-one was singled out to take the blame; we were all culpable.  MTK played well enough, but we should never have lost 4-0.
NO WAY THROUGH…John Clark provides a defensive barrier as Sandro Mazzola menaces.
Tommy Gemmell, Billy McNeill, Jimmy Johnstone, Bobby Murdoch, Stevie Chalmers and I played that night. I say 'played' but I'm using the term loosely. We were all on the pitch, but we hardly performed. Remarkably, all six of us would be in the side three years later that conquered Europe.
The defeat in Budapest hurt like hell. So, I didn't have to look too far for inspiration or motivation as we prepared to take the field in Lisbon.
That dark, awful evening in Budapest was still locked in my memory bank and I wasn't in the mood to suffer such abject failure on the European battlefield again. Inter Milan were going to pay for us getting a gubbing three years earlier!
We all knew about the Italians' attitude to football. They were superb on the counter attack. They didn't waste time or energy coming forward in waves. They were cagey, would keep possession and then suddenly explode into action when they got anywhere near your penalty area.
Thankfully, though, our guys in the middle of the field, Bobby Murdoch and Bertie Auld, and the lads up front kept the Inter back lot occupied throughout huge chunks of the game.
I'll never forget that backheel from Ronnie Simpson, for a start. I still break out in a sweat when I think about it. That came from just one long pass from the edge of their own penalty area. Ronnie, as he often did, saw it coming and was off his line swiftly. Their centre-forward, Renato Cappellini, didn't give up the chase, however. He kept on going and, for me, there were danger signals flashing. Ronnie actually turned his back on the Italian and looked as though he was going to run towards his penalty area where he could have picked up the ball.
Instead, for absolutely no fathomable reason, he decided to backheel it to me. He told me he realised I was there all the time. I'll take his word for it.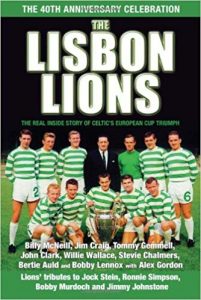 I was the quiet, steady guy in the team. I left the sensational stuff to Big Tommy, Bobby Murdoch, Bertie Auld and Wee Jinky. They were the guys who caught the imagination with the way they played. Big Tommy's shooting was out of this world; sometimes out of the park, too! Bobby's range and vision. Wee Bertie's guile and touch and Wee Jinky's ability to do anything he wanted with the ball, really. He loved that leather sphere.
So, I'm sure our fans would be talking in the pubs afterwards about our flair players and the name John Clark would rarely, if ever, be mentioned. I can't imagine anyone saying: "Did you see that intervention from Luggy?" Or "What about the way Luggy anticipated that forward pass?" Did I care? Not a jot!
I knew my role in the team and was content to get on with it. I was never one to go searching for headlines. Everyone had a part to play in Big Jock's formations and we never wavered from it.
If you did, you would find someone else in your position the following week, doing exactly what Big Jock had ordered.
TOMORROW: The Spirit of 67: Another legend is in the spotlight.
Click Here for Comments >