CQN continue our EXCLUSIVE extracts of Alex Gordon's book, 'The Lisbon Lions: The 40th Anniversary', with a look at one of the team's most influential figures. Bertie Auld.
Alex taks to the fans' favourite who alongside Bobby Murdoch formed the beating heart of Jock Stein's all-conquering line-up.
ONE major disappointment for yours truly on our big day in Lisbon was the fact that I did not get the opportunity to pit my wits against Inter Milan's Luis Suarez.
Injury forced him out of their team and, immediately in the aftermath of our triumph, the Italians pointed out they would have picked up the trophy again if their much-vaunted Spanish midfielder had been playing.
THE MIDFIELD MASTER…Bertie Auld surveys the situation.
Believe me, that is utter nonsense. Suarez? They could have fielded Superman and they wouldn't have prevented us from winning that day!
The Italians, as ever, we just a bit too quick to delve into that well-thumbed tome, 'The Big Book of Football Excuses', although, to be fair, their manager, Helenio Herrera, and a few of their players were just as swift to congratulate us. They knew they had been  outplayed, outfought and outwitted.
But I really would have loved to have squared up to Suarez. I was on the left hand side of the Celtic midfield and his favoured position was the right-hand side of the Inter midline. It would have been very intriguing to see how we got on, to say the least.
These days you can get pictures of players and watch them in action at the flick of a button thanks to satellite television. Forty years ago, of course, that was not the case. You rarely saw up-to-date film of foreign players and you had to take what your boss told you about so-and-so's strengths and weaknesses.
They were all a bit mythical back then and you had to take someone's else's word about their ability. Of course, you could catch up with reports in the newspapers, but there was nothing quite like matching up with the guy in the flesh. Genuinely, I welcomed that opportunity in Suarez's case.
THE CUP THAT CHEERS…Bertie Auld is in the net after scoring the first equaliser in the 3-2 Scottish Cup Final win over Dunfermline in 1965.
Suarez was one of the first football superstars. We all took a a sharp intake of breath when we were told Inter Milan had paid a mind-boggling £214,000 to sign the player from Barcelona in 1961. That was massive money all those years ago; easily the world record transfer.
Look at the Celtic team that took the field at the Estadio Nacional six years later – it cost a total of £42,000, a mere fraction of what Suarez had signed for. We were also informed the Spaniard had negotiated a signing-on fee of £60,000 for himself. I didn't think there had been that much money printed.
The player was said to be picking up around £7,000-per-year in wages. Okay, I know an average player in the SPL can now command a figure like that on a weekly basis, but back in the Sixties that was massive dough.
If I've got my sums right, the Celtic players were lifting something in the region of £1,300 in those heady financial days.
So, can anyone blame a wee chap from Maryhill for wanting to go toe-to-toe with this bloke? I would have loved it. I would have thrived on it.
Apparently, Suarez was said to be suffering from a thigh strain in the run-in to Lisbon, but we did hear other suggestions that, at 32, he might not fancy playing against Celtic.
He would have known about our high energy levels. He would have heard about our fitness and our willingness to go flat out for 90 minutes. He was a cultured playmaker, of course, but this might not have been a setting for him to show those skills.
I'm not saying he chickened out, but what I will say is that it did not matter one jot whether or not he was on the field of play on Thursday, May 25, 1967 – we would have still won the European Cup.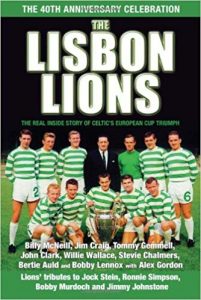 Think about this, too. Suarez was not known for enjoying defensive duties. He did all his playing facing the opponents' goal from middle to front.
Would he have chased Tommy Gemmell into corners? Would he have made runs to block off Bobby Lennox? Would he have trailed all over the place alongside yours truly? I doubt it. His replacement was a guy called Bilic and he was actually more of a defensively-minded player and, naturally enough, Inter needed those sort of performers the way that particular 90 minutes turned out.
Maybe, then, we might have won a bit more comfortably than 2-1 if Suarez had turned out.
TOMORROW: The Spirit of 67: Another Celtic legend is in the spotlight
Click Here for Comments >