CQN continue our EXCLUSIVE extracts from Alex Gordon's book, 'The Lisbon Lions: The 40th Anniversary', with a focus on master marksman Bobby Lennox.
Alex speaks to the Buzzbomb as he describes his special take on the Big Day.
I RECKON Stevie Chalmers did Inter Milan's players a massive favour when he stuck that winning goal in their net with only five minutes remaining in Lisbon.
Really, the Italians should have overtaken any Celtic player in the race to congratulate Stevie.
If that game had gone to an extra 30 minutes we would have hammered them, believe me. I am utterly convinced we would have notched up a scoreline that would have embarrassed the Italians. They were out on their feet nearing the end of that wonderful game.
They were shattered after chasing shadows for 85 minutes and they didn't look as though they were up for some of the same in a bout of extra-time. It would only have been a matter of time before we scored again and the way we were playing that day I don't think we would have known how to take our foot off the gas.
We wouldn't have had the inclination, either. We would just have kept on going, no matter what the score might have been.
PARADISE IN THE PORTUGUESE CAPITAL…Stevie Chalmers tucks the ball behind Inter keeper Giuliano Sarti for the winner.
Their goal had led a somewhat charmed life although, to be fair, their keeper, Giuliano Sarti, should have got some sort of individual medal for his bravery as he kept the scoreline respectable. But even he would have capitulated in the event of another half-hour. He simply couldn't have replicated his efforts in the regulation time.
So, when Stevie sidefooted that one in from six yards, it put Inter Milan out of their misery. That is not meant to sound big-headed or arrogant. Anyone who knows me will tell you that is certainly not my style.
I'm just stating a fact. The Italians were on the verge of collapse. Meltdown was minutes away. I think the stretcher-bearers might have been working overtime during any extra-time period. Thankfully, we didn't need it.
Our fitness levels in Lisbon were awesome. We were primed and ready to go. The hard work, the preparation, the dedication and the resilience all came together at the right time and we were unstoppable.
Jock Stein always demanded a lot from his players. He never asked anyone to do something he didn't believe was in their locker, but when he did order you to do something, he expected you to give it your undivided attention and 100 per cent commitment. Our tactics in Lisbon were basically quite simple. He looked at Willie Wallace, Stevie Chalmers and myself and said: "Keep on moving, make runs for the midfielders coming through. Take defenders with you, continue to make space for others." He might have added: "If you want to chuck in a goal or two, then fine!"
PENALTY-BOX PRINCE…Bobby Lennox swoops to score against Partick Thistle keeper George Niven.
We were a very mobile team. There was a lot of pace about the place and another thing that was very important and must have worried Inter Milan manager Helenio Herrera when he watched us or had his spies looking at us was the fact that the goals were spread throughout the team.
The side did not rely on me to score. Or Stevie. Or Wispy. With the exception of Ronnie Simpson in goal, of course, and John Clark, as our defensive rock, everyone else was capable of getting a goal or two. Tommy Gemmell, to my mind, was an exceptional left-back. He revolutionised that position in our team. Funnily enough, for a guy who was principally a defender, he used to admit he couldn't tackle too well. He didn't have to, other teams used to fear him as he bombed forward, threatening to use that mighty right peg of his.
I could go through the team. Jim Craig might not have claimed many goals, but he certainly set up his fair share. Bobby Murdoch could score goals from distance. Billy McNeill was known to get the odd headed goal or two. Bertie Auld knew where the opposition's net was. Jimmy Johnstone, Willie Wallace, Stevie Chalmers and myself were always good for double figures during the season.
If I had been Herrera I would have wondered how to stop this side. The Italians were big fans of man-marking, of course, but how on earth do you man-mark an entire team?
People often ask me what was my favourite goal in that European Cup run. Well, it wasn't one of mine! As it happens, I only scored two, in both legs of our 6-2 aggregate win over Nantes in the Second Round. Neither, I have to say, was particularly spectacular.
ON THE BALL…Bobby Lennox prepares to take off.
However, Big Billy's winner against Vojvodina was something special altogether. What a thrilling climax to a truly eventful evening. Naturally, I was overjoyed for all the obvious reasons, but I was also doubly pleased because we had stuck two past their goalkeeper, Ilija Pantelic.
I would like to believe I am a fairly easy-going type of bloke, but I really hated that guy. I know making a comment like that is way out of character for me, so please let me explain why I disliked the Vojvodina No.1 so much. In the first leg of our quarter-final in Yugoslavia, I made a challenge for a 50/50 ball as I was quite entitled to do.
I did it every week in Scottish football and no-one complained. Pantelic didn't like being disturbed, though. I slid in, my momentum took me forward and the goalkeeper collapsed on top of me as he collected the ball. It certainly wasn't a foul, but Pantelic wasn't too happy.
He got to his feet and motioned to help me get up, too. It was all very sporting, but if anyone had bothered to take a closer look they would have seen the Slav had a handful of my hair as he 'helped' me back up off the ground. I've got a sense of humour, but that was no laughing matter.
Mind you, I should get in touch with him just in case he still possesses clumps of my hair – I could do with it now!
We were all convinced we would overturn their one-goal first-leg advantage. Me? I just wanted to stick one or two behind a certain Mr.Pantelic to welcome him to Glasgow in no uncertain fashion.
Alas, I didn't get my wish, but we still beat them and that was the main objective all along. However, if you see footage of our first goal by Stevie Chalmers have a look at what I'm getting up to. I'm right in the goalkeeper's face and giving it 'Yahoo!'.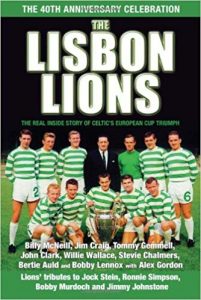 Normally, I would run to the goalscorer to offer my congrats and give him a pat on the head, but I just couldn't help myself for making a beeline to their crestfallen keeper and letting him know exactly how I felt. I'm sorry, I had to do it.
If I was happy then, you can imagine my feeling of sheer elation a minute from time when Big Billy sauntered forward in that manner of his and got his head to Charlie Gallagher's beautifully-flighted right-wing corner-kick.
My friend Pantelic was caught in no-man's land as the ball soared high into the net. I kept away from him that time, I didn't want to push my luck! He was a big guy, after all, and his side had just been sent reeling out of Europe.
I must say in his favour, though, we shook hands at the end of the game and he wished me all the best for the rest of the competition. I appreciated that.
TOMORROW: The Spirit of 67: CQN looks at another Lisbon legend.
Click Here for Comments >