CQN continue our EXCLUSIVE extracts from Alex Gordon's book, 'The Lisbon Lions: The 40th Anniversary', which spotlights the men who played their way in the Hoops' Hall of Fame following their phenomenal feat of becoming the first British club to conquer Europe.
Today, Alex places the focus on the club's extraordinary goalkeeper Ronnie Simpson, a model professional who looked as though his days in the top flight were numbered before a surprise move to Parkhead.
RONNIE SIMPSON should have finished season 1966/67 playing for Berwick Rangers in the old Scottish Second Division where they finished 10th in a league of 20.
Instead, as the history books show, he picked up a European Cup medal, played his first game for the Scotland international side and was voted the Football Writers' Player of the Year. Take into consideration the fact he also won medals in the league, the Scottish Cup, the League Cup and the Glasgow Cup.
Not bad for someone whose next birthday would see him turn 37.
Yet things could have turned out so differently for the Lisbon Lion, known affectionately to his team-mates as 'Faither' because of his advancing years. He had dropped out of the Hibs first team with Willie Wilson taking over the No.1 spot. His Easter Road career looked as good as obliterated and Berwick Rangers were searching for a new goalkeeper. They turned their attention to Simpson and they were confident of landing the experienced professional. Hibs would hardly prove difficult to deal with as far as the transfer fee was concerned.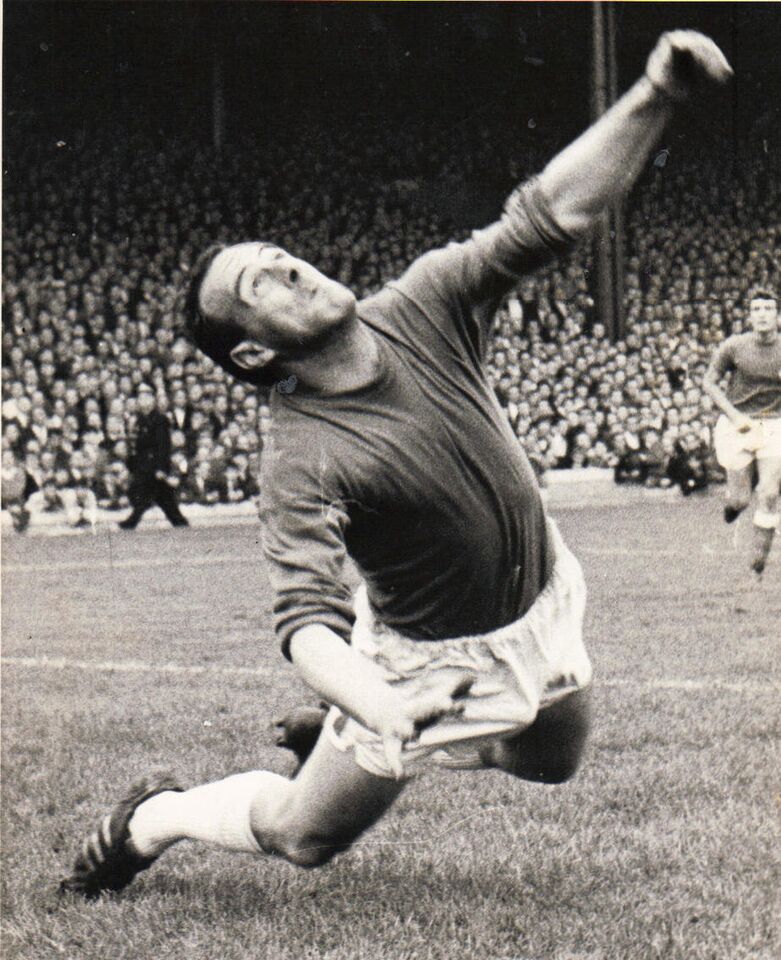 SAFE HANDS…Ronnie Simpson shows his fabulous reflexes as he makes a flying save.
That was when fate stepped in to so rudely interrupt Berwick Rangers' progress in their pursuit of Simpson. Celtic, too, were in the market for another keeper. John Fallon was the man in possession, but they did not have reliable cover.
The unpredictable Frank Haffey, who conceded nine goals to England at Wembley in 1961, had just been sold to Swindon Town for £8,000 in 1964. That opened the door for Simpson and he decided "it was worth a chance".
However, he couldn't have been best pleased when he was told, a year later in March 1965, that Jock Stein was about to take over as manager of Celtic. After hearing the news about the impending arrival of Stein, Simpson is reported to have gone straight home and informed his wife Rosemary that she should get ready to pack.
"We're on the move again," he was alleged to have said. It was Stein, of course, as Hibs boss, who had sold Simpson for a transfer fee described by the the-then Celtic boss Jimmy McGrory as being in the region of "sweeties".
Most assuredly, glory, medals and international honours did not figure in the wildest dreams of Simpson at that stage of his career.
There had been talk of a fall-out between the player and the manager nearing the end of his days at Hibs. Neither Simpson nor Stein was ever eager to talk about any friction between the pair. Luckily for Celtic, if there had been any ill-feeling between them, it never surfaced in their six years together in Glasgow.
NINETY MINUTES FROM GLORY…Ronnie Simpson is flanked by Billy McNeill and Tommy Gemmell before the kick-off in Lisbon.
Naturally, their finest moment came in the Portuguese capital against Inter Milan and, quite remarkably, that historic game came almost 22 years after Simpson made his debut, at 14 years and eight months, for Queen's Park in a Summer Cup-tie against Clyde at Hampden in June 1945.
Remember, too, this was the goalkeeper who had represented Great Britain four times as an amateur and played twice in the 1948 Olympic Games. He had also earned two English FA Cup medals in 1952 and 55 with Newcastle United. Those not-inconsiderable achievements might have been more than enough for most individuals. Simpson had also served Third Lanark in his distinguished career before eventually landing at Celtic.
Jock Stein, in fact, did keep faith with John Fallon when he took over in 1965. And it was Fallon who was in goal a month later when Celtic defeated Dunfermline 3-2 in a dramatic Scottish Cup Final with Billy McNeill claiming the winner with a typical soaring header from a Charlie Gallagher left-wing corner-kick as the game nudged towards full-time.
But a year later it was Simpson who was in charge when Celtic again made their way to Hampden for another Scottish Cup climax against Rangers.
Unfortunately, for Ronnie and his team-mates, it wasn't to be a happy conclusion on this occasion as the Ibrox side won 1-0 in a tension-laden replay after a goalless draw in the first confrontation. Simpson, as usual, was blameless as a thumping first-time effort from the Ibrox side's right-back Kai Johansen almost burst the net.
Better times were ahead, of course. And everyone who can remember the Lisbon encounter with the stylish Italians still talk about Simpson's cheeky backheel to team-mate John Clark when he was out of his penalty area with Inter Milan centre-forward Renato Cappellini charging down on him.
That was typical Simpson, though. A marvellous piece of improvisation from a goalkeeper who often said: "I don't care how I keep the ball out of the net. It can hit my elbow, my knee, my backside – just so long as it doesn't cross the line. That's my only concern."
Ronnie Simpson, who sadly passed away following a heart attack on April 19 2004 at the age of 73, was a one-off. He thoroughly deserves his place in Celtic legend.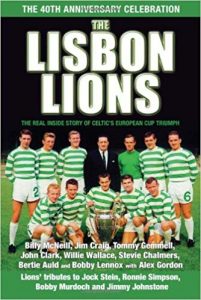 Right-back Jim Craig recalled: "Ronnie may have been the oldest guy in the team, but he was also one of the most agile. Age hadn't robbed him of his flexibility.
"He was good fun, too. I'll tell you this, though – he was a bit of a cheat. I well remember our team photographs back then when you had the likes of Billy McNeill, Tommy Gemmell and myself standing in the back row alongside Ronnie.
"Now Ronnie used to tell people he was around 5ft 10in or so. But when he stood alongside us – and we were all 6ft-plus – he would get up on his tip-toes to appear taller. What height was he? I never found out, but I still think he was maybe just a wee bit shorter than two inches short of 6ft!
"Mind you, it didn't really matter because Ronnie had all the ability in the world. His experience was invaluable to Celtic. It was always kind of difficult to believe that our goalkeeper was making his debut for Queen's Park when most of the Lisbon Lions were still in nappies!"
TOMORROW: The Spirit of 67: Another Celtic legend is in the spotlight.
Click Here for Comments >