LISBON LION Bertie Auld passed away on November 14 last year at the age of 83 after a brave battle against dementia.

CQN has been celebrating the life and incredible times of the Celtic legend in an EXCLUSIVE series with extracts from his best-selling autobiography, 'A Bhoy Called Bertie', co-authored by his friend and writer Alex Gordon.
The remarkable life story continues with Bertie reminiscing about battles against the club's most ferocious foes, Rangers.
Please enjoy.
NITRO often merged with glycerine when Celtic met Rangers. Old Firm games were never always classical, but I believe you could say without fear of contradiction that they were most certainly always confrontational. They could be enjoyable; they could be exasperating. And, yes, they could be explosive.
I never needed any extra motivation to go out and give my very best when I was playing against anyone. Just pulling that green-and-white hooped shirt over my head was enough to get me fired up and raring to go. I always remember signing for the club first time around and Jimmy McGrory insisting, 'You must be able to fill that jersey, Bertie.' Even as a 17-year-old I knew exactly what he meant. However, there was always something extremely energising when a match against Rangers was coming up.
I have heard all about the other derby occasions such as the Merseyside, Manchester, Milan and Madrid encounters. Of course, I've also been involved in the Midlands version. There are games throughout the world that people insist is THE derby. With the greatest of respect, forget those observations.
I don't think for one fleeting second any other match on this planet could hold a candle to the Old Firm games. You've got to be involved in them to appreciate what these contests are all about. Passions from the fans would rocket through the stratosphere and some of these tussles should have carried a Government Health Warning such was the ferocity at which they were played. Celtic supporters would be coming up to you days before the game and imploring, 'Beat them for us, Bertie.' Or 'Don't let us down, please.' And so it went on. No pressure there, then.
I loved that rivalry. I thrived on these head-on collisions where no quarter was asked or given and the fans on both sides conjured up their own special – if that's the right word – atmosphere. Bonhomie deserted Glasgow when these games took place. Instead, it was replaced by bedlam. If you were not prepared mentally or physically for these 90 minutes of combat they would overwhelm you. Both sets of supporters gave it pelters and you could hear the racket that was being generated down in the dressing rooms as you prepared for these games.
You came out the tunnel and it never ceased to astonish me what I was about to encounter. In those days the games were played with the Celtic supporters in one half of the ground and their Rangers counterparts in the other half. It was a 50/50 split. That's changed nowadays, of course, with so many ticket holders at both clubs. The away fans are herded into a section behind a goal and, of course, they are heavily outnumbered in the chanting stakes.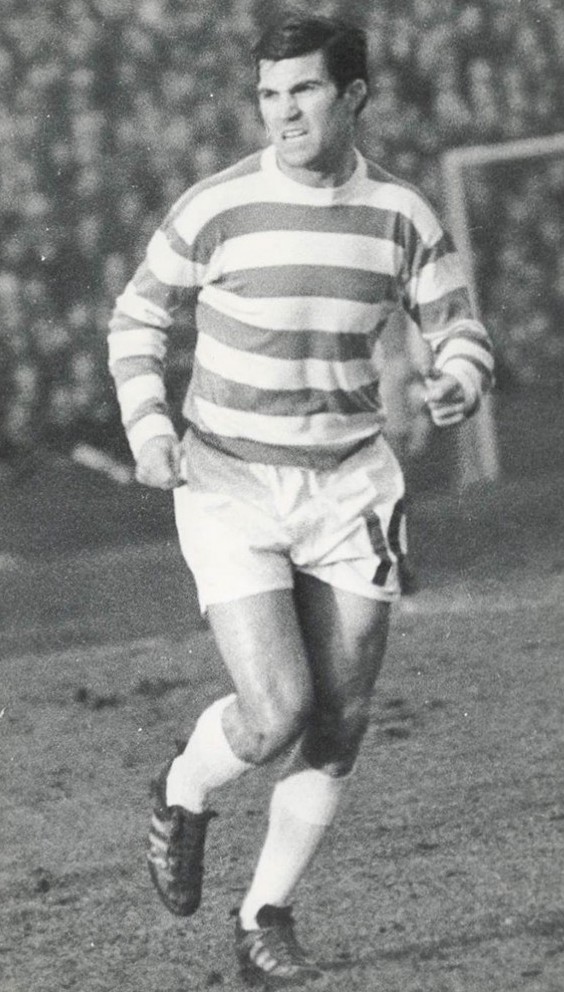 MIDFIELD MASTER…Bertie Auld in his pomp.
You knew you were going to get stick when you played in these confrontations. There seemed to be an ignorance among a fair percentage of the Rangers support who didn't seem to realise my parents, Peggy and Joe, had actually been married a few years before Robert Auld Esq debuted on this planet. And I've got the birth certificate to prove it. Did I find it offensive? If they were screaming abuse at me at least they were leaving some other player alone. Embarrassed? I'm a Glaswegian – you couldn't give me a red face with a blowtorch!
You got the distinct impression that Old Firm fans just lived for these games. To some, it didn't matter that their club didn't win any silverware – just so long as they beat their illustrious rivals when we locked horns. The vitriol bounced around the ground and created a din from start to finish. I'm fairly sure that a huge percentage of those fans parked their brains outside the ground before the game and picked them up afterwards. But forget all the bigotry and the like that is associated with these clashes.
Believe me, both sets of players, ourselves as well as the Rangers lads, didn't get involved in any of that. We both wanted to win. It was as simple as that. If you were an over-sensitive wee soul then Glasgow on derby day was not the place for you. The faint of heart were advised they would be far better off staying indoors when these games loomed on the horizon.
Obviously, I've got some fabulous memories of these games, including my debut first time around against the Ibrox outfit in a Glasgow Cup-tie in 1957. I was playing at outside-left and was up against the legendary Geordie Young. He really was an icon, captain of club and country, and was a monster of a man. But he played me fairly that evening, I have to say that and, if memory serves correctly, we lost 1-0. For me, though, it was such an extraordinary occasion. The first of many I'm glad to say.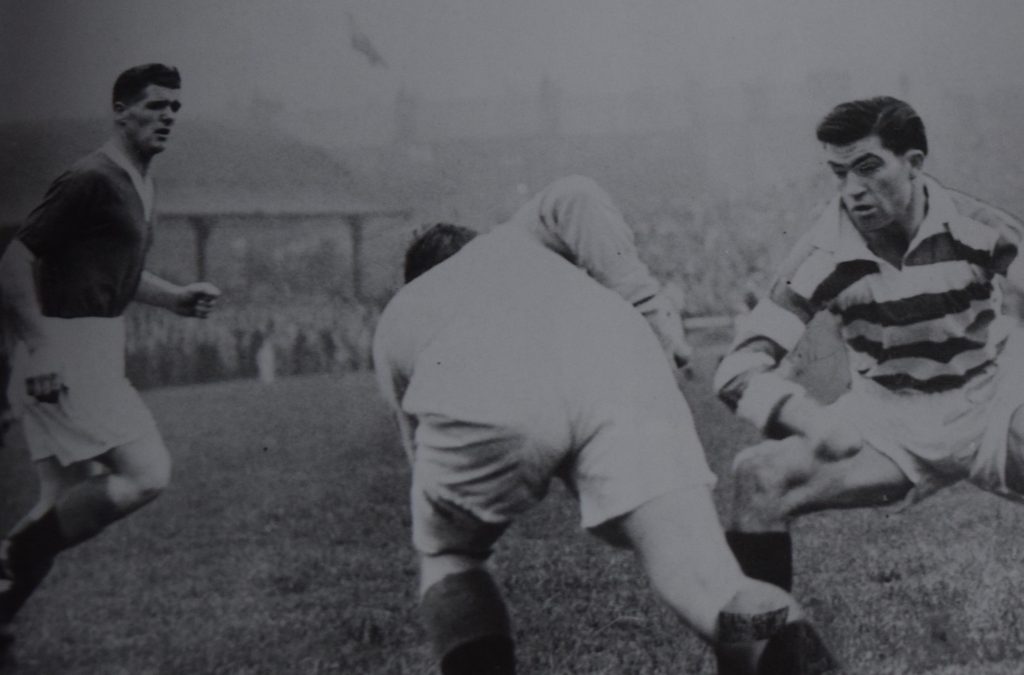 THE AULD FIRM…Bertie challenges Rangers keeper George Niven while Bobby Shearer looks on.
I recall another Glasgow Cup-tie at Ibrox in 1966 when I wished a black hole would open up and I could throw myself into it. I was ashamed of my performance that night which was rather strange because Celtic won 4-0! We did well as a team and Lemon, Bobby Lennox, netted a fabulous hat-trick with skipper Billy McNeill getting the opener.
But I wasn't satisfied with my display on a personal level. It was just 90 minutes when I could do little right and I was growing increasingly frustrated with myself as passes went astray all over the place. I was playing like I had just been introduced to a football minutes before the kick-off.
We went into that game absolutely determined to beat Rangers. In fact, we wanted to hammer them; to rub their noses in it. We had played our old foes in the Scottish Cup Final only a couple of months beforehand and had somehow  contrived to lose 1-0 in the replay after having the bulk of the play and possession over the two games. Our name wasn't on the Cup that year.
I believe Rangers had one shot at goal in the entire three hours of the two encounters. It was from their Danish right-back Kai Johansen and his 25-yard effort simply flew past a startled Ronnie Simpson. There were only about 15 minutes or so to go at Hampden and we were stunned, to put it mildly, that we were losing 1-0.
Big Jock later blamed Yogi, our outside-left John Hughes, for not tracking back and picking up Johansen. That was a wee bit harsh because we shouldn't even having been playing that night – we should have finished the job in the first game that ended goalless. Caesar came closest to scoring in the Saturday clash when he hit the crossbar with a header. I missed that game, but I returned instead of Charlie Gallagher for the second match.
So, as well as everything else, we had revenge on our mind in that Glasgow Cup-tie at Ibrox. It didn't matter in which competition we were playing – and no-one could claim the Glasgow Cup was the most glamorous tournament – we were hell bent on making our rivals pay big-style for stealing the Scottish Cup. Caesar got the opener with a shot from close-range after Rangers failed to clear a corner-kick and then Lemon took over with a tremendous hat-trick.
So, our supporters were delirious at seeing the Rangers keeper Billy Ritchie pick the ball out of his net four times while Faither, in our goal, could have taken out a deck chair and read a good book such was the inactivity around our penalty area.
I still wasn't satisfied, though. I did make one lung-bursting run that took away a couple of defenders and allowed Lemon to score one of his three goals. Big Jock always possessed the ability to surprise you with his observations and he made a fuss of that run from me. 'Excellent work there, Bertie,' he said. Maybe he knew I wasn't happy at my overall performance and was just geeing me up. Mind you, he could put you down, too. If you were caught swaggering around believing you had just put in a world-beating display, he was there to remind you of the things that hadn't worked out. No-one was going to get big-headed with this bloke around.
GLITTERING PRIZES…Bertie Auld with the European Cup and his best-selling autobiography.
Ibrox was the setting for another game where I came off the pitch a bit demoralised. It was back in the early Sixties and we lost 2-1. It wasn't the defeat that got to me, though. It was the fact I had been involved in a sickening collision with their left-back Davie Provan that saw him carried off with a broken leg. I was horrified when I realised the Rangers defender was so badly injured. To this day TG, Tommy Gemmell, insists he could hear the awful crack as Provan's leg gave way. And he was on the other side of the pitch, too.
There is always a lot of innuendo, insinuations and wild stories when a player is seriously injured and, with the Old Firm, there are always added ingredients. You are on the receiving end of some outrageous claims and, naturally enough, some of the Ibrox support believed I had 'done' their player. Absolute nonsense. I had switched over to the right for a brief spell as Chopper, Bobby Murdoch, moved to the left. We did that every now and again just to freshen things up and give the opposition something else to think about. I remember chasing a ball down the right flank at the Celtic end of the ground that afternoon.
I was very much aware that Provan was coming across to tackle me. I got there a fraction before him to send over a right foot cross. Just as I delivered the ball, the Rangers player's outstretched left leg appeared on the scene. I couldn't stop my momentum and, equally, he couldn't pull out of the tackle. There was a crunch as my boot made contact with his leg and he went down. I knew immediately it was a bad one. I felt sick, but it was a complete accident. Later in another Old Firm derby Rangers skipper John Greig broke Bobby Lennox's leg and, as I said earlier, Celtic fans were far from convinced it was purely accidental. Again, that wasn't fair on Greigy. Lemon was the first to absolve the Rangers player of all blame.
I should say here that Davie Provan was a player for whom I had massive respect. I saw him play against Jinky on loads of occasions and I don't think he ever kicked our winger. He might have been given the runaround, and I hope he doesn't mind me saying that, but he never stooped to underhand means to stop Jinky.
It must have been frustrating facing the Wee Man when he was at his tantalising best. Being taken apart in front of thousands watching on cannot be too pleasant. But Davie never lost the rag and never tried to boot our player. You could not say that about too many left-backs Jinky came up against back then. In fact, I rated the Rangers lad so highly as a person as well as a professional that I gave him a job on our backroom staff when I was manager of Partick Thistle. And, just to underline how well we still get on, Davie was a guest among the Lisbon Lions at my surprise 70th birthday bash at the Burnside Hotel in Rutherglen in March 2008.
GETTING SHIRTY…Bertie passes over a signed Lisbon Lions top to his co-author and good friend Alex Gordon.
He reminded me that night of the story of how he reckons he saved Jinky's life! Some nutcase managed to get onto the pitch at Ibrox and made a beeline for our player. Davie is convinced the yob was carrying some sort of object in his hand. You could be certain he wasn't about to make a presentation to Jinky to congratulate him on another fine performance. However, as he raced past the Rangers player, Big Davie did a quick bit of thinking and grabbed the would-be assailant. He wrestled him to the ground and the police eventually frogmarched the intruder off the field and up the tunnel. Well done, Davie!
I've got loads of happy memories, of course. Back on a gloriously sunny evening in August 1967 we faced our old foes in a League Cup-tie. We knew a victory would put us through; a defeat would knock us out of the tournament we had won the previous year when a goal from Lemon gave us a 1-0 triumph over Rangers in the final at Hampden. I'll talk about that game in a moment. We were smack in trouble, though, as Rangers took the lead on our ground and were then awarded a penalty-kick deep into the second-half. Something remarkable happened after that and it gave us all the wake-up call we urgently needed.
Kai Johansen stepped up to take the kick and thumped it high past Faither. But the ball crashed against the underside of the crossbar, bounced down and a posse of Rangers players raced into the box to get to the rebound. Johansen was first on the scene and got his head to the bouncing ball. I'm sure there were a couple of other Rangers players in the vicinity who wanted to finish off the job. The referee immediately awarded Celtic a free-kick because Johansen had two consecutive touches of the ball without the opposition getting a kick.
Every Celtic player took a deep breath. We knew we had been let out of jail. We realised how fortunate we had been. There was no getting away from it. We had been given a second chance; a lifeline and we grabbed it. Willie Wallace levelled after their goalkeeper Erik Sorensen failed to clear a corner-kick and, in rapid succession, Chopper put us 2-1 ahead and Lemon finished it with the third. The Rangers players looked aghast and who could blame them? They were twelve minutes away from taking a 2-0 lead and then, in a whirlwind spell, we had completely turned it around and finished 3-1 winners. I'm glad to say we went on to beat Dundee 5-3 in the final to retain the trophy.
GOVAN GLEE…Bertie Auld and Celtic team-mates Bobby Murdoch, Bobby Lennox and Tommy Gemmell celebrate a goal against Rangers at Ibrox.
A year before that was another occasion where Rangers didn't know what hit them and were two goals down inside the first three minutes. These games were normally quite tight as the opposition weighed up each other in the opening spell – just like two boxers in the first round. On this occasion, though, I scored in the first minute and Chopper flighted in a gorgeous second from the edge of the box.
I had a good laugh when I scored and my old mate Joe McBride – Jose to his friends – won't thank me for this recollection. Wee Jinky fired over an inviting cross from the right and it looked as though Jose was certain to score. He lashed at it and got a fair chunk of fresh air. The ball carried through to me and I planted it behind Billy Ritchie. Now Jose didn't know whether to congratulate me or burst into tears. He is one of the biggest Celtic fans you are ever likely to meet, but, and I believe I am right here, I don't think he ever scored a goal for us against our Old Firm rivals. Yet the guy was so prolific against just about every other team in the league. He racked up 35 goals in 1966 before sustaining a horrendous knee injury against Aberdeen at Pittodrie on Christmas Eve. That was the end of the season for this genuinely lovely bloke yet he still finished as the top goalscorer in the country.
STEVIE WONDER…striker Stevie Chalmers nets one of his hat-trick in Celtic's 5-1 win over Rangers in January 1966.
Jose didn't even get on the scoresheet in the January 3 game in 1966 when Celtic beat Rangers 5-1. Stevie Chalmers snatched a hat-trick with Chopper and Gallagher adding two more. The extraordinary thing about this match was that our Ibrox pals had led 1-0 at half-time after a 90-second goal from Davy Wilson. Talking about Gallagher,
I must say he was a very clever and cultured player, but Big Jock didn't believe we could play in the same formation. That was more than a little strange because Charlie and I played in the 1965 Scottish Cup Final success over Dunfermline and combined to score our first goal. Jock stuck to his guns, though, and, therefore, we rarely teamed up in midfield. Charlie, of course, could have gone elsewhere and been guaranteed first team football, but he loved Celtic so much he decided to stay and hope he would get his opportunity. When he was called up, I can tell you he never let the team down. Not once.
Games against Rangers never passed without incident, take it from me. I recall getting a telling off from the Celtic management after a daft wee incident against Rangers. Their big defender Harold Davis scored an own goal in a Glasgow Cup-tie at Parkhead in 1960 and I couldn't prevent myself from ruffling his hair as I raced past him. It was meant to be playful, but Davis, who was built like a heavyweight boxer, didn't find it amusing.
I must have been on the brave pills to have done such a thing because Davis never took any prisoners when he was out on the pitch. I think he had been decorated in the war, too. As I ran back up the park I looked over my shoulder and there was the Rangers defender, red-faced with steam coming out his nostrils, chasing after me. I didn't realise I could run so fast.
Thankully, he didn't catch me and simmered down shortly afterwards. My Celtic bosses didn't see the humour in the incident, either. 'That is not the Celtic way,' I was told. 'That is not the way we expect our players to behave.' Ach, I was only having a laugh.
Actually, the same thing happened in reverse in a Scottish Cup-tie at Parkhead in February 1970. This time Cairney, Jim Craig, put the ball behind Evan Williams to net for Rangers and Willie Johnston patted our disconsolate right-back on the head. Cairney, thankfully for the Ibrox forward, didn't possess a short fuse on his temperament and at least didn't race after him all the way to the halfway line. It didn't matter in the end as we won 3-1 with goals from Jinky, Lemon and Davie Hay.
TOMORROW: DON'T MISS THE UNFORGETTABLE BERTIE AULD: PART TWELVE
Click Here for Comments >