LISBON LION Bertie Auld dovetailed with his good friend Bobby Murdoch into making the Celtic midfield the envy of Europe during Jock Stein's all-conquering side's sweep through the sixties.
CQN are celebrating the life and incredible times of the Celtic legend in an EXCLUSIVE series with extracts from his best-selling autobiography, 'A Bhoy Called Bertie', co-authored by his friend and writer Alex Gordon.
The story continues with a young Bertie taking a unique place in the Celtic Hall of Fame.
Please enjoy.
I SIGNED a full contract on April 2 1955 and made my debut against Rangers on May 1, two years later. In between, I had a season-long period at Dumbarton and I can reveal now that I am unique in Celtic history – I am the only player to sign for the club THREE times.
When I went to Dumbarton it was supposed to be on loan. There was some sort of problem with the contract and the Boghead side actually had to make a nominal fee to sign me. It would only have been a token and Celtic promised to return it in a year's time.
When I heard Celtic wanted me to go to Dumbarton I, naturally, consulted my dad Joe. Once again he didn't hesitate, 'Take it, son. You'll get first team football there. It's part of your education.' I returned to Parkhead and the transfer was done and Dumbarton got their money back at the end of the season.
Around that time I was called up for my national service. I was put through a rigorous examination and, as a sports enthusiast and as you might expect, I passed with flying colours. I was rated Grade One. My mum wasn't having any of that – her boy wasn't going to be taken away by the army.
GREEN FOR GO…Bertie Auld warms up for a game against Rangers at Ibrox.
She knew a doctor who had a practice in Possil and, rather amazingly, I was suddenly found to have flat feet and that put me down to Grade Three. It was known as a deferrment – whatever that actually means. So, there was no place in the frontline for me and it was business as usual at home.
Something always seemed to be happening to me and I recall a funny incident shortly after I had put a string of games together in the first team. We were due to play Hearts at Tynecastle and the coach was due to leave Glasgow at eleven in the morning for the journey through to Edinburgh.
I was getting prepared as usual, trying to look neat and tidy, and my mum Margaret was fussing around as she always did on matchday. 'Have you brushed your teeth? Is your tie straight? Have you polished your shoes?' All that sort of thing.
My mum made me my breakfast which I made short work of in my normal fashion. 'Have you had enough to eat? Do you want another sandwich?' On this particular morning she seemed more determined than ever to fatten up her first son for the rigours that lay ahead – so much so that I was late for the coach that left for Edinburgh without me.
'Oh, hell,' I thought, 'what am I going to do now?' I could just imagine even the normally placid Jimmy McGrory hitting the roof when he discovered I was missing. There was nothing else for it – I would have to get a taxi and try to catch up with the rest of the lads at Tynecastle. I waved down a black cab on the street and asked him to take me to Hearts' ground. He eyed me up and said, 'That'll be three quid, son. Have you got the cash?'
THREE CHEERS…Celtic trio Billy McNeill, Ronnie Simpson and Bertie Auld lock out Rangers forward Alex Smith at Hampden.
I had exactly £3 on me and I showed him the money. Satisfied, he nudged the vehicle into gear and set off for our capital city where, later in life, I would have such an eventful period as a player, coach and manager of Hibs.
It seemed to take an eternity to get from Glasgow to Edinburgh that day although, of course, the traffic is nothing like as congested as it is today. I recall it was just five days before Christmas, so there was the usual rush on at the shops. We eventually reached our destination, luckily enough, just as the team coach was pulling in.
I got out of the taxi in a rush before mingling with the rest of my colleagues as they got off and headed for the main entrance at Tynecastle. Boy, was I relieved. I'm not too sure how the Celtic bosses would have viewed it at the time, a young player missing the official team bus. I don't suppose they would have accepted the excuse that my mum delayed me because she wanted me to eat another bacon buttie!
I was excited at the prospect of playing a very good Hearts team who had strong characters in the likes of Dave Mackay and John Cumming. These blokes were two of the hardest men in football, but were always fair. They would go in for a 50/50 ball like their lives depended on it. You knew you were tackled when these two guys hit you. But, as I said, they never went over the top or suchlike. They were just a pair of very committed professionals and I have always admired that in people.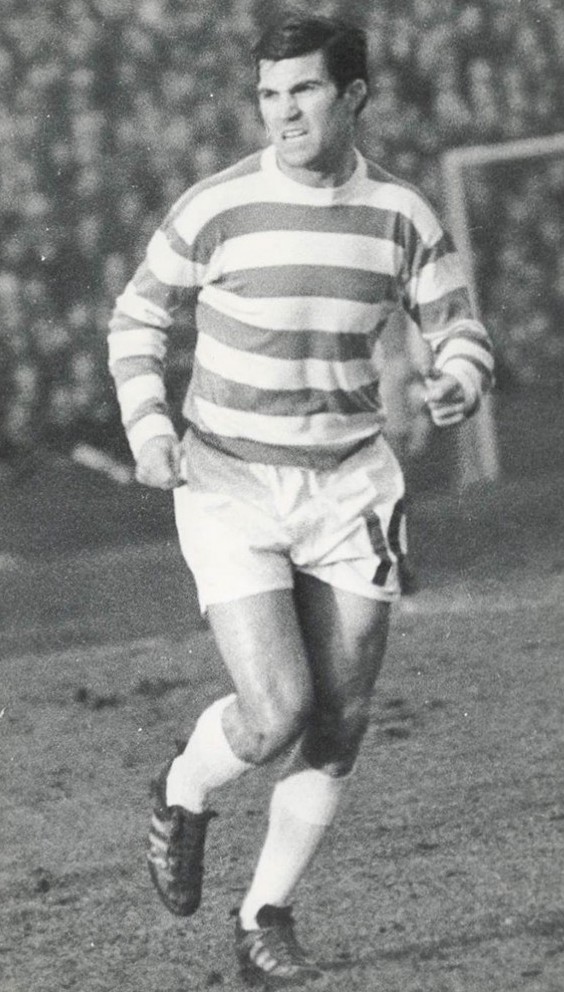 ON PATROL…Bertie Auld in his usual midfield beat.
I would like to think I was every bit as dedicated to the Celtic cause. Anyway, there I was at Tynecastle, when the team sheet was read out. You could imagine my surprise when the name Auld wasn't on it. I had been dropped. I had just spent a week's wages haring from Glasgow through to Edinburgh and my reward was a seat in the stand.
I had played the previous fifteen games, netted eight goals, and was in the line-up that hammered Stirling Albion 7-3 the previous week. I thought I would get the nod again, but a fellow called Matt McVitie was named at outside-left that afternoon. We managed a 1-1 draw and I returned the following week for a 3-1 triumph over my one-time suitors Clyde.
I still wonder if Jimmy McGrory had noted my absence on the bus going through to Edinburgh and dropped me as some sort of punishment. My wages had gone up ten shillings since my signing and I'm sure my weekly earnings of £3 made sure the family of a certain Glasgow cabbie had a wonderful Christmas at my expense.
It wasn't all a barrel of laughs, though. I well remember the shock of being omitted from the Celtic team sheet on a quite remarkable afternoon at Hampden on 19 October, 1957. We were due to take on our oldest foes Rangers in the League Cup Final and I have to say I thoroughly enjoyed Old Firm encounters. The atmosphere, the rivalry, the fierce competitiveness, the lot – I loved it.
Once more, without sounding conceited, I thought I would be in the side. After all, I had played in the previous League Cup matches against East Fife (6-1), Hibs (2-0), Third Lanark (6-1) and Clyde (4-2). I had also chipped in with two goals along the way. The gaffer, Mr.McGrory decided to recall Neilly Mochan who hadn't played in the competition since we lost 3-1 to Hibs in the qualifying section in August. The League Cup format at the time was divided into groups and we qualified on points after eight games. Then it became a knock-out tournament at the quarter-final stage.
PRIZE GUY…Celtic manager Jimmy McGrory with the newly-won League Cup in 1957.
There we were at Hampden, I was looking forward to the entire occasion until I was taken aside and told I wasn't playing. The more experienced Mochan was taking my place. Actually, I really liked the guy who was known as Smiler for the way his face lit up when he scored a goal. He later became a trainer at the club, of course. A lovely bloke, but I could have seen him far enough that day.
Jimmy McGrory put out this team: Beattie, Donnelly, Fallon, Ferrnie, Evans, Peacock, Tully, Collins, McPhail, Wilson and Mochan. There were no substitutes in those days, so I was in the stand once again. Yes, I wanted to be out there in the hoops, but I wasn't grumbling at the end as Celtic won 7-1 in truly overwhelming fashion.
And it could have been worse for Rangers – we hit the woodwork three times as well. Mr.McGrory's decision to leave me out was vindicated when Smiler flashed in two excellent goals.
As I left the national stadium that afternoon I wouldn't have believed that the success over Rangers would be Celtic's last piece of silverware until we returned to the Mount Florida district of Glasgow in 1965 when we met Dunfermline in the Scottish Cup Final in an extremely fateful afternoon for yours truly when I definitely played my part.
More of that unforgettable, rollicking occasion later.
However, something very strange occured on the evening of April 26, 1961. Celtic lost 2-0 to a Dunfermline side managed by Jock Stein in the Scottish Cup Final replay at Hampden.
I played for the reserves against Hearts at Tynecastle the same evening, scored five goals and agreed to leave Celtic the following day.
TOMORROW: DON'T MISS THE UNFORGETTABLE BERTIE AULD: PART FIVE.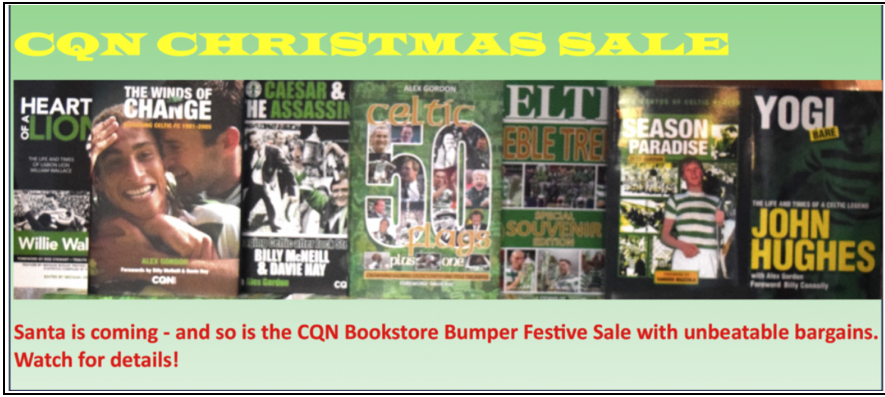 Click Here for Comments >