LISBON LION Bertie Auld passed away on November 14 last year at the age of 83 after a brave battle against dementia.
CQN has been celebrating the life and incredible times of the Celtic legend in an EXCLUSIVE series with extracts from his best-selling autobiography, 'A Bhoy Called Bertie', co-authored by his friend and writer Alex Gordon.
The remarkable life story continues with Bertie reminiscing about the journey to Celtic's most supreme triumph in Lisbon on May 25 1967.
WE conned the Inter Milan players rotten before we won the European Cup on that glorious occasion in Lisbon on Thursday 25 May, 1967 – a day and date that will live with me forever.
It's often been said that Celtic beat the Italians in the tunnel at the Estadio Nacional when we burst into a rousing version of 'Hail! Hail! The Celts are here!' Our opponents definitely looked a bit bemused, even startled.
They had never encountered anything like this and they must have thought they were about to take on a bunch of lunatics. It was highly unsual, of course, and it certainly got the message across that this wee team from Glasgow were not there just to make up the numbers.
However, I maintain we won the most prestigious trophy in Europe even before both teams reached the tunnel in Lisbon. I'm convinced they could have handed over that spectacular silverware the day BEFORE! Honestly, I really mean it. Let me explain.
ON THE BALL IN LISBON…Bertie Auld races away from Inter Milan captain Amando Picchi.
We were due at the stadium to go through our paces and, quite remarkably, Inter Milan's players, who had trained beforehand, hung around to watch us. That was a monumental mistake.
What they witnessed would have terrified any opponent because we really gave it full throttle. They must have thought they were watching supermen. We were fit okay, but we didn't need to go into overdrive that afternoon. However, for the benefit of our intrigued audience, that's exactly what we did. We put as much effort into that training routine as we had done in an actual game.
We did everything at ferocious speed. Jinky was racing all over the place, Big TG was galloping up and down the wing in that lung-bursting manner of his. Even Chopper broke into a canter! It was all done for their benefit, of course. They must have wondered, 'If they are like this in training, what on earth are they like when they are playing?' We would glance over every now and again and we could sense the fear coming from Inter Milan.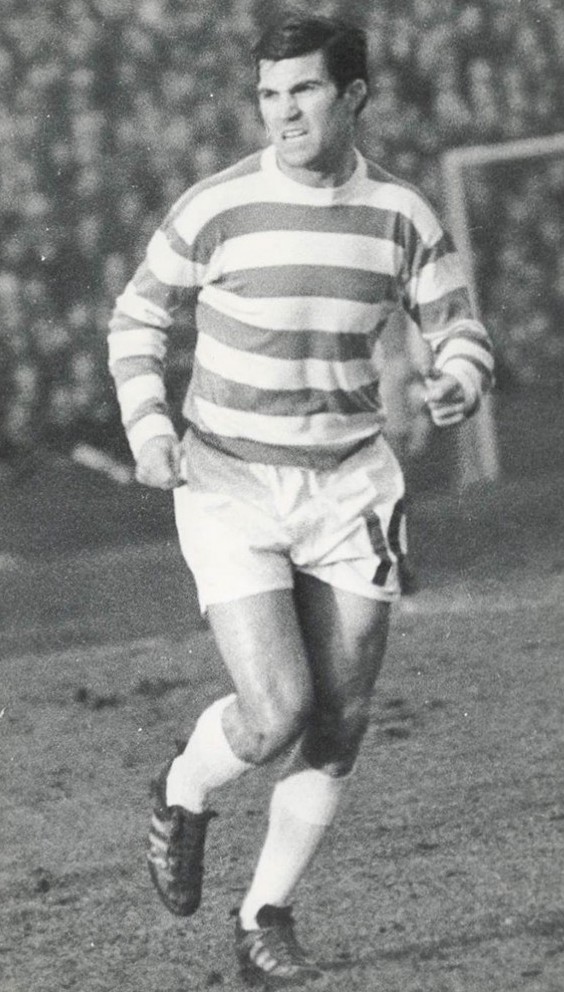 IN CONTROL…midfield master Bertie Auld in action.
They were nudging each other, pointing to this player and that player. There were a few shakes of the heard. We spotted them looking more and more worried the longer the turbo-charged session went on. They had sat on the terracing on an exeptionally warm day all smiles at the start. By the time we had finished, they looked more just a shade perturbed. We were exhausted, but we were not going to let our rivals detect that. As the sun blazed down, we simply found extra reserves of energy to keep on going. It was the most punishing work-out in history. And we loved every minute of it!
The Inter Milan players traipsed off back to their base and we knew we had already sent shock waves through their system. I later heard that Helenio Herrera, their esteemed manager, told the Italian Press after our triumph that he thought we were invincible. On 25 May 1967 in a little piece of heaven called Lisbon that's exactly what we were. Neverthless, there's no doubt we conned our visibly startled onlookers the day before kick-off. It was gamesmanship, no doubt it, but it worked a treat, didn't it?
I was privileged to play in that game. It was an absolute pleasure to watch my team-mates during that ninety minutes. We were not going to be denied what we knew was rightfully ours – the European Champions' Cup. Jinky was immense that day. The Italians didn't really know how to handle him. They man-marked him with Tarcisio Burgnich, who was one of the best in the world at suffocating an opponent. Not on this occasion. Jinky came to me afterwards and said, 'I wish I had played better.' I replied, 'What are you talking about? You were Man of the Match.' And I meant it.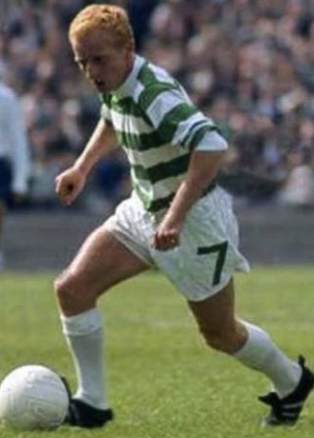 THE JOYS OF JINKY…Celtic's irrepressible winger Jimmy Johnstone is on the ball. 
Jinky did so much for the team against the Italians as he dragged players all over the pitch. It was a totally unselfish performance from the Wee Man who could have taken the spotlight if he had so desired in the biggest game of his life. It was a disciplined display from our mesmerising outside-right and I'm sure a certain Signor Burgnich would have readily agreed, albeit reluctantly. The great Portuguese player Eusebio was at the stadium to witness the performance of our diminutive winger and he admitted later, 'If he played for Benfica I would score a lot more goals. Who could fail with that sort of service?"
I looked around our dressing room before kick-off and thought, 'There's no way we can lose.' TG was wondering around, chatting away merrily, giving you the impression he didn't have a care in the world. And, knowing our cavalier full-back, he probably didn't. I honestly do not believe my old team-mate knew how good he was. Frankly, I thought he was the best left-back in the world at the time. And I'm not saying that because we are still good pals to this day.
BY THE LEFT…Tommy Gemmell whips over a cross from the flank.
TG was formidable in full flight and he was a revelation as an attacking wide defender. The amount of running he did up and down that wing for 90 minutes during matches was literally breathtaking. He loved to launch himself into attack – I think he was a frustrated winger – and, of course, he possessed a shot of pulverising power.
Big Jock must take some of the credit for switching TG from right-back to left-back. Actually, Tommy started in the No.3 berth, taking over from The Prez, Jim Kennedy in the early Sixties. But after awhile he moved across to right-back with Willie O'Neill coming in to take his place on the left. Willie was one of those utterly dependable players you knew you could trust and rely on. Coming through at right-back, though, was Cairney, Jim Craig, and, like TG, he was a natural athlete. I never thought he received the praise he deserved. He wasn't as spectacular as his full-back partner, but, then, neither was anyone else on the planet. Cairney would just get on with the job, quietly and efficiently, and I don't recall too many, if any, wingers giving him the runaround.
Jock also knew TG was a naturally right-footed player, but, and you might find this hard to fathom, that worked against him when he played right-back. He would thunder down the wing as usual, but, of course, if he turned inside onto his left side he didn't have the same sort of goal threat. TG was two-footed, but there can be no argument that the better and more menacing foot was his right. So, consequently, when he was over on the left, he could come inside and terrorise goalkeepers with his thunderous shooting. Jock introduced Cairney on the right, switched TG back to the left and the rest is history.
Bobby Murdoch, 'Chopper', to his team-mates, was world-class, too. He was a lovely, beautiful lad and his chest simply expanded when he pulled on that green-and-white shirt. Like us all, he was so proud to be a Celtic player. What a guy to play alongside. His deft and exquisite skills used to baffle me. Here was this big guy, with that barrel chest of his, and he had the touch of an angel. Chopper didn't kick the ball, he caressed it. And, yet, when the situation warranted it, he could give it one helluva dunt. If anyone ever got round to putting together a DVD compilation of spectacular long-range goals from TG and Chopper it would probably run for about a week – and that doesn't include the slow motion replays!
Like Cairney, Wee Luggy, John Clark, didn't always grab the headlines, but what a vital component he was in our line-up. He was irreplaceable, if you ask me. He was a devotee of defensive duties and the fans used to call him 'The Brush' for the amount of cleaning up he did along the backline. If TG was caught up the pitch and I wasn't covering, you could always depend on Luggy to be in the right place at the right time to mop up. It took a special brand of player to sacrifice himself the way our sweeper did, but I never heard him complain.
He was magnificent at reading play as it came towards him. If there was a break on from our opponents, in a two-against-one situation, Luggy was outstanding in forcing them to play the ball where it would do us the least danger. He would direct them into a corner or suchlike. Luggy was a brilliant organiser and, please believe me, every one of his colleagues appreciated what he brought to our team.
We used to joke with him, asking if he needed a route map to show him how to get across the halfway line. He played 318 games for the club and scored three goals. Ironically, one of them was against Faither when Celtic beat Hibs, with Ronnie in goal, in a Scottish Cup replay at Easter Road. I saw film of it not that long ago and I have to say it was a whizzbang effort that TG or Chopper would have been proud to claim. Remarkably, it turned out to be the only goal of the game. I bet that date, 16 March 1961, is indelibly burnt into Luggy's memory banks! Luggy used to rib Faither about it every now and again, but our veteran keeper used to say, 'Luggy, son, you've got the wrong Ronnie Simpson who used to play for Hibs – I'm the good-looking one!'
In fact, Faither and Luggy were the only guys in our set-up who weren't expected to score goals. Jock demanded everyone  pitch in, but those two were excused goalscoring duties. As I have said elsewhere, Jock loved to entertain the supporters. We could go in 2-0 or 3-0 up at the interval and he would be urging, in fact, ordering us, to go out and make it four or five. Faither and Luggy knew they had carried out their tasks if we finished the game with our opponents having a duck egg after their name.
THOUGHTFUL…Bertie Auld, the mastermind in midfield with Bobby Murdoch.
Our goalkeeper didn't always get the praise he deserved, either, I have always felt. You look at Celtic in 1967 and you can marvel at the array of skills that are on display courtesy of Jinky, Chopper, Lemon, TG and, hopefully, yours truly. The cameras never dwelt on what was happening at the back because most of the action was centred around the other half of the pitch. Take my word for it, Faither was an exceptional goalkeeper; one of the all-time best.
He may have been thirty-six-years-old when he won that European Cup medal, but age never diminished his outstanding reflexes. Faither was agile, supple and the possessor of uncanny anticipation. With Luggy and our keeper around, it gave the rest of us plenty of latitude to venture forward. If it hadn't been for an unfortunate shoulder injury, I am sure Faither would have continued playing well into his forties.
What can I say about our immaculate captain Caesar that hasn't been said before? What an inspiration he was for all of us. He had a presence on and off the pitch and was a born leader. So many people over the years seem to be astonished when I insist that the European Cup victory in 1967 was NOT the most important in Celtic's history. I genuinely believe our Scottish Cup win over Dunfermline two years earlier put down the marker for what was to follow.
Without that success, we might have thought the gods were against us; we were fated to be also-rans. I scored two goals that afternoon, of course, but it was Big Billy who made sure the silverware was on its way back to Parkhead with a trademark header from a Charlie Gallagher left-wing corner-kick near the end. We celebrated like crazy – it had been seven years since the club had won anything – and it was a party that was to go on for another six years for me and three more after that for Celtic.
Another question that has come my way heaven only knows how many times is, 'Did the Celtic players think they had a chance of winning the European Cup in 67?' The answer is always the same, 'Of course, we did!' That may sound arrogant and I can't be contradicted now as it's there in the record books for all to see. But I would have said the same back then when we were about to embark in our first-ever game in the competition against Zurich in Glasgow.
Fair enough, if anyone wanted to write us off, but that would have been a huge error of judgement. For a start, we had played in the European Cup-Winners' Cup semi-final the previous year and were ridiculously unlucky to lose 2-1 on aggregate to Liverpool. If anyone had witnessed our performances in those two games they would have realised what we had to offer and just how dangerous and professional we were.
We could even have gone into the European Cup as holders of the Cup-Winners' Cup. No-one would have dismissed us then. We absolutely tore Liverpool to shreds at Parkhead, but could only muster a one-goal advantage with a typical Lemon whiplash effort in front of goal.
The Anfield guys knew they had got off the hook big-style. If it had been 4-0 or 5-0 there would have been no grounds for complaints. Don't accuse me of exaggeration, either. We dismantled the team that would go on and win the English League that season and they hardly got across the halfway line in that first match.
ANFIELD AGONY…Ronnie Simpson is left helpless as Liverpool net one of their two goals that ended Celtic's European Cup Winners' Cup hopes in 1966.
THE END OF THE DREAM…Ronnie Simpson is disconsolate as Tommy Gemmell fetches the ball from the Celtic net.
And, as I recall, we were doing well at Anfield in treacherous conditions. It looked as though it had rained in Merseyside for about a week, but we were still confident of getting the result that would get us to the final which, ironically, was being held at Hampden Park that season.
What a double incentive. It was goalless until around about the hour mark and Liverpool were beginning to panic. Then they were awarded a free-kick and up stepped Tommy Smith to belt one in from about 25 yards. Faither looked to have it covered, but it whipped up off the muddy surface and beat him at the post.
We could hardly believe it. Five minutes later we were left thunderstruck – they had scored again. Geoff Strong, who was a superb exponent when the ball was in the air, demonstrated his aerial ability only too well when he rose to thump an unstoppable header wide of our keeper.
All was not lost, though. We realised that a second goal for us would tie the aggregate at 2-2 and we would go through on the away goals rule.
MY BALL…Ronnie Simpson dives bravely to save at the feet of Liverpool striker Ian St John as team-mate Bobby Lennox looks on.
We started to turn the tide and once again our opponents were hanging on by their fingernails. Near the end there was utter chaos when it looked as though we had got that crucial goal only for the referee, a Belgian named Josef Hannet, to rule it out for offside. It was a diabolically wrong judgement call from the match official.
Lemon had turned the ball wide of sprawling goalkeeper Tommy Lawrence and their left-back Gerry Byrne on the line. The defender tried to handle it, missed and Lemon's effort nestled in the back of the net. What a beautiful sight – Hampden here we come. Or so we thought.
The referee inexplicably wiped it out for offside and awarded Liverpool a free-kick. You wouldn't have to be a football anorak to know that if there is a goalkeeper in front of you and an opposition player on the goal-line then you cannot possibly be anything else other than onside.
It didn't do much for our simmering resentment when, a week or so later, Hannet, after viewing the 'goal' again, admitted he got it wrong.
TOMORROW: DON'T MISS THE UNFORGETTABLE BERTIE AULD: PART FIFTEEN
Click Here for Comments >