LISBON LION Bertie Auld passed away on November 14 last year at the age of 83 after a brave battle against dementia.
CQN has been celebrating the life and incredible times of the Celtic legend in an EXCLUSIVE series with extracts from his best-selling autobiography, 'A Bhoy Called Bertie', co-authored by his friend and writer Alex Gordon.
The remarkable life story continues with Bertie ruefully reflecting upon the shambles in the San Siro in Milan in 1970, only three years after conquering Europe in Lisbon.
JOCK STEIN didn't often get it wrong. However, there is no getting away from the fact he made an error in judgement of epic proportions as we prepared for our second European Cup Final in three years against Feyenoord in the San Siro Stadium in Milan in 1970.
We were always confident we could beat Europe's finest, but, sadly, on this occasion, I have to admit we were more than just a shade complacent. Remarkably, that emotion emanated directly from our normally so-astute manager.
Jock had watched our Dutch opponents before we were due to play them on May 6. He never hid the fact that he had been far from impressed by them. Of course, we had beaten the team already daubed 'the best in the world' by the English media – Leeds United in the semi-final. We had overwhelmed them home and away and were, rightly, installed as favourites to lift that glittering prize in Milan. Tony Queen, a bookmaker friend of Big Jock, had offered odds of 9/4 against our rivals with a goal of a start. We were rated 6/4 on.
Our boss, so immaculate and impeccable when talking about opponents, dissecting their strategies and exploring their strengths and weaknesses, didn't look overly concerned as he chatted about the calibre of our opponents. Feyenoord? We could have been talking about Forfar. Three years earlier in Lisbon, we could have told you what the Inter Milan players had for their breakfast we were so well prepared. This was different, though. Jock went as far as dismissing some of their team.
THE CROWNING GLORY…Jock Stein with the European Cup in 1967.
'The big guy on the left hand side of their midfield won't last the pace,' he informed us. He was talking about Wim van Hanagem who would go on to play in over 100 internationals for Holland and also in the World Cup Final against West Germany four years later.
'The bloke who plays beside him is also one-paced. He won't give you too much trouble.' He was discussing Wim Jansen who, ironically, of course, would become Celtic manager one day. Jock told me, 'Don't worry about him – you won't see him after twenty minutes.' He was right – he kept running past me!
'Their main striker is not mobile enough. He doesn't work too hard.' This was the description of Ove Kindvall, who, as the history books now inform us, scored the winning goal as we collapsed to an abject and embarrassing 2-1 defeat in extra-time.
I don't want to turn this into a littany of excuses, but there are some things that must be remembered. For a start, our season had finished on 15 April – three weeks before we took on Feyenoord while their league campaign was in full tilt. The only activity we saw during that period was a Benefit Match in Fraserburgh after the Fishing Boat Disaster Appeal around that time.
Another squad of players went down to Gateshead for a match against the local side. Hardly ideal preparation, I hope you will agree. We also found we would be staying in Varese, close to Lake Como, as we prepared for the match in Milan. We had been there the previous year when we had played AC Milan in the San Siro. I don't know if the Celtic hierarchy realised this, but the players hated the place. It was about an hour-and-a-half's drive from the stadium and somewhere closer to the San Siro would have been far more beneficial.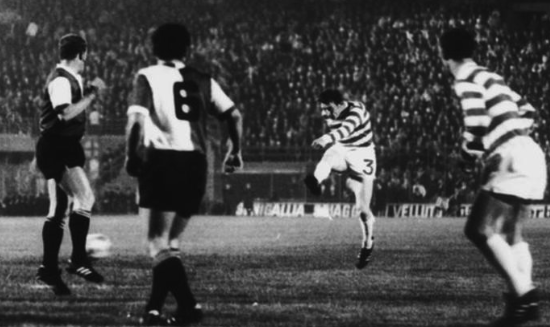 CRASH…Tommy Gemmell fires in a ferocious right-foot drive to open the scoring against Feyenoord.
When we walked on to the pitch that night we made the unforgiveable blunder of believing we merely had to turn up to be given the trophy and then we could all go home. Undoubtedly, we underestimated the Dutch. We went from being over-confident at the start to being overwhelmed at the finish. There were 53,000 supporters in the San Siro and most, as you would expect, were bedecked in green and white.
The best fans in the world who deserved an awful lot better that particular evening. Our somewhat nonchalant mood was further enhanced when we discovered Feyenoord would be fielding a goalkeeper who hadn't played for a year!
Their regular No.1 Eddie Treytel, we were assured, had been dropped after a bust-up with manager Ernst Happel. That meant veteran understudy Eddie Pieters Graafland coming out of mothballs to face us. What could go wrong? It got even better when Graafland was picking the ball out of the net on the half-hour mark when we took the lead with a typical long-range effort from TG, Tommy Gemmell.
Bobby Murdoch neatly back-heeled a free-kick into the path of our marauding defender and he unleashed another of his explosive right-foot shots. We really thought it was our night when the referee, experienced Italian Concetto Lo Bello, appeared to distract the Dutch keeper. He might have been in Graafland's line of sight as the ball left TG's boot, but we weren't complaining as the ball whipped low into the net. One-nil up – we'll just take the silverware now, thank you very much.
CHEERS…Tommy Gemmell celebrates his strike as Jimmy Johnstone races to join him while Bobby Lennox looks on.
In fact, we could have been two goals ahead at that point because Bobby Lennox, with that lightning pace of his, had got round the back of their defence and lashed a typical effort into the net. The referee ruled it out for offside, but TV pictures later on showed Wee Lemon had been played onside by THREE Dutch defenders.
But we were definitely out of sorts and, upon reflection, it would be difficult to pick out a Celtic player that night who would get passmarks. Goalkeeper Evan Williams would probably be the exception as he made several excellent saves. He had to be on his toes because he was getting precious little assistance or protection from the other ten guys out there in front of him. And, of course, I include yours truly. We couldn't get our passing game going and the Dutch were getting in about us.
What about  Hanagem, the bloke who supposedly invented slow motion? He was sauntering around spraying passes all over the place with devastating accuracy. Yes, he wasn't the quickest along the ground, but his brain was in overdrive and he could see team-mates in an instant. It didn't help our cause, either, that he had a left foot that reminded us all of Jim Baxter. I can pay him no higher compliment.
Meanwhile, Jansen was proving to be anything but slow in the middle of the park. In fact, he was a dynamo, a bundle of energy as he linked midfield with attack and also had time to have a couple of pops at Williams' goal. He also whacked me early on and I thought, 'We've got a game on tonight against these lads.' Kindvall? He was giving our central defence hardly any breathing space and was Mr.Perpetual Motion.
Davie Hay played right-back and I remember talking to him at one point as we prepared to defend a corner-kick. 'I thought that wee winger was supposed to be slow,' gasped Davie, looking more than just a little bit stunned at the quality of his opponent. 'I've hardly got close to him all night.' That was the story of the evening. We simply could not get our act together; we were struggling all over the park.
In normal circumstances, Chopper and me would link with the defence and feed the ball forward. Then we would join the attack and try to get ahead of the ball to ask some questions of our opponents' defence. They would be left wondering who to pick up. That just didn't happen that evening and I can only say once again that we underestimated Feyenoord who were ready to put themselves about for the cause.
Possibly, if we had held out until half-time we might have had a chance. To go in at the interval 1-0 ahead would have afforded us the opportunity to redress where we were going so horribly wrong. Unfortunately, our advantage lasted all of three minutes before Feyenoord equalised with a looping header over Williams from their skipper Rinus Israel after we had failed to clear a free-kick from the right. What an adrenaline rush for Feyenoord. What a sickener for us. We continued to disappoint and there was to be no inspiration from the dug-out on this occasion and I hope that isn't being too unfair on Big Jock.
Jim Brogan took an injury early in the first-half and, when it was obvious he was not 100 per cent, he should have been taken off. We had Cairney, Jim Craig, among the substitutes and he could have come in at right-back with Davie Hay moving into Brogan's defensive position alongside Caesar, Billy McNeill. That might have helped. But Jim, who had, of course, missed out on a medal in the 1967 European Cup triumph, was desperate to soldier on in the hope that he could be successful this time around.
Jock allowed that to happen and that was merely just another mistake in a night of many from us, on and off the pitch. The half-time talk-in was strangely muted. Everyone – and I mean everyone – believed we couldn't be as bad in the second-half.
Unfortunately, it didn't get any better after the interval. Feyenoord were really motoring. They smelled blood as they were going for the jugular. Astonishingly, we held out to take the game into extra-time. There were no penalty-kicks in those days and there would have been a replay on the Friday and we all believed that was the best we could hope for. Feyenoord had caught us cold.
They had surprised us with their ability, movement, stamina and strength. They would not have been able to emulate that in a replay, believe me. We would have been better prepared and they would have seen the real Celtic, the Celtic that dismissed Leeds United in two enthralling semi-finals.
SO CLOSE…John Hughes attempts to win the European Cup for Celtic in extra-time.
If only we could keep the backdoor shut for another half-hour. Quite remarkably, we almost scored in the first minute of the extra period. We could hardly believe it as Big Yogi, John Hughes, managed to battle his way into their box and find a direct route to their keeper.
It looked as though he couldn't miss; we were going to win the European Cup again, after all. But Yogi, at the crucial moment, got into a bit of a fankle, the ball stuck under his boot and he could merely stab it forward and it hit Graafland and the opportunity was gone. We were to rue that miss.
The clock was ticking down and we were three minutes from that second chance when a strange thing happened, but it showed what a true sportsman Chopper, Bobby Murdoch, was. The Dutch were awarded a free-kick about fifteen yards into our half just inside from the right wing and our superb midfielder actually handed the ball to his opponent. Can you imagine that happening today?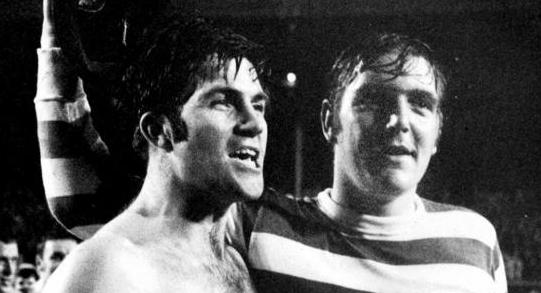 TWO OF A KIND…Bertie Auld and Bobby Murdoch in happier times after beating Leeds United home and away in the European Cup semi-final in 1970.
Looking back, Chopper should have feigned he didn't hear the official's whistle and booted it into the stand. Or just let it run on. That wouldn't have occurred to our man. As soon as he gave the ball to the Feyenoord player, he placed it on the ground and, in one movement, flighted over a cross towards the lurking Kindvall in our penalty box.
We didn't have the opportunity to regroup and pick up opposing players. Caesar was so startled that he stuck up his hand as he was falling backwards with Kindvall behind him. Normally, our skipper would have attacked the ball with his head, but he was taken completely off guard on this occasion. He actually did get a hand to the ball, but it dropped over his head into the path of their striker. Williams darted from his line, but Kindvall was too quick as he got a toe to the ball to lift it over our keeper where it nestled in the unprotected net.
The klaxon horns screeched louder than ever at that moment and we knew we were beaten. What a way to lose. We would have beaten them two days later. I am not being churlish or unsporting in saying that; I really mean it.
Feyenoord were far superior to anything we expected and they thoroughly deserved to be crowned champions of Europe. They were worthy victors, but if only the groundwork had been done with its usual dexterity and thoroughness. It would have been an entirely different story.
Jock, on this occasion, got it dramatically wrong. The players must take the blame, too. We had blown a marvellous opportunity to stage an action replay of that unforgettable day in Lisbon. Seven Lisbon Lions were on the pitch that miserable night in Milan – Gemmell, Murdoch, McNeill, Johnstone, Wallace, Lennox and yours truly. What a contrast from 1967.
HE WENT THATAWAY…Davie Hay is left standing by Dutch midfield maestro Wim van Hangem.
I was substituted just before the end of the regulation ninety minutes. I had just gone down after a challenge from behind and a lot of people must have thought I was coming off because I was injured. I was leaving the field to be replaced by George Connelly because I was having a stinker. There was no fluency about the Celtic midfield that evening as Chopper and I had difficulties in imposing ourselves.
I am not having a go at Jock just for the sake of it, but we wondered even before a ball had been kicked about his team formation. He had played three men in midfield – myself, Chopper and George – in the two games against Leeds United and it had worked a treat. Inexplicably, he went for two against Feyenoord, dropping George, and it simply didn't work. They swamped their midfield and we couldn't get a kick. We had most certainly underestimated them and we paid a heavy price.
I can now admit I was physically sick when the European Cup was handed to Rinus Israel. Honestly, I went behind our dug-out and threw up. I was hurting and so, too, were my disconsolate team-mates. We simply hadn't turned up for the biggest game of the season and, to be absolutely fair, the better team won that night. We could have no complaints about the outcome.
Later, as we trooped with our heads bowed out of the San Siro, I looked up and spotted this big bloke wearing a Celtic tammy and smoking a huge cigar. It was Wim van Hanagem.
How I wish he had spent that evening sitting in the stand among all the other fans wearing green and white tammies.
TOMORROW: DON'T MISS OUT ON THE UNFORGETTABLE BERTIE AULD: PART TWENTY
Click Here for Comments >