BERTIE AULD, the most irrepressible of the Lisbon Lions, was the midfield mastermind who dovetailed immaculately with great friend and ally Bobby Murdoch in the engine room of Jock Stein's all-conquering side of the sixties.
It was the extraordinary time in Celtic history when the team mesmerised friend and foe alike with their remarkable, eye-catching brand of attacking football.
To celebrate Wee Bertie and his astonishing exploits in an unsurpassable era at Celtic, CQN will be publishing EXCLUSIVE extracts from the Hoops great's best-selling autobiography, 'A Bhoy Called Bertie,' which was co-authored by Alex Gordon and reprinted in 2017.
Please enjoy.
CLYDE offered me £60 to sign professional forms for them in 1955. Partick Thistle offered me £50. Celtic offered £20. Yes, TWENTY pounds. So, of course, I joined Celtic. How on earth did that happen? Let me explain.
My dad Joe and I had already met with officials from Thistle and Clyde and they had made their bids. They both wanted the young lad who was making a bit of a name for himself at Maryhill Harp and both were offering £2 and ten shillings (£2.50p in today's money) per week in wages.
Celtic, too, wanted to talk to me. I remember the day I was told to turn up at Celtic Park for a meeting.
It was a Sunday and there weren't too many trams running in the city on the Sabbath. A smashing guy called John McNellis, who doubled as the Maryhill Harp secretary and local coalman, came to the rescue. Unusually, for that part of the world, he actually owned a car. He told my dad, 'Don't worry, Joe, I'll come and pick you and Bertie up at the close and take you over. Happy to help.'
It seemed most of the neighbours turned up that morning to wave us off on our travels. The Panmure Street grapevine had been in action and it seemed everyone knew that young Bertie Auld was going to have talks with the great Glasgow Celtic. I felt like a prince as I was ushered into the backseat behind Mr.McNellis while my dad sat in the front beside him.
"HAPPY HOMECOMING…I sign for Celtic manager Jimmy McGrory – for a second time – early in 1965, the start of something fairly sensational."
It was an old Austin and was Mr.McNellis's pride and joy. Sitting behind him, I couldn't help but notice that, no matter he must have scrubbed himself to get clean, there were was still coal dust all over his neck. No matter, he was a splendid fellow who was about to do me one of the greatest favours of my young life.
I had never even been to Celtic Park before as we drove up Kerrydale Street, but the stadium certainly looked daunting and the club had an obvious worldwide appeal. I wasn't a particular fan of any team as I was growing up. I may have gone to a Protestant School and people could have automatically thought Rangers were my team.
Where I was brought up in Maryhill, that didn't necessarily follow. Funnily enough, although most of my school mates were followers of local side Partick Thistle, there were a few who favoured Celtic. So, I was there to talk to Celtic and see what they were prepared to put on the table.
" ALL SMILES…me and my dad Joe."
That lovely gentleman Jimmy McGrory, the Celtic manager, greeted my dad and I. Now I believe legend is a word that is often overused these days. Mr.McGrory had earned his status as an icon when you take a quick peek at his goalscoring record for the club – 410 goals in 408 leagues games! In all, he scored 550 goals in a playing career that spanned fifteen years and would end his retirement in 1937.
He was famous for his bullet-like headers, but he once scored eight goals in one game against Dunfermline in 1928 – all with his feet. There must have been a good reason why this guy only played seven times for his country. Anyway, was it any wonder that I could detect my father was in awe of this imposing man with the broad shoulders?
Mr.McGrory shook my hand and looked me straight in the eye. He took us through to the Celtic boardroom and I was impressed immediately. It was fitted out with all this antique furniture and I had never seen such olde worlde grandeur. We were shown to our seats at this beautifully-crafted oak table that ran from one end of the room to the other. There were about ten or twelve seats set out.
I wondered how many people would be turning up to talk to me. Thankfully, it was only Mr.McGrory, and, still puffing on his pipe, he drew up a seat beside my dad and I. Rather surprisingly, the Celtic manager then asked me if I fancied a glass of whisky. My dad almost went ballistic.
He said, 'What do you think you are doing? My son's only sixteen.' He calmed down immediately to say, 'I'll take one, though!'
"OLD FIRM ACTION…here I challenge Rangers keeper George Niven for the ball while Ibrox right-back Bobby Shearer looks on." 
Mr.McGrory was happy to oblige and poured a generous measure for my dad before taking his seat again. He looked at me and said, 'We've been receiving good reports about you. How would you like to join Celtic?' Before I could answer, my dad countered with his own question, 'What are you offering?'
Mr.McGrory, whom I would later find was a true gent, took another puff on a pipe that seemed to be perpetually lit and answered, 'We'll go to £20 for a signing-on fee and £2-per-week wages. We'll also give him two shillings for his expenses.' Celtic must have worked out exactly how much it would cost for me to travel by tram from Queen's Cross to Kerrydale Street and back. They were spot-on with their calculations.
As I sat there slightly stunned – and more than just a little bit disappointed – with Celtic's offer, I heard this voice beside me say, 'We accept! You've got a deal.' I didn't utter a word. Clyde had put £60 on the table. Thistle had come up with £50. And here was Celtic making a bid of £20 and my dad was accepting on my behalf.
Celtic's offer was a third of what Clyde were prepared to pay and here we were accepting it without the merest hint of negotiations. I was also going to be ten shillings a week poorer in my pay poke. Incredible. Looking back on everything I have enjoyed at the club over so many years, the treasure memories that will never leave me, I can only say, 'Thanks, dad. You got it right, as usual.'
It only seemed natural back then to leave everything to my dad. He was the head of the household, after all, and I always looked up to him. He never did me wrong at any time.
Mr.McGrory – I never brought myself to just call him Jimmy – got me to sign forms which he put in a safe. I was too young to actually put my signature on those papers, but it would be okay in a fortnight or so's time when I turned seventeen. Those forms would have remained locked away in that safe until the time was right to register yours truly as a Celtic player.
"HAPPY FAMILIES…a night-out with my mum Peggy, wife Liz and dad Joe."
My dad and I were asked if we had ever seen Celtic Park. We both had to admit we had never had the opportunity. Mr.McGrory decided to act as our tour guide. I always remember this Celtic legend opening the doors for my dad and I as we passed through. He took us out on to one of the terracings and I almost fainted.
The sheer size of the place was awesome; simply breathtaking. I had been inside Firhill which could probably have held 30,000 or so, but this was an entirely different ballgame. This was the big-time even if the signing-on offer didn't quite match that from Clyde or Partick Thistle. Ach, it was only money.
After being shown all round the place, we returned to the boardroom where the Celtic manager asked me, 'Have you ever seen a new £20 note, Bertie?' I answered, 'I've never even seen an OLD £20 note, Mr.McGrory!'
The note, brand, spanking new, was passed over and I clutched it firmly in my right hand. I folded it over neatly not to crunch it. A £20 note back then was so huge it could have papered my mother's kitchen.
"The European Cup, my autobiography and me."
It may not have been what was on offer elsewhere, but it was still an awful lot of money. Remember, my dad would work all week for £7 and that was to help raise a family of eight. You could buy a bungalow in the posh area of Beardsen in Glasgow for around £500 at the time.
We made our way out of Celtic Park, with the money still tightly grasped in my right mit, and got into my dad's pal's car. For the second time that day my father surprised me. He always called me son.
He said, 'Right, son, did you see that place they called The Jungle? That's where you will find the fans crammed in when you are playing. You can make these guys love you. You perform for them and they'll repay you. This support has got a great knowledge. They'll encourage you and they'll never forget you.'
I was a bit taken aback. I had never heard my dad talk like this. It wasn't bad for a wee labourer to make such a stunning prediction over half-a-century ago. He then said another thing I have never forgotten.
I thought Mr.McGrory's large whisky was taking affect when he said, 'It's kick and be kicked now, son,' he said and repeated, 'Kick and be kicked.'
I soon got the message.
TOMORROW: DON'T MISS THE UNFORGETTABLE BERTIE AULD: PART TWO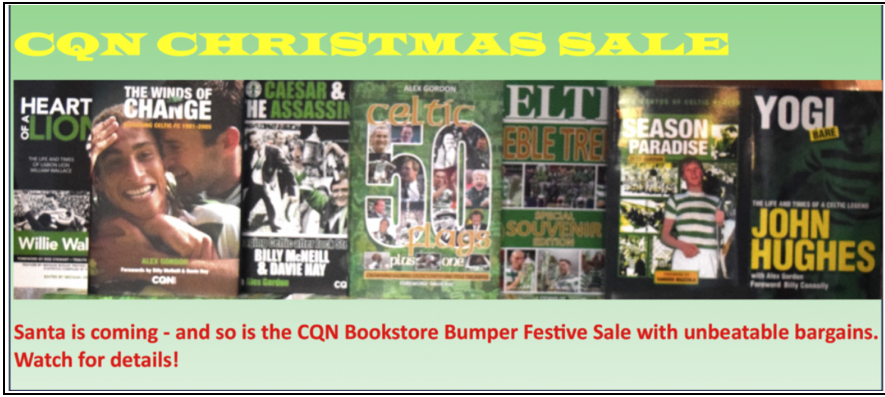 Click Here for Comments >