LISBON LION Bertie Auld passed away on November 14 last year at the age of 83 after a brave battle against dementia.
CQN has been celebrating the life and incredible times of the Celtic legend in an EXCLUSIVE series with extracts from his best-selling autobiography, 'A Bhoy Called Bertie', co-authored by his friend and writer Alex Gordon.
The remarkable life story continues with Bertie reminiscing about the everlasting glory of an evening in Lisbon on May 25 1967.
IF it had been barren in Prague, it was opulence all the way at the five-star Palacio Hotel in Estoril, a quite picturesque little coastal town to the west of Lisbon. This was to be our HQ as we plotted and planned to overwhelm Inter Milan and become European champions. The jigsaw was coming together.
Big Jock was meticulous as he drew up his plans for the big game. He warned, 'Watch yourself in the sunshine – the sun is your enemy!' He timed us when we were in the swimming pool, too. You were allotted such and such a time and then you were out. He patrolled the hotel like a headmaster. He wanted everything to be perfect.
Big Jock had the habit of charging into your room without knocking the door. He would always try to catch you off guard just in case you were getting on the outside of a bottle of gin. As if! The night before the game Jock came into my bedroom.
'Everything okay, Bertie?' he asked. 'No problem, boss,' I answered. 'Just reading a good book.' He looked around the room and, satisfied all was in order, closed the door and moved onto another unsuspecting team-mate. Actually, if Big Jock had bothered to look under my bed he might have got a bit of a surprise – he would have come face to face with my brother Ian!
My younger sibling had saved some cash to travel to Portugal to support us, but, being Ian, he hadn't bothered with the little detail of booking a room in a hotel. With the help of some of my colleagues, I managed to smuggle him into our HQ in Estoril.
ON THE BALL…Bertie Auld races at the Inter Milan goal with Armando Picchi for company.
It was like something out of a Carry On movie as he ducked and dived to make sure he wasn't spotted by any of the Celtic powers-that-be, including our manager who wouldn't have been too pleased to discover someone had invaded our privacy.
No matter how much Big Jock tried to silently creep up on you, we could always hear him coming. He still had that heavy limp that ended his playing career and you knew immediately that he was about to descend on you. I was playing cards with Ian the evening he decided to pay me an impromptu visit.
The alarm bells went off in my head as I heard him approach. 'Quick, Ian, hide!' I said. 'Where?' he asked. 'Get under the bed. Now!' Honestly, it was hilarious. Ian scrambled under the bed, the door opened, Jock looked around and left without a clue as to the whereabouts on the uninvited guest.
As he prepared for Lisbon, Jock picked the same eleven who had performed in the second leg in Prague and no-one would have believed that the same bunch of players could undergo such an amazing transformation. We were going to conquer Europe and we were going to do it the Celtic way with the rest of the football world looking on. Inter Milan were masters of catennacio, a defensive-minded formation that stifled all the good things in the game.
They had won the European Cup twice in the previous three years and they had lifted the World Club Championship twice over the same period. They were dull, but they were successful. Other coaches, thinking it was the way ahead, copied their tactics. These coaches were strangling the life out of football, but it didn't seem to matter if trophies were being collected.
As I pointed out at the start, we must have frightened the pants off the Italians when they saw us storming through a training session twenty-four hours before the kick-off. We later spent the evening watching England play Spain in a friendly international in the hilltop home of a Scottish golfer called Brodie Lennox, no relation to Lemon, who had emigrated to this rather splendid part of the universe. We walked down a hill in pitch darkness afterwards as we returned to our hotel to get a good night's sleep before the rigours that lay ahead.
So, there we are in the tunnel, ready to step onto that lovely, lush surface where we were about to put on the show of our lives. Wee Jinky was looking at the Inter Milan team and I have to admit they did look fairly impressive. They were immaculately turned out, hair gelled, teeth sparkling, tans twinkling in their smart, smooth strips. Jinky said, 'Look at them, Bertie, they're film stars.' I replied, 'Aye, Wee Man, but can they play?' He just burst out laughing. Inter Milan's expensively-arranged team looked around quizzically at what was going on.
Jock had been remarkably calm in the dressing room before we had left to take our place in the tunnel. Collectively, he told us, 'Go out and enjoy yourselves, you've done the hard work. You've already made history by getting here. No-one can take that away from you. Just get on that pitch and let everyone see what you can do.'
Individually, he would put an arm around a player's shoulder and give him some words of wisdom. He knew how to treat us on a one-on-one basis. For instance, he would say to Jinky, 'Wee Man, I know you are going to win this for us. You're the star; this is your stage.' You could see Jinky growing in confidence. And so it went on as he prepared us for the biggest game in Celtic's proud history. We had come a long way from the team that had been turned over 5-1 by Dunfermline at East End Park and 6-2 by Falkirk at Brockville just over two years beforehand. A helluva long way – and we had yet to reach our ultimate destination. However, that was only ninety minutes away.
We took the field with yours truly, superstitious as ever, running out fifth in line. Don't ask me why – it just happened one day, I had a good game and it just stuck. Anyone wanting that fifth place would have had to fight me for it!  We settled early, but were given a jolt when their main man Sandro Mazzola got his head to a Mario Corso ball in from the left and Faither had to make a smart save, diving to his left to push the effort away.
A few minutes later we were in big trouble, though, when Cairney was adjudged to have brought down their bustling centre-forward Renato Cappellini and referee Kurt Tschenscher, from West Germany, had no hesitation in pointing the spot. It looked as though the Italian had made the most of an awkward challenge from our right-back and Cairney, to this day, insists it was never a penalty-kick. Mazzola didn't hang around to argue – his simply despatched a perfect effort low into the net with Faither going the wrong way, diving to his left.
BY THE LEFT…Bobby Murdoch thumps in a drive at the Inter Milan goal.
Funnily enough, I believe this seventh-minute goal acted against Inter Milan. They were known to withdraw into defence when they got any sort of advantage over their opponents and, not surprisingly, they were going to erect barriers in front of Guiliano Sarti, their goalkeeper who had been thought as a weak link but was to disprove these theories with a fair degree of distinction. His display against us was easily one of the best I have ever seen in my life.
However, the penalty goal invited us to take the game to the Italians and, with eighty-three minutes still to play, we more than welcomed the opportunity. As we trotted back to recentre the ball for kick-off, I said to Jinky, 'Give us a wee bit of magic, Wee Man.' He smiled, 'I'll do my best, Bertie'.
We got to the fourteenth minute before the referee warned Sarti about time-wasting! Fourteen minutes! It was going to be a long day. Inter tried to dictate the pace of the game and slow down the tempo, but we weren't interested in following the script. We flooded forward and I knew we were going flat out when Caesar raced past me going down the old inside-right channel. I could hardly believe it as our centre-half rarely ventured across the halfway line unless, of course, it was for a corner-kick or a free-kick. I could only think he was acting as a decoy because there was no danger I was going to give him a pass! No disrespect, but Caesar's best work was done when the ball was airborne.
Celtic swarmed down on our opponents in relentless fashion and we knew something would have to give. I thought I had broken the barrier when I got into their box and chipped the ball over Sarti's flaying arm. My joy was stifled, though, when the ball smacked off the woodwork and bounced to safety. Then their keeper made an unbelievable diving save from a drive from TG that he wasn't even entitled to go for, never mind push round the upright. And so it went on. We drove forward and they reorganised in defence. It was getting monotonous, but we never believed for a fraction of a second that we wouldn't score.
As I recall, at half-time, there was a bit of shouting and cursing going down the tunnel and the match official was the obvious target for our anger. 'What a surprise – an Italian team getting a penalty-kick' seemed to be the drift of our argument, although it might not have been put so eloquently. The West German ignored us. Jock was calmness personified once again as he talked us through half-time. We all agreed, a goal had to come. We had nine potential goalscorers out there and Inter had survived mainly due to the brilliance of their goalkeeper. It proved, at least, that we were getting through their defence, exploiting gaps and creating chances. Yes, it was only a matter of time.
Jock made few adjustments, but he did ask Cairney and TG to pull the ball back a bit across the box rather than fire it into the mix in the middle of the goal where the Italians were defending with plenty of bodies. Jock always liked to give his opposite number something to think about and he told Stevie to go and stand on the right wing with Jinky coming inside for the restart. Herrera, of course, had known that all five Celtic forwards had, at some stage in their careers, played as wingers. He had warned his team to expect us to attack with pace.
Burgnich looked across for instructions after he had trotted over to pick up Jinky, as usual. He looked more than a little bit surprised to see Stevie standing there. 'What to do now, boss?' might have been his expression. It was just a bit of kidology, of course, and a few minutes into the second-half, Jinky was back wide right and Stevie was in the middle. It unsettled them for a moment or two. Jock was great at mind games.
One thing we had noticed during our interval talk was that Sarti was not taking any goal-kicks or, in fact, kicking the ball long. He would pass a goal-kick to a team-mate, pick up the return – you were allowed to do that back then, of course – and then throw it or roll it to one of his players. On the rare occasions Inter launched the ball upfield it was one of their defenders who took the kick. Basically, that meant there was a good chance we would be onside if we gathered the ball and made a swift counter-attack. It also showed the Italians were content to keep possession in their own half and try to hit us on the break. That might have worked against other teams – not this Celtic line-up, though. If you handed us the initiative we would take it. And how!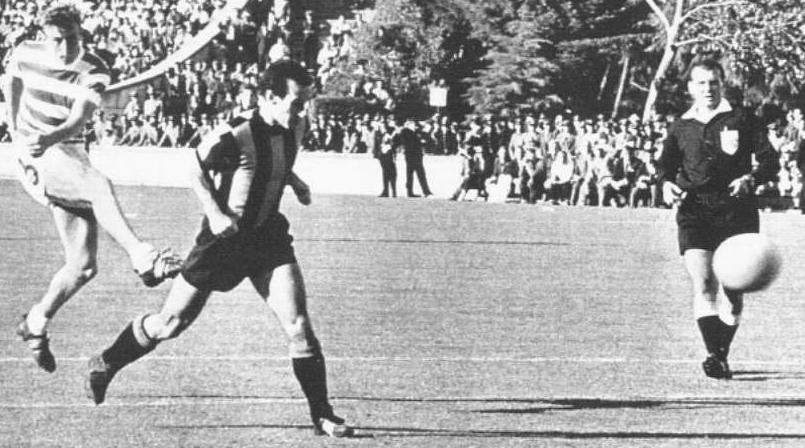 THE EQUALISER…Tommy Gemmell sends a thunderbolt past Inter Milan skipper Armando Picchi on its way into the net.
The second period went much the same way the first had ended – with us rolling forward in numbers, playing the ball around, bringing Jinky into play and the Italians holding out resolutely. It was something at which they were extremely adept; something they were used to every week in the Serie A.
We were not to be denied, though, and, as everyone had realised, it was going to take something exceptional to beat Sarti. TG came up with the answer in the sixty-fourth minute. The ball was whisked around crisply before Chopper rolled it out to Cairney coming in from the right.
He carried it, a couple of steps, I think, and then slipped it across their eighteen-yard line. TG came in like a whirlwind to meet it first time with that lethal right foot and Sarti, even the great Sarti, could not repel this raid. TG's strike strangled itself in the back of the net while the keeper was still in mid-air. We had equalised. Now for the winner.
At long last we had rattled Sarti's cage. He had looked imperturbable for most of the game. He was cool under pressure and his handling was excellent. Now, though, cracks were beginning to show in his facade. It was highlighted when he got into a shouting match with the photographers behind his goal when they returned the ball too quickly after it had gone out of play. He wasn't happy with them and, for the first time that memorable day, he was beginning to get a little flustered.
The West German match official, so quick to award Inter Milan their penalty-kick, wasn't quite so swift in his decision-making when he denied us a stonewall spot-kick. It doesn't matter now, of course, but it was a penalty-kick alright and even Sarti seemed more than just a little puzzled at the bizarre decision by the referee.
WING AND A PRAYER…Jimmy Johnstone tries his luck with a right-foot drive that was saved.
TG sizzled in a low cross from the left, Sarti and a defender got in a real old fankle at the backpost and Wispy nicked in to collect the ball. Just when he was about to roll it over the line from about two yards, Sarti, on the ground, wrapped his arms around his leg and sent him toppling in a somewhat undignified manner.
Penalty? The whole of Europe must have thought so, but Tschenscher waved play on. Remarkable! Sarti got to his feet, had the good grace to look at Wispy and shrug his shoulders in that extravagant manner of the Latins. 'I don't know why he didn't give it either,' he could have said. 'Right,' I thought, 'we're not going to let them away with this – Inter Milan or the referee!'
We maintained the bombardment and we had them gasping as we continued to play the ball around at a spellbinding pace. TG flummoxed Sarti with a long, looping ball from the left that cracked off the crossbar and, once more, bounced away to a grateful defender who thumped it anywhere just to clear the danger. Five minutes remained on the clock when Stevie got the most valuable goal in Celtic's history – the European Cup winner.
TG was involved again in an interchanging move with Chopper who slammed one into their penalty area from an angle and there was Stevie smack in front of goal to divert the ball past Sarti. They made a half-hearted claim for offside, but not even Herr Tschenscher, with Europe looking on, could nullify that effort. Inter did nothing to get back into the game. They were beaten and they knew it. I don't think they fancied the prospect of extra-time even if they had got lucky and got a second goal. It was our day and everyone knew it.
Three minutes from time, I decided to help make sure the game was ours when I came inside from the left and could see Burgnich coming across. He had decided he had had enough of Wee Jinky. I could see he looked tired, even a bit bedraggled. Remember, this was one of the top defenders in Europe and, in fact, along with Inter team-mates Mazzola, Angelo Domenghini and Giacinto Facchetti, he would play for Italy in the World Cup Final against Brazil in Mexico three years later.
I decided to commit him and I knew what would come next. Sure enough, I was clattered and I decided to show the Italians how it feels to see someone waste time as they had done continually against us. Eventually, I got back to my feet and TG said, 'Just give me the ball, Bertie.' I asked, 'What are you going to do?' He answered, 'I'm going to kick it as far over that bar and out of the ground as I can.' And that's exactly what he did.
Jock's tactics had worked perfectly and if I can take you through a few statistics they will underline this. Our boss had ordered Wispy, Stevie and Lemon to try to pull their defenders out of position to allow Chopper and myself to come from behind into spaces vacated by our opponents. They were also asked to make runs that would enable Cairney and TG to get wide on the wings. Would you be surprised if I told you we had THIRTY-FIVE attempts on goal with nineteen on target? TG, unbelievably, had nine shots on target. A left-back in a European Cup Final having so many attempts? Awesome. He could have had a hat-trick easily. He would have been due it.
THE WINNER…Stevie Chalmers turns the ball beyond the helpless Giuliano Sarti – and it's party time in Portugal!
Paradoxically, Stevie had only one shot on target – the winner! Wispy drew one save from Sarti and Lemon didn't hit the target at all. When you consider these guys had netted nine of our eighteen goals in the competition that season – Stevie (5), Wispy (2) and Lemon (2) – it tells you how they curbed their natural instincts for the cause of the team.
My God, they scored fifty goals in the league between them – Stevie hitting twenty-three, Wispy claiming fourteen and Lemon snatching thirteen. So, one look at those stats merely emphasises what they were prepared to do in our efforts to beat Inter Milan and, in doing so, conquer Europe.
They were utterly dedicated, totally professional and completely unselfish. Chopper had four shots saved by Sarti while I had two on target, including the one that hit the bar, and Jinky chipped in with two, one a header that was expertly tipped over the bar for one of our ten corner-kicks. Inter Milan had three attempts at our goal, including their penalty-kick. Mazzola was the man who had all three efforts. They didn't force a solitary corner-kick. They may have been masters at time-wasting, but I have to say they were not dirty. There wasn't a single booking in Lisbon. Did we deserve to win that European Cup? What do you think? The defence rests!
GRANDE FINALE…the Celtic players whoop with delight at the full-time whistle.
It would have been nice to have been able to parade our newly-won trophy around the Estadio Nacional, of course, but that wouldn't have been too sensible since it had become a sea of green-and-white with our supporters taking over the place. We had been told beforehand by officials, in the event of a win, not to worry about a pitch invasion because there was a moat around the pitch.
Listen, you could have filled that moat with sharks, crocodiles and alligators and you still wouldn't have kept our fans off that pitch. Who could blame them for their exuberance? Yes, a lap of honour would have been great, especially with Europe tuning in to watch the spectacle. It wasn't to be and I'm not complaining. The main thing was to win that trophy and we achieved our goal with a bit of splendour, too. We went to the banquet afterwards and, surprise, surprise, Inter Milan didn't turn up until about a good hour later. Their players still looked shell-shocked.
We were sitting waiting for the event to begin when a UEFA official appeared with these two boxes and placed them at the top of the table. Then he simply walked off without saying a word. I looked at the boxes and shouted to Caesar, 'Is that the biscuits?' Our captain opened one of them and exclaimed, 'They are our medals! These are our European Cup medals!' As award ceremonies go, it was a bit of a non-starter.
READ ALL ABOUT IT…Bertie Auld with his autobiography, 'A Bhoy Called Bertie', and the glittering European Cup.
The players ambled forward, helped themselves, looked at these coveted little badges, stuffed them somewhere safe and awaited for the evening's festivities. It wasn't quite what we had in mind, but I think we were all just so pleased and satisfied to at last claim the European Cup – etching our name forever in history as the first British club to do so. No-one will ever be able to take that honour or distinction away from Celtic Football Club.
Manchester United equalled the feat the following season, of course, when they defeated Benfica 4-1 in extra-time at Wembley. I bet you they would dearly have loved to have been the first – my pal Paddy Crerand has already admitted as much to me although, naturally enough, being a Celtic man he wasn't too distraught when we beat them to it. George Best caught up with Celtic a few times when we were in Ireland doing the rounds as part of our twenty-fifth anniversary celebrations of the Lisbon success.
He surprised me one evening when he said, 'Celtic's feat was better than ours. You broke the barrier – you showed it could be done. Celtic opened the door for other British teams.' I hasten to add George was stone-cold sober at the time. His words were well appreciated.
The Lions, it must be said, were a close-knit bunch of guys during our playing days and the same could be said today. We enjoy each other's company and there is a closeness among us I have never experienced with any other team. There is never a problem when someone gets in touch to say there is another Lions reunion coming up. It's no chore to spend time in their company, that's for sure.
I hope Celtic played a part in putting a smile back on the face of football that day in Lisbon. It was a triumph for football laced with flamboyance, flair and no little fire. It obliterated the negativity that teams such as Inter Milan had been relying upon to gain success. We demolished the notion you could only be triumphant if you concentrated mainly on defence.
It was a victory for the good guys.
TOMORROW: DON'T MISS THE UNFORGETTABLE BERTIE AULD: PART EIGHTEEN
Click Here for Comments >